Blackberry Sorbet is made with fresh berries and just enough sugar to highlight the pure berry flavor. It's beautiful in it's simplicity and it is simply beautiful.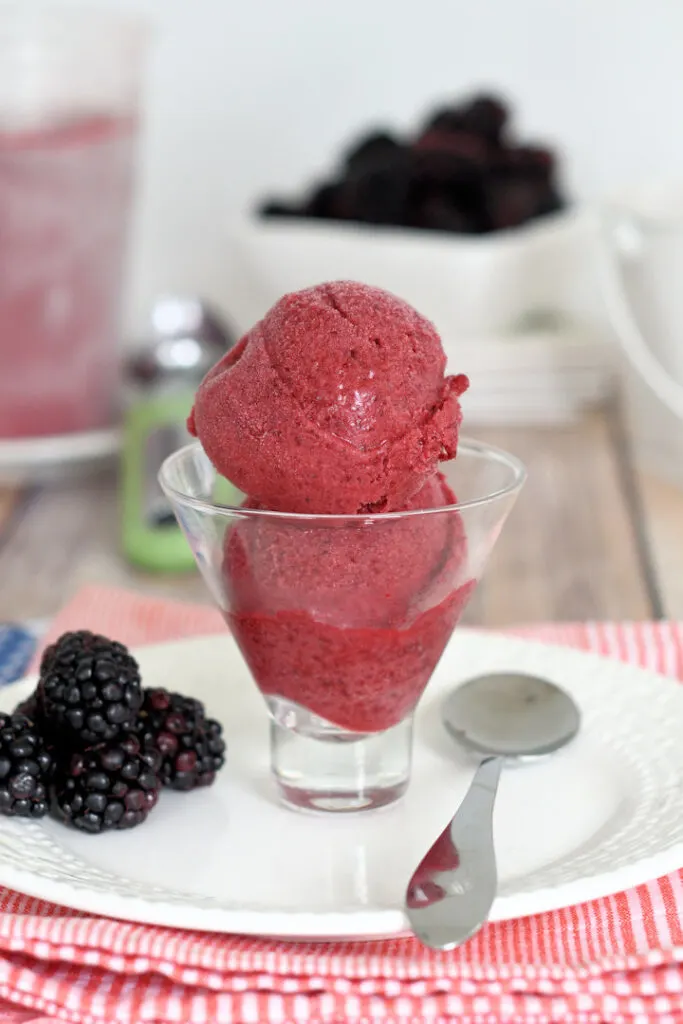 I just love a good sorbet. Ice Cream is wonderful, of course, but a good sorbet is something different. A good sorbet is refreshing and, if made well, will highlight great fruit flavor.
In my Vanilla Bean Ice Cream post, I outlined the basics of making ice cream at home. Working with sorbet is a little different than working with ice cream or Frozen Yogurt.
HOW IS SORBET DIFFERENT FROM ICE CREAM?
Most sorbets start from a base of fruit juice or pureed fruit.
Whether you start with juice or puree, it won't have any fat. We could add a little milk to the mix to help with the texture, but then we'd be making sherbet, or sherbert (you say potato, I say potahto).
SO, HOW DO WE ENSURE A CREAMY, NOT GRITTY, TEXTURE FOR SORBET WITHOUT THE HELP OF FAT?
Once again we turn to our fascinating friend, sugar, to give us a hand.
As we learned in the Baking School post all about the science of sugar, sugar is much more than a simple sweetener. We know it does all sorts of wonderful things for the texture of baked goods.
WHAT SUGAR DOES IN SORBET RECIPES AND OTHER FROZEN DESSERTS:
Sugar also does all sorts of wonderful things for frozen treats. Dissolved sugar molecules interfere with the crystallization (freezing) of water molecules.
This reduces the freezing point of the fruit juice so it won't freeze rock-solid.
Fruit juice has some natural sugar, but we need a little more to have enough to ensure a smooth texture. Generally, for a smooth sorbet you need at about 25-35% of the weight of the fruit in sugar.
How to make great Blackberry Sorbet at home:
For a pound of blackberries I added 4 oz of sugar. This sorbet has 25% sugar to fruit.
You can adjust the exact amount of sugar based on the sweetness of the berries you're working with.
Blackberries have lots of pectin, which gives the sorbet a naturally luscious texture. This also allows you to use just enough sugar to sweeten the berries.
I was working with home-grown blackberries that had lots of natural tartness. If you find your berry puree a bit flat, you can add a little lemon juice to spark the flavor.
A dash of salt enhances the fruit flavor without making the sorbet salty.
Scroll through the process photos to see how to make homemade Blackberry Sorbet: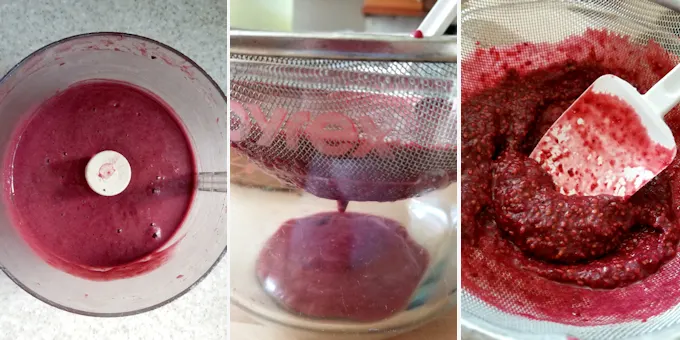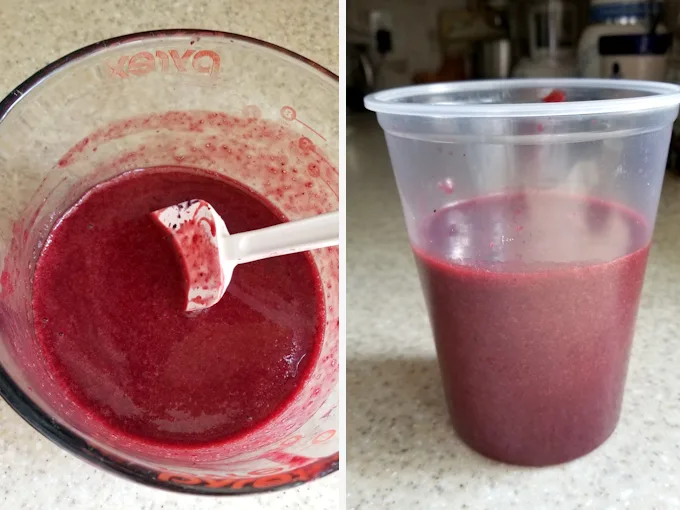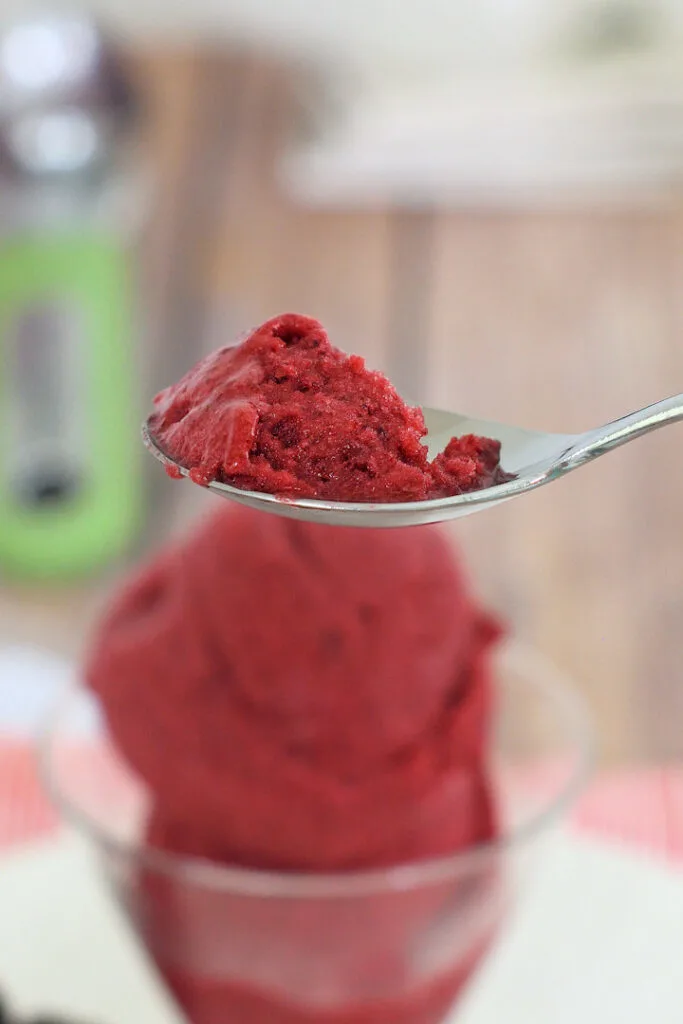 More blackberry recipes
If you love this recipe as much as I do, I'd really appreciate a 5-star review.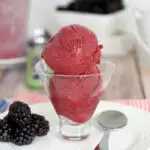 Print Recipe
Blackberry Sorbet
Blackberry Sorbet is made with fresh berries and just enough sugar to highlight the pure berry flavor. It's beautiful in it's simplicity and it's simply beautiful.
Ingredients
16

oz

blackberries

(3 cups)

4

oz

water

(½ cup)

4

oz

granulated sugar

(½ cup)

⅛

teaspoon

table salt
Instructions
If using frozen berries, they should be defrosted. Puree

16 oz blackberries

with

4 oz water

.

Strain the puree through a fine sieve to remove the seeds. You should have about 2 ¼ cups of puree.

Add

4 oz granulated sugar

and

⅛ teaspoon table salt

and stir until the sugar is melted. Taste the puree and add up to another ¼ cup of sugar if needed.

Refrigerate until the mix is very cold, at least 3-4 hours or overnight.

Run in your ice cream machine according to the manufacturer's directions. (See Note)

Pack into a plastic container, cover the surface with plastic wrap, cover and freeze overnight
Equipment
Freezer Storage Containers
As an Amazon Associate and member of other affiliate programs, I earn from qualifying purchases.
Notes
If you don't have an ice cream maker you can turn the mix into a granita. Pour the mix into a flat metal pan, like a 13×9 brownie pan. Place the pan in the freezer for 30 minutes. Use a fork to stir the mixture and scrape any ice that formed around the edges of the mix. Repeat every 30 minutes for 3-4 hours until you have a fluffy, scoopable texture made up of small ice crystals.
Nutrition
Serving:
1
serving
|
Calories:
53
kcal
|
Carbohydrates:
13
g
|
Protein:
1
g
|
Fat:
0.2
g
|
Saturated Fat:
0.01
g
|
Polyunsaturated Fat:
0.1
g
|
Monounsaturated Fat:
0.02
g
|
Sodium:
25
mg
|
Potassium:
61
mg
|
Fiber:
2
g
|
Sugar:
11
g
|
Vitamin A:
81
IU
|
Vitamin C:
8
mg
|
Calcium:
11
mg
|
Iron:
0.2
mg