Cream Cheese Dough is super simple to make and a great recipe to have in your repertoire. It's tender, flaky and rolls beautifully. This is my go-to hand pie dough because it is tasty yet sturdy.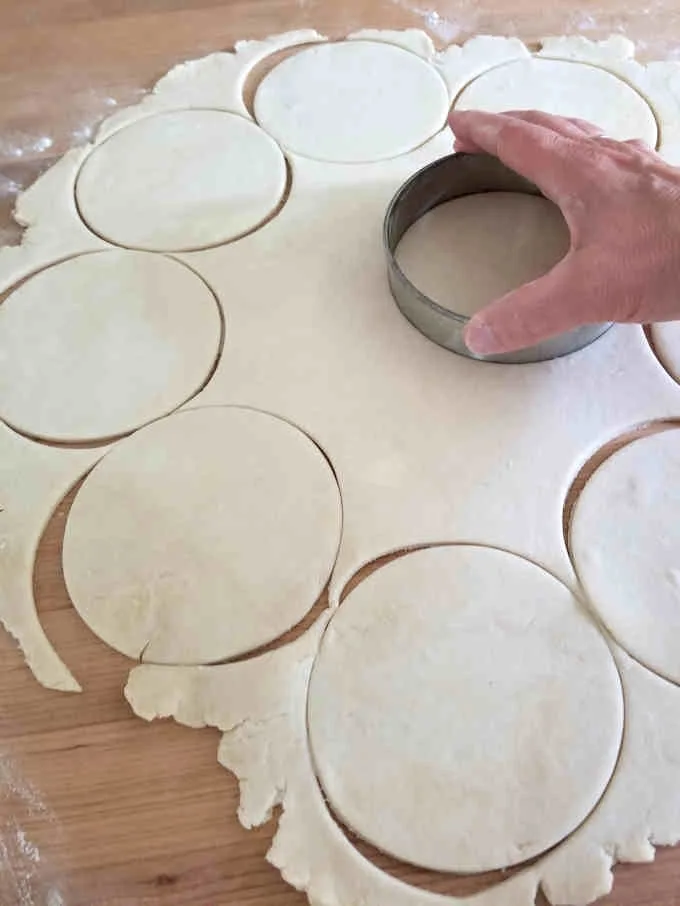 Have I ever told you about my love affair with all things pie? Ha, ha! Of course I have.
I believe that a really great pie is impossible without a really great crust. Of course, once you master the Perfect Pie Crust you could use it for every pie you make.
Me? I like to choose a specific crust for the type of pie I'm baking. That super tender and super flaky Perfect Pie Crust is exactly what I want for Glazed Maple Apple Pie.
But if I'm making a savory galette or pasties I prefer to use an awesomely delicious Rye Pie Crust .
This dough is made with cream cheese and butter and it's my go-to hand pie dough. I use it to make Glazed Blueberry Hand Pies, Sour Cherry Almond Hand Pies, Roasted Strawberry Hand Pies and Fried Tequila Peach Hand Pies.
Why Cream Cheese Dough is a great hand pie dough:
Why is cream cheese dough the perfect dough for hand pies? Because this recipe makes a crust that is not too tender or too flaky.
Yes, Yes, tender and flaky is generally exactly what we want in a pie dough. But hand pies are, you know, "handled" a bit more.
A super tender crust might crumble apart as you pick up and eat a hand pie.
A super flaky crust can be a bit brittle and break apart when rolling. This can be a problem when you need to roll, cut and shape individual pies.
Instead of a mixture of all purpose and cake flour, this recipe uses only all purpose flour. This makes a dough with a more sturdy structure that can stand up to the rolling, cutting and shaping required for hand pies.
A little sugar is added for flavor, browning and tenderizing
Instead of all butter, or 1/2 butter and 1/2 shortening, this recipe uses 1/2 cream cheese and 1/2 butter.
The cream cheese adds flavor from the milk solids.
The cream cheese has protein so the crust will brown better. Since hands pies are in the oven for much less time than regular pie, faster browning is needed for a golden crust.
Because cream cheese is less brittle than butter, the dough rolls easily without cracking.
There is some butter in the dough for flavor and flakiness.
Scroll through the step by step photos to see how to make Flaky Cream Cheese Dough: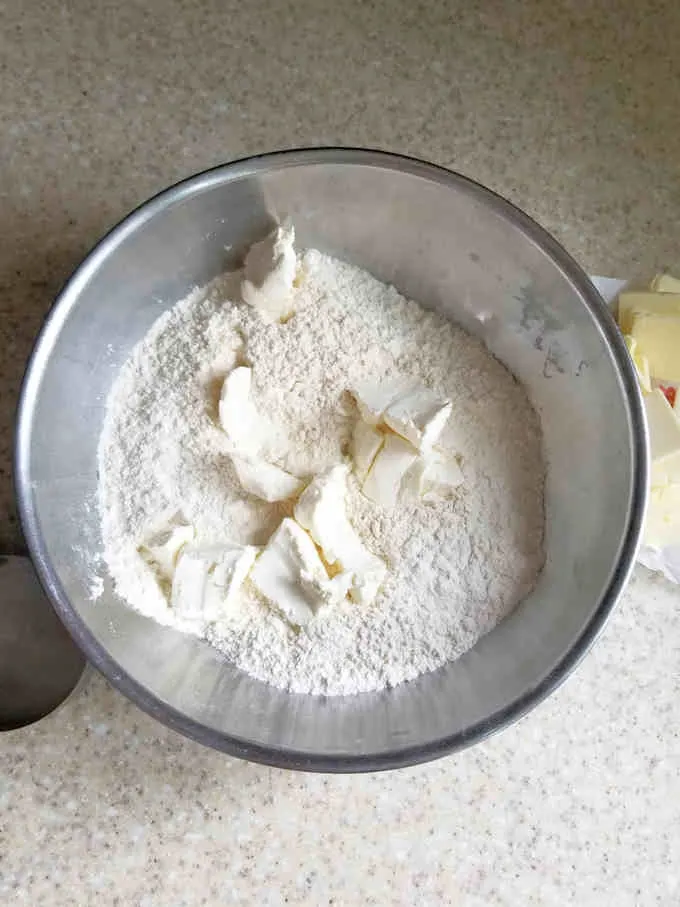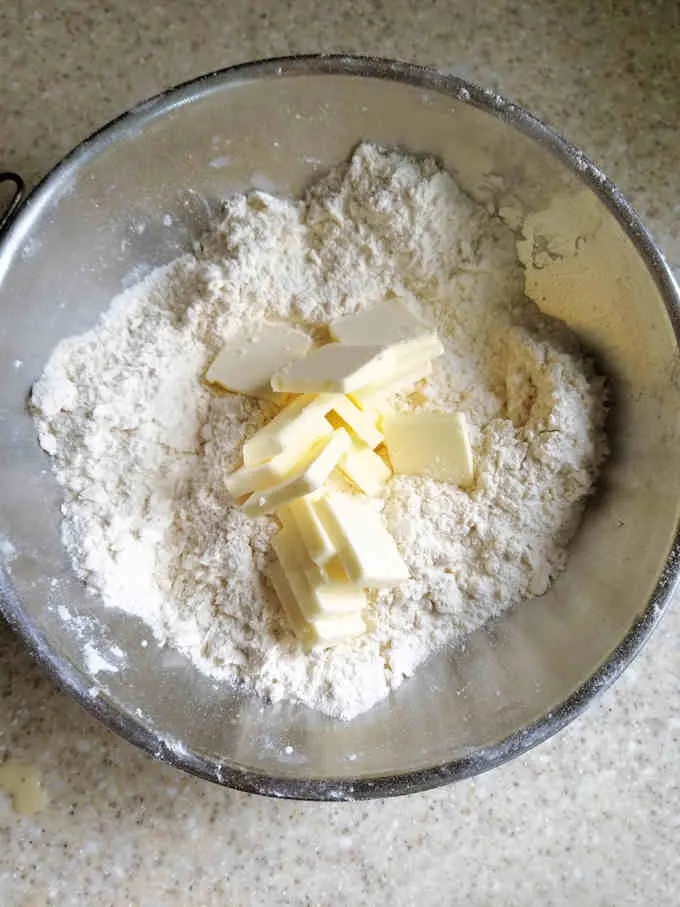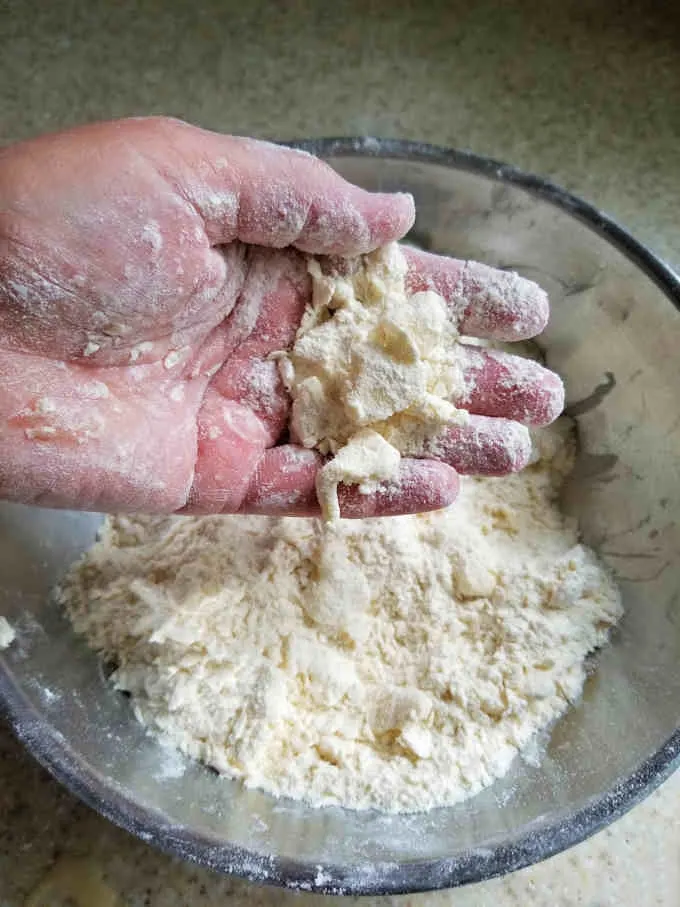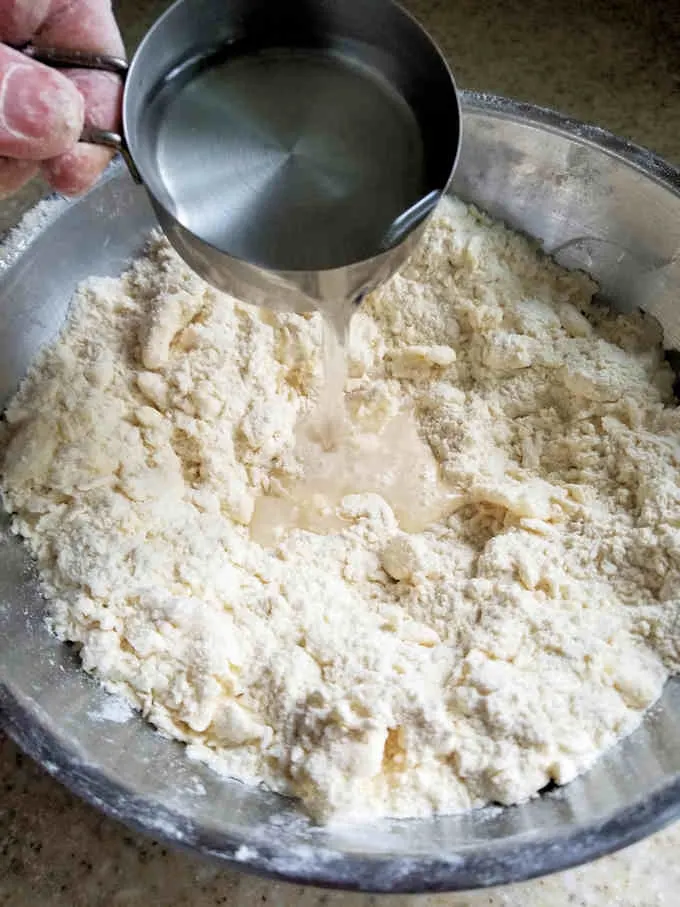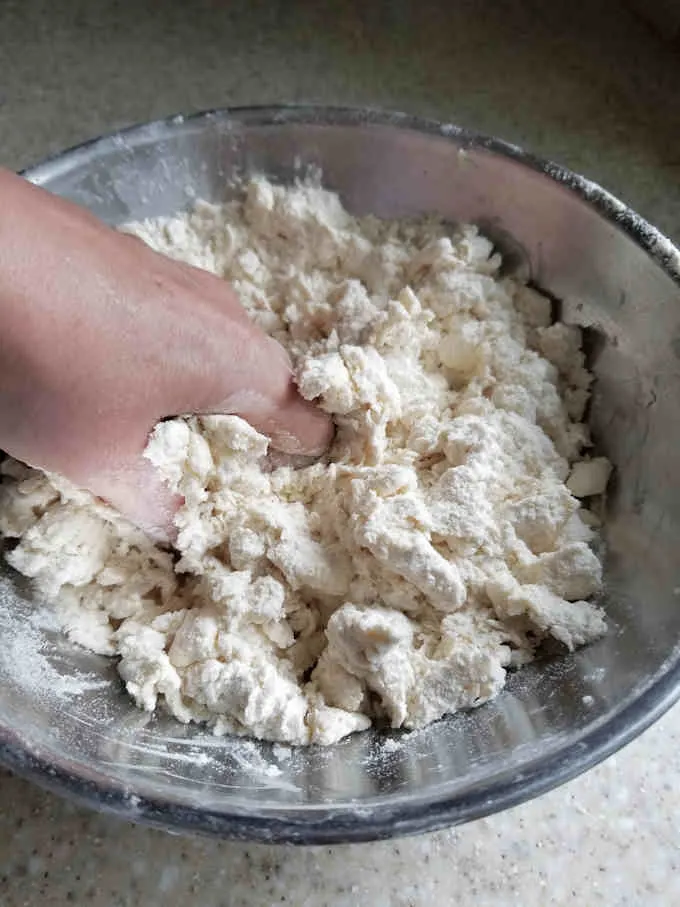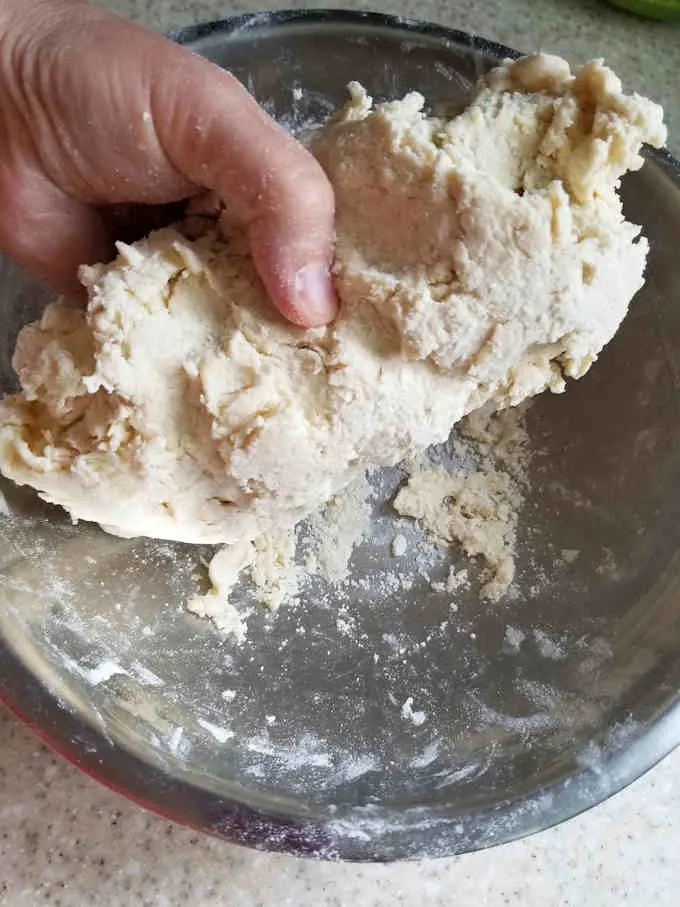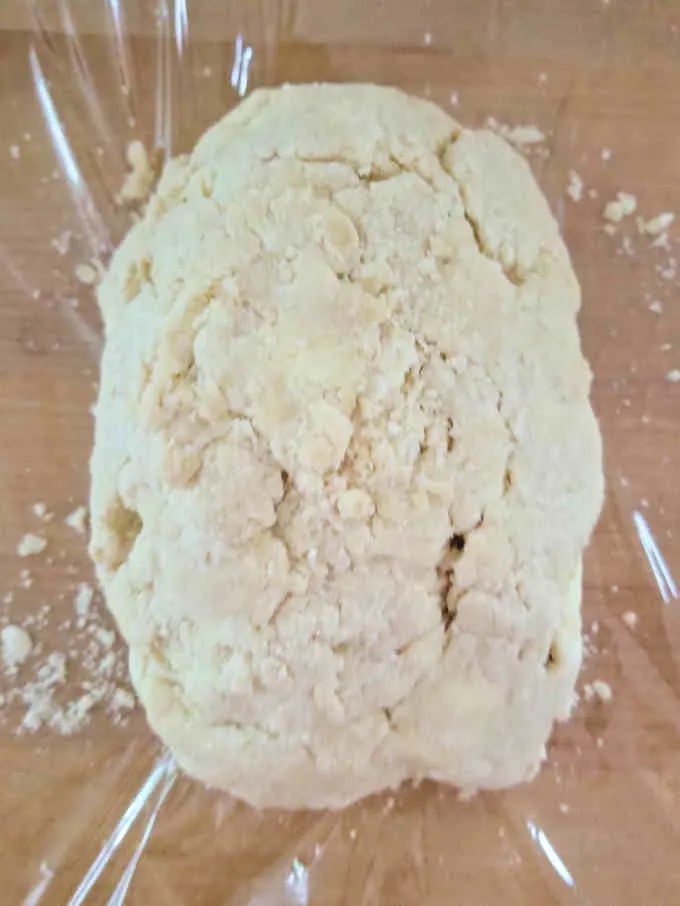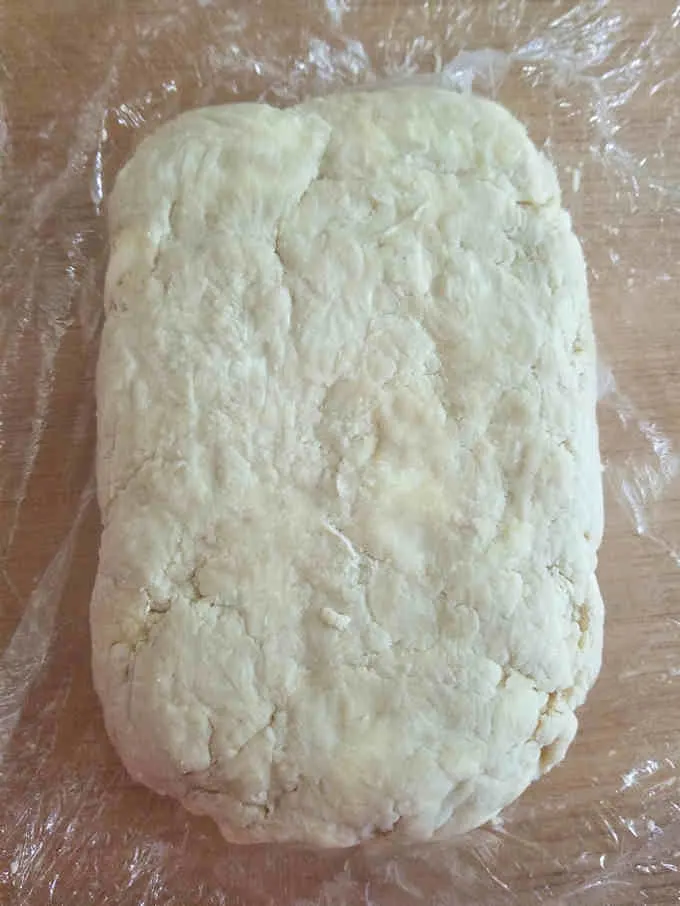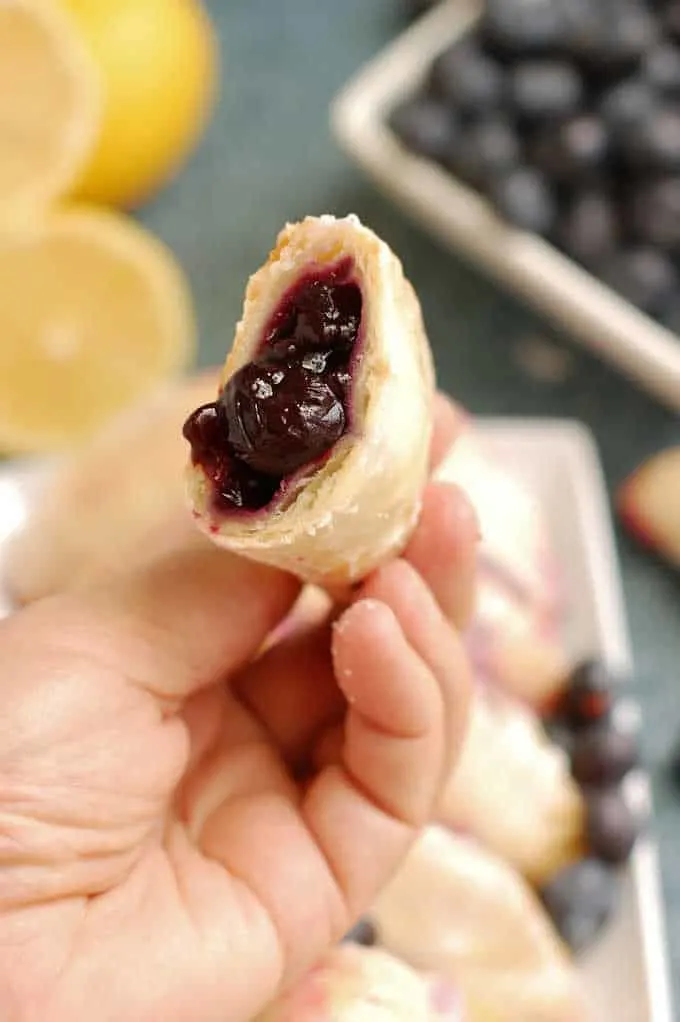 If you love this recipe as much as I do, I'd really appreciate a 5-star review.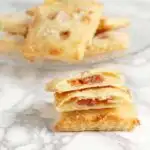 Print Recipe
Flaky Cream Cheese Dough
A great flaky pastry made with cream cheese and butter. This dough rolls beautifully
Ingredients
13 ¾

oz

all purpose flour

(2 ¾ cups)

1

tablespoon

granulated sugar

1

teaspoon

table salt

4

oz

cream cheese

(cut into 1" chunks)

4

oz

unsalted butter

(cold and cut into ¼" thin slices)

4

oz

cold water

(½ cup)
Instructions
Whisk together

13 ¾ oz all purpose flour

,

1 tablespoon granulated sugar

1 teaspoon table salt

in a mixing bowl.

Toss in

4 oz cream cheese

. Using your fingers, mix the cream cheese into the flour until it resembles coarse corn meal.

Toss

4 oz unsalted butter

into the flour and use your fingers to work it in. Allow the flakes to break up into slightly smaller pieces. Work quickly so the butter doesn't get warm. Don't break the butter down completely. There should be some large flakes remaining.

Pour

4 oz cold water

onto the flour all at once and toss to combine. Gently work the dough just until it comes together. Form the dough into a rectangle or square, wrap and refrigerate for at least 2-3 hours, or make it the day before and let it rest overnight.

The dough can be frozen for up to 3 months.
As an Amazon Associate and member of other affiliate programs, I earn from qualifying purchases.
Nutrition
Serving:
1
serving
|
Calories:
167
kcal
|
Carbohydrates:
20
g
|
Protein:
3
g
|
Fat:
8
g
|
Saturated Fat:
5
g
|
Polyunsaturated Fat:
0.4
g
|
Monounsaturated Fat:
2
g
|
Trans Fat:
0.2
g
|
Cholesterol:
22
mg
|
Sodium:
169
mg
|
Potassium:
37
mg
|
Fiber:
1
g
|
Sugar:
1
g
|
Vitamin A:
272
IU
|
Calcium:
12
mg
|
Iron:
1
mg