Use your St. Patrick's Day leftovers to make delicious hand pies. Pasties can be enjoyed warm from the oven or at room temperature.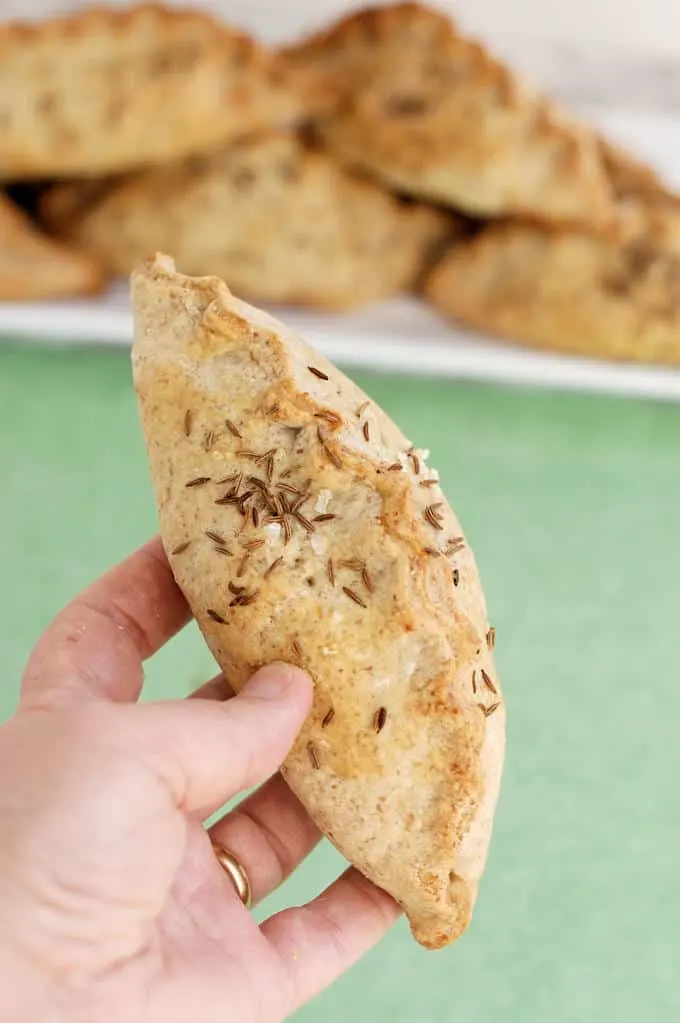 This is a riff on traditional Cornish Pasties. Cornish Pasties are hand pies filled with meat and potatoes. Back in the day, the filled pastry would be a convenient lunch for coal miners since it could be eaten without utensils. The pasties could be filled with leftovers from last night's dinner.
I love the combination of flavors in these pasties. The rye crust and caraway seeds marry perfectly with the corned beef and cabbage filling. The mustard adds a tangy note and the cheddar brings it all together.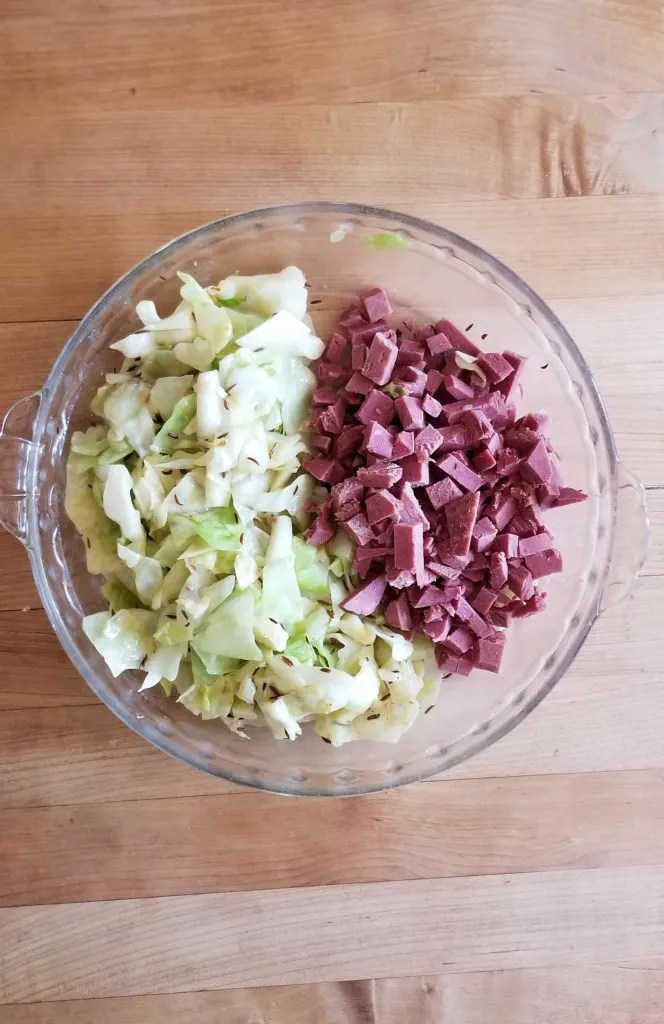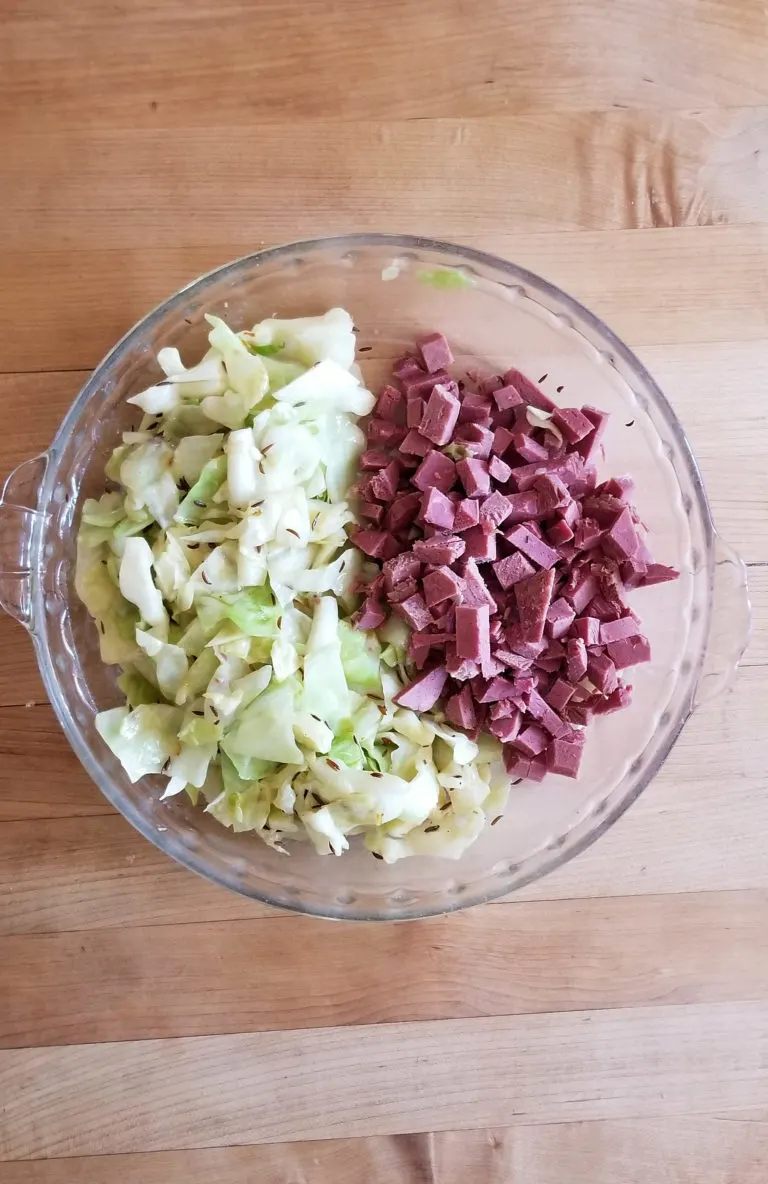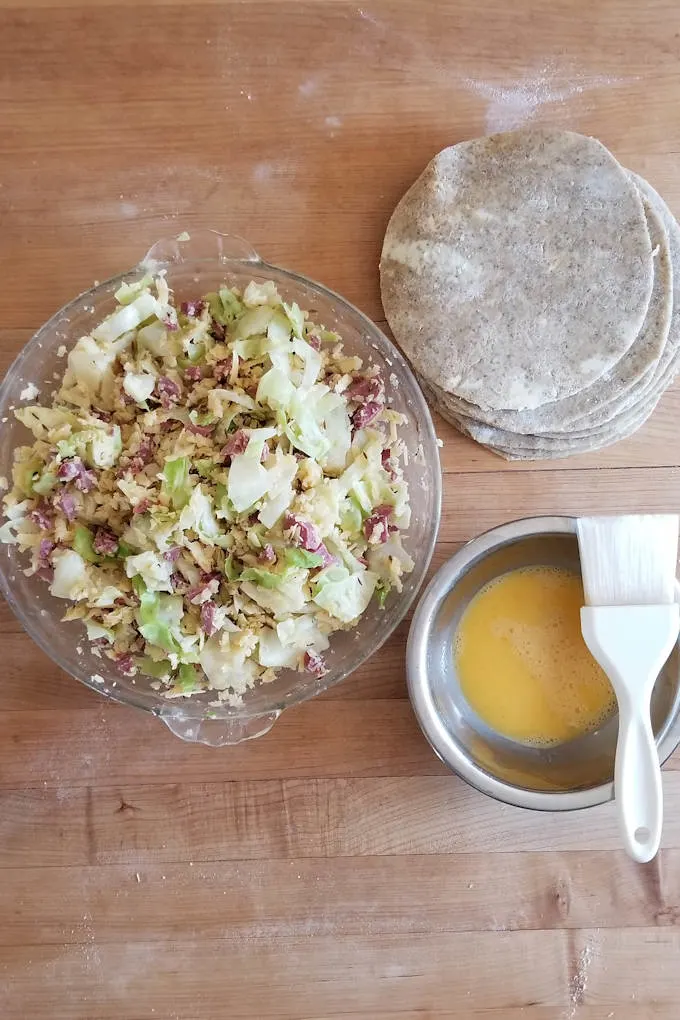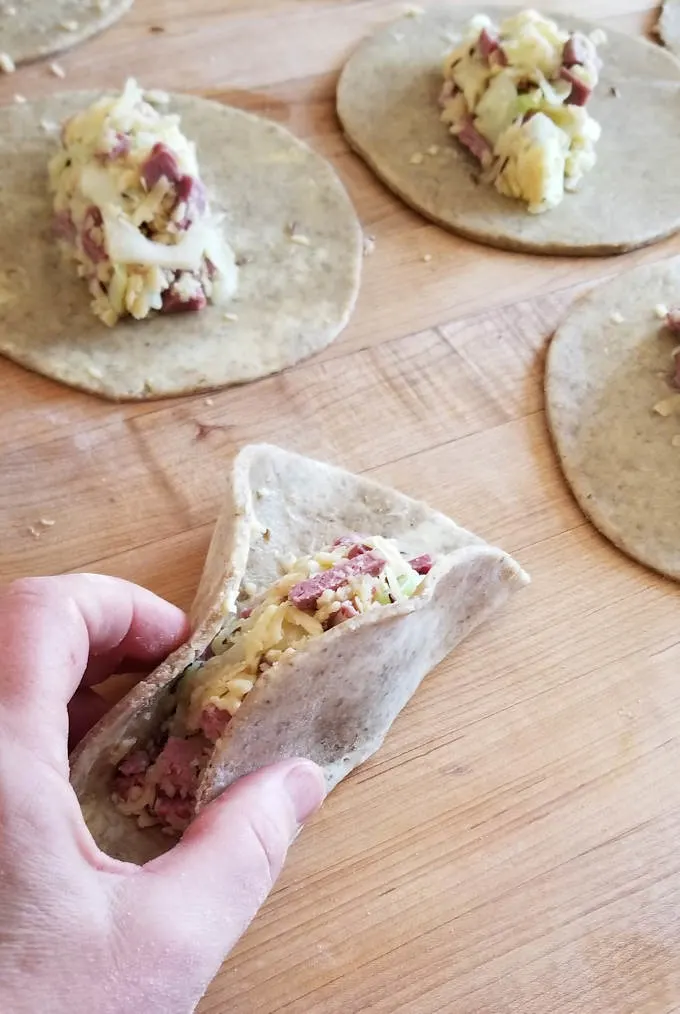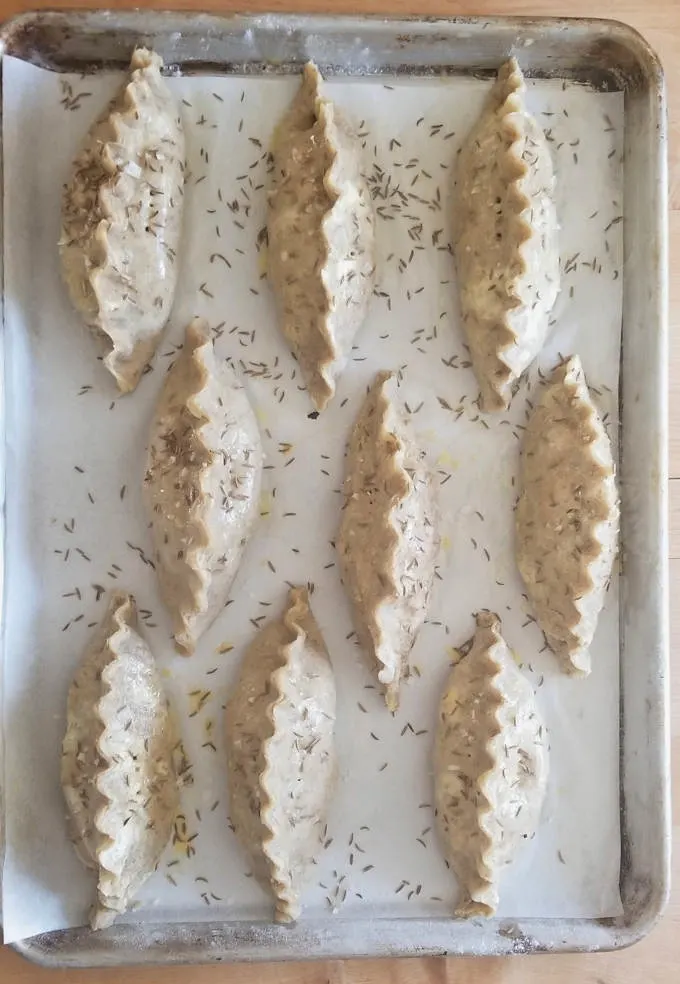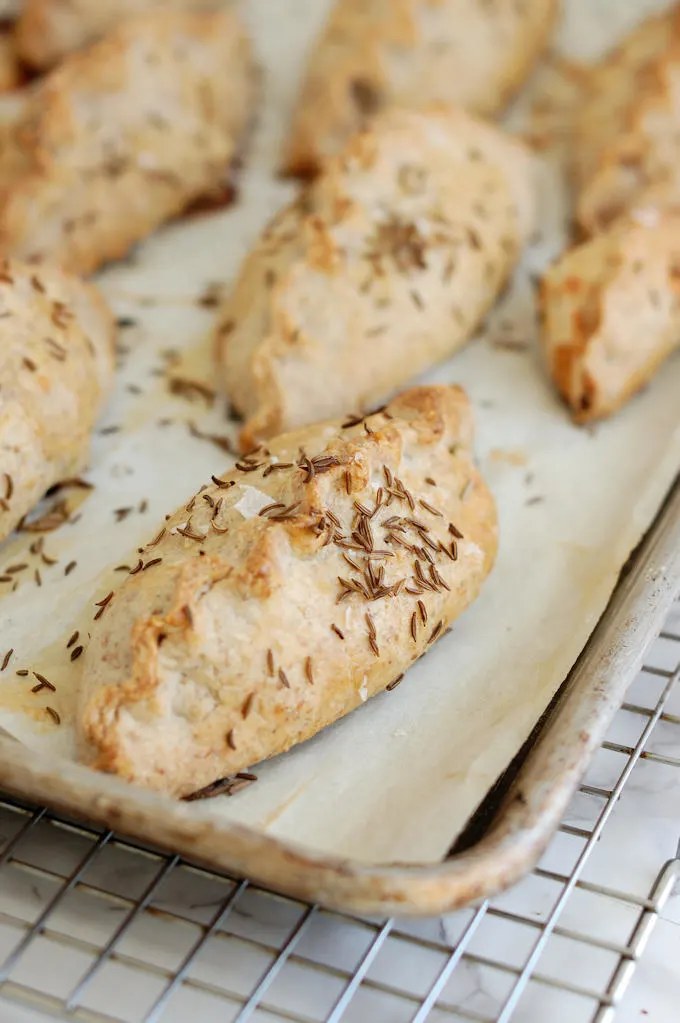 Tips for making Corned Beef & Cabbage Pasties:
Don't fret about the exact proportions listed for the filling. You'll need a total of about 4 cups of filling. Any mix of chopped corned beef cabbage, cheddar, and even potatoes if you've got them, will work here.
The Rye Pie Dough can be made ahead and refrigerated for up to 2 days, or frozen for 3 months.
Rye Dough can be a bit crumbly. If the dough cracks while rolling just pinch it back together with your fingers and keep rolling.
Use your hands to compact the filling before folding the pasties. The cheese will help the filling stick together, making it easier to keep the filling in the dough as you assemble the pasties.
To work ahead you can assemble the pasties and then freeze. Defrost and bake the pasties the day you plan to serve them.
Pasties are best the day they are baked. Leftover pasties can be refrigerated up to 2 days, or frozen up to 3 months. Defrost and warm in the oven before serving.
Pasties can be served warm or at room temperature.
To make "cocktail" pasties, cut the dough into 3″ rounds.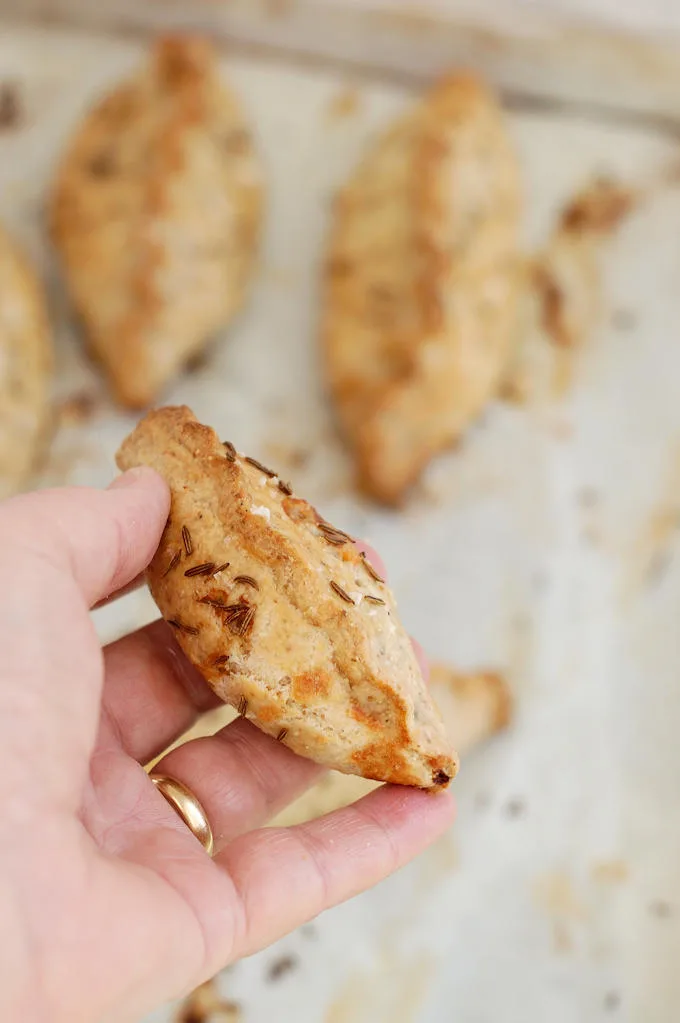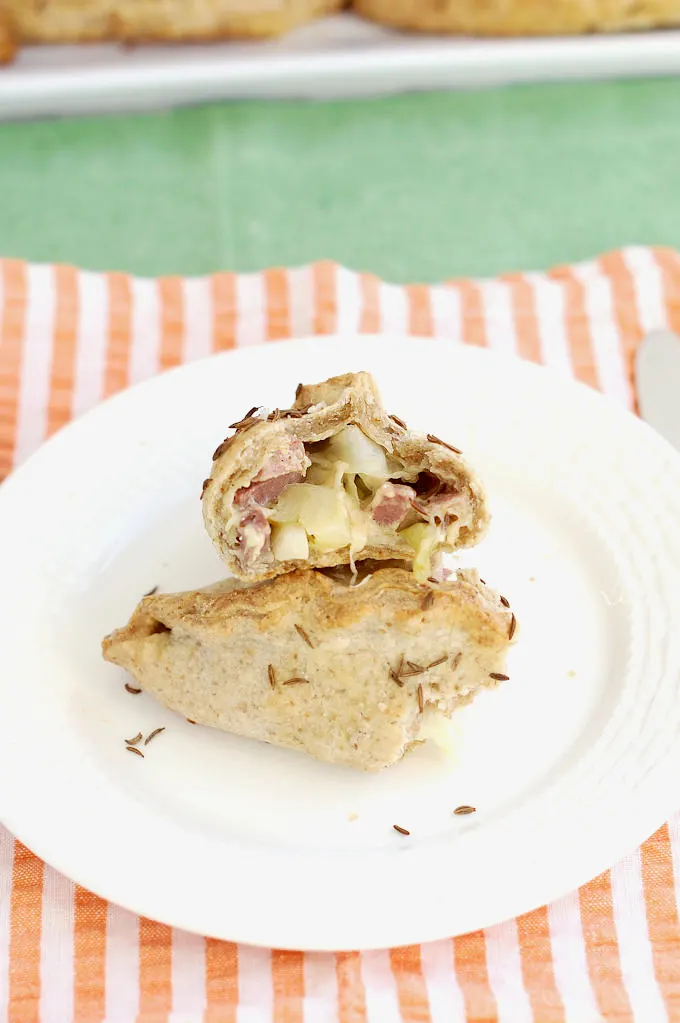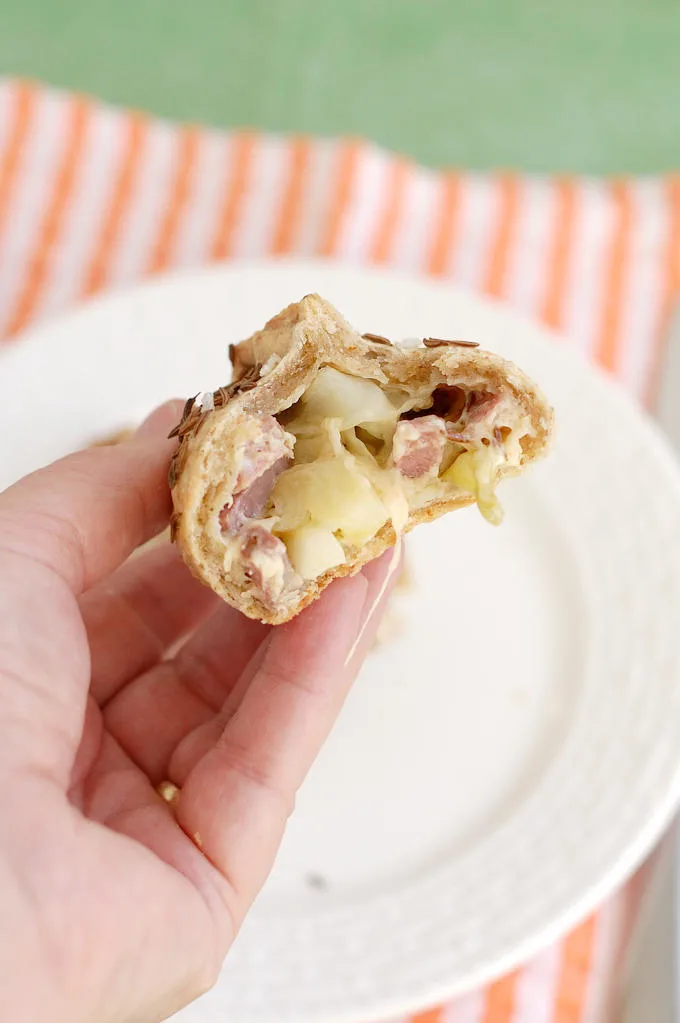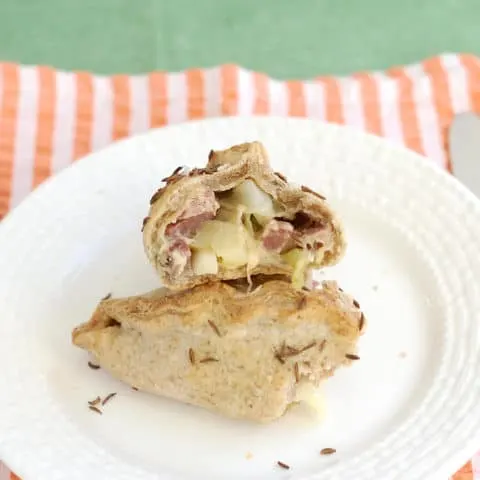 Corned Beef & Cabbage Pasties in Rye Crust
Use your St. Patrick's Day leftovers to make delicious hand pies. Pasties can be enjoyed warm from the oven or at room temperature.
Ingredients
1 cup chopped corned beef (see note)
2 cups chopped cooked cabbage
6 oz (170g) Irish cheddar cheese, shredded
1 tablespoon brown mustard
salt & pepper to taste
1 recipe Rye Pie Dough, chilled
1 egg for egg wash
Caraway Seeds
Flaky Sea Salt
Instructions
Line a baking sheet with parchment paper or silicone baking mat.
In a large bowl, mix together corned beef, cabbage, shredded cheddar and mustard. Add salt and pepper to taste.
Roll the dough to 1/8" thick. Rye dough can be a bit crumbly, just knead it back together if it breaks apart.
Use a small plate, cake pan or cardboard circle as a guide to cut 6" rounds from the dough. Re-roll the scraps and continue cutting to use all the dough. (see note)
Brush each round with egg wash all the way to the edges. Divide the filling between the rounds, using about 1/3-1/2 cup of filling for each. Use your hands to compact the filling to make it easier to form the pasties.
Lift the two sides of the dough over the filling and pinch them together to form a tight seal. Use your fingers to crimp along the seam. The crimped edge should be on the top of the pasty. Arrange the pasties, standing up, on the prepared baking sheet. Cover and refrigerate the pasties for 20-30 minutes.
Preheat the oven to 400°F. Use a fork to poke a steam vent on both sides of each pasty. Brush with egg wash and sprinkle with caraway seeds and flaky salt.
Bake until golden brown, 20-25 minutes. Serve warm or room temperature.
Notes
The exact amount of corned beef and cabbage is variable. If you've got leftover potatoes you can add them. Use whatever you've got left over to make about 4 cups of filling in total.
For appetizer-sized pasties cut 3" rounds.
The pasties are best eaten the day they're baked, but leftovers can be refrigerated or frozen and warmed in the oven to serve.
Recommended Products
As an Amazon Associate and member of other affiliate programs, I earn from qualifying purchases.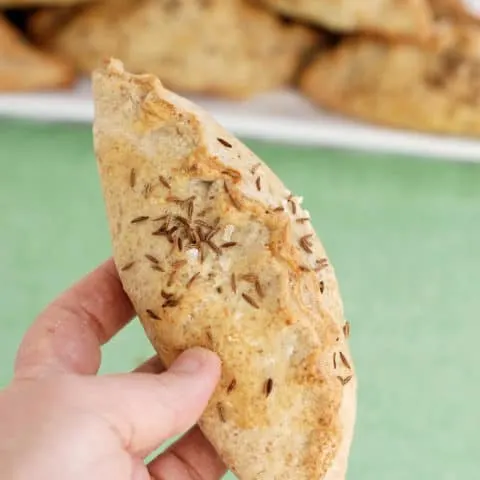 Rye Pie Crust
Yield:
Enough for a 2 crust pie
Total Time:
1 hour
10 minutes
A savory pie crust with a special flavor and texture from rye flour.
Ingredients
2 cups (9 oz, 252g) all purpose flour (see note)
2/3 cup (4 oz, 112g) rye flour
1 teaspoon salt
1/2 teaspoon coarsely ground black pepper
2 teaspoons granulated sugar
1/2 cup (4 oz, 115g) vegetable shortening
1/2 cup (4 oz, 115g) butter, very cold and sliced into 1/4" thin slices
1/2 cup (4 oz, 118 ml) ice cold water
Instructions
Combine the all purpose and rye flour with the salt, pepper and sugar. Whisk together to mix the ingredients evenly.
Using your fingers, cut the shortening into the flour mixture until it resembles coarse corn meal. Using your fingers, toss the butter into the flour mixture. Allow the slices of butter to break up into slightly smaller pieces into the flour. Work quickly so the butter doesn't get warm. Don't break the butter down completely. There should be some large flakes remaining.
Pour the water onto the flour all at once and toss to combine. Knead the dough just until it comes together.
Wrap the dough and refrigerate for at least 2-3 hours before using.
You might also like: