French Crullers are impossibly light and airy donuts made from pate a choux batter. The warm pastries are dunked into vanilla glaze for a sweet finish.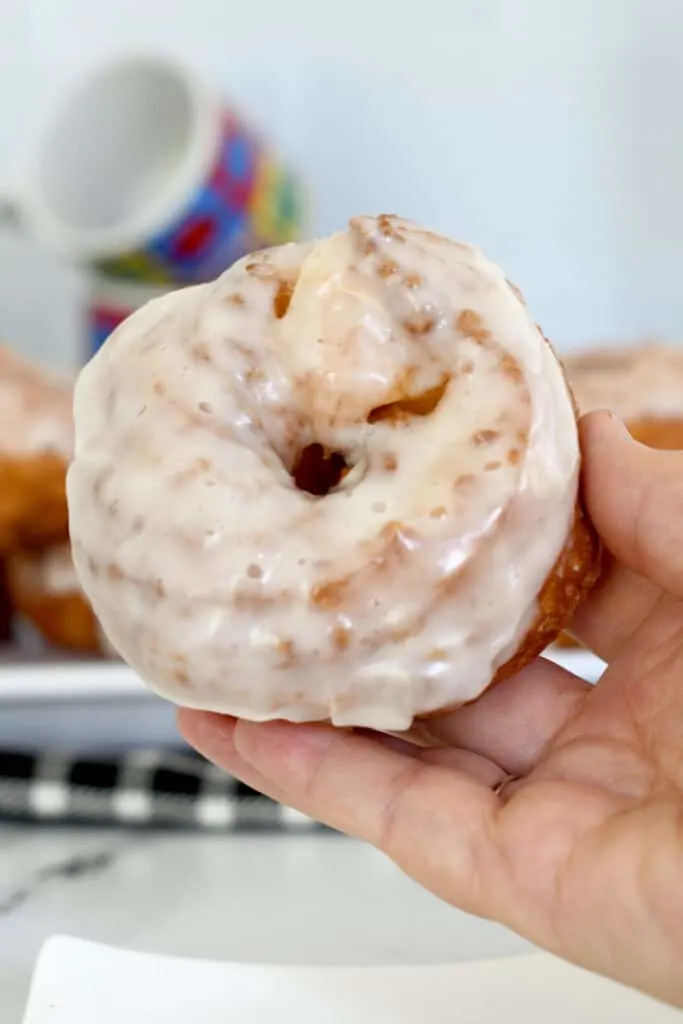 Believe it or not, fancy looking french crullers are actually easier to make than yeasted donuts. There's no kneading or rising required and the batter comes together very quickly.
These impossibly light donuts are made without any yeast or baking powder. So how do they get so airy? Well, they're made with pate a choux.
Pate a choux is the base for many delicious desserts including cream puffs, eclairs, gougères and churros.
What's the difference between a regular donut and a French Cruller?
Generally, donuts are either "yeasted" (made with a type of bread dough) or "cake" (made with a type of biscuit dough).
As I said above, French Crullers are made with pate a choux. The particular way that choux paste rises is the key to this special donut.
All pastries, including all donuts, rise because air bubbles in the batter or dough expand when heated. The air bubbles can be formed by different means for different recipes.
Chemical Leaveners and yeast will react with water and other ingredients in a recipe and release carbon dioxide gas, which forms air bubbles in the batter or dough.
Pate a choux is different because the air bubbles are made by steam.
As the crullers are frying and the crust begins to form, the batter inside still has lots of moisture. As the moisture heats up and forms steam, this pushes the batter out and forms the large cavities that make the cruller incredibly light.
The high proportion of liquid and protein in this batter work together to create a special "crumb", which is essentially made up of giant air pockets trapped in a crisp shell.
Even better, thanks to the milk, butter and eggs in the batter, the interior crumb is soft and custardy.
Scroll through the process photos to see how to make perfect French Crullers: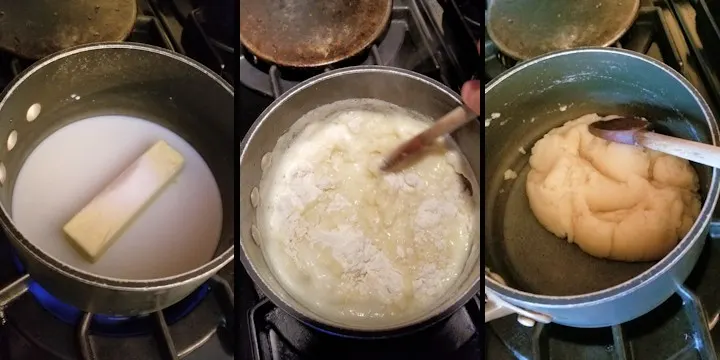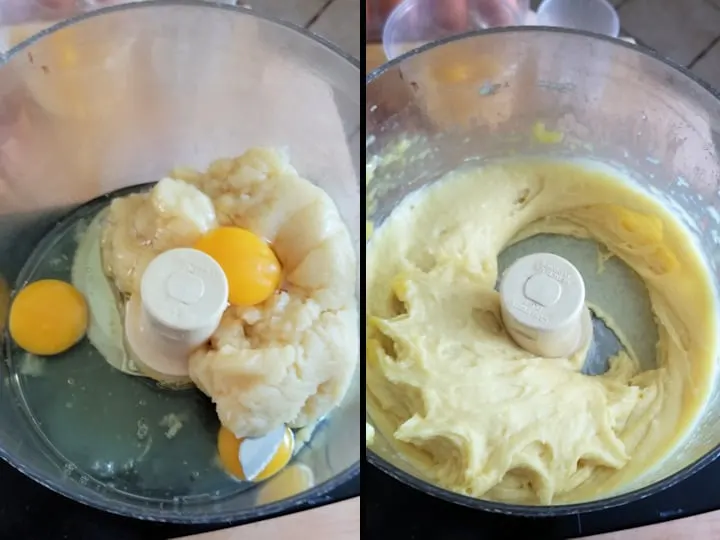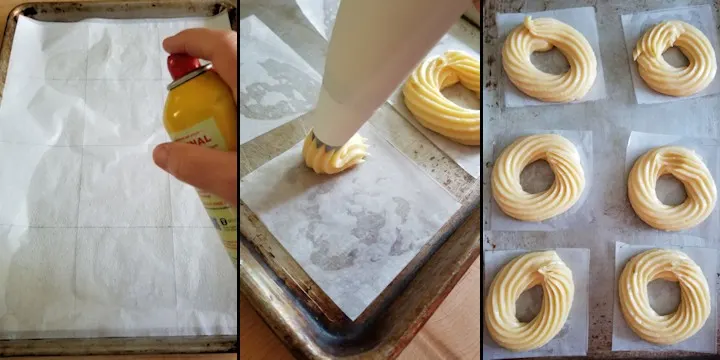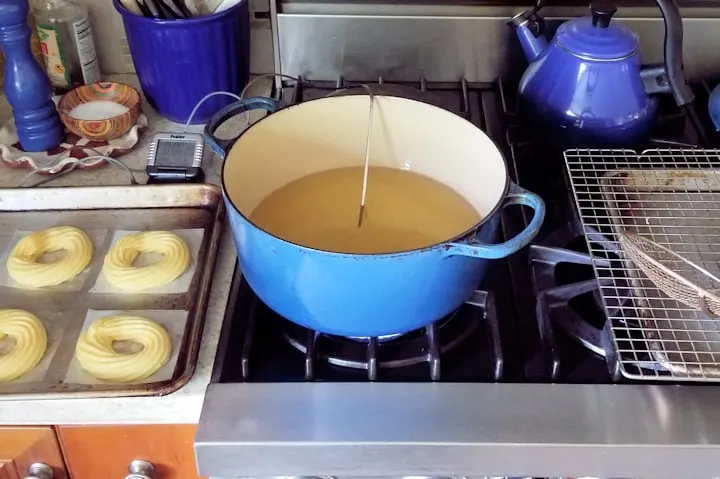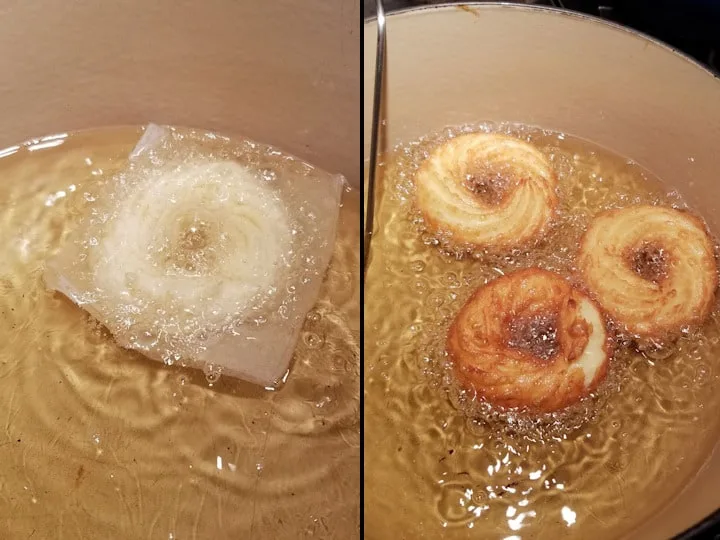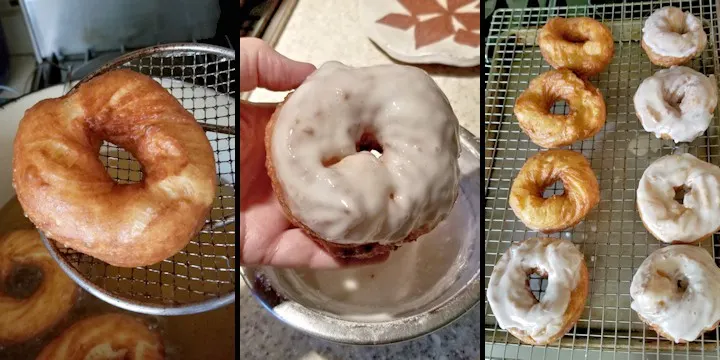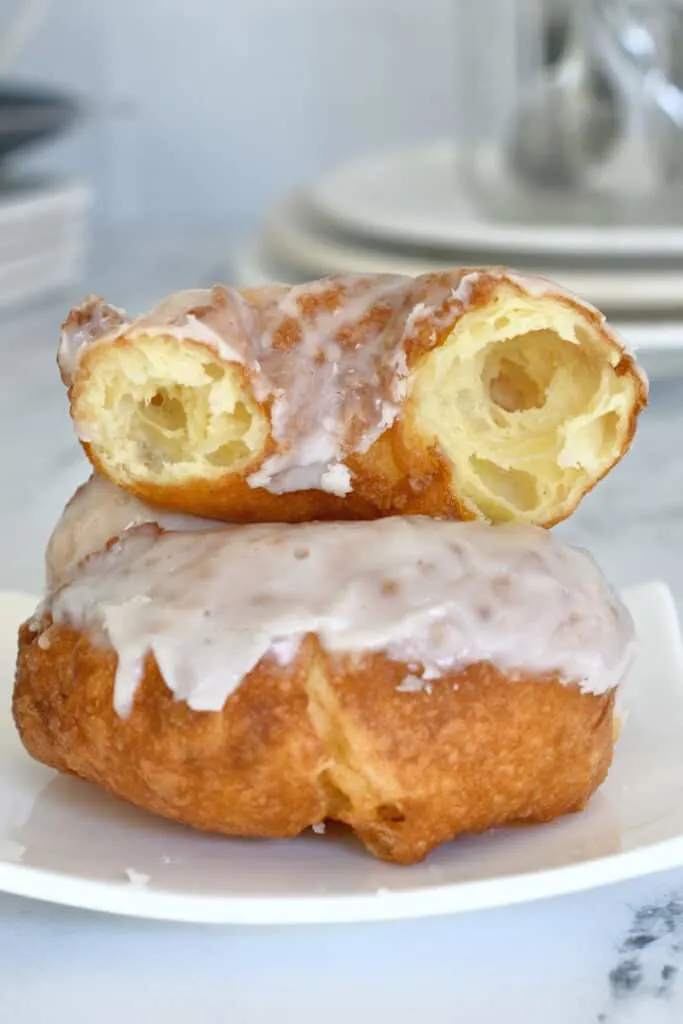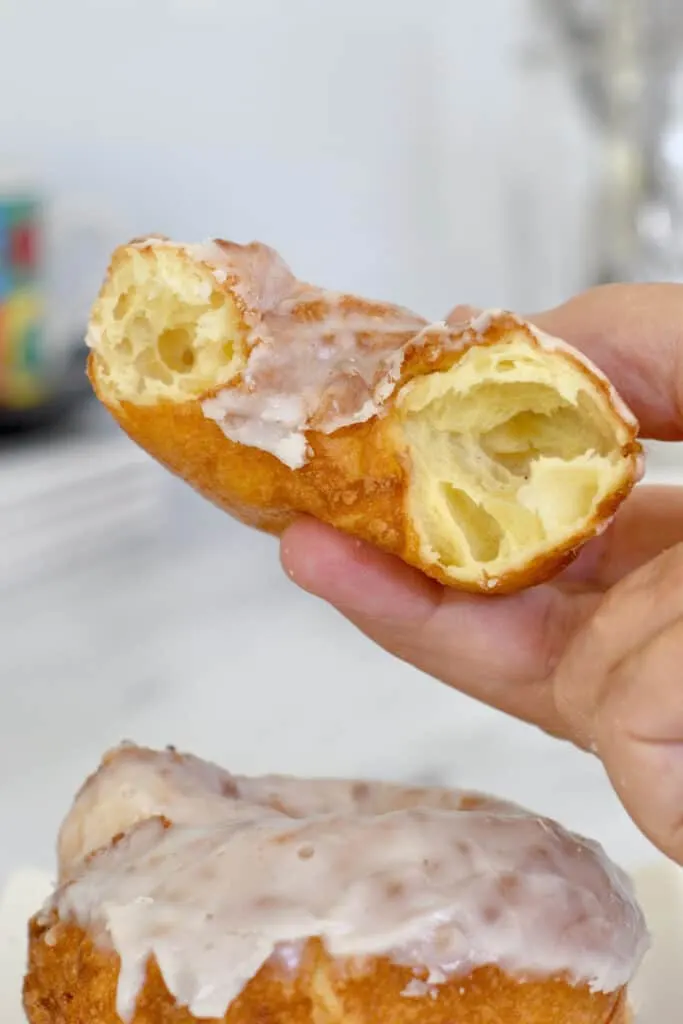 If you love this recipe as much as I do, I'd really appreciate a 5-star review.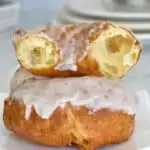 Print Recipe
French Crullers
A French Cruller is a donut made from traditional Pate a Choux batter.
Ingredients
Choux Paste
4

oz

water

(½ cup)

4

oz

whole milk

(½ cup)

4

oz

unsalted butter

½

tsp

table salt

1

tablespoon

granulated sugar

5

oz

all purpose flour

(1 cup)

3

large eggs

2

egg whites

(whisked together with eggs)

1

quart

vegetable oil

(for frying)
Glaze
4

oz

confectioner's sugar

(1 cup)

1

oz

whole milk

(2 tablespoons)

1

teaspoon

vanilla extract
Instructions
Combine

4 oz water

,

4 oz whole milk

,

4 oz unsalted butter

,

½ tsp table salt

and

1 tablespoon granulated sugar

in a medium saucepan. Bring to a full boil.

Remove the pan from the heat and add

5 oz all purpose flour

all a once. Use a wooden spoon or silicone spatula to vigorously stir the batter until the flour is absorbed and there are no lumps.

Return the pan to medium low heat and continue stirring for 3 minutes. The batter will come together and form a smooth, cohesive ball.

Remove the pan from the heat and transfer the batter to a food processor fitted with a blade (if mixing by hand transfer to a mixing bowl). With the processor running, add

3 large eggs

and

2 egg whites

in a steady stream. Mix until the batter comes together. (If mixing by hand add the eggs in three batches. After each addition, stir vigorously until the batter comes together.)

Transfer the batter to a clean bowl, cover the bowl and refrigerate for 30 minutes. Meanwhile heat

1 quart vegetable oil

to

375

°F

in a large heavy pot. Place a cooling rack over a sheet pan and set it up near the stove.

Spray a sheet of parchment paper with pan spray or brush lightly with vegetable oil. Cut the parchment into 4"x4" squares.

Scoop the batter into a pastry bag fitted with a large star tip (½" tip). Pipe a ring of batter onto each parchment square. At this point the piped crullers can be frozen to finish later. Defrost them before frying.

When the oil is up to temperature, place a parchment square into a slotted spoon and lower it into the oil. After a minute, use a pair of long-handled tongs to remove the parchment square which will release from the batter as soon as it starts frying.

Depending on the size of the pot, you can fit 2-3 donuts in at a time. Don't overcrowd the pot. When the first side is well browned (after 3-4 minutes) flip the cruller over and fry another 3-4 minutes on that side. As the cruller fries it will puff up and some cracks may form. Continue frying until both sides are well browned in the cracks that form. Total frying time is about 6-7 minutes.

Lift the cruller out of the oil with the slotted spoon and place on the rack to drain. Continue frying the remaining crullers. Monitor the temperature of the oil to keep it close to 375°F.
Glaze
In a small bowl combine

4 oz confectioner's sugar

1 oz whole milk

and

1 teaspoon vanilla extract

to form an icing with the texture of pancake batter.

When the crullers are cool enough to handle but still slightly warm, dip the top of each one into the glaze. Allow excess glaze to drip back into the bowl then set the cruller onto the baking rack until the glaze is set.

Crullers are best eaten shortly after frying.
Equipment
Disposable Decorating Bags
As an Amazon Associate and member of other affiliate programs, I earn from qualifying purchases.
Nutrition
Serving:
1
donut
|
Calories:
302
kcal
|
Carbohydrates:
20
g
|
Protein:
4
g
|
Fat:
27
g
|
Saturated Fat:
8
g
|
Polyunsaturated Fat:
11
g
|
Monounsaturated Fat:
7
g
|
Trans Fat:
0.4
g
|
Cholesterol:
63
mg
|
Sodium:
127
mg
|
Potassium:
56
mg
|
Fiber:
0.3
g
|
Sugar:
2
g
|
Vitamin A:
315
IU
|
Calcium:
25
mg
|
Iron:
1
mg