If you like to bake from scratch, learning the basics about chemical leavening (baking soda & baking powder) can help you understand how your recipe works. Knowing which and how much leavener to use is a valuable tool in the baker's skill set.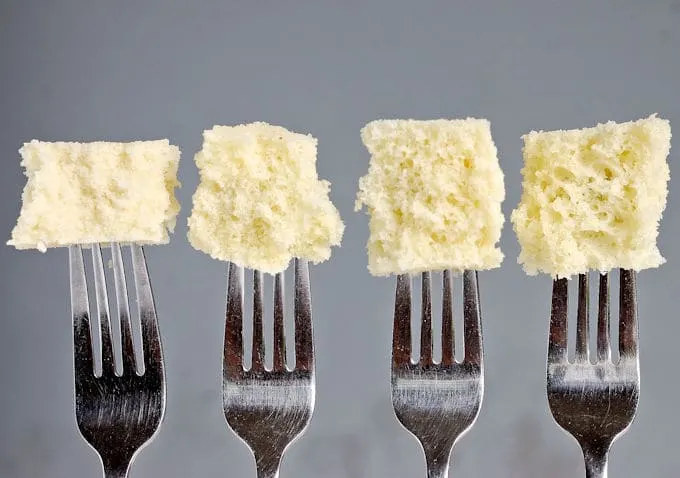 What are Baking Powder & Baking Soda?
When certain acidic and alkaline compounds come together with water there is a reaction that produces carbon dioxide gas.
Chemical leaveners, like baking powder and baking soda, use that carbon dioxide gas to lighten and aerate baked goods.
The gas is trapped in the batter or dough, allowing bubbles in the batter to expand, which causes the baked good to rise.
If you ever made a "baking soda volcano" as a school science project you've seen this reaction.
The Science of Baking Soda
The alkaline component in the chemical reaction is usually sodium bicarbonate, aka baking soda.
The alkaline baking soda needs an acidic counterpart to create carbon dioxide gas. If there is an acidic ingredient in the recipe, such as buttermilk or yogurt, the baking soda will react with that ingredient to create carbon dioxide.
If you use baking soda in a recipe that has little or no acidic ingredients, it will break down into carbon dioxide and sodium carbonate, an alkaline compound.
Have you ever eaten a baked good that left a soapy taste in your mouth? That means there was either too much baking soda or not enough acid in the recipe.
Excess alkaline will also cause chocolate to look red (the origin of devil's food cake) and blueberries to turn green.
The Science of Baking Powder
If there is very little or no acidic component in your recipe, the leavener of choice is baking powder.
Baking powder is composed of alkaline baking soda, acidic salt crystals and a little starch to absorb moisture.
Most commercial baking powders are labeled as "double-acting". Double acting baking powders contain two types of acid; one acid, such as cream of tartar, which will dissolve quickly in cold water and a second acid which is slower to dissolve.
The fast dissolving acid releases carbon dioxide as soon as it comes in contact with the liquid in the recipe, causing an initial lightening of the batter as it's mixed.
The slower dissolving acid releases a second burst of carbon dioxide when the batter hits the heat of the oven.
The first reaction is smaller and just begins the process of forming the gas cells in the batter. The second reaction in the oven is larger and expands the cells even further.
With a properly leavened recipe, the batter surrounding the air bubbles will have time to set in the oven before the final burst of carbon dioxide expands.
Too much leavener will cause the baked good to rise too fast. The unbaked batter can't hold in the bubbles and the cake will collapse.
How much baking powder and baking soda do I need?
It takes about ¼ teaspoon of baking soda or about 1 teaspoon baking powder to lift a cup of flour in a recipe.
A ½ teaspoon of baking soda will neutralize 1 cup of an acidic ingredient.
Just a little baking math – Recipes often employ a combination of baking powder and baking soda, using just enough baking soda to neutralize the acid in the recipe, but also enough total leavener to lift the flour in the recipe.
For example, if we add a ½ cup of yogurt or sour cream to a pound cake recipe we would need a ¼ teaspoon of baking soda to neutralize the acidic ingredient.
That ¼ teaspoon of baking soda releases enough carbon dioxide to lift 1 cup of flour.
Let's assume the recipe has a total of 2 cups of flour. You would need to add enough baking powder to lift the remaining cup of flour.
The recipe would need ¼ teaspoon baking soda plus 1 teaspoon baking powder to leaven a cake with 2 cups of flour in the batter. Got that? Good!
How to make your own baking powder
Mix 1 part baking soda with 2 parts cream of tartar and 1 1/2 parts corn starch.
Since cream of tartar is a fast dissolving acid, a batter made with this home made baking powder should be put in the oven as soon as it's mixed to get the most volume.
There will not be a second release of carbon dioxide in the oven.
Pastry Chef tips for using baking powder and baking soda
It's important to know that baking powder and baking soda are perishable. If you're having trouble with your recipes not rising as they should, check the expiration date on the container.
You can use baking powder even if there is an acidic ingredient in the recipe. I'll often do this when I add buttermilk or sour cream to cake batter. Without the neutralizing baking soda, the batter is left slightly acidic. Not only does this help with the flavor, but a slightly acidic batter will make for a more tender crumb.
This is why baking is both an art and a science. It's helpful to know about the science of the ingredients, but it takes a bit of an art to use them to get a recipe just as you like it.
Learn about the science of baking ingredients: