Chocolate Genoise (chocolate sponge cake) is light as a feather. This cake will absorb lots of syrup for an extra layer of flavor and moisture. I like to add a bit of rum to the syrup, but you can use vanilla or coffee, whatever flavor you'd like. This classic cake is especially delicious with whipped cream or mousse.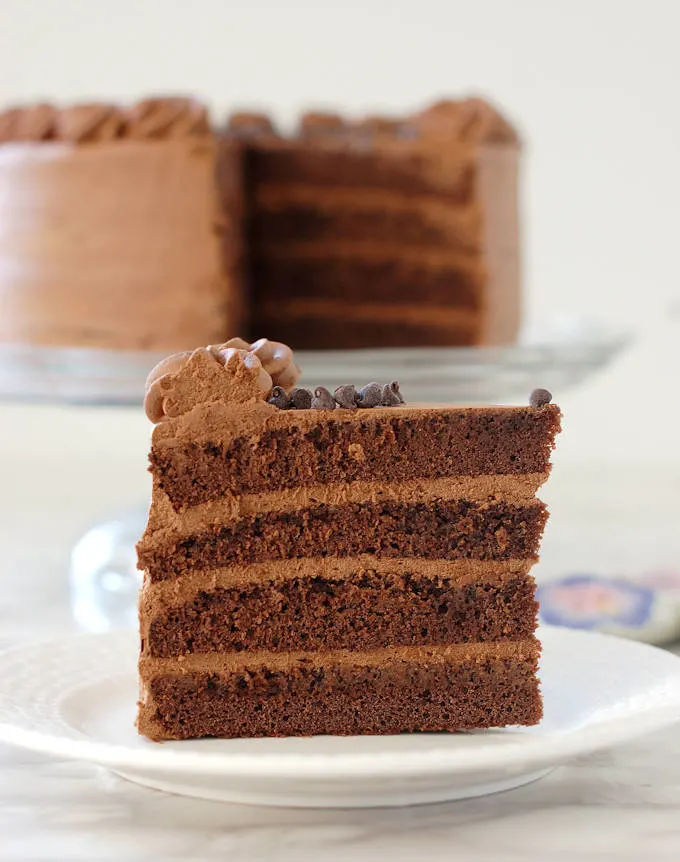 How many chocolate cake recipes could a person possibly need? Didn't I just post a recipe for Chocolate Butter Cake? If that cake is so good, why would we need another recipe.
Well, different types of cakes are good in different ways. I love the chocolate butter cake because it's super soft and buttery. My butter cake recipe has lots of, well, butter, as well as sour cream and extra egg yolks to create a very tender cake crumb.
About Chocolate Genoise
Chocolate Genoise is different, it has a much lighter and drier texture. Ewwww, why would we want dry cake? Isn't that everyone's nightmare?
Like the name "sponge" cake implies, this cake can take in a lot of sugar syrup. Brushing the layers with sugar syrup is a great way to add a layer of flavor to any cake. I use syrup on my butter cakes for an extra hit of flavor, but butter cake is plenty moist without any syrup at all.
Compared to Chocolate Butter Cake, Chocolate Genoise has less butter, no sour cream & more egg whites. Because the Genoise recipe is balanced more towards structure builders than tenderizers, it is not only light and airy, it's also strong and resilient.
If you add too much syrup to a tender butter cake it could become soggy and pasty. But this Chocolate Genoise can absorb a whole bunch of syrup and maintain it's lovely, light crumb.
Whatever you do, don't try to make this cake without the syrup. When you make a Genoise, the syrup is integral to the flavor and texture of the cake. That's why I include the syrup as an ingredient for this recipe.
I'm partial to rum with chocolate cake – remember, alcohol enhances other flavors! But if you don't want to use alcohol, vanilla or coffee syrup would be wonderful as well.
Because Chocolate Genoise is so light and airy, I particularly like it filled and iced with Chocolate Whipped Cream or Chocolate Mousse. It's also really good filled with Chocolate and/or Vanilla Pastry Cream for a version of Italian Rum Cake.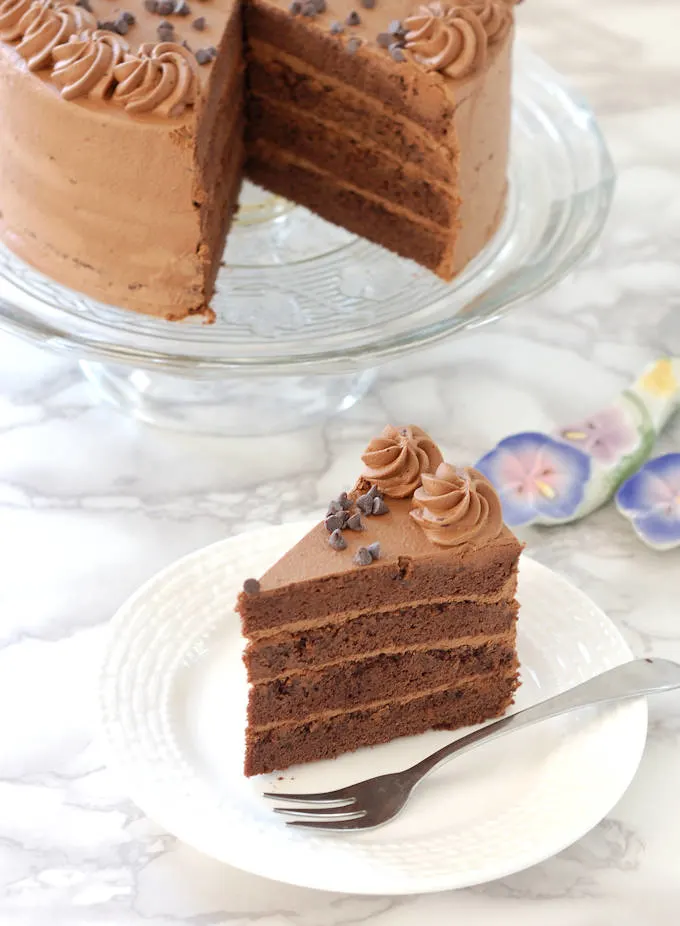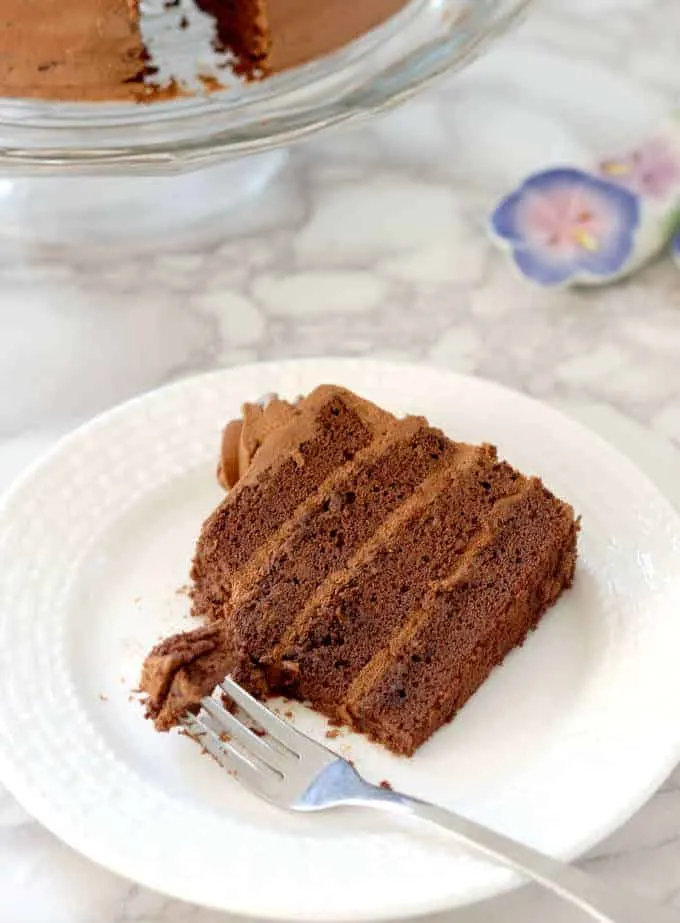 And hey, you know what? I'm not done with chocolate cake recipes yet. I've got another one coming soon. Because there cannot be too many Chocolate Cakes in this world, right????
Watch the video to see how to make Chocolate Genoise.
If you love this recipe as much as I do, please consider giving it a 5-star review.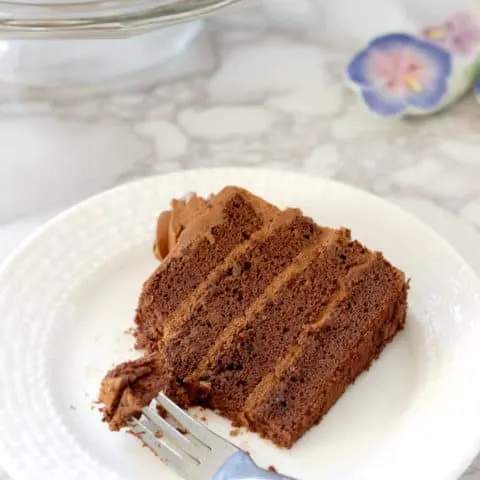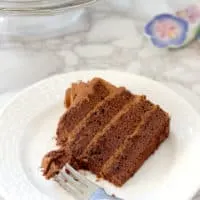 Chocolate Genoise, Chocolate Sponge Cake
Light as a feather Chocolate Genoise (chocolate sponge cake). This cake will absorb lots of syrup for an extra layer of flavor and moisture. I like to add a bit of rum to the syrup, but you can use vanilla or coffee, whatever flavor you'd like. This classic cake is especially delicious with whipped cream or mousse.
Ingredients
8 tablespoons (4 oz, 113g) unsalted butter
2 teaspoons vanilla extract
1 cup plus 2 tablespoons (5 oz, 140g) cake flour
1/2 cup (2 oz, 55g) dutch process cocoa powder
8 large eggs
1 cup (8 oz, 225g) granulated sugar
Assembly
1.5 cups simple syrup(that's a double batch) flavored with liquor or extract of your choice.
Filling & icing of your choice
Instructions
Line the bottom of two 8" cake pans with a parchment round, or butter and flour the pan. Preheat the oven to 350°F (don't use the convection setting).
Melt the butter in a small saucepan, cook until the milk solids sink to the bottom of the pan and become brown. Drain the butter into a small bowl, leaving the milk solids in the pan. Stir the vanilla into the browned butter and set aside.
Sift together the flour and cocoa, set aside.
Put the eggs & sugar in a mixer bowl. Set the bowl over a pan of simmering water (don't let the bowl touch the water) and whisk until the eggs are lukewarm. Put the bowl onto the mixer and whisk until the eggs are tripled in volume.
Sift half the flour/cocoa over the egg mixture and use a balloon whisk to fold, repeat with the remaining flour/cocoa. Whisk 2 cups of the batter into the browned butter. Fold the butter mixture into the batter just until combined. Divide the batter evenly between the pans.
Bake until the cake springs back when pressed in the center, about 30 minutes. Cool in the pan for 10 minutes before turning out onto a cooling rack.
Cool completely before filling and frosting.
Assembly
Trim the top of the cake to level, if desired, split each cake into two layers.
Brush the layers generously with syrup before filling & icing.
Recommended Products
As an Amazon Associate and member of other affiliate programs, I earn from qualifying purchases.
Simple Syrup
Simple syrup is a pastry kitchen staple. Use it to add a layer of flavor to your favorite cake or stir it into iced tea or a cocktail.
Ingredients
1/2 cup (4 oz, 125 ml) water
1/3 cup (3 oz, 85g) granulated sugar
liquor of choice to taste (I would use about 2 tablespoons)
Instructions
Combine the sugar and water in a small saucepan
Heat over medium high heat just until all the sugar is melted
Remove from heat and allow to cool completely before adding the liquor/flavoring.
Notes
The simple syrup can be stored in the refrigerator for several weeks.
Without the added liquor, this syrup is also great for sweetening iced tea or lemonade.
You might also like: