Homemade marshmallows are in another league from store bought. Fresh mint leaves give these marshmallows a lovely natural flavor and color.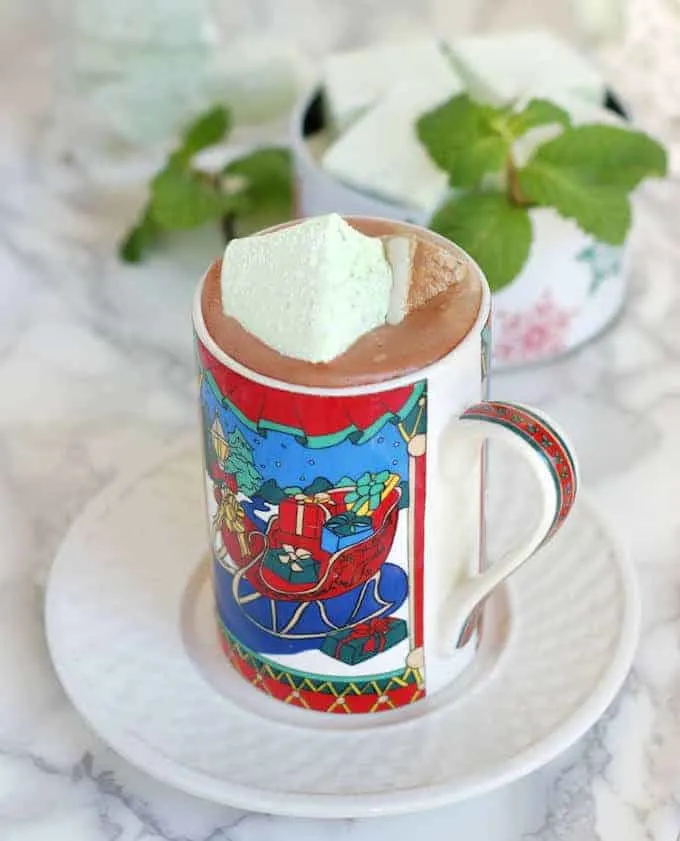 Here's another great "gift from the kitchen" idea. If you've never tasted homemade marshmallows you're in for a real treat. Homemade marshmallows are billowy soft and melt into a lovely gooey mess when toasted or put into a hot beverage.
The truth is, I hate marshmallows. About once a summer I'll make a s'more with a super-toasty marshmallow and I'm good for the rest of the year, and that's mostly about the chocolate and the graham cracker.
I don't like those chocolate marshmallow cookies or the mini marshmallows in hot cocoa mix. To me, store-bought marshmallows taste like a super-sweet rubber band. Don't even get me started on Easter "peeps", ewww!
About 20 years ago a friend and I (we met in pastry school) decided to make all of our kids' Easter candy from scratch. I know, it was a little nuts. It was a ton of work, and a lot of fun for two pastry geeks. We even made our own "peeps", cause the kids loved them.
That was the first time I tasted homemade marshmallows and I was immediately smitten. Instead of having the texture of a rubber ball, those marshmallow-peeps were soft and luscious.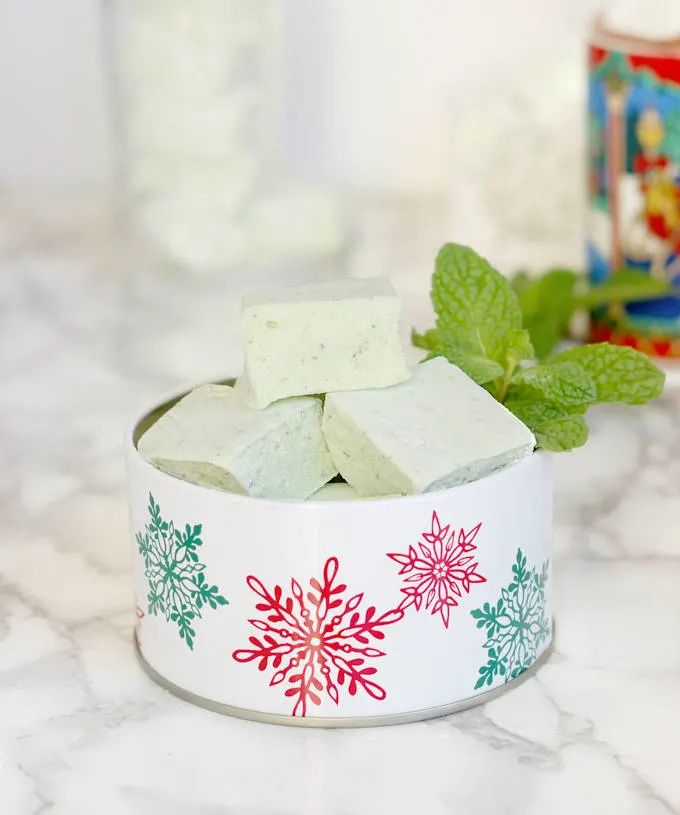 It's been years since I made marshmallows so, with the "gifts from the kitchen" theme in mind, I set out to make a batch and share the recipe with you.
I wanted to do something fun with the flavor and decided to make mint marshmallows. Mint/chocolate is a great flavor combination, so of course I recommend that you dunk these mint marshmallows into hot cocoa for the perfect holiday treat.
I was going to just use peppermint extract or maybe some crushed candy canes to flavor the mix. But I was inspired by the amazing fresh mint truffles by John & Kira's, a local Philly chocolate company (this is not a paid post, I just love their products).
John & Kira's chocolates are flavored with fresh mint and have a lovely, herbal quality that you just don't get with peppermint oil or peppermint extract.
The oil and extract give you the menthol bite of the mint, but not the "green" flavor you get from fresh leaves. If you want a little more color and a little more minty bite, you can add the optional food coloring and peppermint extract (I did).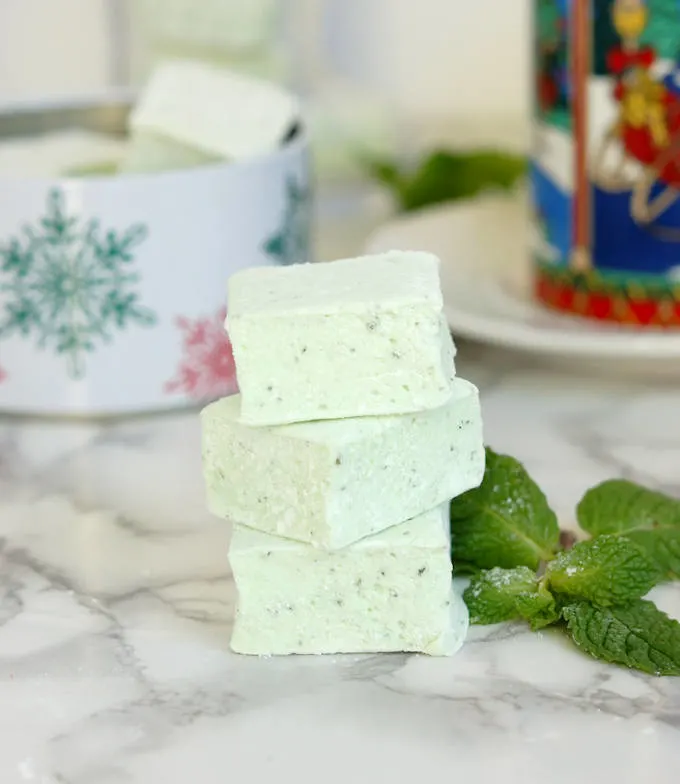 Watch the recipe video to see how to make homemade Fresh Mint Marshmallows.
Now that you've made this recipe what should you do with the extra yolks? Check out this collection of recipes that use extra yolks for some great ideas.
Toast a Mint or Vanilla Bean Marshmallow and pair it with Homemade Graham Crackers for the best s'more of your life.
If you love this recipe as much as I do, please consider giving it a 5-star review.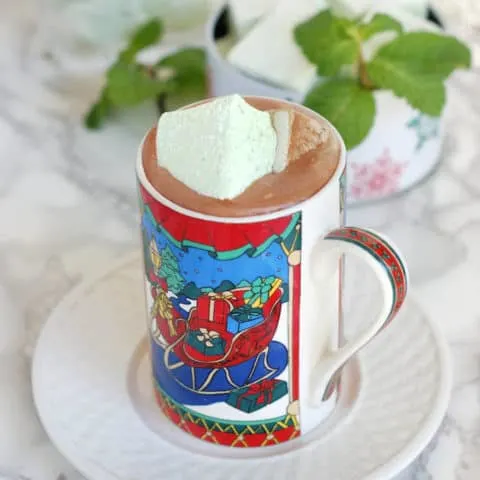 Fresh Mint Marshmallows
Steeping & Setting Time:
9 hours
Homemade marshmallows are in another league from store bought. Fresh mint leaves give the marshmallows lovely natural flavor and color.
Ingredients
3 envelopes plain gelatin (2 T + 1 t or 3/4 oz or 21g)
1/2 cup (4 oz, 118 ml) cool water
2 1/2 cups (20 oz, 560g) granulated sugar, divided into 2 cups and 1/2 cup3/4 cup (8 oz, 226g) light corn syrup
3/4 cup (6 oz, 177 ml) hot water
1/4 tsp table salt
2 large bunches of fresh mint, rinsed in cool water until very clean
2 large egg whites
1-2 drops green food coloring (optional)
1-2 drops peppermint extract (optional)
Powdered Sugar
Instructions
Oil a 13"x 9" pan then line the pan, lengthwise, with parchment paper, then oil the parchment paper.
In a large mixing bowl, sprinkle the gelatin into the cool water, whisking just to combine, set aside
Combine 2 cups of the sugar with corn syrup, hot water and salt. Heat the mixture until the sugar is melted. Turn off the heat and place the leaves from 1 bunch of mint into the syrup. Cover the pot and let the syrup steep for 1 hour.
Strain the mint out of the syrup and return the syrup to the pot. Turn the heat to medium high and bring the mixture to a boil. Once the mixture is boiling do not stir! Cook the syrup to 240°F.
Whip the syrup mixture into the gelatin until it's doubled in volume, set aside.
In a food processor or blender, process the remaining 1/2 cup of sugar with a 1/2 cup (packed tightly) mint leaves.
Whip the egg whites until medium peak, add the mint sugar and whip to full peak. Add 1-2 drops of green food coloring and peppermint extract, if desired. With the mixer running, slowly add the gelatin mixture to the egg whites. Pour the mixture into the prepared pan and smooth to an even layer. Leave to set overnight, uncovered.
Use the parchment to lift the marshmallows out of the pan. Use a sharp knife to cut into 1.5" squares. Wipe the knife with a little vegetable oil to keep the marshmallows from sticking. Toss the marshmallows in confectioner's sugar to coat.
Store in an air-tight container at room temperature.
You might also like: