Rich and silky smooth, White Chocolate Ganache is a great basic recipe to have on hand. Whip it to create an airy cake filling or frosting, roll it in crystal sugar to make Snowball Truffles, or drizzle it on a cheesecake. The possibilities are endless.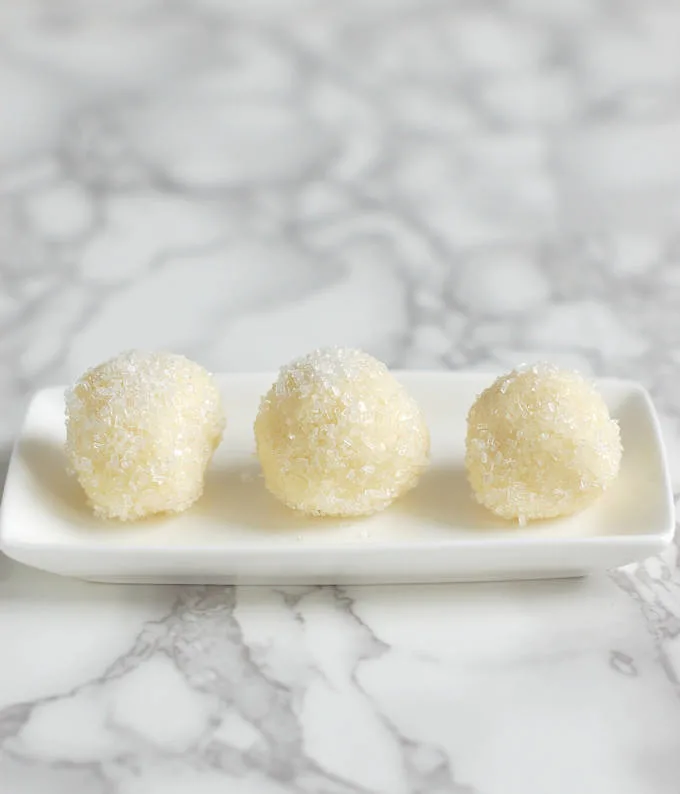 I bet when you hear the word "ganache" you immediately think of a luscious, dark chocolate treat that can be rolled into truffles, used to ice a cake, or fill a tart shell. But did you know that you can also make ganache from white chocolate?
I've used White Chocolate Ganache in a bunch of recipes on this blog. But I decided it was time to post this as a separate recipe because it is so versatile.
I absolutely adore Dark Chocolate Ganache. I think it's an essential recipe to have on hand for making desserts and pastries. But, much as I love dark chocolate, it is a very assertive flavor that pretty much takes over any dish. No matter which flavors you put into dark ganache, the predominent flavor will always be chocolate. Believe me, as an avowed chocoholic, most of the time I'm perfectly fine with that.
White chocolate is made from cocoa butter, milk solids and vanilla. It doesn't have the "chocolate liquor" that gives dark chocolate it's chocolatiness. White chocolate has a fairly neutral flavor. Thanks to that neutral flavor, White Chocolate Ganache will take on other flavors very nicely.
Because it's fairly soft, White Chocolate Ganache becomes incredibly airy and melts-in-your-mouth when it's whipped. You can add raspberry puree to frost White Chocolate Raspberry Brownies, or a little Guinness for frosting Guinness Fudge Cake.
Click through the slider to see how to make White Chocolate Ganache:
[metaslider id=9419]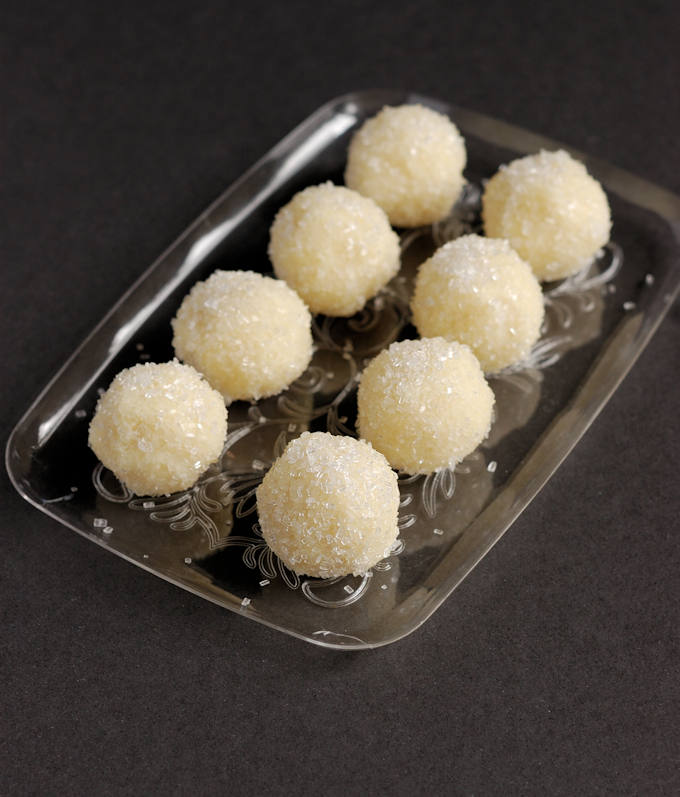 The main caution when working with white chocolate is that is softer than dark chocolate and can't take as much cream. Dark Chocolate Ganache can be made with as little as 1/2 the weight of cream to chocolate, or as much as 2X the weight of cream to chocolate.
After lots of testing, I found that the proportion of 8-10 oz of white chocolate to 4 oz of cream yields a white chocolate ganache that will set up firm, but is still soft enough to whip into an airy frosting. Because I was making truffles with this ganache I used 10 oz of white chocolate. You can reduce the amount of white chocolate to 8 oz if you want a slightly softer ganache for whipping. But I wouldn't go below 8 oz or the ganache might not set up.
One other note, please only use high quality white chocolate and not white chocolate chips or "coating chocolate". Same as for dark chocolate ganache, the quality of the ganache is only as good as the quality of the chocolate.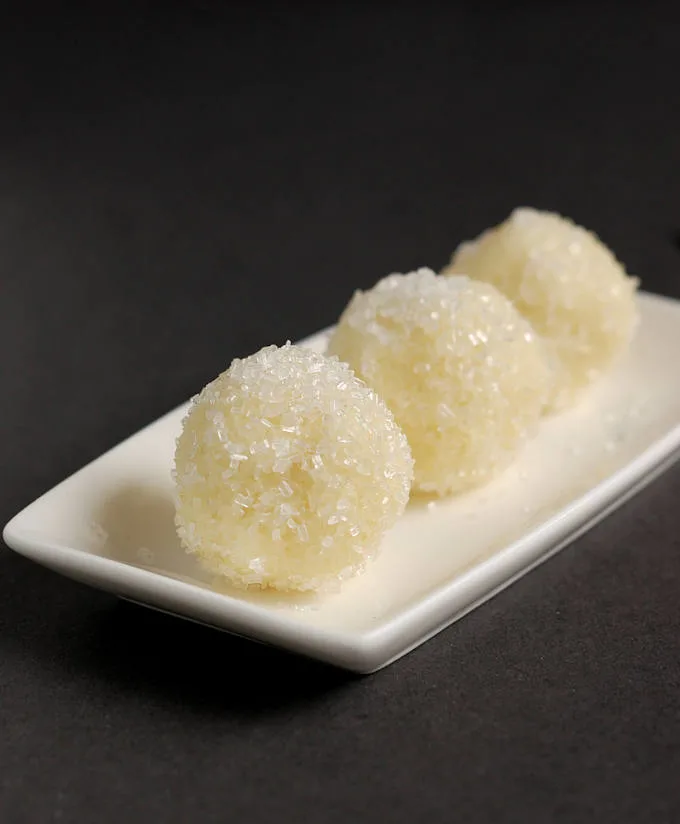 I think a few drops of peppermint oil would be the perfect flavoring for these Snowball Truffles. Wouldn't they look great on your holiday table? Package them in a box with colorful ribbons for a wonderful homemade gift.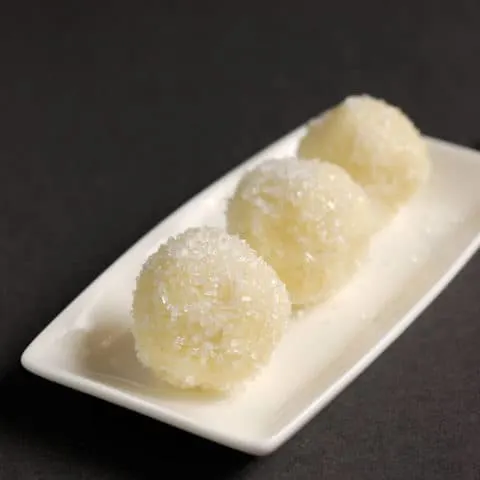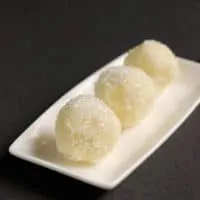 White Chocolate Ganache
Creamy smooth White Chocolate Ganache is the base for so many great filling and frostings. A good basic recipe to have on hand.
Ingredients
2 cups (10 oz, 285g) finely chopped white chocolate(not chips)
1/2 cup (4 oz, 125ml) heavy cream
flavors to taste (a few drops of peppermint oil would be nice for Snowball Truffles)
Instructions
Place the finely chopped white chocolate in a bowl. Heat the cream in the microwave until it's scalding hot. Immediately pour the cream over the chopped chocolate and let it sit for 2-3 minutes. Gently stir the ganache until it comes together and all the bits of white chocolate are melted.
If some of the chocolate doesn't melt, remove 1/2 cup of the ganache and heat for 30 seconds in the microwave. Stir the heated ganache back into the bowl. Repeat until all the bits of chocolate are melted. Let the ganache chill until firm if making truffles(see note)
Scoop the chilled ganache and roll in crystal sugar to make Snowball Truffles.
Notes
If making whipped ganache for a filling let the ganache cool to room temperature, then whip until light and airy
Some of my favorite flavor add-ins are ground cinnamon, orange zest/Grand Marnier and instant coffee. Add the solid flavorings to the cream before heating. Add any liquid flavors after all the chocolate is melted.