Candied Spiced Pecans are everything you want in a snack; sweet, salty, spiced and crunchy. Even better, they're so easy to make.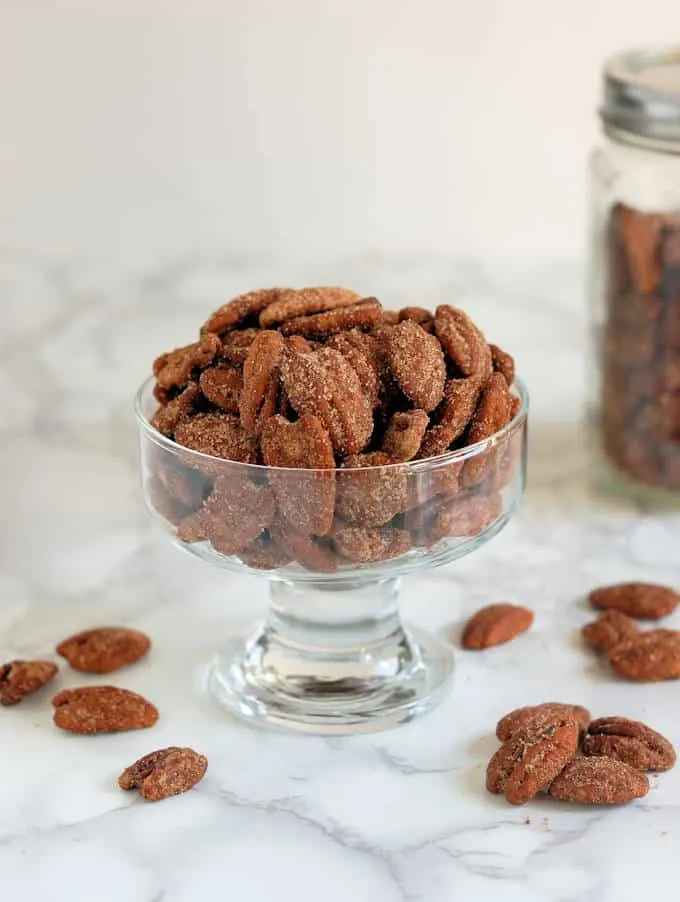 This will be a quick post because, honestly, there's not that much to say about this recipe. I know you've probably seen millions of candied or spiced pecan recipes. The internet is full of them. But, I've been making this recipe for years and really love it, so I decided to share it with you.
What I love about these pecans is how closely they ride the line between salty & sweet. They're sweet enough to garnish your desserts, yet salty enough to add some crunch to a dinner salad.
For my first version of this recipe I cooked the pecans in the rum syrup, then tossed them in the spice mix, then baked them in the oven. I liked the flavor, but thought they weren't quite crispy-crunchy enough.
After some research I saw that a lot of other spiced nut recipes had an egg white in the mix. Generally, the nuts are tossed in the egg white, then in the spice mix and baked. For other recipes the nuts are cooked in a sugar syrup, and then baked.
So I adapted my recipe to combine all these elements, in a slightly different order. First, toss the nuts in the egg white and bake them until dry. Then, toss the cooked nuts in sugar syrup, then spiced sugar, and then bake them again.
While I was making the recipe for this post, I wondered if I could skip a step and just bake the nuts once, nixing the step where I bake them after tossing them in the egg white. I tried both methods side by side and found that pre-baking the egg-white-coated nuts before the other steps yielded a crisper/crunchier nut.
To be honest, I'm not sure why. Maybe the initial baking with the egg white forms a protective coating on the nut so the syrup doesn't soften it. But, that's just a guess on my part.
Anyway, these nuts are perfect for holiday cocktail parties. They're great to package up for little gifts and, as I said before, they're good on both salads and desserts. They keep quite well in an air-tight container so they can be made weeks in advance.
Enjoy!
Click through the slider to see how-to make Candied Spiced Pecans:
[metaslider id=9103]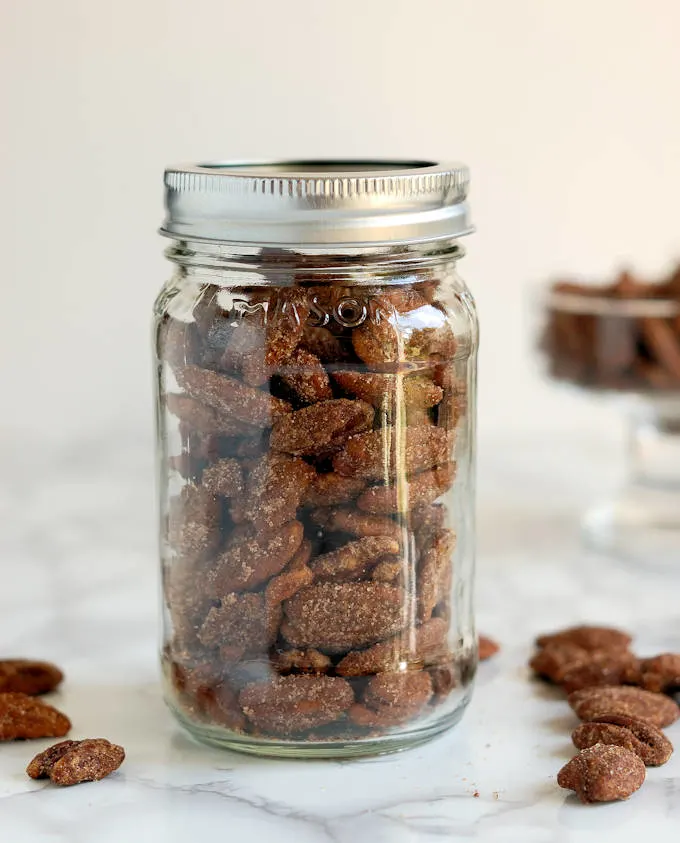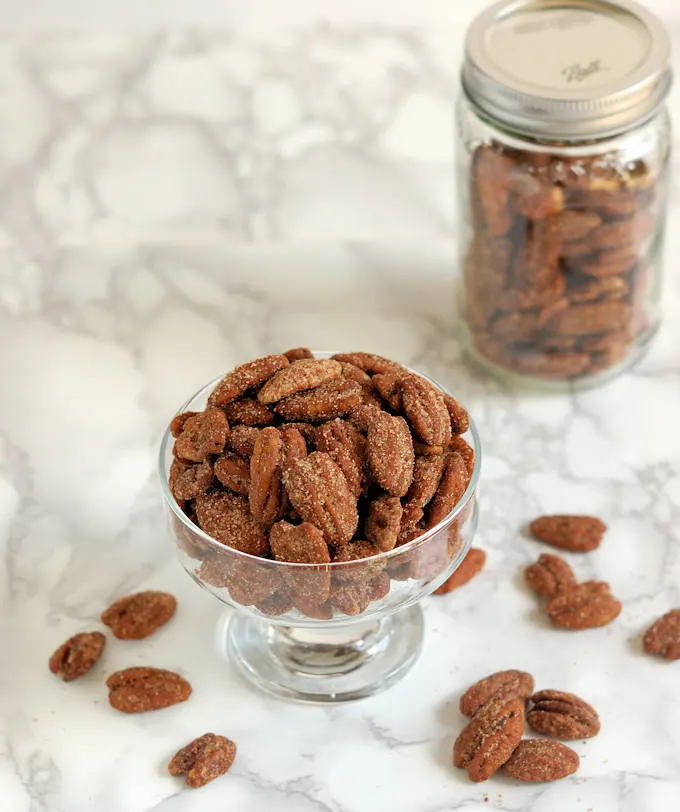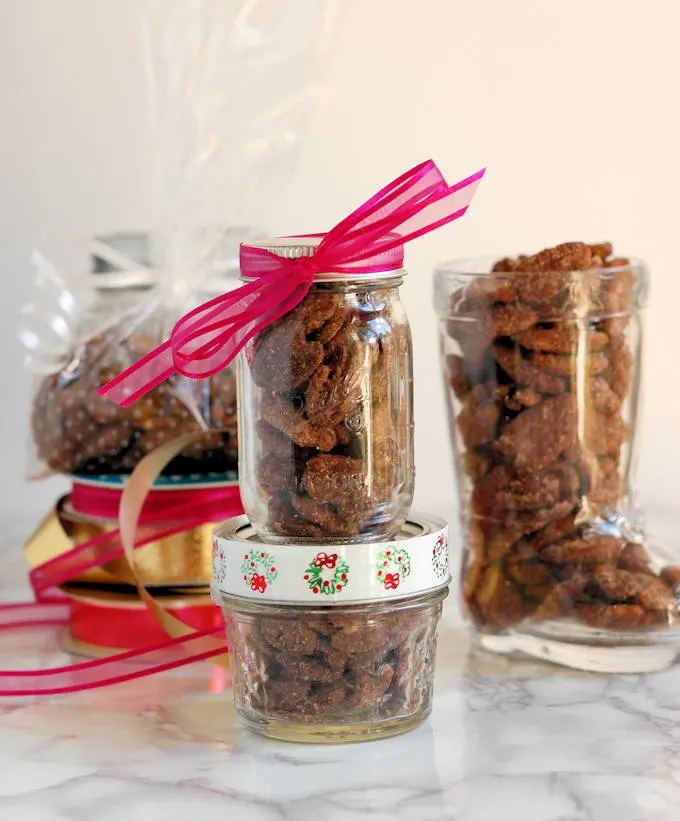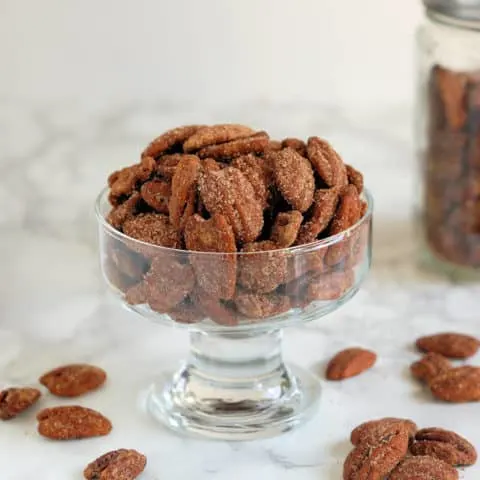 Candied Spiced Pecans
Candied Spiced Pecans are everything you want in a snack; sweet, salty, spiced and crunchy. They are so easy to make too. My method yields very crispy, crunchy nuts.
Ingredients
1 large egg white
10 oz (283g) Pecan Halves (see note)
1/4 cup (2 oz, 56g) granulated sugar
1/4 teaspoon cloves
1/4 teaspoon nutmeg
1/4 teaspoon ginger
2 teaspoons cinnamon
1.5 teaspoons table salt
2 tablespoons dark rum
2 tablespoons (1 oz, 28g) unsalted butter
2 tablespoons (1 oz, 28g) brown sugar
1 tablespoon real vanilla extract
Instructions
Preheat the oven to 350°F
Whisk the egg white until frothy. Toss the pecans with the egg white. Spread the pecans on a parchment or silpat lined baking pan. Bake until the pecans are crisp and the egg white is dry (about 7-8 minutes). Set the nuts aside.
Combine the sugar, spices and salt in a bowl, set aside.
In a large saucepan combine the rum, butter, brown sugar and vanilla and cook until bubbling and the sugar is melted. Add the nuts to the pan and toss until the pecans are coated with the syrup.
Toss the warm nuts with the sugar/spice mix to coat.
Return to the sheet pan and bake until golden and crispy, about 7-8 minutes.
Notes
I used a 10 oz bag of nuts to make this recipe. But you could use slightly more or less nuts depending on the size of the pecan package.
The finished nuts will keep quite well for at least a week or two in an air tight container.