Tiramisu Ice Cream Cake is a no-bake, frozen version of everyone's favorite Italian dessert. Layers of Savoiardi biscuits soaked in an espresso-Marsala syrup are layered with homemade Mascarpone Ice Cream for a luscious frozen dessert.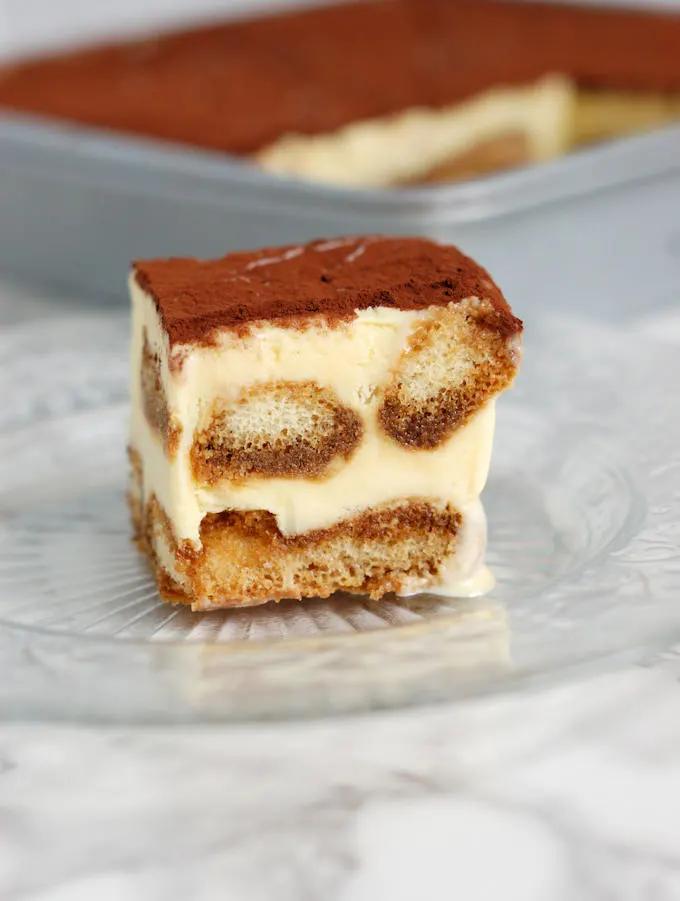 Whew! I've been making this recipe for a month and I'm finally ready to share it with you. Don't worry, it's not that it takes a month to make the recipe, in fact it's fairly quick to make, it just took me a month of trying various versions of the recipe to get it just right.
I love Tiramisu, and I bet you do too. What's not to love? Coffee-Marsala-soaked-biscuits are layered with creamy, airy Mascarpone cream filling. A hit of bitter cocoa on top is the perfect foil for all the creamy sweetness below. It's a wonderful dessert.
Because it's summer, and because there are plenty of traditional Tiramisu recipes available, I thought it would be nice to make an ice cream version of Tiramisu.
I love any excuse to make (or eat) homemade ice cream. I especially like to make ice cream with dairy products other than cream; for example, cream cheese, buttermilk, or creme fraiche.
As usual, the part of the recipe that I was most concerned about (the Mascarpone Ice Cream) turned out to be very simple to get just right, and the part of the recipe that should be simple (the lady fingers) was anything but.
For my first version of Tiramisu Ice Cream Cake I made an ice cream base using Mascarpone Cheese in place of heavy cream. I layered the fresh-from-the-churn ice cream with traditional Italian Lady Fingers, Savoiardi. The Savoiardi were dunked in a syrup made with coffee, sugar and Marsala Wine.
I brought the first version of the recipe to a family party. I just got a quick taste, but realized I'd used the wrong size pan (13″x 9″), so the layers of ice cream were too thin compared to the layers of Savoiardi.
For version 2 of the recipe I layered the same ingredients into a 9″x 9″ square pan. The size was perfect! But when we tasted the Tiramisu the next day I found that the lady fingers were icy and bland. Of course, all that water in the coffee was freezing solid and diluting the flavors.
How to keep frozen tiramisu from getting icy:
When you make a frozen dessert, ice cream, sorbet, whatever, if the mix has too much water you'll get an icy end-product. Sugar helps keep the mix from freezing solid, and so does alcohol.
Because my original recipe just used cold coffee with a little sugar and Marsala, the liquid was freezing solid. I knew I had to reduce the amount of water significantly to get a better texture for the cake.
So I nixed the idea of using coffee and decided to use espresso powder instead. I started with a heavy syrup made from equal parts water and sugar and added a full 1/4 cup of instant espresso powder. I tripled the amount of Marsala in the syrup.
If you tasted the syrup all by itself it would be too strong! Because flavors are muted in frozen foods, a stronger syrup is needed for a full-flavored frozen dessert.
That was the ticket. The lady fingers in the final recipe had a soft bite and good flavor. They were the perfect contrast to the creamy Mascarpone Ice Cream and bitter cocoa.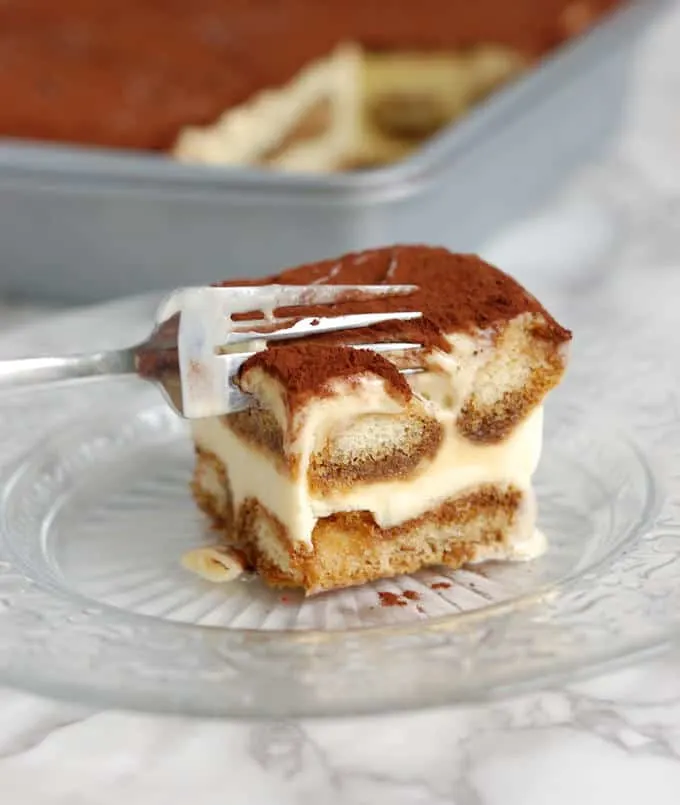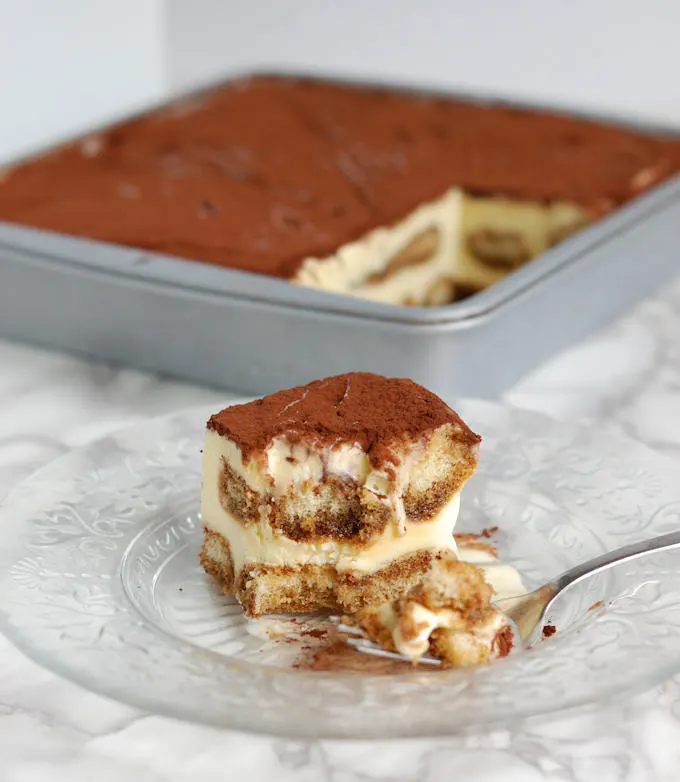 Watch the recipe video to see how to make Tiramisu Ice Cream Cake.
Now that you've made this recipe what should you do with all the extra egg whites? Check out this collection of recipes that use extra whites for some great ideas.
If you love this recipe as much as I do please consider giving a 5 star review.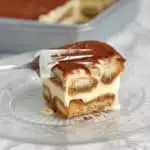 Print Recipe
Tiramisu Ice Cream Cake Recipe
An ice cream cake version of everyone's favorite Italian dessert made with homemade ice cream.
Ingredients
Mascarpone Ice Cream
12

oz

whole milk

(1 ½ cups)

8

oz

granulated sugar

(1 cup)

½

vanilla bean

(or 1 tblsp vanilla extract)

⅛

teaspoon

table salt

6

large egg yolks

16

oz

Mascarpone Cheese
Instructions
Make the Ice Cream
Combine

12 oz whole milk

,

8 oz granulated sugar

½ vanilla bean

and

⅛ teaspoon table salt

in a small saucepan. Heat the milk mixture over medium high heat until scalding hot. Whisk

6 large egg yolks

in a mixing bowl.

When the milk mixture is scalding hot, pour it into the bowl with the yolks and whisk to combine. Return the entire mixture to the saucepan and heat over medium low heat, stirring constantly. Cook until the custard coats the back of a spatula or wooden spoon.

Remove from the heat and strain into a bowl. Add

16 oz Mascarpone Cheese

. Gently whisk until the Mascarpone is melted into the base. Cover the bowl and refrigerate until very cold. At least 4-5 hours or overnight. Freeze according to the directions for your ice cream maker.
Assembly
While the ice cream is running in the machine, assemble your other ingredients.

Heat

6 oz water

,

6 oz granulated sugar

¼ cup instant espresso powder

in a small pan until the sugar and espresso powder are dissolved. Remove from the heat and mix in

6 oz Marsala wine

.

Dip the lady fingers, a couple at a time, into the coffee mixture, give them a few seconds to absorb some of the liquid. Fit the biscuits in 2 rows of 7 into the bottom of a 9"x9" square baking pan.

As soon as the ice cream is finished running, scoop 1/2 the ice cream over the biscuits and smooth to an even layer. Repeat with remaining biscuits and ice cream. Smooth the top and cover tightly with plastic wrap.

Freeze several hours or overnight until the ice cream is frozen solid. Before serving, sprinkle the top with a layer of cocoa powder. The Tiramisu tastes best if left to soften at room temperature for 10 minutes or so before serving.
Equipment
9 x 9 Brownie Pan with Lid
As an Amazon Associate and member of other affiliate programs, I earn from qualifying purchases.
Nutrition
Serving:
1
slice
|
Calories:
281
kcal
|
Carbohydrates:
29
g
|
Protein:
4
g
|
Fat:
15
g
|
Saturated Fat:
9
g
|
Polyunsaturated Fat:
0.3
g
|
Monounsaturated Fat:
1
g
|
Cholesterol:
104
mg
|
Sodium:
48
mg
|
Potassium:
180
mg
|
Sugar:
25
g
|
Vitamin A:
529
IU
|
Calcium:
81
mg
|
Iron:
0.4
mg
You might also like: