What's better than whipped cream? Chocolate whipped cream! Use it to fill cake layers or as a topping for ice cream or hot chocolate.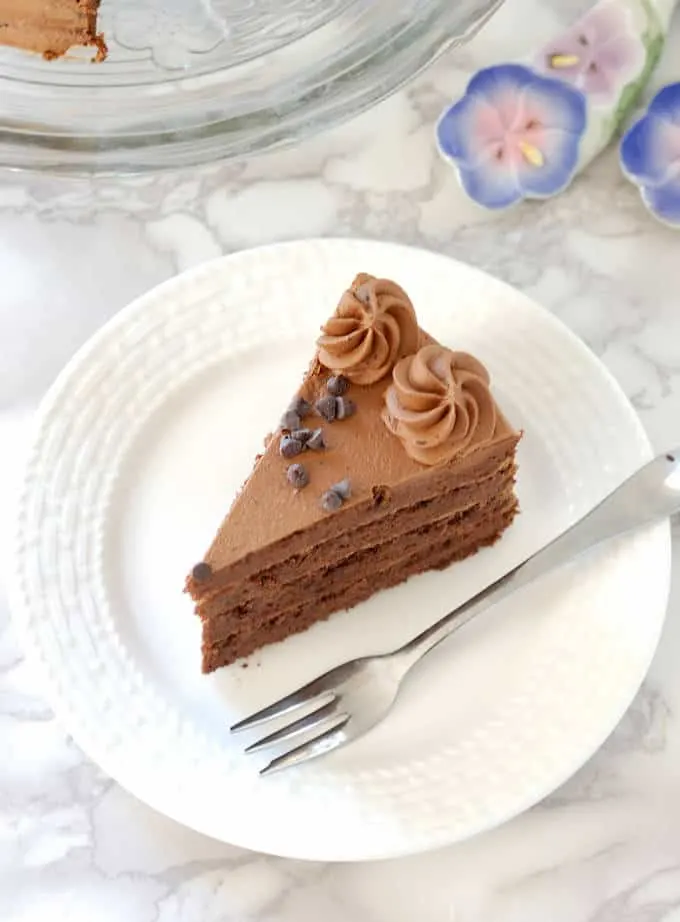 I'll show you how to make easy chocolate whipped cream. The recipe only has 4 ingredients, so it's obviously an easy one. You might even wonder why you would need a recipe for whipped cream, anyway.
Think about it, you're mixing melted chocolate into chilled cream. If you simply dump the chocolate right in, there's a good chance that the chocolate will immediately set up and form lumps of chocolate.
No worries, we'll use one of the pastry kitchen's most helpful techniques; we'll "liason" the chocolate into the cream. "Liason" means to slowly bring together two ingredients that have different textures or temperatures.
We've used this technique before. Remember when we made Pastry Cream and Creme Anglaise, how we whisked the warm milk into the cool eggs before returning them to the pot to cook?
By whisking a little of the chilled cream into the melted chocolate we lighten the texture of the chocolate. The lighter chocolate is now closer in texture and temperature to the cream, making it easier to mix the two together to form a nice, smooth cream.
Ingredients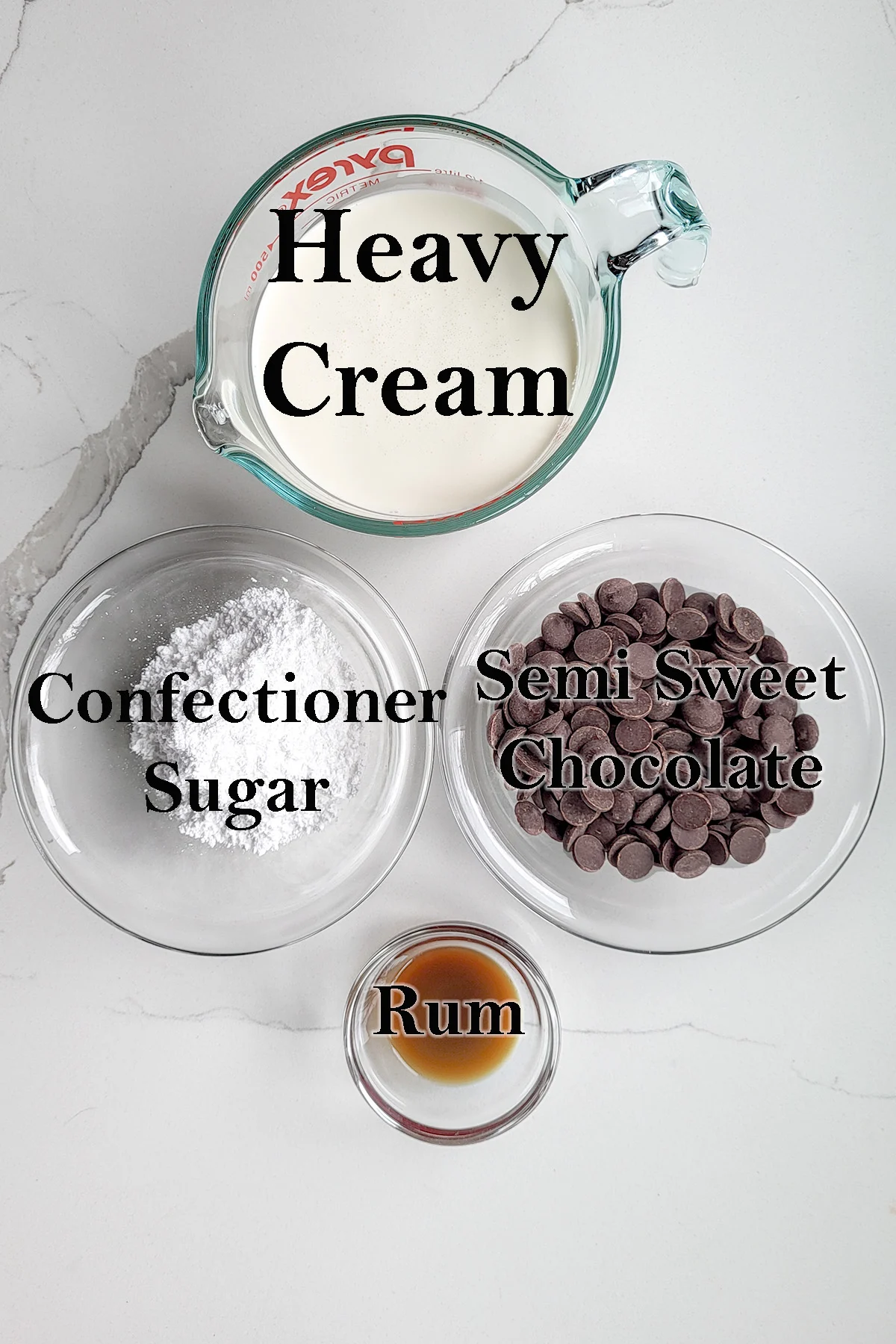 Heavy Cream – Heavy cream generally has a higher fat content than whipping cream. Either will work in this recipe but heavy cream should be your first choice.
Semi Sweet Chocolate – Look for a dark chocolate listed as 60% or higher. The higher the percentage the more cocoa solids are in the chocolate and the less sugar. If you use a much higher or lower percentage chocolate you may want to adjust the sugar in the recipe accordingly.
Confectioner Sugar – Powdered sugar will mix more easily into the cream without leaving a gritty texture.
Rum – The rum is optional but remember, alcohol enhances other flavors. The rum is not there to add a boozy flavor but to enhance the flavor of the chocolate.
How to make Chocolate Whipped Cream: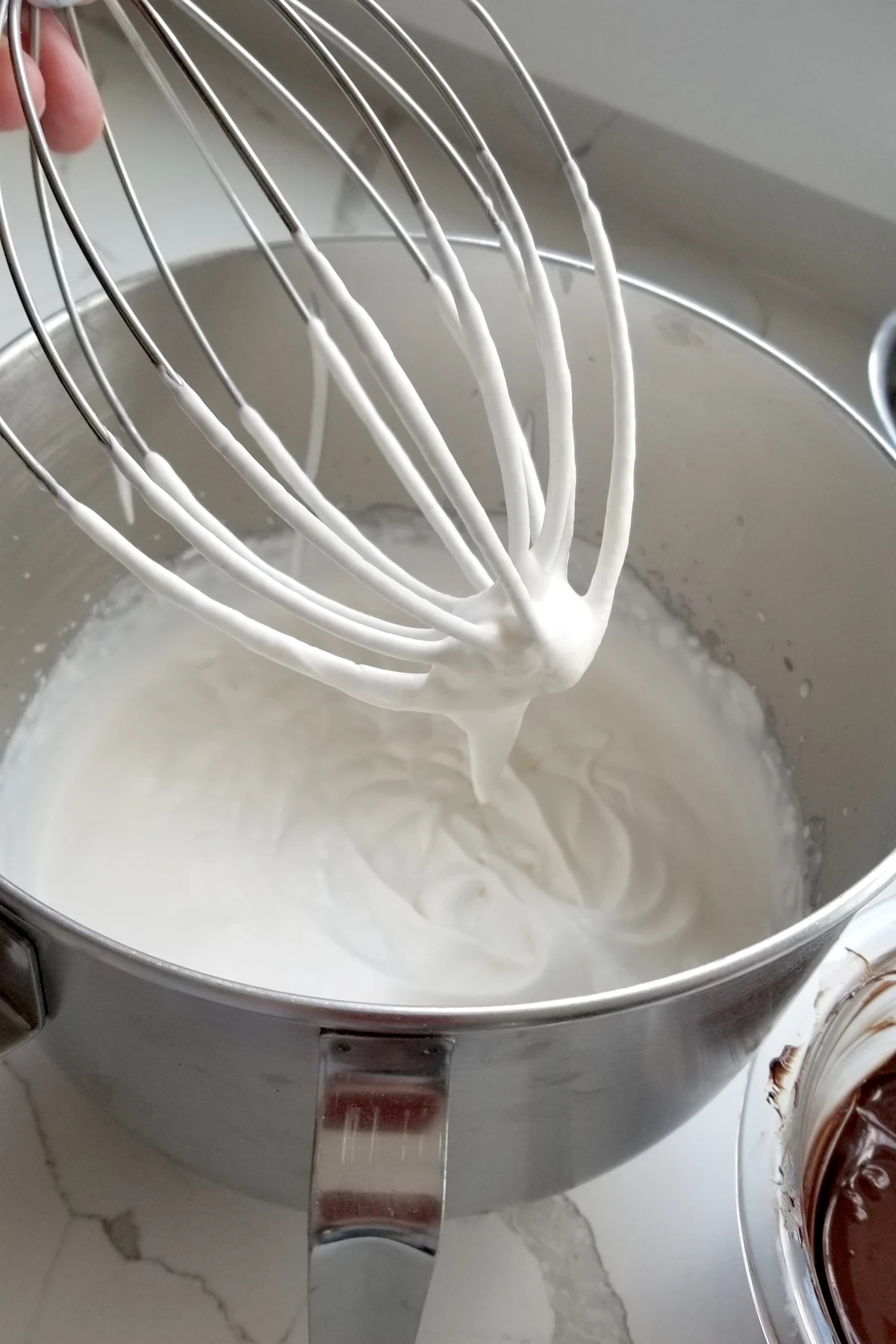 Whip the cream with the sugar to soft peaks.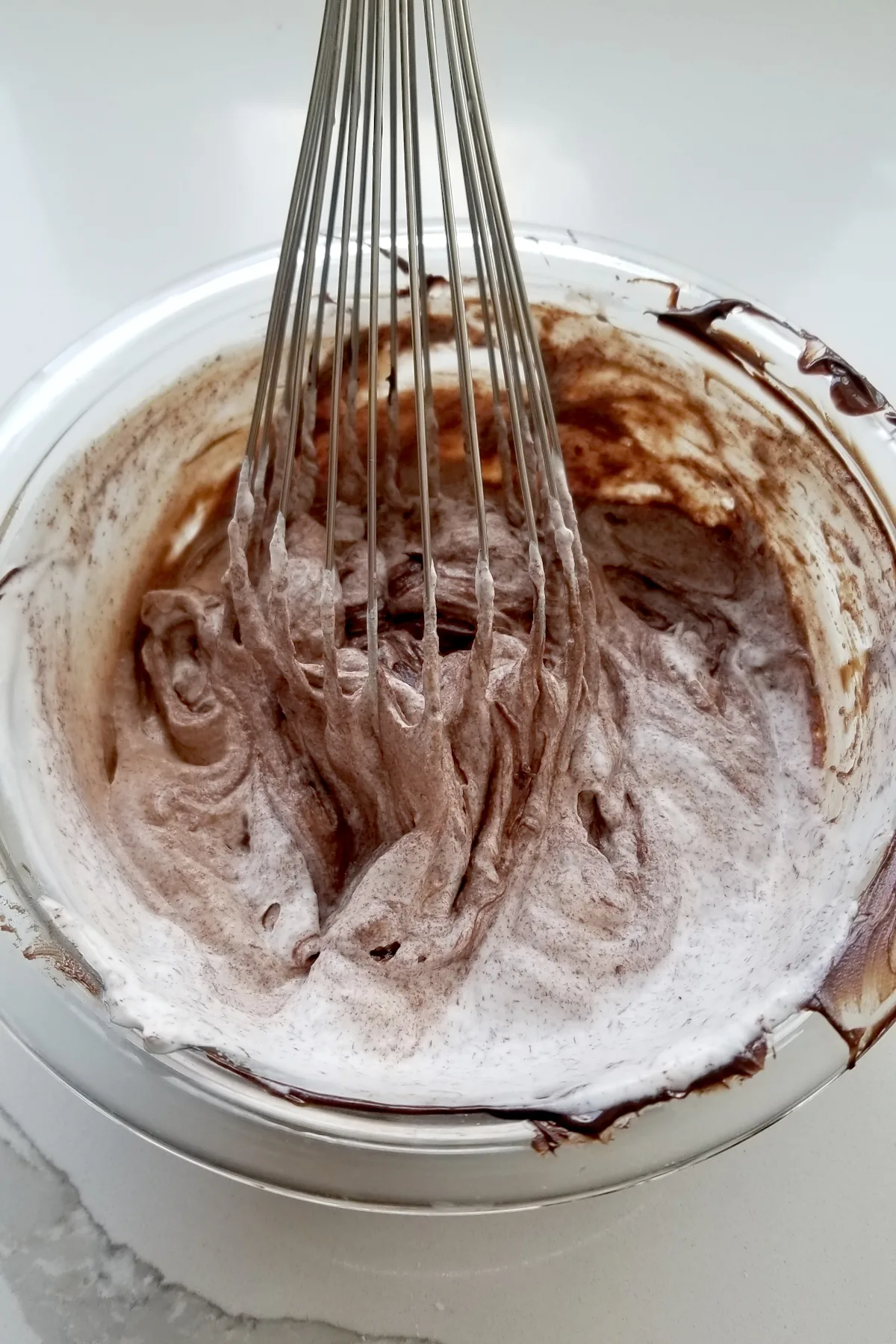 Whisk some of the cream into the melted chocolate. This is called "liason". Which means you are bringing the chocolate and cream closer in temperature and texture. By tempering the chocolate you won't end up with bits of solidified chocolate in your Chocolate Whipped Cream.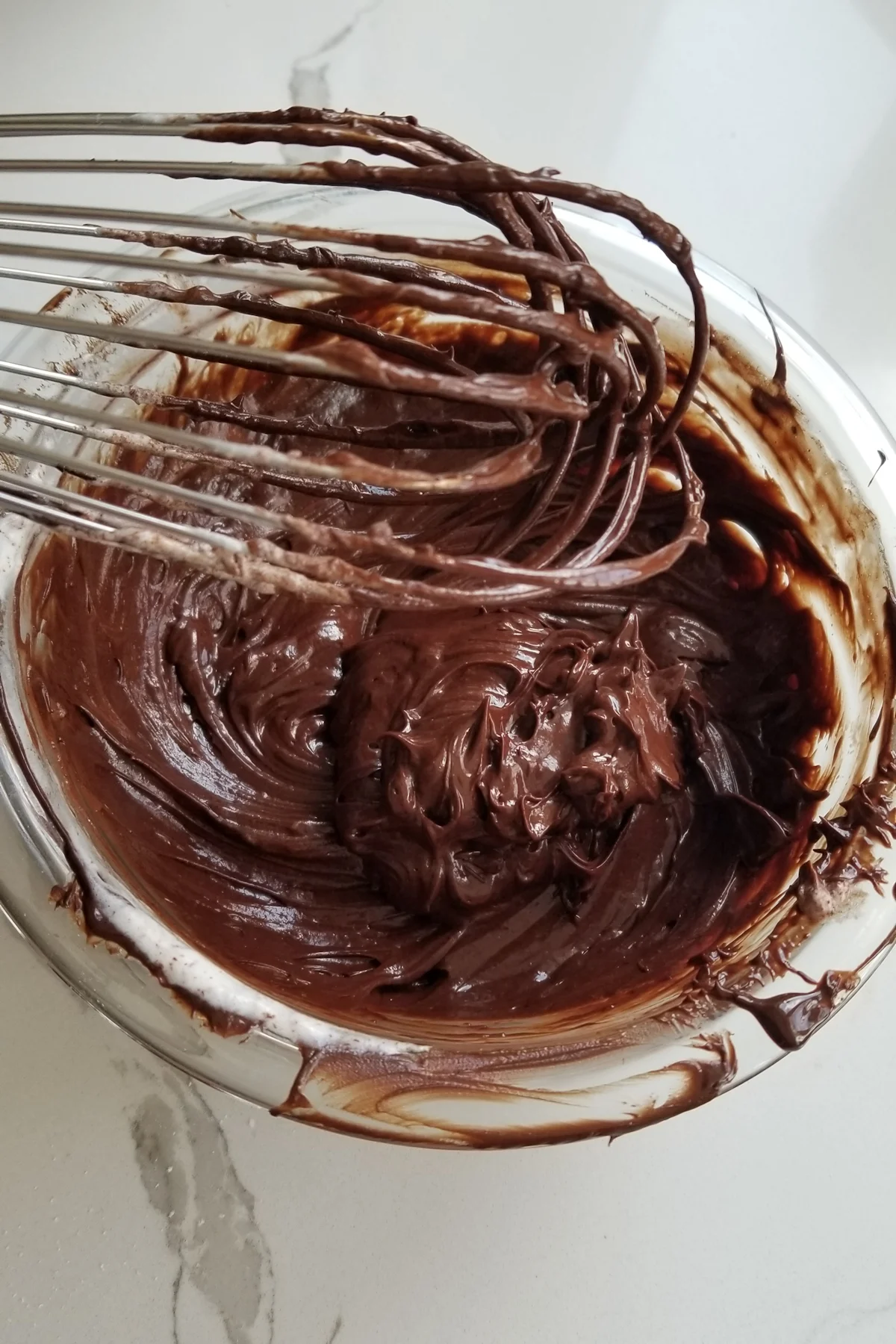 Add the chocolate cream to the whipped cream in the bowl.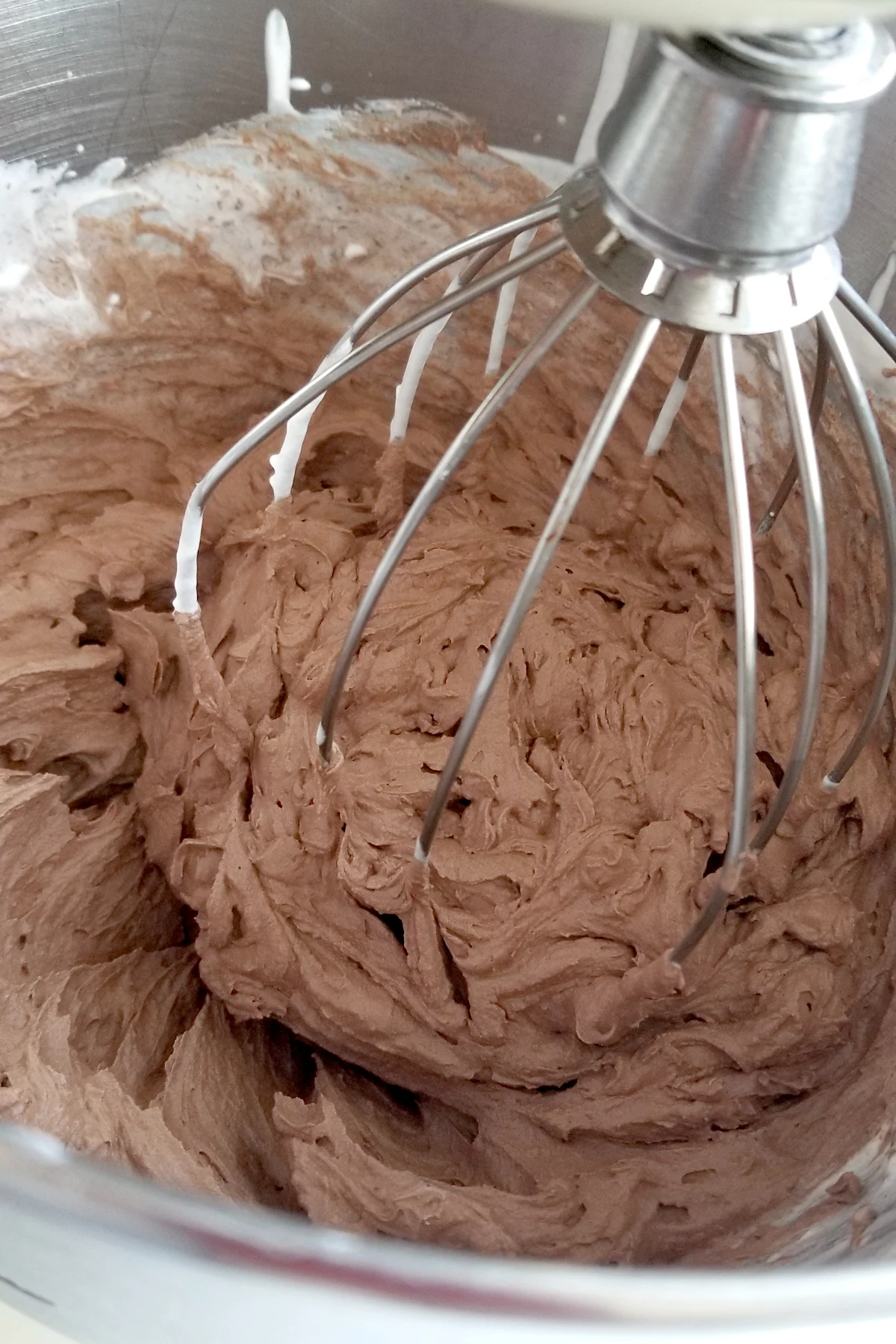 Whip until the chocolate is incorporated and the cream comes to stiff peaks.
Helpful Tips
If you're using the chocolate whipped cream as a cake filling or frosting use the cream as soon as it's mixed. Once you put it in the refrigerator it will firm up and will be more difficult to spread on a cake.
Chocolate makes a stabilized whipped cream. The cream will not break down as it sits.
Bring chocolate whipped cream back to room temperature to soften it before serving.
Storing Leftovers
Chocolate whipped cream can be held at cool room temperature for several hours or refrigerated for 2-3 days.
Frequently Asked Questions
How long does chocolate whipped cream last in the fridge?
At least 2-3 days. It will firm up as it chills.
How do you thicken chocolate whipped cream?
The chocolate in this recipe will thicken the cream. Chocolate Whipped cream will continue to thicken when it is chilled.
Can I use regular granulated sugar instead of powdered sugar?
Yes. If you use granulated sugar stir the sugar and cream together and let it sit for at least 10 minutes until the sugar melts. Then you can proceed with whipping as instructed.
Can I freeze chocolate whipped cream?
Yes. A cake filled with chocolate whipped cream can be frozen.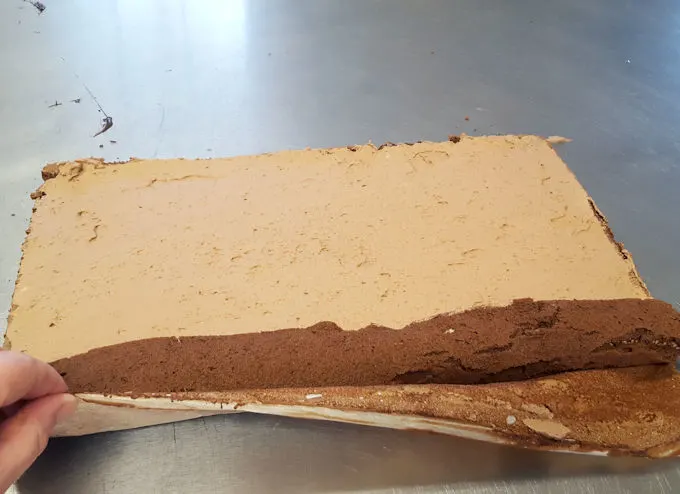 Chocolate Whipped cream makes a great cake filling.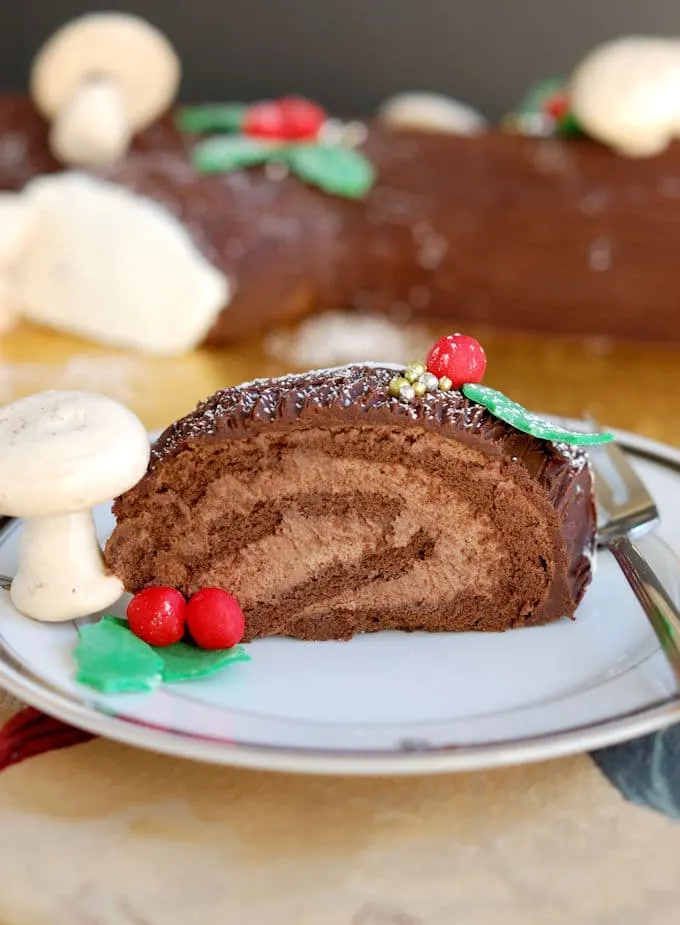 Chocolate Whipped cream is featured in Chocolate Eclairs and the elegant Marjolaine and it's the perfect filling for Chocolate Genoise.
Otherwise, you can use chocolate whipped cream in all the same ways you use regular whipped cream.
Watch the recipe video to see how to make Chocolate Whipped Cream:
If you love this recipe as much as I do, I'd really appreciate a 5-star review.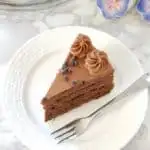 Print Recipe
Chocolate Whipped Cream Recipe
What's better than whipped cream? Chocolate whipped cream! Use it to fill cake layers or as a topping for ice cream or hot chocolate.
Ingredients
6

ounces

semi sweet chocolate

(chopped)

16

ounces

heavy cream

(2 cups)

1

tablespoon

dark rum

(optional)

2

ounces

confectioner sugar

(½ cup)
Instructions
In a microwave safe bowl heat the chocolate in 30 second increments, stirring in between, until completely melted. Set the chocolate aside to cool.

6 ounces semi sweet chocolate

Whip the cream with the rum and confectioners sugar to soft peak. Whisk 1 cup of the cream into the chocolate until it's completely combined. With the mixer running on low, add the chocolate cream back into the bowl. Increase the speed to high and whisk until the cream is at full peak.

16 ounces heavy cream,

1 tablespoon dark rum,

2 ounces confectioner sugar

If you're using the cream in a cake or other dessert, pipe or spread the cream as soon as it's mixed. It will firm up as it chills.

Refrigerate until serving.
As an Amazon Associate and member of other affiliate programs, I earn from qualifying purchases.
Nutrition
Serving:
1
serving
|
Calories:
232
kcal
|
Carbohydrates:
13
g
|
Protein:
2
g
|
Fat:
19
g
|
Saturated Fat:
12
g
|
Polyunsaturated Fat:
1
g
|
Monounsaturated Fat:
5
g
|
Trans Fat:
0.01
g
|
Cholesterol:
44
mg
|
Sodium:
12
mg
|
Potassium:
116
mg
|
Fiber:
1
g
|
Sugar:
11
g
|
Vitamin A:
563
IU
|
Vitamin C:
0.2
mg
|
Calcium:
34
mg
|
Iron:
1
mg