Love cinnamony, spicy Mexican Hot Chocolate? Then try this super easy, super tasty, Flourless Mexican Hot Chocolate Cake.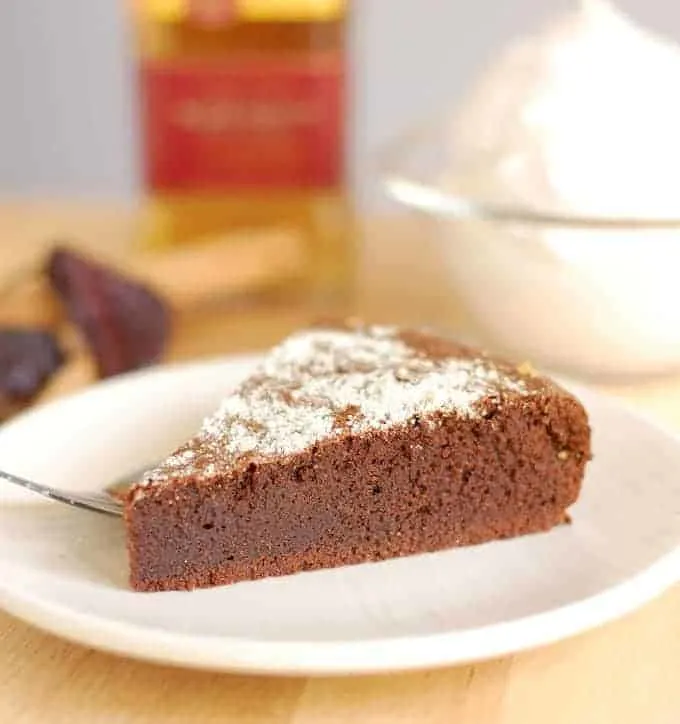 Before I say anything else I have to ask, "Tequila-spiked cinnamon whipped cream, where have you been all my life?". Seriously, I was so focused on the flavors in this cake and just threw together the whipped cream as an accompaniment. Boy oh boy, that cream is soooooo delish! But I digress…
Here I've made a cake version of my 2nd favorite Mexican drink (obviously, a Margarita is my first favorite). I love the subtle heat and cinnamon flavors in a good Mexican hot chocolate. So I've taken those same flavors and baked them into a Flourless Chocolate Cake.
How to make a great Mexican Hot Chocolate Cake
Use Mexican cinnamon in the batter, which is also called "Ceylon" or "True" cinnamon. Mexican cinnamon has a light, slightly citrusy flavor. It is a bit different than cassia, which is the cinnamon you find in most US groceries. No worries if you only have regular cinnamon, go ahead and substitute.
For the "hot" part of the cake I used my homemade chipotle powder. I like chipotle because of the smoky flavor, but use any hot pepper that you like or leave it out if you're not into the heat.
Finally, I enhanced the flavor of the cake with a little hit of tequila. In my world tequila is never a bad thing, but, I swear, it really is there to help the flavor of the cake. You can read all about how alcohol improves flavors in this post. It's true, it's science! (If you don't do alcohol you can leave it out!)
When you fold the eggs into the chocolate base, mix just until you no longer see streaks of egg. Over mixing will make the cake too dense.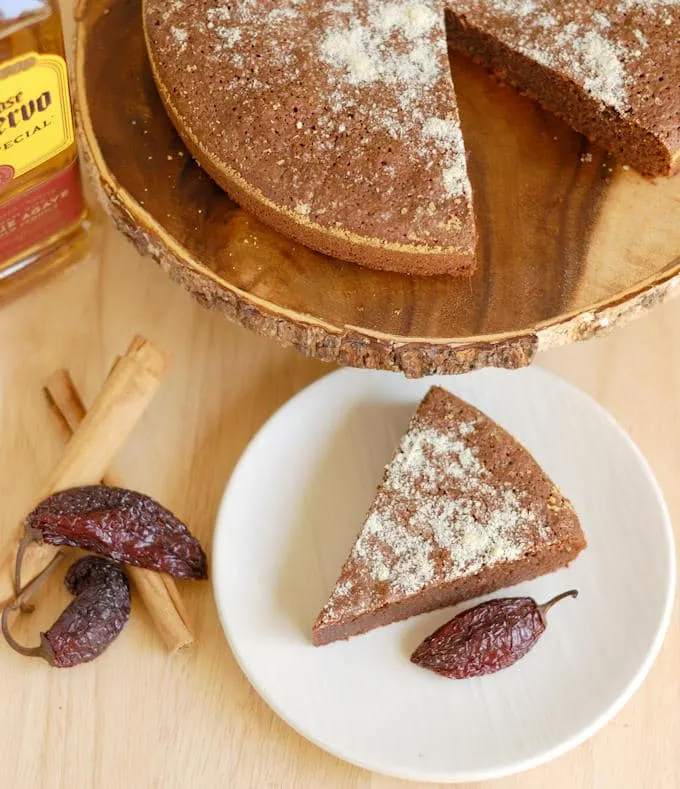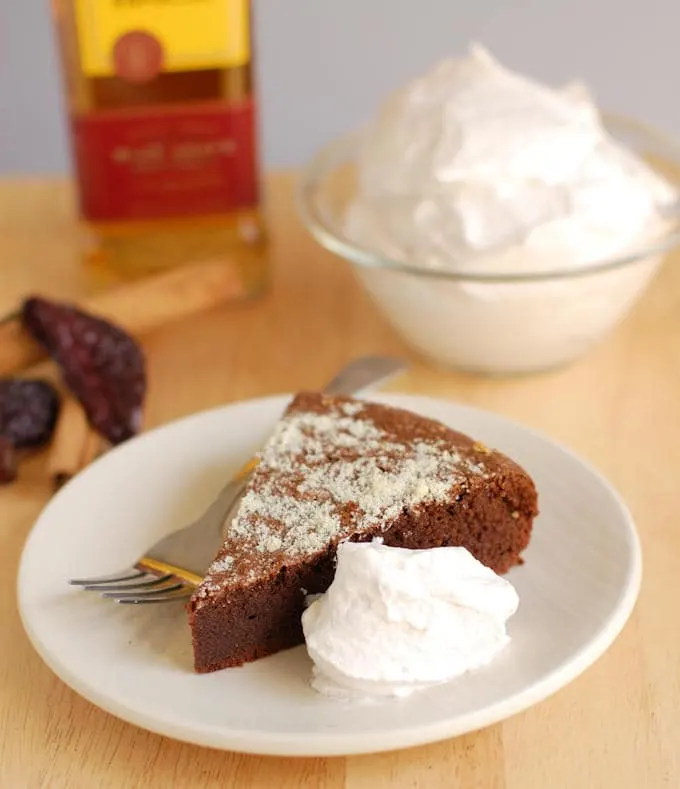 What's so great about this cake (besides the tequila-spiked cinnamon whipped cream…sorry I can't help it!). As I was saying, what's so great about this cake is how easy it is to put together. It's basically a brownie recipe with ground almonds and whipped eggs.
Scroll through the step-by-step photos to see how-to make Mexican Chocolate Cake:
I like to enjoy this cake slightly warm with ice cream or with tequila-spiked cinnamon whipped cream (sigh). A drizzle of cajeta wouldn't be out of place in this dessert either. Oh, and hey, because there is no flour is this cake, it's gluten free!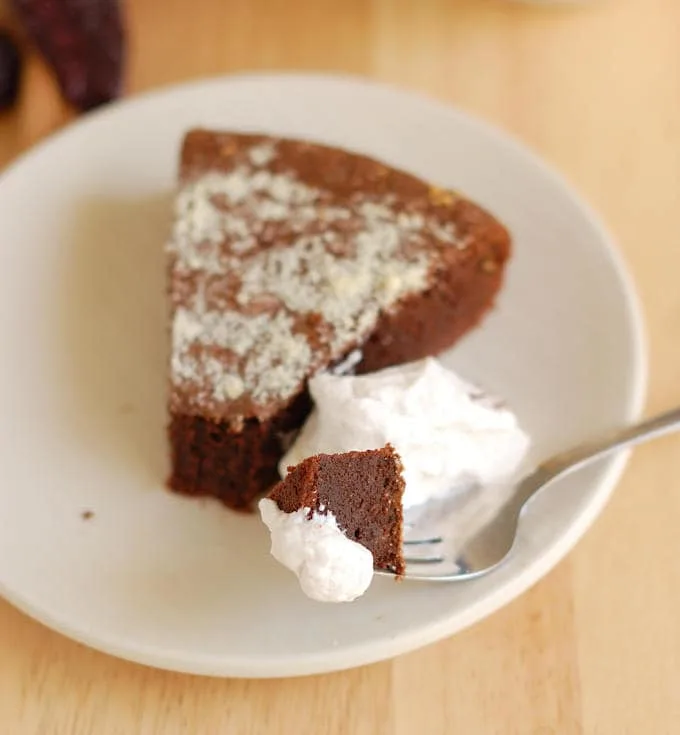 You might also like this other Flourless Chocolate Cake. You should also try my Brown Butter Flourless Almond Cake.
If you love this recipe as much as I do, please consider leaving a 5-star review.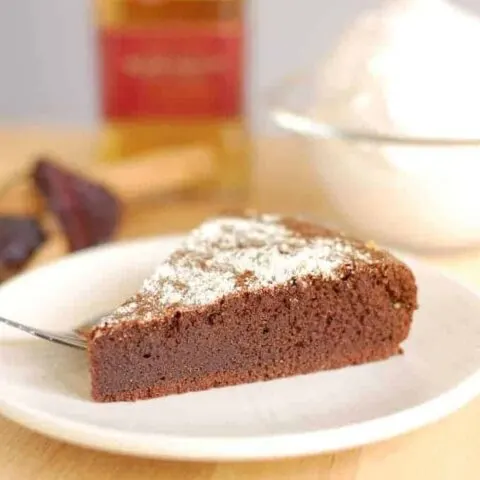 Flourless Mexican Hot Chocolate Cake
Love cinnamony, spicy Mexican Hot Chocolate? Then try this super easy, super tasty, Flourless Mexican Hot Chocolate Cake.
Ingredients
Cake Batter
1 stick (4 oz, 112g) unsalted butter, cut into 8 pieces
6 oz (170g) bittersweet chocolate, chopped
1 1/2 cups (5oz, 145g) almond flour (set aside 1/4 cup)
1 1/2 teaspoons Mexican (Ceylon) cinnamon
1 teaspoon Chipotle Powder (or to taste)
3/4 cup (6 oz, 170g) granulated sugar
6 large eggs
2 tablespoons aged tequila (optional)
1 teaspoon vanilla extract
1/4 teaspoon salt
Tequila-Spiked Cinnamon Whipped Cream
1 cup (8 oz, 240ml) heavy cream
2 tablespoons powdered sugar
1/2 teaspoon cinnamon
1 tablespoon aged tequila (optional)
Instructions
Preheat the oven to 350°F. Butter a 9-inch spring-form cake pan and use 2 tablespoons of the reserved 1/4 cup almond flour to dust the buttered pan.
Combine the chocolate and butter in a microwave safe bowl. Microwave for 1 minute and then stir. Continue microwaving and stirring in 30 second increments until all the chocolate is melted
Combine 1 1/4 cups ground almonds with 1/4 cup of the granulated sugar, the cinnamon and the chipotle powder. Stir the almonds into the chocolate mixture. Add the tequila and vanilla.
Whisk the eggs, salt and remaining 1/2 cup sugar on medium-high speed until tripled in volume and the color turns pale yellow. Fold 1/3 of the eggs into the chocolate then fold the chocolate into the remaining eggs. Mix until no streaks of eggs are visible. Pour the batter into the prepared pan. Sprinkle the last 2 tablespoons of almonds evenly across the top of the batter.
Bake until the batter is set and a toothpick inserted in the center comes out with a few wet crumbs, about 25 to 30 minutes. Cool 10 minutes before releasing the sides of the spring form pan.
Whip the cream with the sugar, cinnamon and tequila to soft peak. Serve the cake slightly warm with a dollop of tequila spiked whipped cream.
Recommended Products
As an Amazon Associate and member of other affiliate programs, I earn from qualifying purchases.
You might also like: