Red Velvet Cake has been around at least since the 1920s but has enjoyed a renewed popularity over the last few years. This cake is soft and has a special flavor from buttermilk, cocoa and vinegar.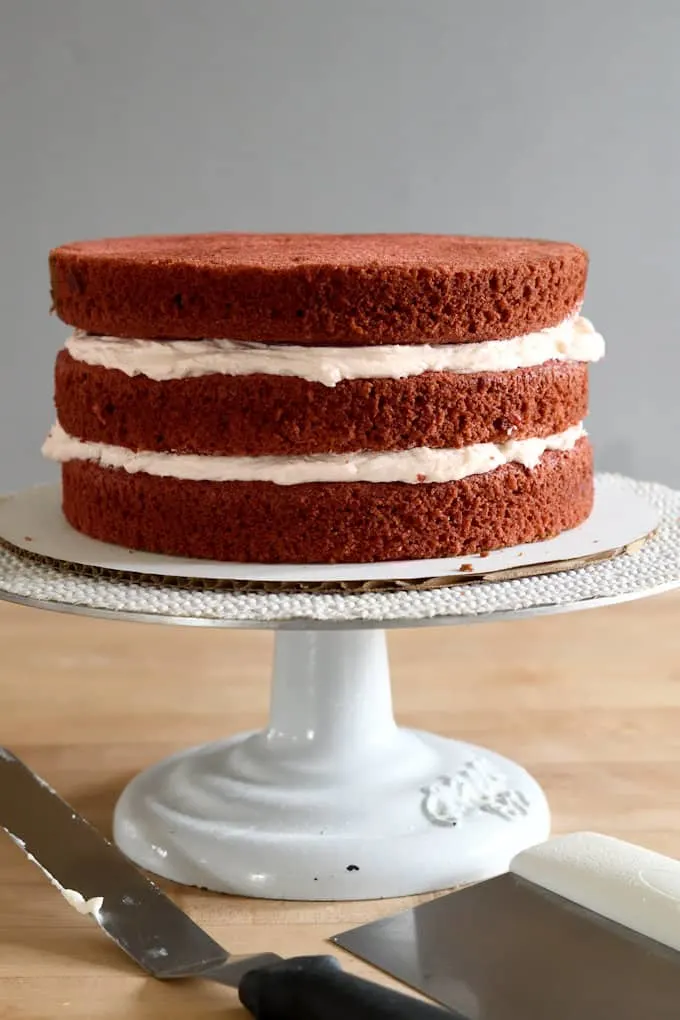 About Red Velvet Cake:
So what makes a cake a Red Velvet Cake? Can you just add red food coloring to any cake recipe and call it "red velvet".
Of course you can do that if you want to. But red velvet cake is not just a red-tinted cake. Red Velvet cake has wonderful and specific flavor and texture.
Traditionally, a red velvet cake recipe should include buttermilk, vinegar and cocoa. In the old recipes, a reaction between those ingredients would create a light reddish brown color, hence the name of the cake.
I use a dutch-processed cocoa in my recipe, so the reaction is not quite the same as the old style cakes. I add food coloring to get the deep red color. Some folks use beets to tint the cake.
If you really want to know more about the history and evolution of this recipe check out the Red Velvet Wikipedia page.
There are a million recipes to choose from, but I like the balance and texture of my recipe. It has just enough oil for moisture without the cake becoming gummy, and enough cocoa to give a slight chocolatey edge to the cake without turning it into a chocolate cake.
Scroll through the step by step process photos to see how to make a great Red Velvet Cake: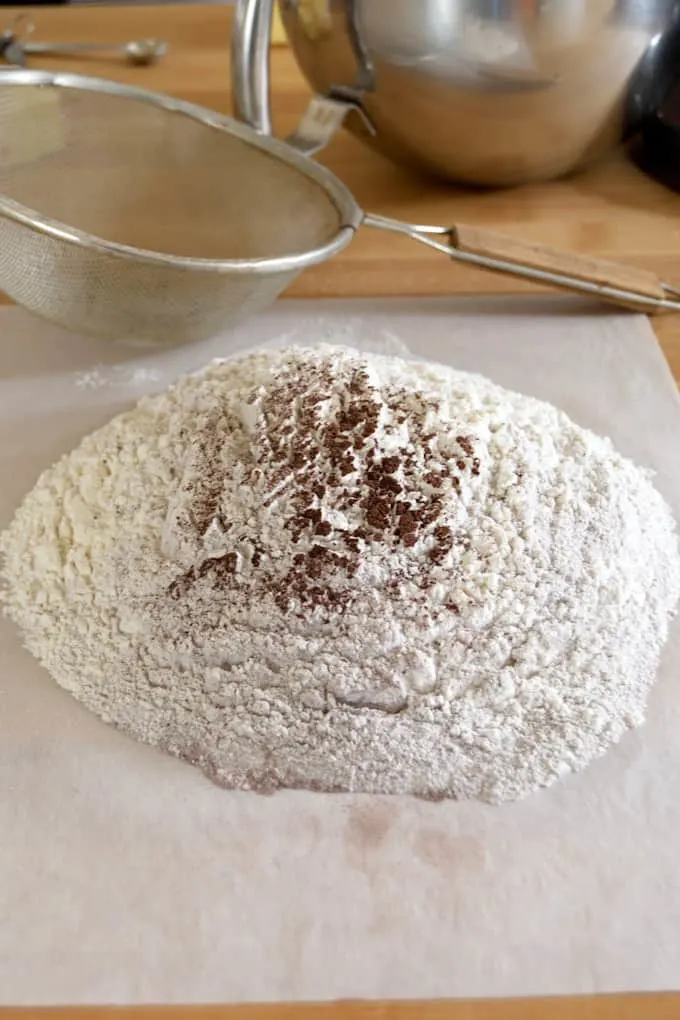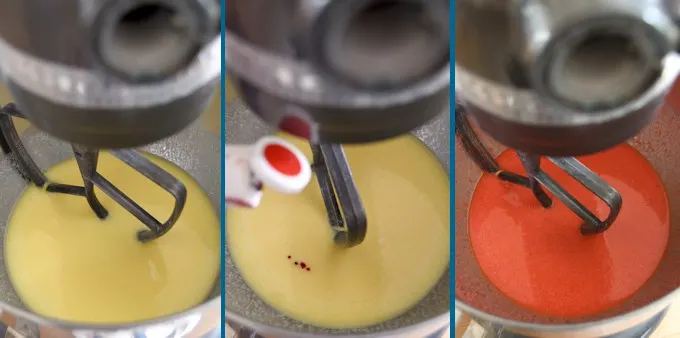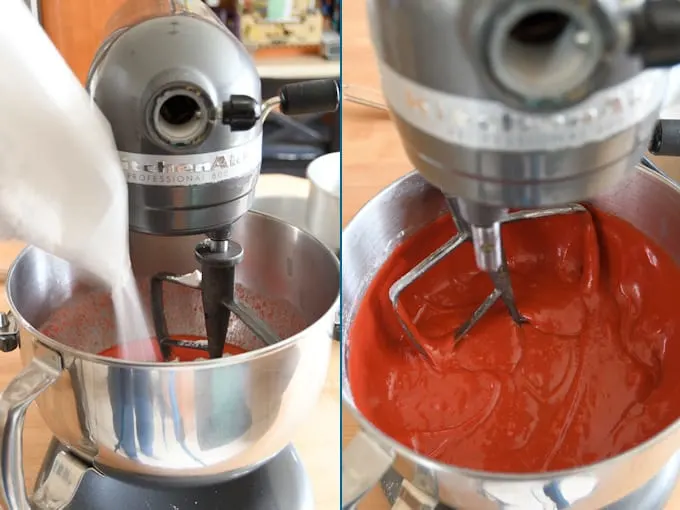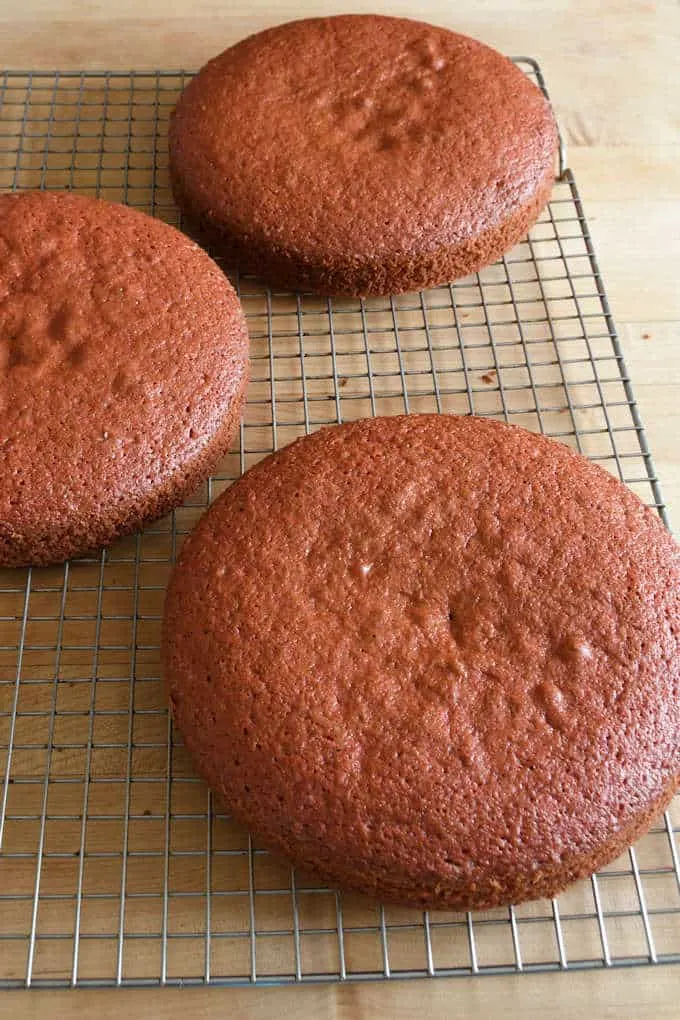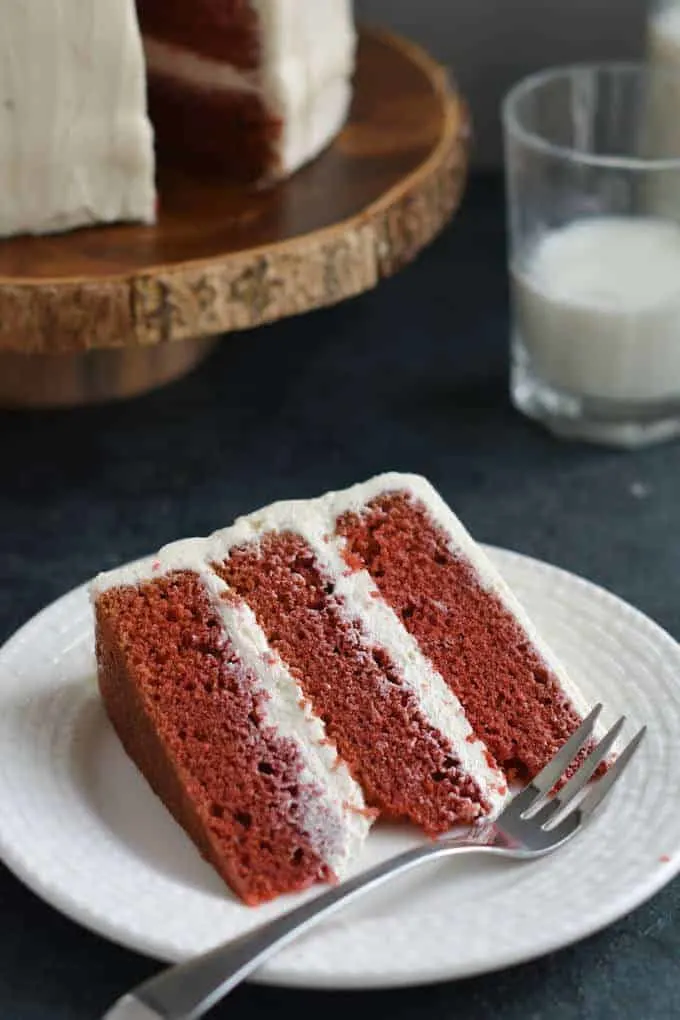 FAQs about Red Velvet Cake:
What makes red velvet cake red?
For this recipe it is the food coloring that makes the cake red. Some recipes use beets for a red color. The original recipes relied on a reaction between the vinegar and cocoa powder for a slight reddish color.
Can I use this recipe to make cupcakes?
Yes. This recipe will make 24 standard size cupcakes, which take about 20 minutes to bake.
Can I keep Red Velvet Cake at room temperature?
If you frost the cake with a perishable frosting it should be refrigerated. The unfrosted cake can be stored at room temperature.
Does Red Velvet Cake have to be refrigerated?
The cake itself does not need refrigeration, but if the icing is perishable the cake should be refrigerated.
Can I freeze Red Velvet Cake?
Yes, either frosted or not, the cake can be frozen. To work ahead you can bake the cake layers and freeze them for up to 3 months.
You might also like to try Vanilla Buttermilk Cake or Old Fashioned Chocolate Cake
If you love this recipe as much as I do, I'd really appreciate a 5-star review.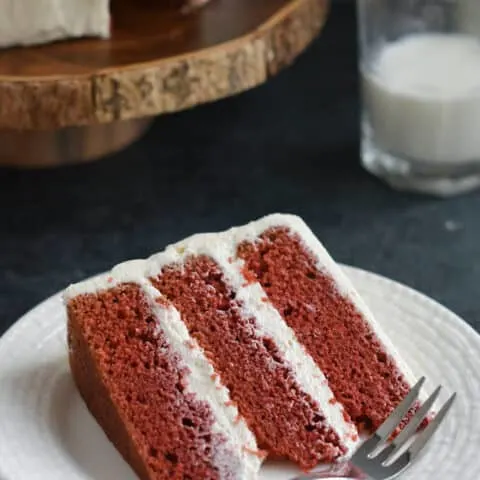 Red Velvet Cake or Cupcakes
Red Velvet Cake has been around at least since the 1920s but has enjoyed a renewed popularity over the last few years. This cake is wonderful filled and iced with either Cream Cheese Frosting or the more traditional Ermine Frosting.
Ingredients
3 cups (15 oz, 420g) all purpose flour
2 cups (16 oz, 448g) granulated sugar
1 tablespoon cocoa powder
1 1/2 teaspoons baking soda
1 teaspoon salt
1 1/4 cups (9 oz, 270ml) vegetable oil
1 cup (8 oz, 240ml) buttermilk
3 large eggs, room temperature
1 1/2 teaspoons vanilla extract
1 1/2 teaspoons white vinegar
red food coloring
Instructions
Preheat the oven to 350°F. Line three 8" cake pans with parchment paper or butter and flour the bottom of pans only. (See note)
In a large bowl, sift together the flour, sugar, baking soda, cocoa powder and salt. Set aside.
In a mixer bowl, combine the oil, buttermilk and eggs. Mix for a minute or two to emulsify the ingredients. Add the vinegar and vanilla. Add the food coloring a little at a time. If using gel color, use a few drops. If using liquid coloring you may need the whole bottle. Tint to your preferred color.
Add the sifted dry ingredients to the wet ingredients and mix until completely combined.
Divide the batter evenly between the pans. Bake until the middle of the cake springs back when lightly pressed, about 30 minutes.
Cool the cakes in the pans for 10 minutes. Turn the cakes out onto a cooling rack and cool completely before filling and icing. Fill and frost with Ermine Frosting or Cream Cheese Frosting.
Notes
If you don't have 3 pans you can bake 1/3 of the batter in one pan and 2/3 of the batter in the other pan. When the cakes are completely cooled split the larger cake horizontally into two layers.
This recipe can also be baked as cupcakes. The recipe makes 24 standard size cupcakes which take about 20 minutes to bake.
Recommended Products
As an Amazon Associate and member of other affiliate programs, I earn from qualifying purchases.