Ontbijtkoek means "breakfast cake" in Dutch. You've gotta love a country that eats cake for breakfast. Enjoy this spice cake at breakfast-time or snack-time.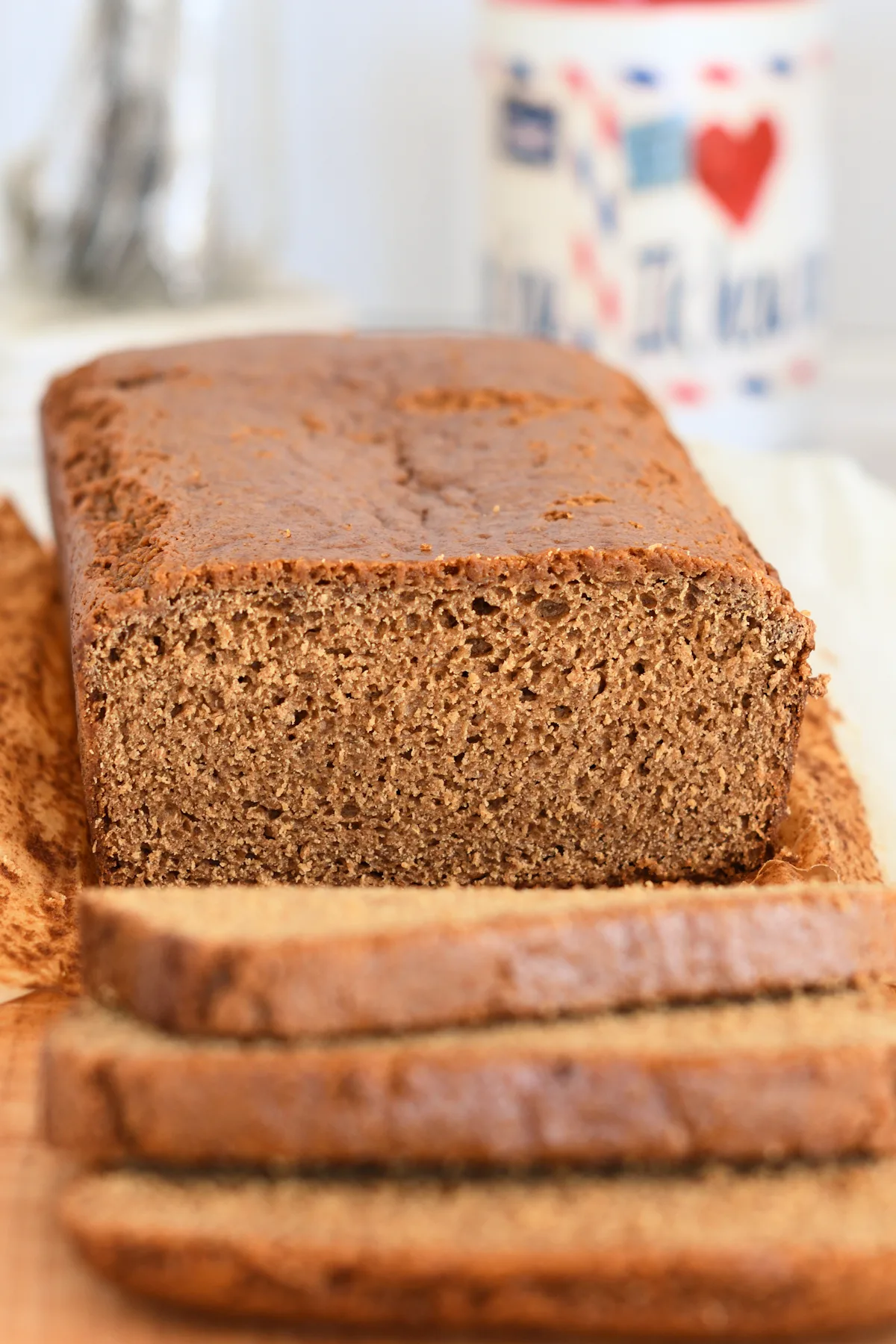 Ontbijtkoek is not something Dutch people bake at home. It seems that this cake is almost always store-bought.
There's one popular brand that defines the taste and texture of Ontbijtkoek for many Dutch families, including my husband's. Since we can't easily buy Ontbijtkoek here in the US I decided to give it a go. We set the brand that my husband grew up eating as the "ideal" that I would try to replicate.
But where to start? None of our Dutch cookbooks have a recipe for Ontbijtkoek. Time to go on-line.
I found very few recipes on-line. Actually, I found two original recipes on-line and a whole bunch of websites that simply copied one of the recipes with no or very minimal changes. Some of those websites even used stock photos of commercial Ontbijtkoek instead of actually baking the recipe. Geez…
Anyway, the two recipes were quite different. Recipe #1 used half rye flour and half all purpose flour and recipe #2 used all rye flour. Recipe #1 used milk for liquid. Recipe 2 used water. #1 had way more baking powder than #2. Finally, #1 used a combination of honey and molasses while #2 used Dutch stroop to sweeten the cake.
I baked both loaves to see which was closer to the "ideal". My husband and I both thought neither cake was perfect and that the ideal would be somewhere between the two.
I liked the rye forward flavor in recipe #2, so I use mostly rye flour in my recipe. Now, rye flour does not have gluten and all by itself will make a very dense cake. Without gluten, the cake can't form a nice structure to hold air pockets in the batter.
I added a bit of bread flour to support the structure of the cake. I also tested it with all purpose flour to see if that would work. The cake made with AP flour was pretty good, but we thought the cake made with bread flour was a little "spongier" and had a better texture.
I tweaked the mix of spices to get a nice gingery flavor with a hint of clove and nutmeg and a backbone of cinnamon.
Using real Dutch stroop not only gives the cake an authentic flavor, it also lends an orange hue to the batter and baked cake. This is definitely a hallmark of the ontbijtkoek my husband grew up with.
Finally, I added a step to cover the pan as soon as it comes out of the oven. This helps create a slightly sticky crust on the loaf, another trait of the ideal cake.
I'm so happy with the results of this recipe. I really didn't think we'd get close to the commercial cake, but we did. Make sure to eat it with lots of good butter for the "ideal" Dutch breakfast.
Scroll through the process photos to see how to make Ontbijtkoek: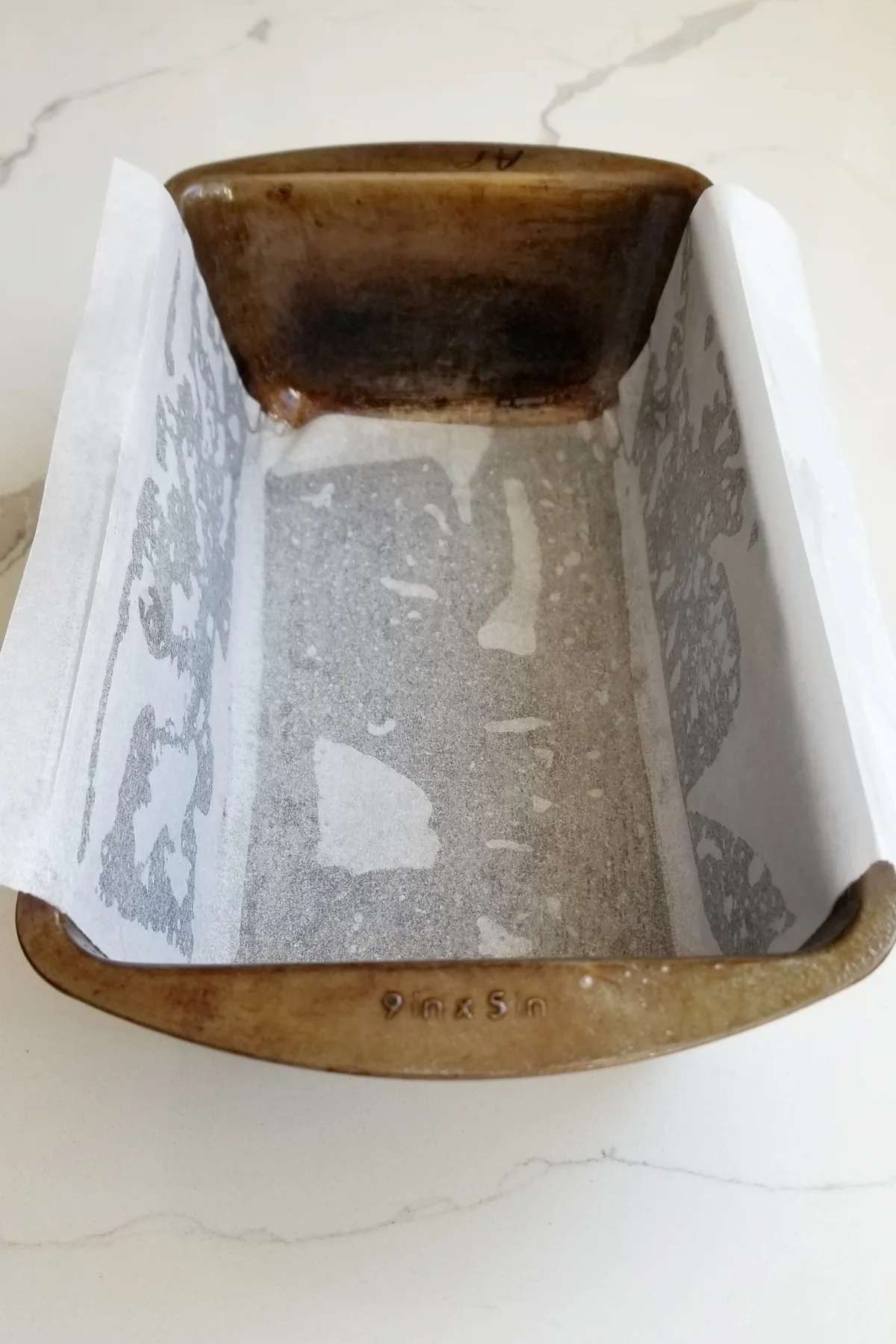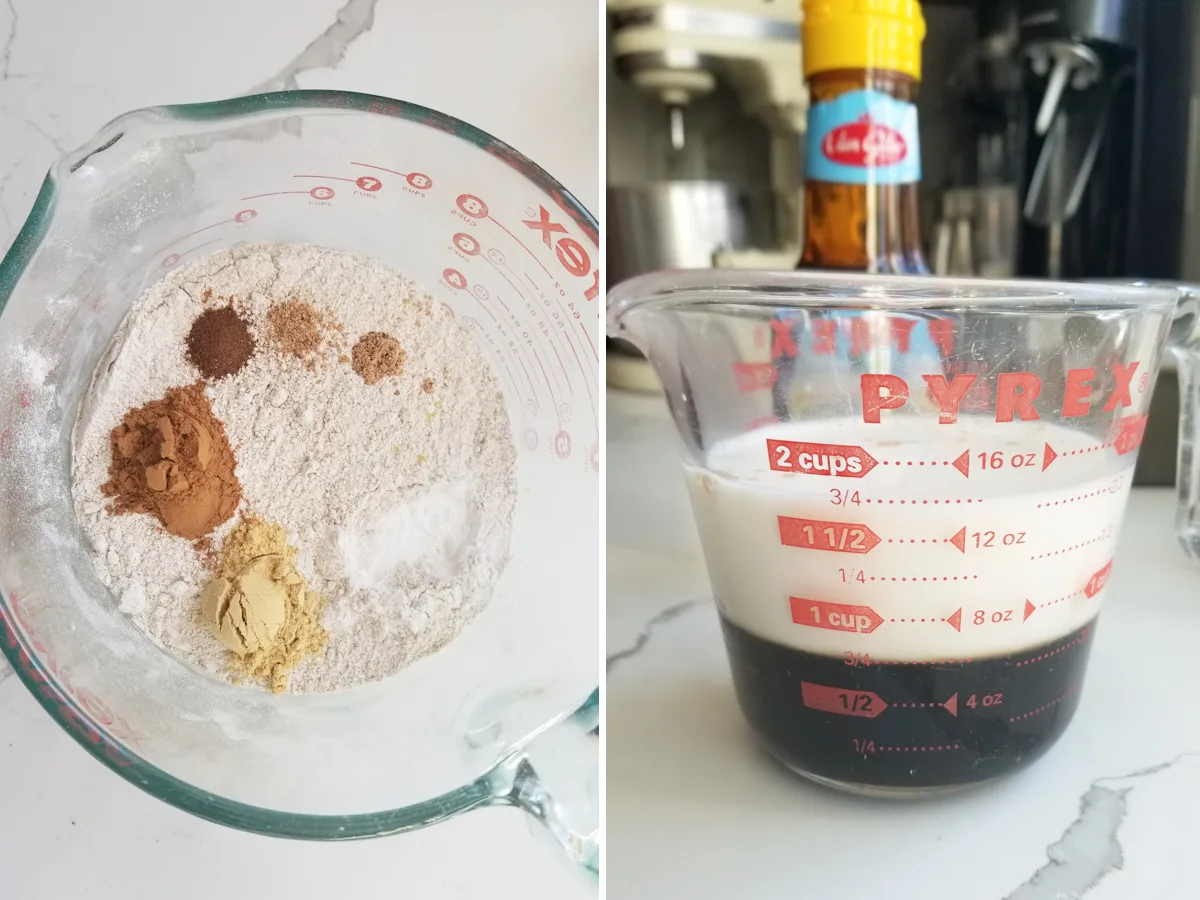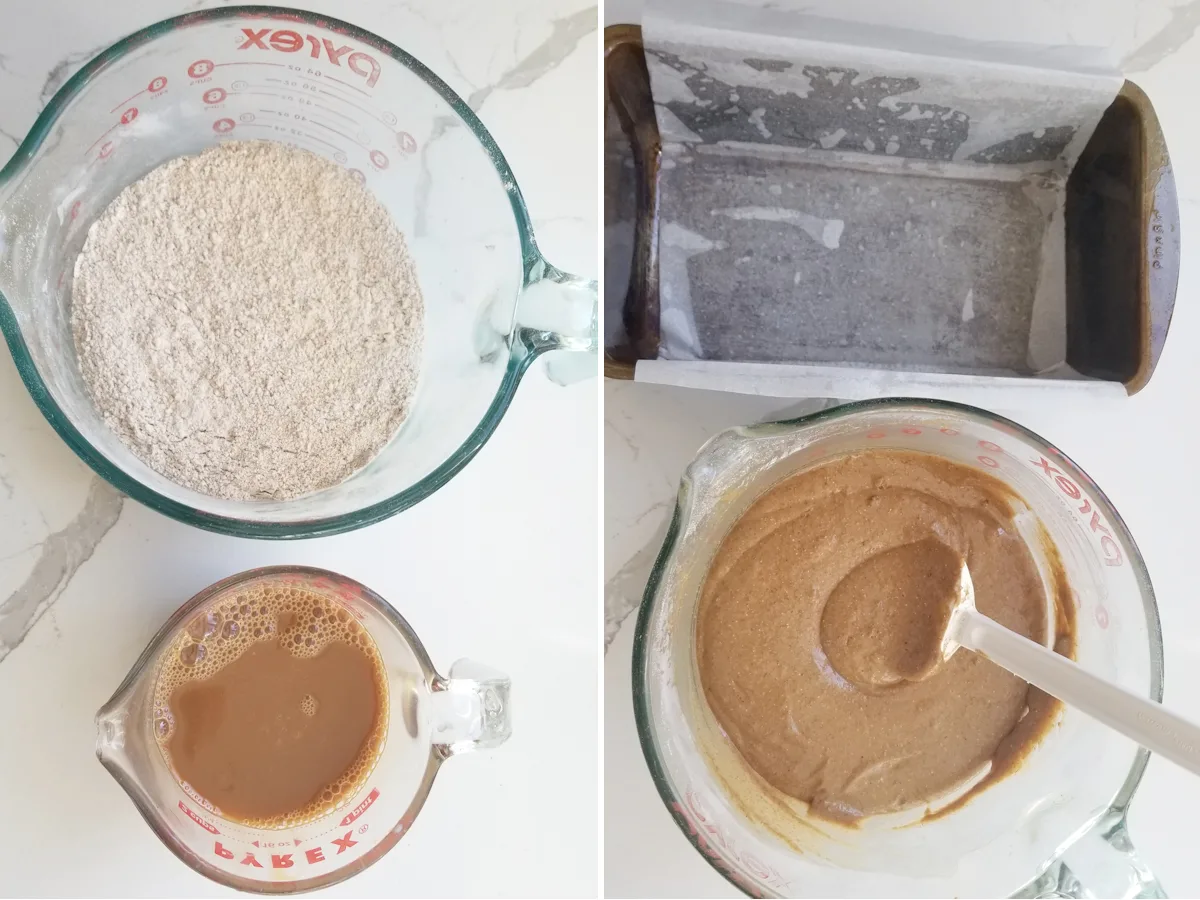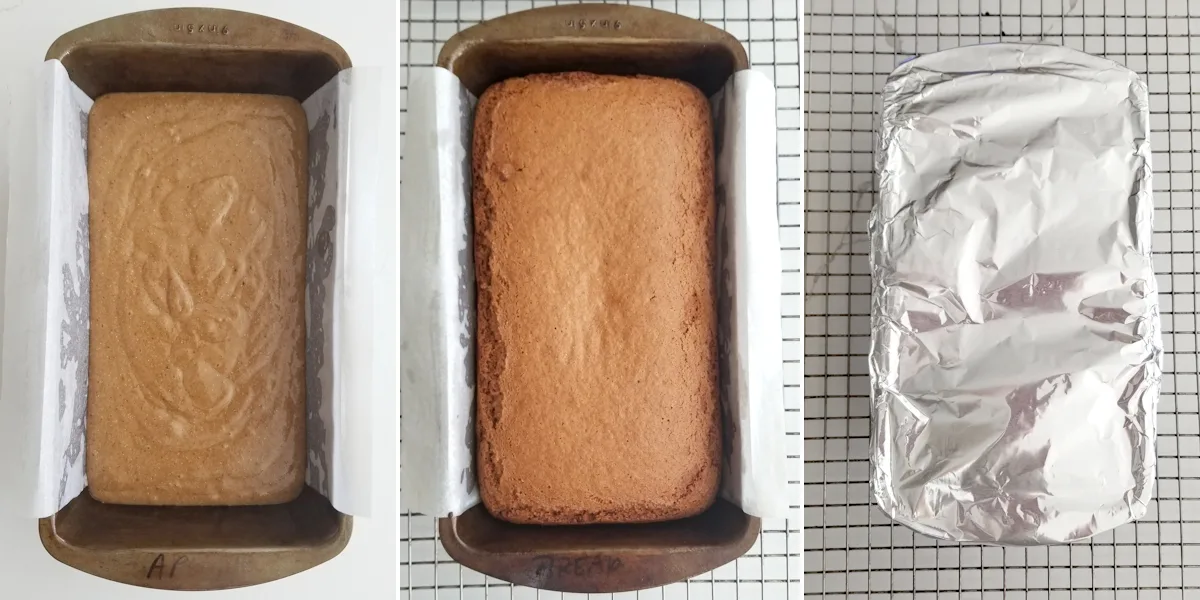 Tips for making authentic Dutch Breakfast Cake:
If you can find it, use real Dutch stroop (see the link in the recipe card. As an Amazon associate I earn from qualifying purchases). In a pinch you can use a combination of honey and molasses. See the recipe notes for amounts.
Line the pan with a parchment "sling". Not only does the sling keep the cake from sticking, it makes it very easy to lift the baked loaf out of the pan.
A combination of mostly rye flour and some bread flour makes a cake with just enough gluten to form a good crumb. All purpose flour will make an acceptable cake if you can't get bread flour.
I know it's hard to wait. But do wrap the pan and set the cake aside overnight to form a sticky crust. The long rest also gives the spice flavor time to develop.
Serve Ontbijtkoek with lots of butter. If you notice, there is no fat in the recipe. A good schmear of butter is exactly what you want on a slice of this cake.
The cake keeps well at room temperature for a week.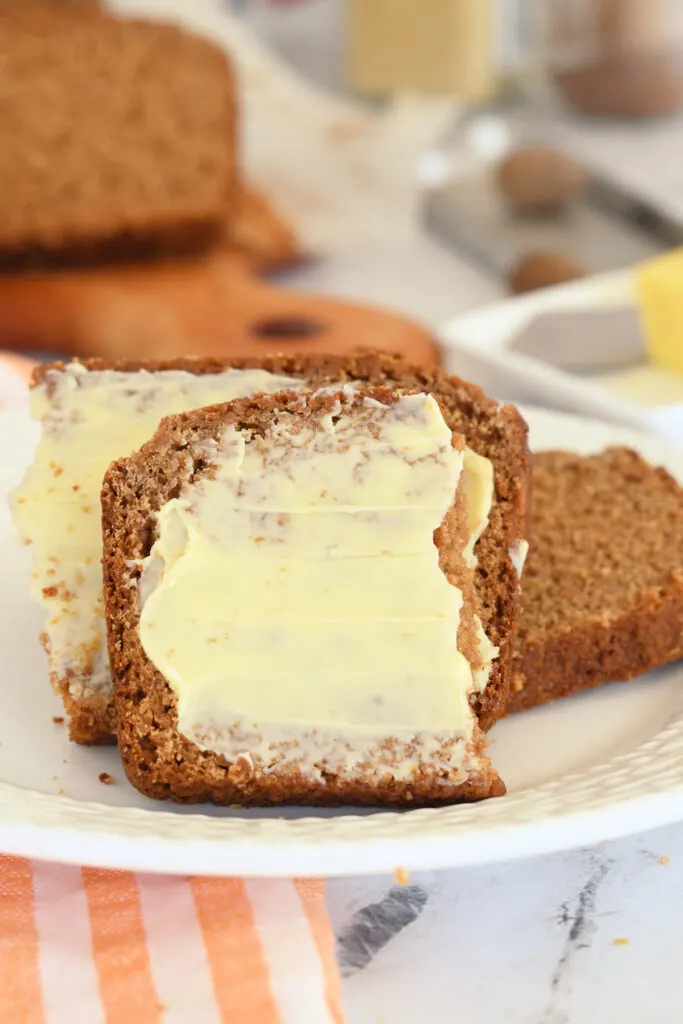 If you love this recipe as much as I do, I'd really appreciate a 5-star review.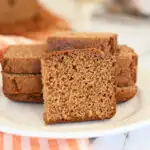 Print Recipe
Ontbijtkoek (Dutch Breakfast Cake)
Ontbijtkoek means "breakfast cake" in Dutch. You've gotta love a country that eats cake for breakfast.
Ingredients
7 1/2

oz

rye Flour

(1 1/2 cups)

2 1/2

oz

bread Flour

(1/2 cup)

4

oz

brown sugar

(1/2 cup)

1

tablespoon

baking powder

2

teaspoons

ground ginger

2

teaspoons

ground cinnamon

1/4

teaspoon

nutmeg

1/4

teaspoon

ground cloves

1/4

teaspoon

table salt

8

oz

whole milk

(1 cup)

8

oz

Dutch Stroop

(3/4 cup (see note))
Instructions
Preheat the oven to 325°F. Lightly butter a 9"x5" loaf pan. Cut a piece of parchment paper and line the pan in one direction, creating a parchment paper "sling" for the loaf.

In a large mixing bowl add the rye flour, bread flour, brown sugar, baking powder, ginger, cinnamon, nutmeg, cloves and salt. Whisk the dry ingredients together to break up any lumps of brown sugar and to distribute the spices.

7 1/2 oz rye Flour,

2 1/2 oz bread Flour,

4 oz brown sugar,

1 tablespoon baking powder,

2 teaspoons ground ginger,

2 teaspoons ground cinnamon,

1/4 teaspoon nutmeg,

1/4 teaspoon ground cloves,

1/4 teaspoon table salt

In a large glass measure whisk together the milk and the stroop.

8 oz whole milk,

8 oz Dutch Stroop

Add the wet ingredients to the dry ingredients and stir to combine. Pour the batter into the prepared pan and bake until the center of the loaf springs back when lightly pressed and a toothpick inserted in the center comes out clean, about 45-50 minutes.

Take the pan out of the oven and set it on a cooling rack. Immediately wrap the top of the pan with aluminum foil. Set it aside until completely cooled, preferably overnight.

Remove the foil from the pan and use the parchment sling to lift the cake out of the pan. Serve slices with lots of butter. The cake keeps at room temperature for a week.
As an Amazon Associate and member of other affiliate programs, I earn from qualifying purchases.
Notes
If you can not find real Dutch Stroop you can substitute with 1/2 cup of honey plus a 1/4 cup of molasses.
Nutrition
Serving:
1
slice
|
Calories:
142
kcal
|
Carbohydrates:
32
g
|
Protein:
2
g
|
Fat:
1
g
|
Saturated Fat:
1
g
|
Polyunsaturated Fat:
1
g
|
Monounsaturated Fat:
1
g
|
Cholesterol:
2
mg
|
Sodium:
138
mg
|
Potassium:
88
mg
|
Fiber:
2
g
|
Sugar:
8
g
|
Vitamin A:
33
IU
|
Vitamin C:
1
mg
|
Calcium:
73
mg
|
Iron:
1
mg