Pound Cake Perfection
. This Sour Cream Pound Cake is a variation of my favorite all-butter cake. If you've read through my "
Cake Batter Course
" you know that it took lots of work and testing to come up with a really great pound cake recipe. If you're interested,
over 7 classes
(blog posts) you can learn all about the ingredients and mixing methods for cake batter. It's pretty detailed stuff, but what you learn about baking can be applied to all your recipes, not just cake batter. And it's free here on Baking Sense.
How I adapted my classic pound cake recipe to make Sour Cream Pound Cake:
Anyway, for this pound cake I used sour cream in place of whole milk as the liquid in the batter. Since sour cream is acidic it adds a nice flavor to the cake and the acidity tenderizes the cake crumb. If you have read through the "Cake Batter Course" (first of all THANKS) you might notice that even though I've added an acidic ingredient to the recipe, I haven't used any
baking soda
. I purposely did this because I didn't want to neutralize the acidity of the sour cream. I wanted a little edge to the flavor. This really is a melt-in-your-mouth cake. It's also a super easy recipe to make. I use my favorite
reverse creaming method
and it's mixed in one bowl.
This cake bakes up nicely in the traditional
loaf
shape or you can bake it in a
Bundt
pan for a pretty presentation. I think you only need a sprinkle of powdered sugar for a pretty finish. But is would also be delicious with fresh berries and cream for a more indulgent dessert.
Here are some other pound cake recipes for you to try:
If you like this recipe as much as I do, please consider giving it a 5-star review.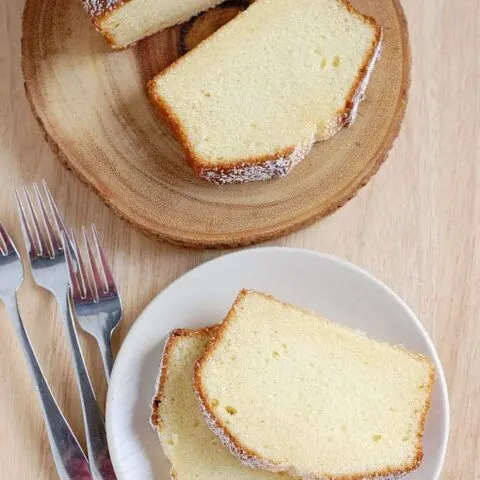 Sour Cream Pound Cake
Total Time:
1 hour
10 minutes
I spent months testing cake batter mixing methods and ingredients to achieve Pound Cake Perfection. This Sour Cream Pound Cake is a variation of my favorite all-butter cake.
Ingredients
3 large eggs plus 4 yolks, room temperature
1 teaspoon vanilla extract
1/2 cup (4 oz, 120 ml) sour cream, divided
1 ¾ cups (8 oz, 225 g) cake flour
¼ teaspoon table salt
1 teaspoon baking powder
1 1/4 cups (10 oz, 285 g) granulated sugar
2 sticks (8 oz , 225 g) unsalted butter, room temp
Instructions
Preheat the oven to 350°F. Butter and flour a 9"x5" loaf pan or 12 cup Bundt pan.
Combine the eggs, yolks, vanilla and half of the sour cream in a small bowl, whisk to combine and set aside.
Sift together the flour, salt and baking powder in a mixing bowl. Add the sugar to the flour and mix at low speed for 30 seconds. Add the butter to the flour and mix until combined. Add the remaining sour cream and increase the speed to medium high. Mix for a full 2-3 minutes. The batter will lighten in color and texture. If using a hand mixer add another minute to the mixing time.
Scrape the bowl and beater thoroughly. On low speed, add the egg mixture in 3 increments, scraping the bowl after each addition. Mix just until the eggs are incorporated.
Pour the batter into the prepared pan.
Bake at 350°F until a toothpick inserted in the middle comes out clean (about 55 minutes).
Recommended Products
As an Amazon Associate and member of other affiliate programs, I earn from qualifying purchases.
You might also like: