Marble Pound Cake! A really great pound cake should have an even crumb with a melt-in-your-mouth texture and buttery flavor. This is a really great pound cake with a striking swirls of vanilla and chocolate cake!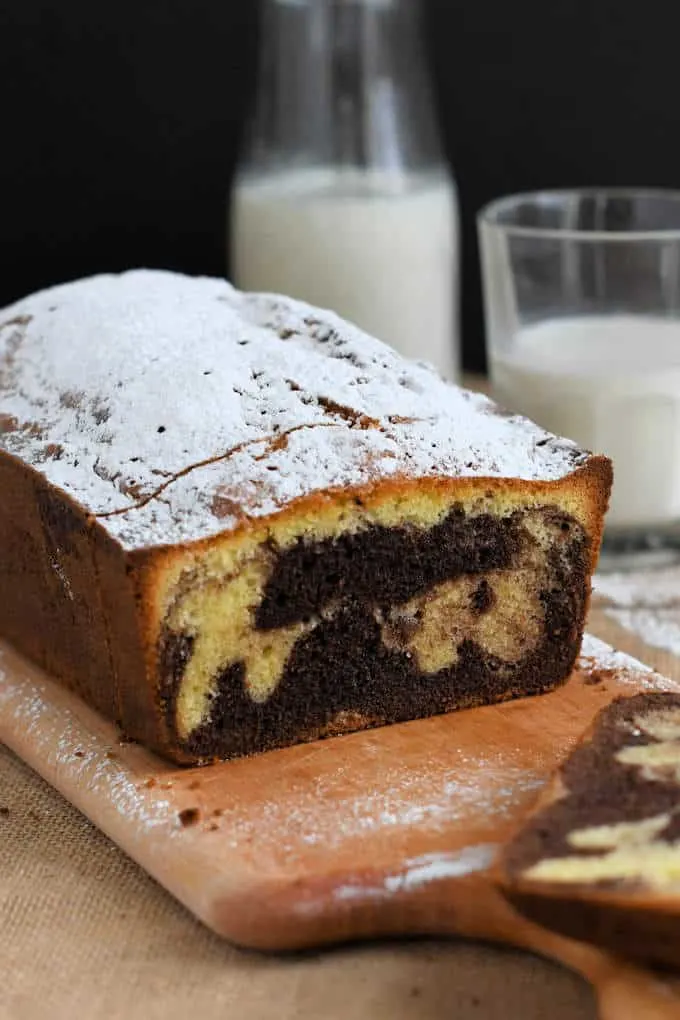 It took months of baking hundreds of pounds cakes to create my incredibly popular vanilla Pound Cake Recipe. If you're a baking geek like me, you can read all about how I adjusted the ingredient percentages in this comprehensive post about creating a great cake recipe.
For even more information I created a "Cake Batter Course". If you're interested, over 7 classes you can learn all about the ingredients and mixing methods for cake batter.
It's pretty detailed stuff, but what you learn about baking can be applied to all your recipes, not just cake batter. And it's free here on Baking Sense.
To create this recipe for Marble Pound Cake I started with my vanilla pound cake recipe. Making a great Marble Pound Cake poses a very specific problem.
Why this is the best Marble Pound Cake
If you've ever made marble cake I think you probably know what the problem is.
Virtually all recipes for marble cake start with vanilla cake batter, then you are instructed to flavor a portion of that batter with cocoa, or cocoa and butter, or melted chocolate to create a chocolate cake batter.
When you take a fully mixed batter and add cocoa or chocolate to that batter, you will inevitably change the texture of the cake. You'll have a denser chocolate cake mixed with a lighter vanilla cake.
So, how do we get cocoa into the batter without making the chocolate cake heavier than the vanilla cake?
I had to figure out how to replace some of the flour in 1/3 of the cake batter with cocoa, while only mixing one batch of batter.
How to make a marble pound cake.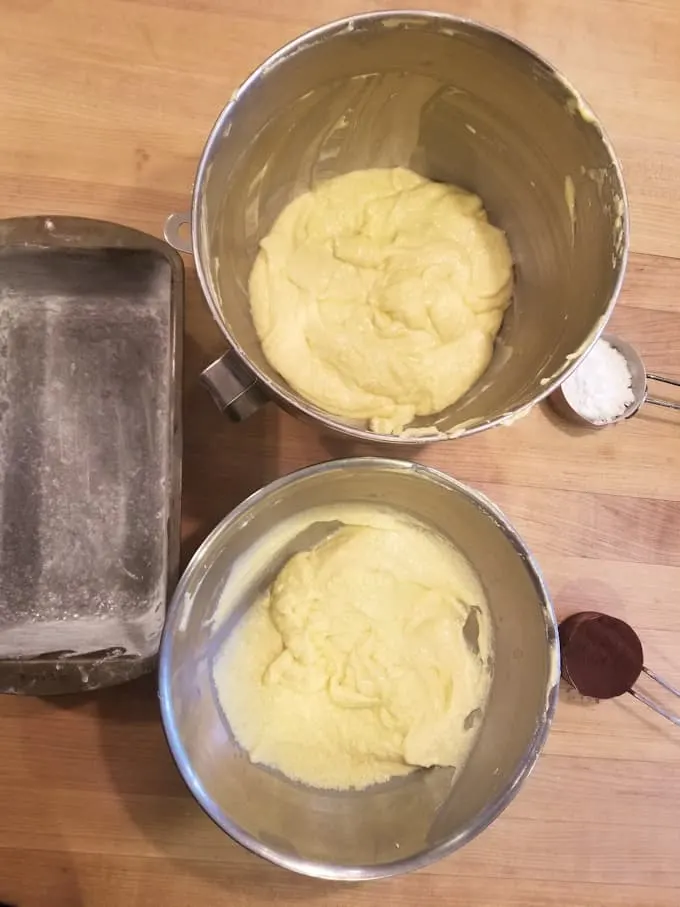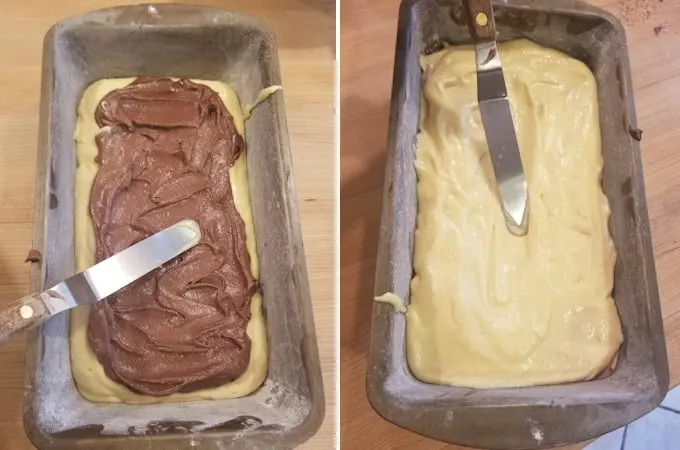 Step 5 – Layer the two batters into the cake pan without mixing or swirling them together. They will swirl together as they bake.
Step 6 – Use the spatula to make a crease down the center of the cake. This prevents the peak from rising too much.
FAQs about Marble Pound Cake:
What's the best pan for baking a Pound Cake?
I baked the cake in a 9"x 5" loaf pan, but this cake also bakes up nicely in a Bundt pan.
How do I store Marble Pound Cake?
Keep the cake covered at room temperature for 3-4 days. Never refrigerate a cake (unless it has a perishable filling). The refrigerator will make the cake go stale faster.
Can I freeze Marble Pound Cake?
Yes, the cake freezes beautifully. Wrap the whole cake, or individual slices, in a double layer of plastic wrap. Allow the cake to defrost at room temperature in the plastic.
How should I serve Marble Pound cake?
Personally, I don't think this cake needs any embellishment, other than a sprinkle of powdered sugar for a pretty finish. But the cake is also lovely served with a dollop of whipped cream, a scoop of ice cream or with fresh fruit.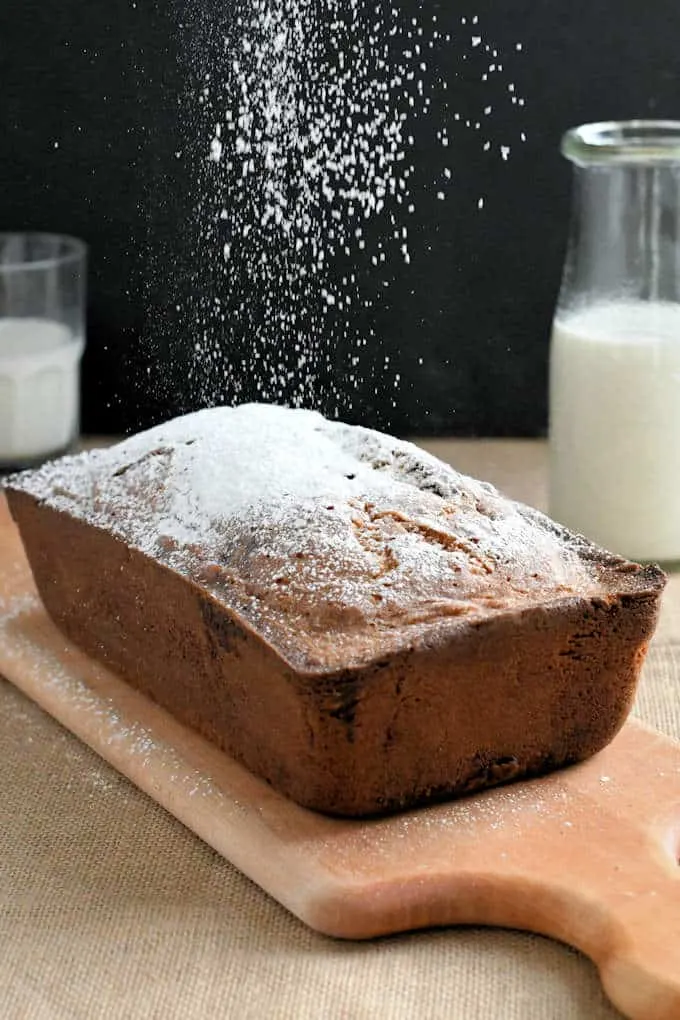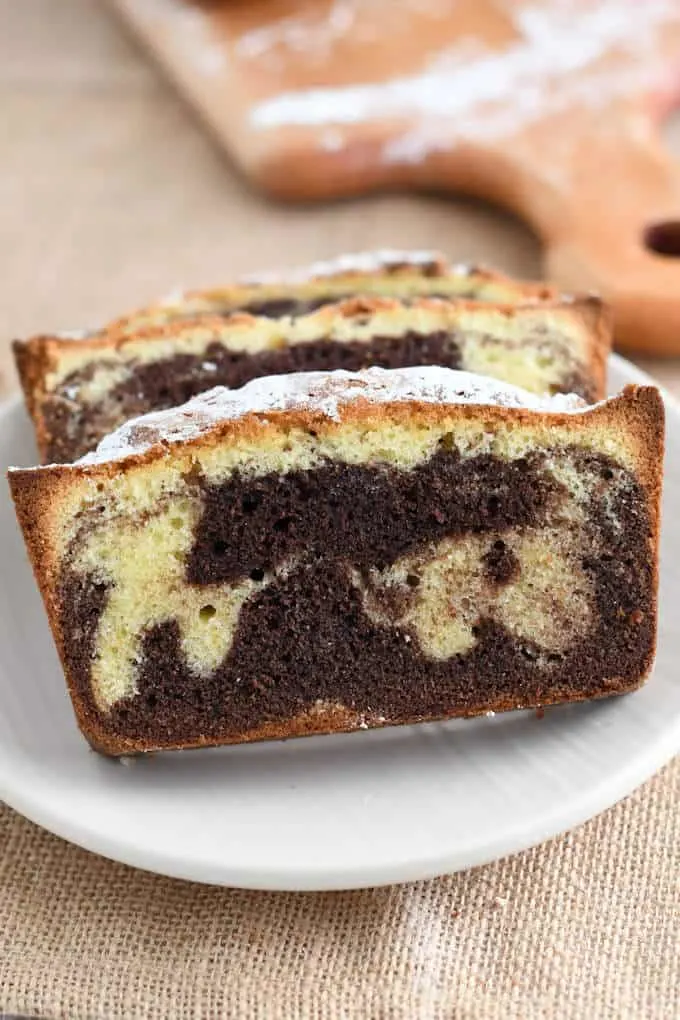 Here are some other pound cake recipes for you to try:
If you want to make a chocolate and vanilla layer cake with frosting, try my lighter Marble Cake recipe.
If you love this recipe as much as I do, I'd really appreciate a 5-star review.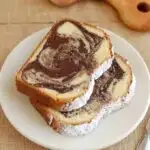 Print Recipe
Marble Pound Cake
A really great pound cake should have an even crumb with a melt-in-your-mouth texture and buttery flavor. This is a really great pound cake with striking swirls of vanilla and chocolate cake!
Ingredients
3

large eggs

(room temp)

4

egg yolks

(room temp)

1

teaspoon

vanilla extract

2

oz

whole milk

(¼ cup, divided)

8

oz

cake flour

(1 ¾ cups)

¼

teaspoon

table salt

1

teaspoon

baking powder

10

oz

granulated sugar

(1 ¼ cups)

9

oz

unsalted butter

(room temp)

¾

ox

Dutch process cocoa powder

(3 tablespoons)
Instructions
Preheat the oven to at

350

°F

. Butter and flour a 9"x5" loaf pan or bundt pan.

Combine

3 large eggs

,

4 egg yolks

,

1 teaspoon vanilla extract

and half the milk in a small bowl, whisk to combine and set aside. Set aside 1/4 cup of the cake flour.

In a mixing bowl, sift together the remaining 1 1/2 cups of flour with

¼ teaspoon table salt

and

1 teaspoon baking powder

. Add

10 oz granulated sugar

to the flour and mix at low speed for 30 seconds. Add

9 oz unsalted butter

to the flour and mix until combined. Add the other ½ of the milk and increase the speed to medium high. Mix for a full 2-3 minutes. The batter will lighten in color and texture. If your using a hand mixer add another minute or two to the mixing time.

Scrape the bowl and paddle thoroughly. On low speed, add the egg mixture in 3 increments, scraping the bowl after each addition. Mix just until the eggs are incorporated. Remove ⅓ of the batter to another bowl.

Sift the reserved ¼ cup of flour over the ⅔ portion of batter and use a hand whisk to stir until the flour is incorporated into the batter. Sift and stir the cocoa powder into the ⅓ bowl of batter.

Spread ⅔ of vanilla batter into the pan. Drop the chocolate batter over the vanilla batter and gently spread to even it out. Try not to mix the two batters as you spread. Drop the remaining vanilla batter over the chocolate batter. Use the tip of a small spatula to form a crease down the center of the cake.

Bake until a toothpick inserted in the middle comes out clean (about 55-65 minutes).
As an Amazon Associate and member of other affiliate programs, I earn from qualifying purchases.
Nutrition
Calories:
351
kcal
|
Carbohydrates:
38
g
|
Protein:
5
g
|
Fat:
20
g
|
Saturated Fat:
12
g
|
Polyunsaturated Fat:
1
g
|
Monounsaturated Fat:
6
g
|
Trans Fat:
1
g
|
Cholesterol:
152
mg
|
Sodium:
107
mg
|
Potassium:
55
mg
|
Fiber:
0.5
g
|
Sugar:
24
g
|
Vitamin A:
685
IU
|
Calcium:
48
mg
|
Iron:
1
mg