Fondant Icing is an all purpose confection used to ice sweet-breads, cakes, petit fours and napoleons.
Not to be confused with Rolled Fondant, the dough-like icing used to cover cakes which is made from powdered sugar and gelatin, Fondant Icing is pourable and is used to glaze cakes and pastries with a thin sheen of sweetness.
True Fondant is, in fact, more candy than icing. Fondant is what you find in the middle of my all-time favorite candy, a Peppermint Patty.
Making true fondant is an unforgiving process of controlled crystallization. First you need to cook sugar syrup to a precise temperature. Then you let the syrup cool down. As soon as it reaches the correct temperature you must vigorously stir the sugar syrup as it continues to cool. The stirring creates thousands and thousands of tiny sugar crystals, which turns the sugar syrup from colorless and clear to white and opaque.
To use true fondant as an icing, you must carefully rewarm it to exactly the right temperature and texture before pouring it over your pastry. Over-heat it and you'll lose the crystals and the beautiful white color. Under-heat it and your icing will be thick and gloppy.
Because it's so much work to make, most professional pastry kitchens do not make their own fondant. If you need quarts of the stuff to ice dozens of Napoleons or Petit Fours it would onerous to make it from scratch.
Pastry Chefs have good products available that are ready to use, just heat and pour. Trouble is, even if you can find them, they tend to come in big 25# buckets. That's way too much for the home baker. Even I don't by it that way anymore.
I've also tried making fondant from a dried powder that you simply mix with water and heat up. I found those products to have an unpleasant flavor and gritty texture.
This is where simple, powdered sugar fondant icing comes in…
Even though I will readily admit that this simple Fondant Icing is not really a true fondant, and it honestly doesn't have the beautiful sheen of a real fondant icing, it is a good compromise for the average baker who wants to make Petit Fours, Napoleons or a glazed Bundt Cake.
It tastes great, it's easy to make and it's very easy to use.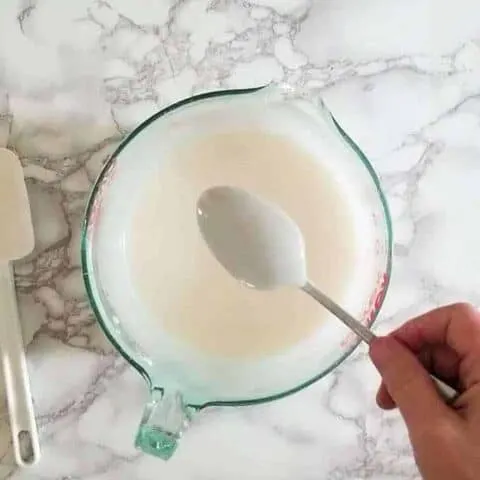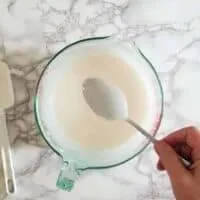 Fondant Icing
Fondant icing is the perfect topping for Napoleons, petit fours, donuts and other pastries.
Ingredients
1/2 cup (4 oz, ml) water
1/4 cup (oz, g) light corn syrup
1/2 tsp vanilla extract
1/8 tsp salt
5 cups (1# 4 oz, 560 g) confectioner's sugar
Instructions
Combine water, corn syrup, vanilla and salt in a medium sauce pan, bring to a boil.
Remove the pan from the heat and gradually whisk in the sugar.
The icing should be slightly warmer than body temperature and the consistency of thick cream. If you dip a spoon into the fondant it should cover with a slightly translucent finish. Use the fondant immediately or store in the refrigerator, well covered.
If the fondant cools below 100F, rewarm gently. If the icing gets too thick add a few drop of water at a time until it's thinned to the proper consistency. If it gets too thin, add a little more sugar.