Chocolate Pound Cake is the "little black dress" of cakes, the epitome of elegant simplicity. This perfect pound cake melts-in-your-mouth with big chocolate flavor!
How to make the perfect Chocolate Pound Cake
Pound cake got it's name based on the original formula of 1 pound each of butter, sugar, eggs and flour. It's called "quatre-quarts" (four-fourths) by the French.
I have created a comprehensive "Cake Batter Course" which explains step by step and ingredient by ingredient how I created a great pound cake recipe by adapting that original recipe. If you're interested, over 7 classes (blog posts) you can learn all about the ingredients and mixing methods for cake batter.
It took months of baking hundreds of pounds cakes to create my incredibly popular vanilla Pound Cake recipe. If you're a baking geek like me, you can read all about how I adjusted the ingredient percentages in this comprehensive post about creating a great cake recipe.
It's pretty detailed stuff, but what you learn about baking can be applied to all your recipes, not just cake batter. And it's free here on Baking Sense.
To create this recipe for Chocolate Pound Cake I started with my perfected pound cake recipe and simply swapped out a portion of the flour and added my favorite Dutch processed cocoa powder. I also added a hint of instant espresso to enhance the chocolate flavor and color of the cake.
While I'm not opposed to a little glaze or powdered sugar on a pound cake, I think pound cake is meant to be eaten without any frosting. If you've got a really great cake recipe, there's no reason to hide it under a pile of sweet frosting.
FAQs about Chocolate Pound Cake:
What's the best pan for baking a Chocolate Pound Cake?
I baked all the cakes in a 9"x 5" loaf pan, but this cake also bakes up nicely in a Bundt pan. A friend even baked the batter as cupcakes with great success.
How do I store Chocolate Pound Cake?
Keep the cake covered at room temperature for 3-4 days. Never refrigerate a cake (unless it has a perishable filling). The refrigerator will make the cake go stale faster.
Can I freeze Chocolate Pound Cake?
Yes, the cake freezes beautifully. Wrap the whole cake, or individual slices, in a double layer of plastic wrap. Allow the cake to defrost at room temperature in the plastic.
How should I serve Chocolate Pound cake?
Personally, I don't think this cake needs any embellishment, other than a sprinkle of powdered sugar for a pretty finish. But the cake is also lovely served with a dollop of whipped cream, a scoop of ice cream or with fresh fruit.
Can't get enough pound cake? I also created a sour cream variation which has an extra moist and tender crumb and a honey variation has a lovely tawny color and slight caramel flavor.
If you don't want to choose between chocolate or vanilla, try making Marple Pound Cake.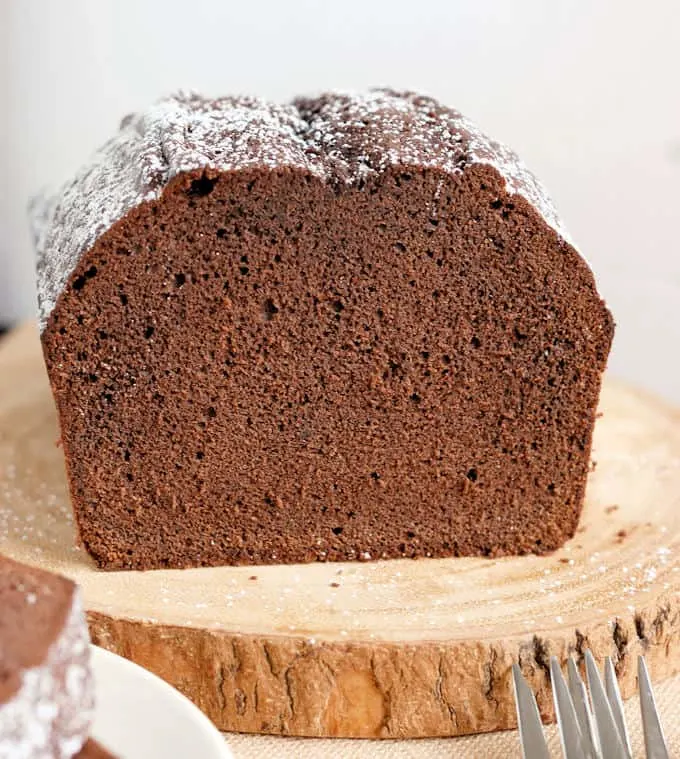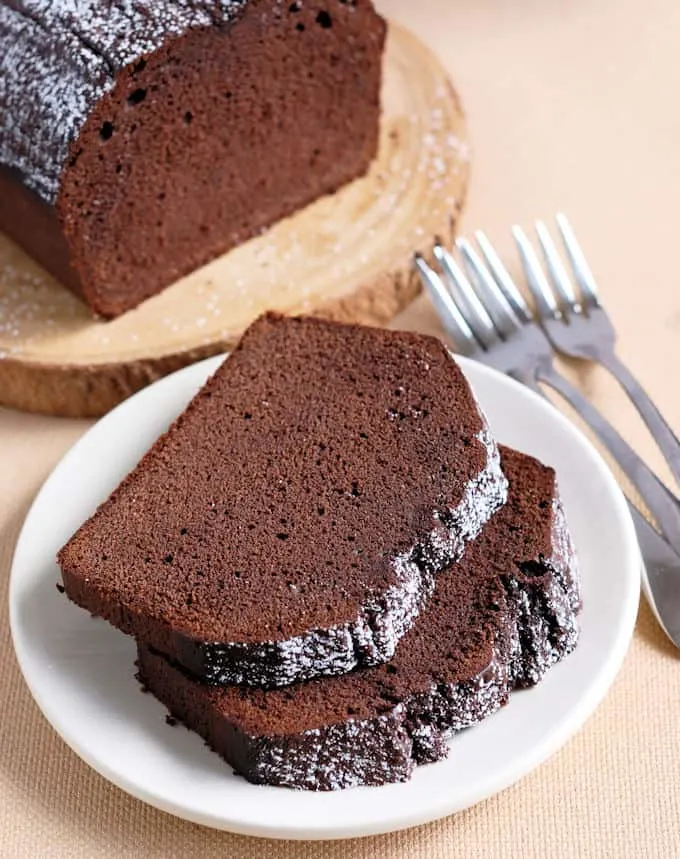 Here are some other pound cake recipes for you to try:
If you love this recipe as much as I do, I'd really appreciate a 5-star review.
Chocolate Pound Cake
Total Time:
1 hour
10 minutes
A really great pound cake should have an even crumb with a melt-in-your-mouth texture. This is a really great pound cake with a big chocolate flavor!
Ingredients
3 large eggs plus 4 yolks (8.5 oz, 238g) room temp
1 teaspoon vanilla extract
1/4 cup (2 oz, 60 ml) whole milk , divided
1 1/2 cups (6 oz, 170g) cake flour
1/2 cup (2 oz, 56g) dutch process cocoa powder
¼ teaspoon table salt
1 teaspoon baking powder
1 tablespoon instant espresso powder (optional)
1 1/4 cups (10 oz, 285 g) granulated sugar
2 sticks plus 2 tablespoons (9 oz, 255g) unsalted butter, room temp
Instructions
Preheat the oven to at 350°F. Butter and flour a 9"x5" loaf pan or 12 cup bundt pan.
Combine the eggs, vanilla and half the milk in a small bowl, whisk to combine and set aside.
Sift together the flour, cocoa, salt, baking powder and espresso powder in a mixing bowl. Add the sugar to the flour and mix at low speed for 30 seconds. Add the butter to the flour and mix until combined. Add the other ½ of the milk and increase the speed to medium high. Mix for a full 2-3 minutes. The batter will lighten in color and texture. If your using a hand mixer add another minute or two to the mixing time.
Scrape the bowl and paddle thoroughly. On low speed, add the egg mixture in 3 increments, scraping the bowl after each addition. Mix just until the eggs are incorporated.
Pour the batter into the prepared pan and smooth to an even layer.
Bake until a toothpick inserted in the middle comes out clean (about 55 minutes).
Recommended Products
As an Amazon Associate and member of other affiliate programs, I earn from qualifying purchases.