I spent months testing cake batter mixing methods and ingredients to achieve Pound Cake Perfection. This Honey Pound Cake is a variation of my favorite all-butter cake.
If you've read through my "Cake Batter Course" you know that it took lots of work and testing to come up with a really great pound cake recipe. If you're interested, over 7 classes (blog posts) you can learn all about the ingredients and mixing methods for cake batter. It's pretty detailed stuff, but what you learn about baking can be applied to all your recipes, not just cake batter. And it's free here on Baking Sense.
This variation of my perfected pound cake recipe uses honey to replace some of the granulated sugar. While I was baking test cakes for the "sugar" class, I baked a cake using honey instead of sugar. Because I used all honey and no sugar, and didn't make any other changes to the cake, the cake baked up dense and collapsed a little. It looks pretty awful, doesn't it?
That test cake was certainly not perfect, but I loved the flavor of the honey pound cake. I knew I wanted to create a pound cake recipe using honey once I perfected the basic recipe. So here it is, and it is delicious, if I do say so myself!
I'll give you a quick overview of the changes that I made to the basic recipe so that I could add the honey without the cake collapsing. If you want more detailed information you can read through the cake batter classes. In a nutshell, adding extra egg yolks and using chlorinated cake flour enabled me to add more liquid to the batter. In the cake that collapsed I used only honey. For this recipe I used both honey and granulated sugar.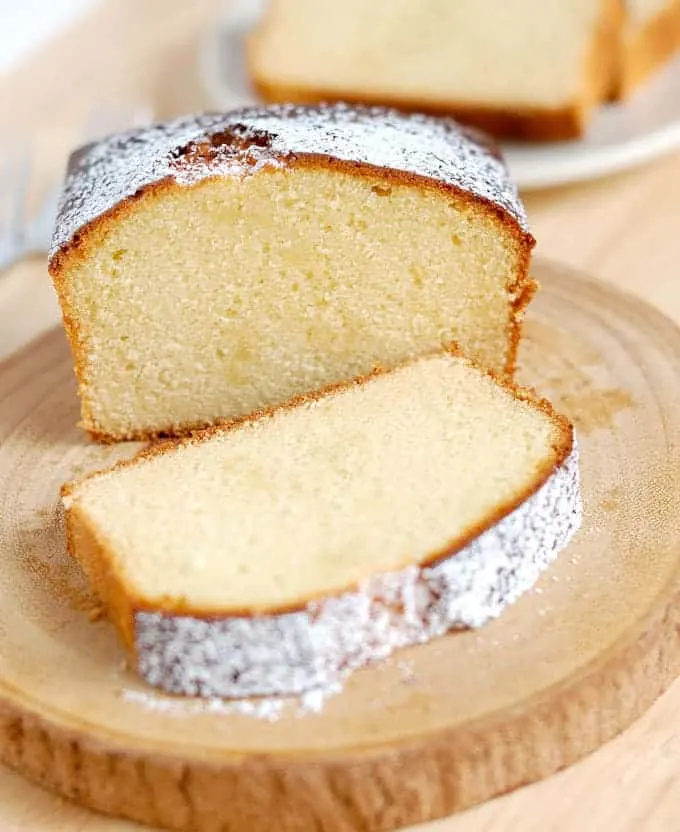 The cake doesn't need any icing or other embellishments. I baked it in a loaf pan, but it would also bake nicely in a Bundt pan.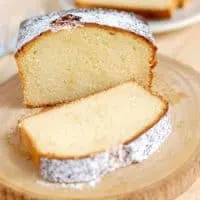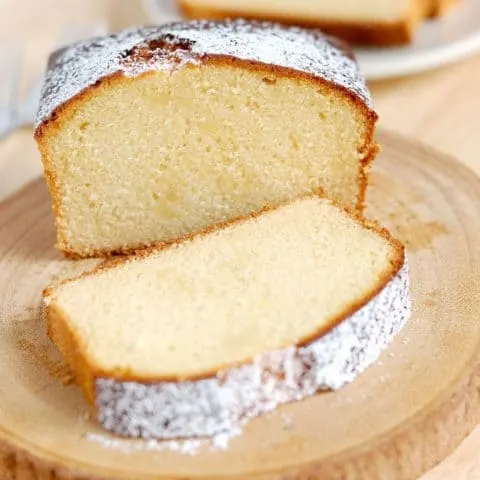 Honey Pound Cake
Total Time:
1 hour
10 minutes
Ingredients
4 large eggs plus 3 yolks, room temperature
1 teaspoon vanilla extract
6 oz (1/2 cup, 170g) honey
8 oz (1 ¾ cups, 225 g) cake flour
¼ teaspoon table salt
1 teaspoon baking powder
4 oz (1/2 cup, 112 g) granulated sugar
9 oz unsalted butter (1 cup plus 2 tablespoons, 255 g) room temp
Instructions
Combine the eggs, vanilla and honey in a small bowl, whisk to combine and set aside.
Sift together the flour, salt and baking powder in a mixing bowl. Add the sugar to the flour and mix at low speed for 30 seconds. Add the butter to the flour and mix until combined. Increase the speed to medium high and mix for a full 2-3 minutes. The batter will lighten in color and texture.
Scrape the bowl and paddle thoroughly. On low speed, add the eggs in 3 increments, scraping the bowl after each addition.
Pour the batter into a buttered and floured 9"x5" loaf pan or 12 cup Bundt pan.
Bake at 350°F until a toothpick inserted in the middle comes out clean (about 55 minutes).