If you've never made homemade Pita Bread, you'll probably be surprised how easy they are to make.
It's really quite something to watch the flat round of dough puff up like a balloon in the oven. Because this dough only needs to rise one time, it's one of the fastest yeast bread recipes you can make.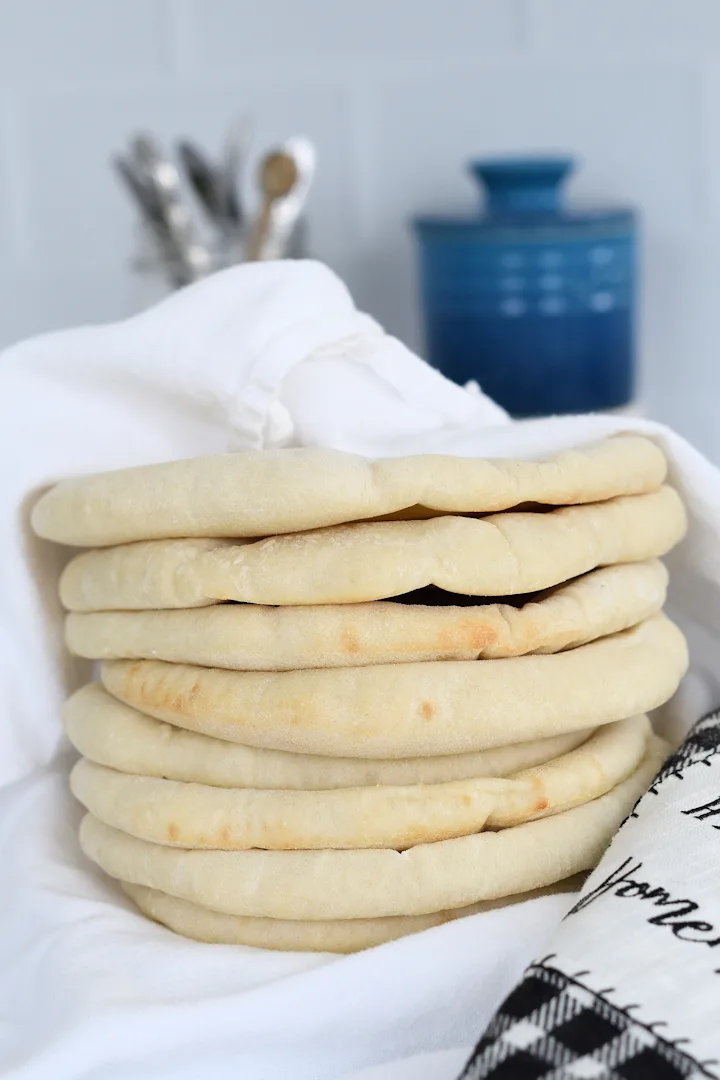 If you've got a sourdough starter, you can make Sourdough Pita Bread instead of this yeasted pita bread recipe.
If you don't have a starter I can show you how to make one, and in the meantime you can start with this super easy and quick recipe.
Scroll through the process photos to see how to make this Pita Bread Recipe: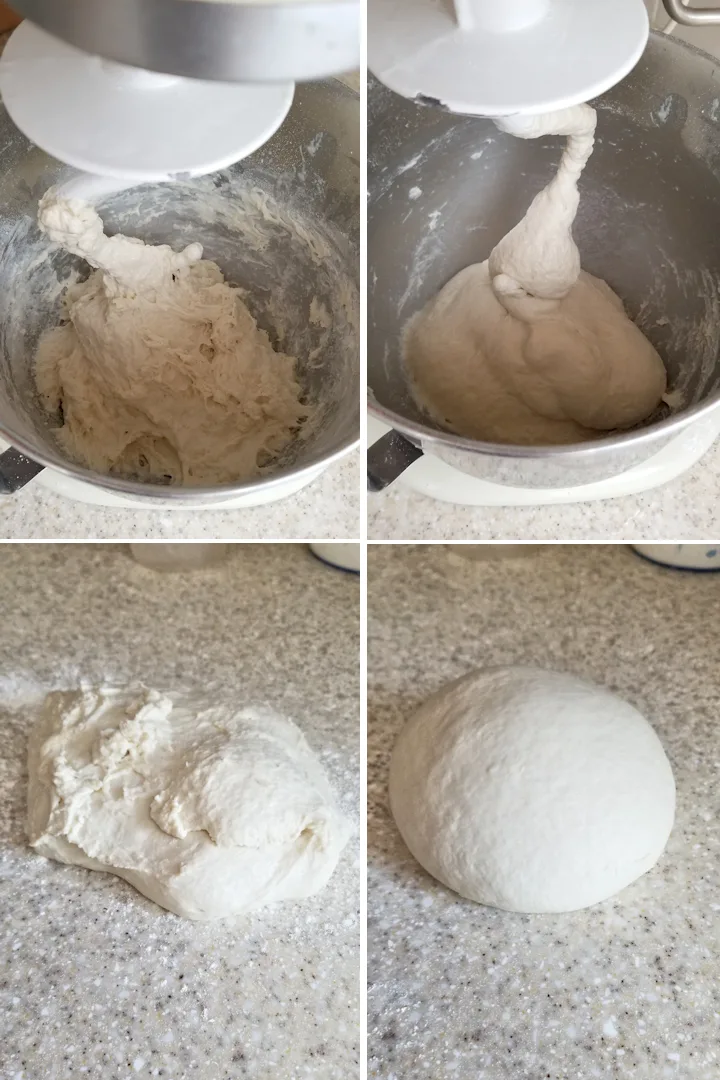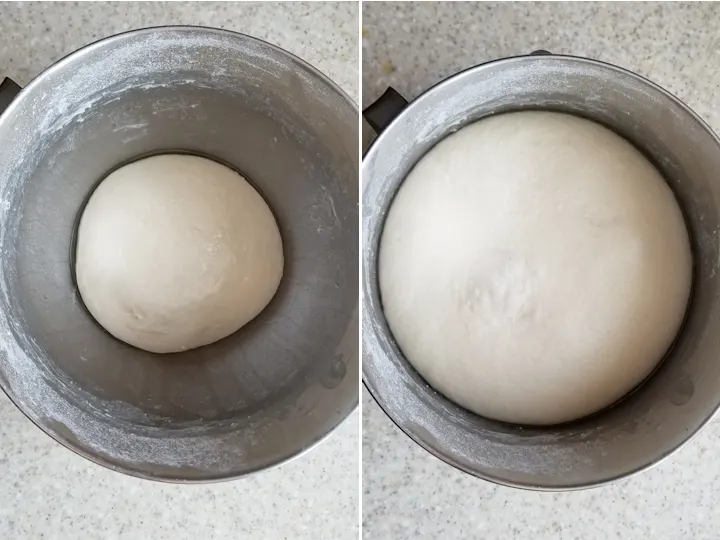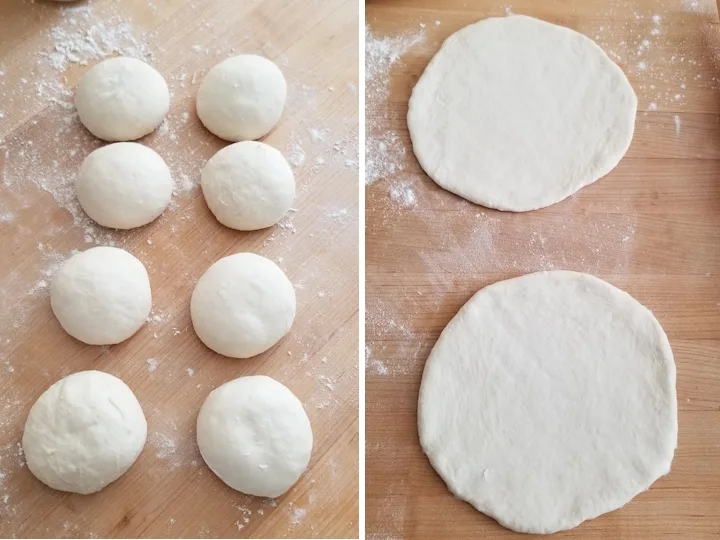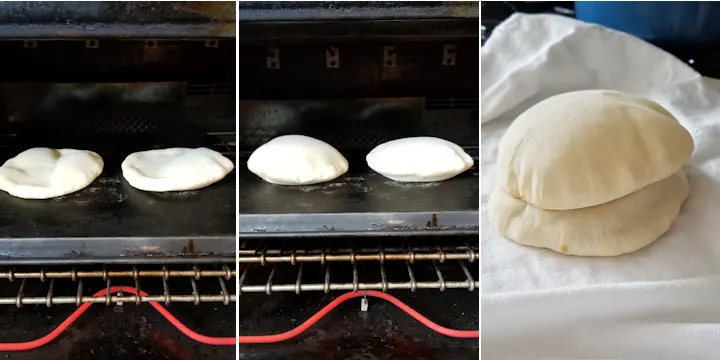 FAQs about making Homemade Pita Bread:
Do I have to bake the bread the same day I make the dough?
No, after the first rise, you can refrigerate the dough for up to 2 days.
Why didn't my Pita Bread puff up?
If your oven is not hot enough the pita may not puff properly. If the sheet pan or baking stone is not pre-heated the pitas won't puff. If the bread is rolled too thin in spots it may not puff properly.
How long does Homemade Pita Bread stay fresh?
The bread is best eaten the day it is made and even better while it's still warm.
Can I freeze Pita Bread?
Yes! Store the pita rounds in a freezer bag for up to 3 months.
How do I re-warm the pita bread?
Wrap the pita in foil and place in a 350°F oven until warm.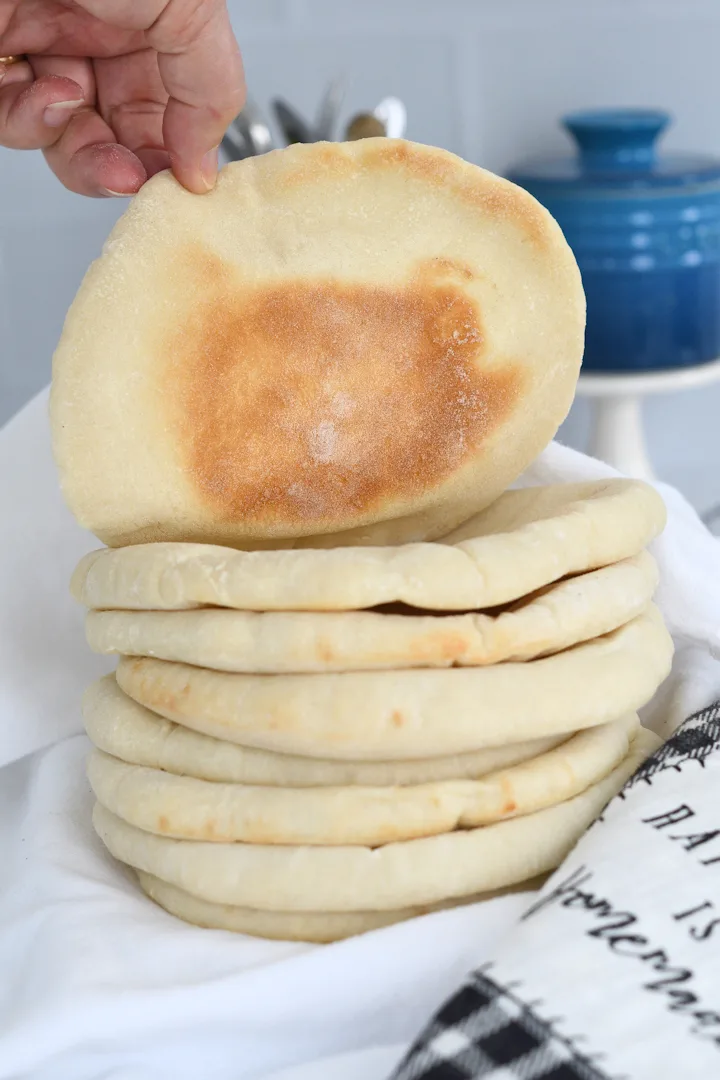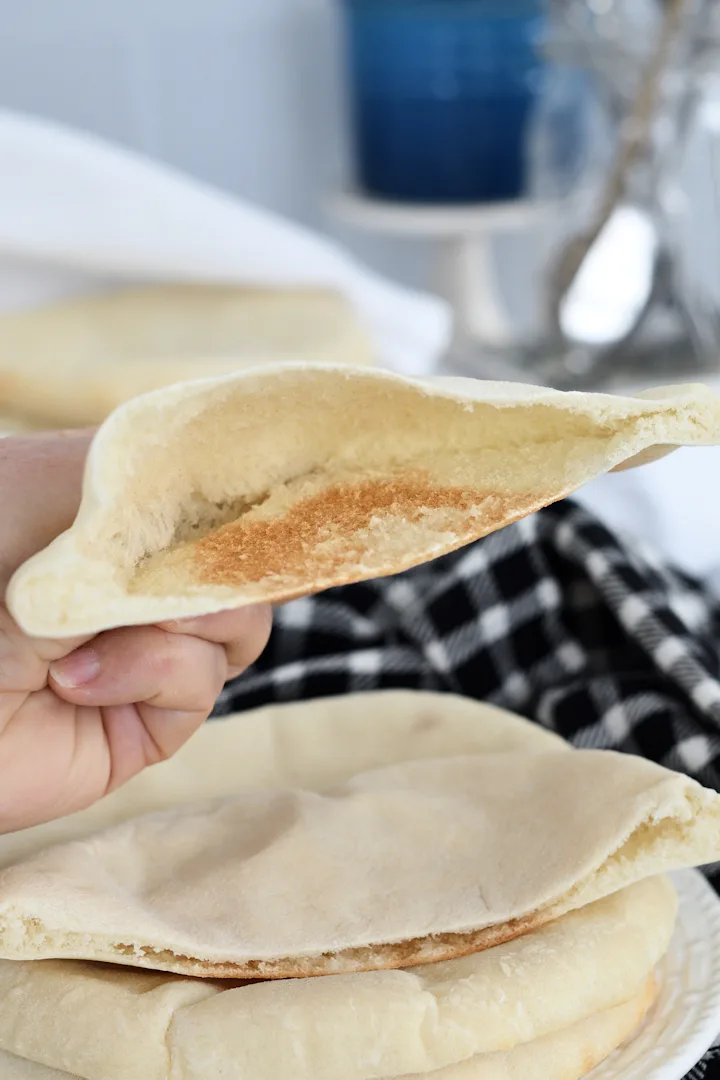 Here are some other great yeasted bread recipes you should try: Soft White Sandwich Bread, Milk & Honey Whole Wheat Bread, Hamburger Buns Crusty Semolina Bread and Hoagie Rolls.
If you love this recipe as much as I do, I'd really appreciate a 5-star review.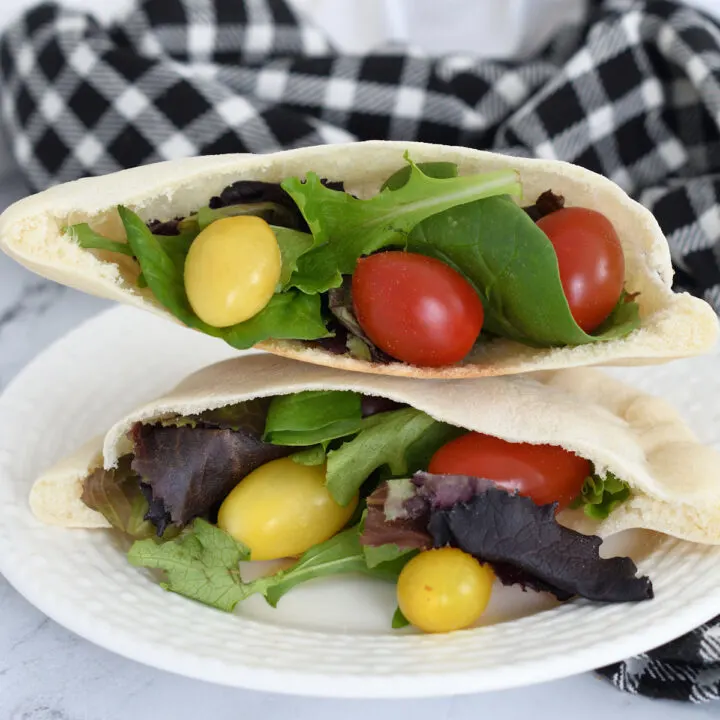 Pita Bread
Rising Time:
2 hours
2 seconds
Total Time:
2 hours
40 minutes
2 seconds
If you've never baked Pita Bread at home, you'll probably be surprised how easy they are to make. Because this dough only needs to rise one time, it's one of the fastest bread recipes you can make.
Ingredients
1 ½ cups (12 oz, 360ml) warm water
1 packet (2 ¼ teaspoons, 7g) dry yeast
2 tablespoons (1 oz, 28g) olive oil
1 tablespoon (1/2 oz, 14g) granulated sugar
1 ½ teaspoons table salt
3 cups (15 oz, 425g) bread flour
Instructions
Combine the water, yeast, oil, sugar, salt and 1 ½ cups (7 1/2 oz, 212g) of the bread flour in the bowl of a stand mixer. Mix until it forms a thick batter. Switch to the dough hook.
With the mixer running on low, add the remaining flour until the dough begins to clean the bottom of the bowl and form a ball around the hook. If mixing by hand add flour until you can no longer stir, then turn the dough out onto a floured surface to finish by hand. The dough will be a little sticky. You can sprinkle in a little extra flour if the dough is extremely sticky. Knead for 5 minutes.
Place the dough in a lightly oiled bowl, turn once to coat the dough and cover the bowl. Rise for 1 - 1 1/2 hours or until doubled in size. (The dough can also rise in the refrigerator overnight). Turn the dough out onto a lightly floured surface. Divide the dough into 8 equal pieces. Roll each piece of dough under your cupped hand to form a tight ball. Cover the dough balls and let them rest for 10 minutes.
Preheat the oven to 450°F. If you have a baking stone place it in the oven. If you don't have a baking stone, place a baking sheet in the middle rack of the oven to preheat. If you have a dark colored baking sheet use that. A dark pan will absorb heat better than a light-colored pan, so the bread will puff better.
Roll each piece of dough to ¼" thick and 6-7" around. Roll two pitas and immediately place them on the preheated baking stone or baking sheet in the oven. Bake until they are puffed and the bottom is lightly browned, about 3-5 minutes. You don't need to flip the bread. Remove the baked breads and wrap them in a clean kitchen towel while you continue rolling and baking the pitas.
The pitas are best the day they are made, but they also freeze very well.

Notes
To make whole wheat pita bread, use 1 cup of whole wheat flour in place of the bread flour.
Recommended Products
As an Amazon Associate and member of other affiliate programs, I earn from qualifying purchases.