Boterkoek means "butter cake" in Dutch, and all that that implies. You'll love this rich, buttery treat that is not really a cake, but is not quite a cookie either.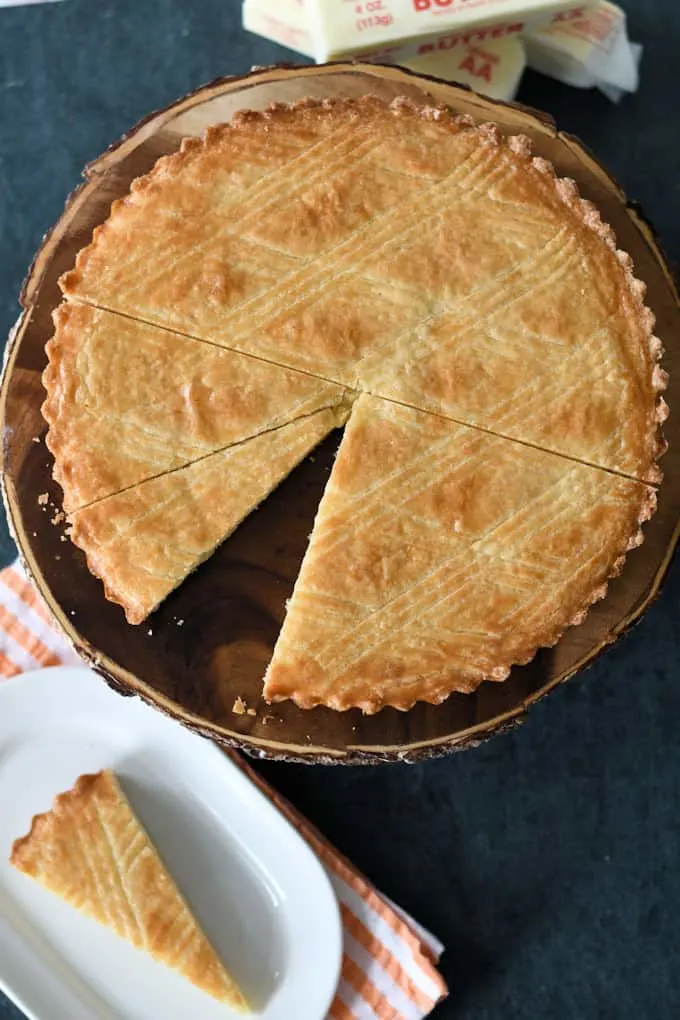 Dutch Boterkoek is comfort food at it's finest. The recipe includes just 5 very basic ingredients and takes about 10 minutes to assemble. The flavor is simple yet deep. It's like a hug for your taste buds.
All about Boterkoek (Dutch Butter Cake):
Based on it's name, obviously there is a very high butter content in this dough, there's almost as much butter as flour.
Lots of butter not only means deliciousness, it also means this is a very tender dough. The high fat content keeps the gluten strands "short" and underdeveloped. A "short" dough is a very tender dough.
This is also true of Shortbread Cookies. But the difference between shortbread and Boterkoek is the amount of sugar in the dough.
My basic shortbread cookies have half the weight of sugar to butter.
Dutch Butter Cake has as much sugar as it has butter. Remember that sugar does much, much more than merely sweeten a recipe.
Sugar tenderizes and it absorbs and retains moisture. So that means Dutch Butter Cake is even more tender than shortbread cookies, and it's very, very moist. Maybe that's why is called a cake rather than a cookie?
One of my favorite things about Boterkoek is the super crisp and chewy crust that forms around the edges of the cake. The crust is also thanks to the high sugar content in the dough.
One final note about the sugar. The traditional Dutch recipe uses a type of sugar not available in the United States. Basterdsuiker is moister than American granulated sugar.
For my Dutch Appletaart I use a mixture of brown and white sugar to emulate the texture of brown basterdsuiker.
Since I wanted only white sugar in the Boterkoek, I use superfine sugar. Superfine sugar will dissolve more readily in the dough, releasing more moisture. It's a pretty good substitute and this recipe is Dutch-husband approved.
Scroll through the step by step photos to see how to make Dutch Butter Cake (Boterkoek):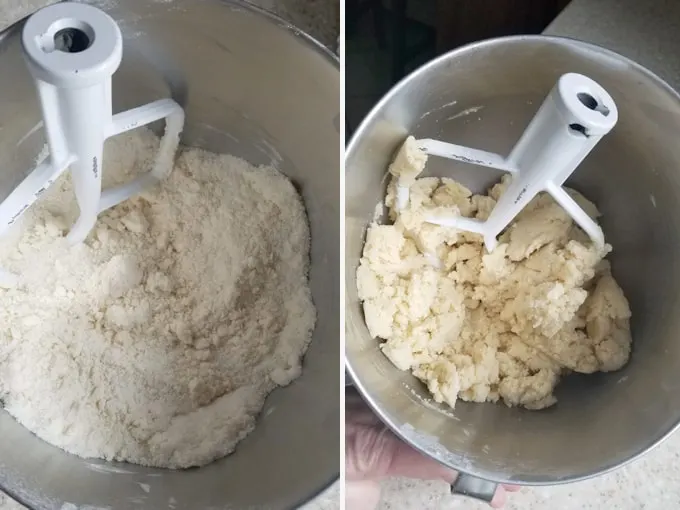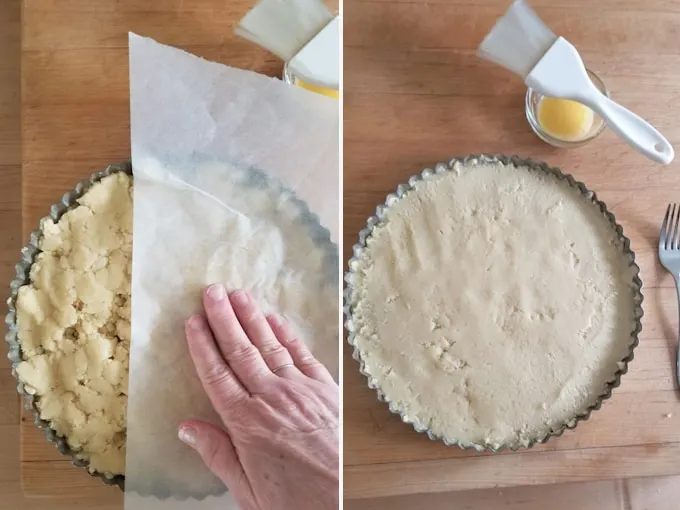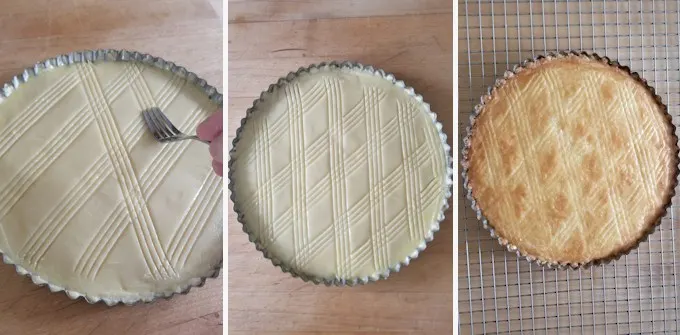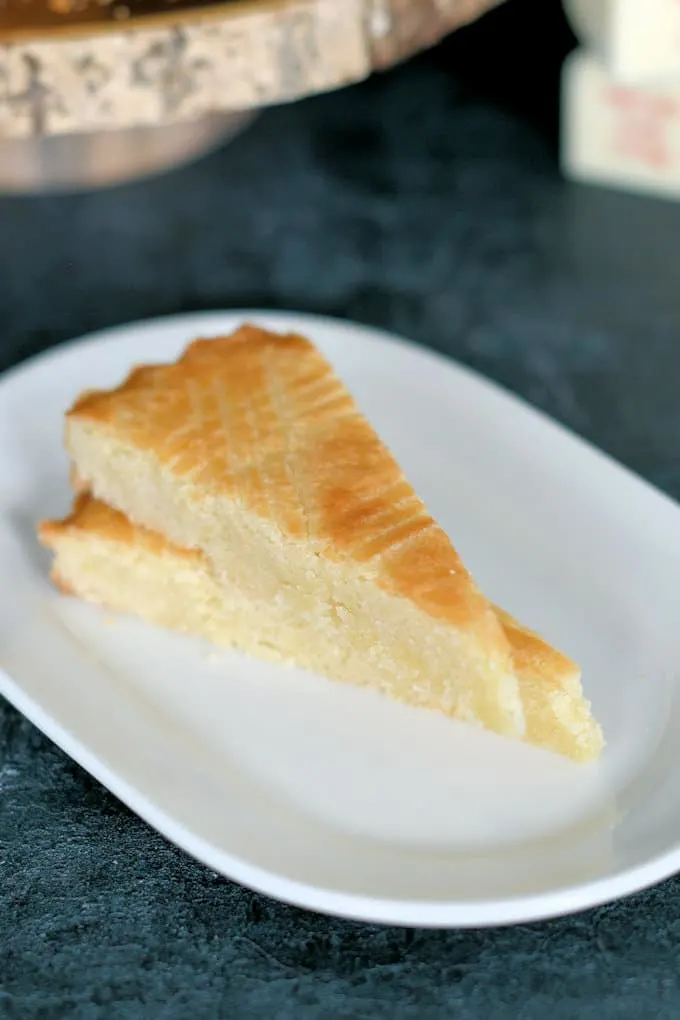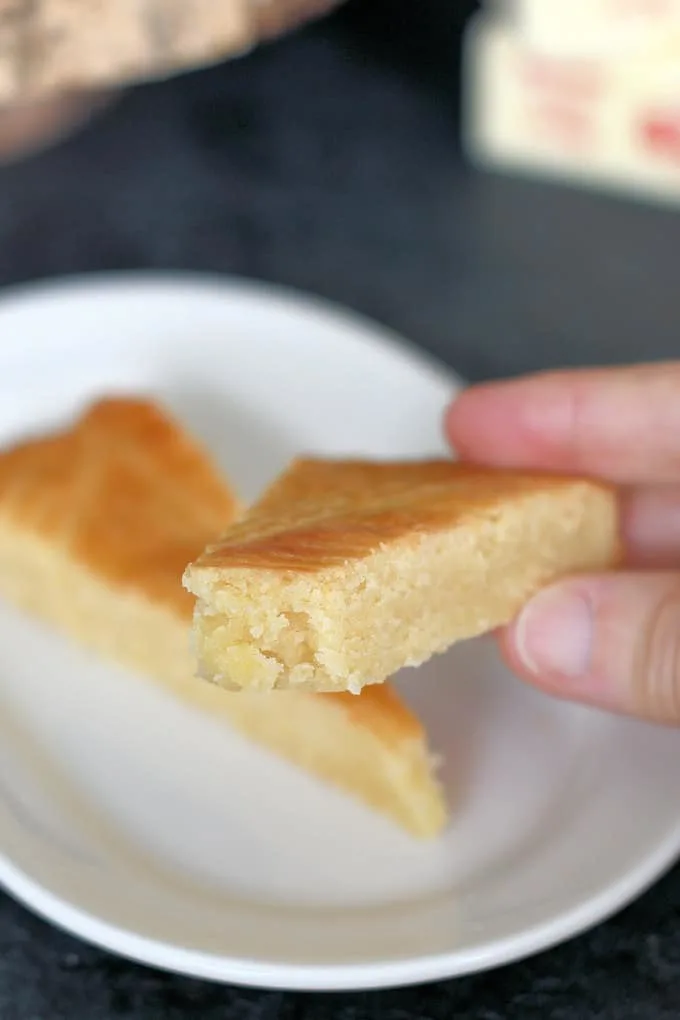 I've seen Boterkoek recipes that add almond extract, vanilla or lemon zest for flavor. Personally I want my boterkoek to taste like butter so I don't add any extraneous flavorings. If you're less of a purist than I am, feel free to add the flavoring of your choice.
Want more authentic Dutch recipes?
You might also like: Classic Shortbread Cookies, Chocolate Shortbread Cookies, Coconut Shortbread Cookies, Rose Shortbread Cookies, Lemon Filled Shortbread.
If you love this recipe as much as I do, I'd really appreciate a 5-star review.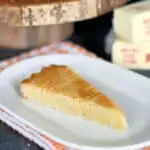 Print Recipe
Boterkoek
Boterkoek means "butter cake" in Dutch, and all that that implies. A rich, buttery treat that is not really a cake, but is not quite a cookie either.
Ingredients
10

oz

all purpose flour

(2 cups)

8

oz

superfine sugar

(1 cup (see note))

¼

teaspoon

table salt

8

oz

unsalted butter

(room temperature)

1

egg

(whisked)
Instructions
Preheat the oven to

400

°F

. Line the bottom of a 9" tart pan or spring form pan with a parchment paper round.

In a large mixing bowl or the bowl of a stand mixer, combine

10 oz all purpose flour

,

8 oz superfine sugar

and

¼ teaspoon table salt

. Toss in

8 oz unsalted butter

and use your fingers or the mixer paddle to work the butter into the flour until there are no large lumps of butter.

Remove 1 tablespoon of the whisked egg and set it aside. Add the rest of the egg to the dough and mix just until it comes together.

Press the dough into the prepared pan. Smooth until the top is level and flat.

Brush the reserved egg onto the top of the dough. Use a fork to create a lattice pattern on top of the dough.

Bake until the edges and top of the cake are golden brown, about 20-25 minutes.

Cool completely in the pan. Cut into 16 wedges to serve.
As an Amazon Associate and member of other affiliate programs, I earn from qualifying purchases.
Notes
To make your own superfine sugar, briefly grind regular granulated sugar in a food processor or blender.
Nutrition
Serving:
1
serving
|
Calories:
225
kcal
|
Carbohydrates:
28
g
|
Protein:
2
g
|
Fat:
12
g
|
Saturated Fat:
7
g
|
Polyunsaturated Fat:
1
g
|
Monounsaturated Fat:
3
g
|
Trans Fat:
0.5
g
|
Cholesterol:
41
mg
|
Sodium:
42
mg
|
Potassium:
26
mg
|
Fiber:
0.5
g
|
Sugar:
14
g
|
Vitamin A:
369
IU
|
Calcium:
8
mg
|
Iron:
1
mg