Sablé Cookies represent everything I love about french baking. Sablés are buttery, tender and not too sweet. To make these "diamant" sablés, coat the cookies with crystal sugar for a crunchy, sweet bite. Shape them into cute little "diamond" shapes for a nice presentation.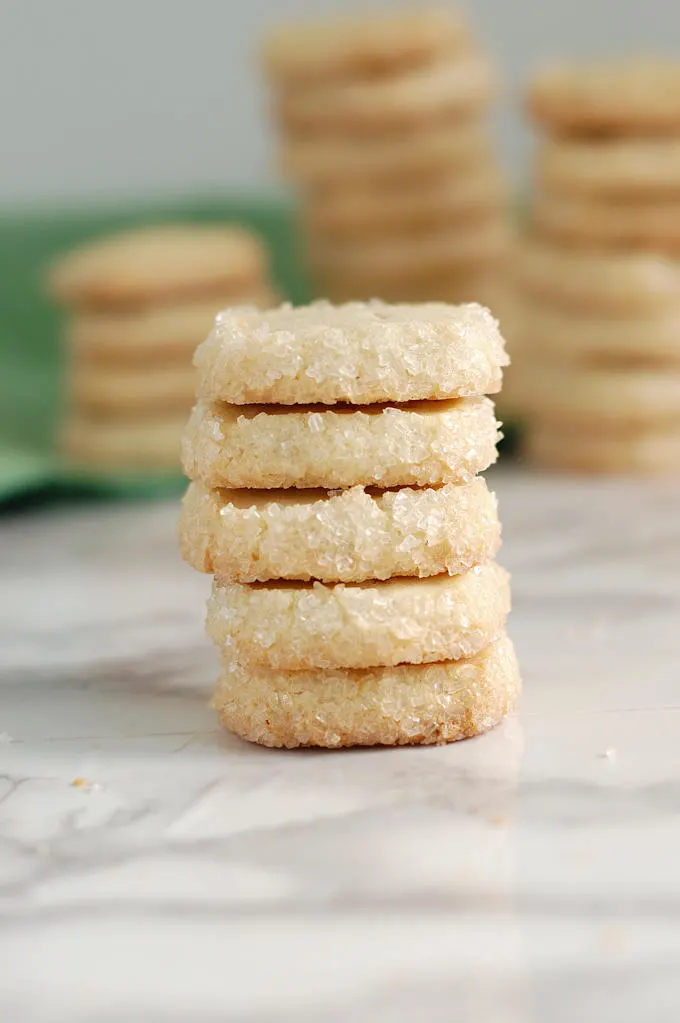 What I love about traditional French recipes is that they are all about good ingredients and technique.
Rather than adding chips and nuts and marshmallows for a sensory overload, sablé cookies rely on good butter, sugar and a hint of vanilla for a perfectly elegant treat. It may seem simple, but this is a grown-up and sophisticated cookie.
There are relatively few ingredients in this dough, so, my fellow baking geeks, lets dissect this recipe to see why these "simple" cookies are so special.
Scroll through the step by step photos to see how to make French Sable Cookies:
Why French Sable Cookies Are So Good – A Little Baking Science
First of all, you'll see that there is a relatively high butter content in this dough, there's almost as much butter as flour. Lots of butter not only means deliciousness, it also means the cookies will be very tender and crumbly.
In fact, the word "sable" means "sandy". The baked cookies have a perfectly sandy, melt-in-your-mouth texture.
Next on the ingredient list is the sugar. Key to this recipe is the fact that there is half as much sugar as butter. Off the bat, that means we're making a less sweet cookie. The flavor is balanced out by the crystal sugar coating, so we have a rich and buttery cookie that is not cloyingly sweet.
But please remember that sugar does much, much more than merely sweeten a recipe. Sugar tenderizes and it absorbs and retains moisture.
We're not done talking about the sugar yet, but lets take a quick detour and talk about the egg yolks. Most of the water in an egg comes from the whites. Because we only use the yolks in this recipe, it's a fairly "dry" dough.
As I mentioned, sugar absorbs moisture. A drier dough means we don't need a lot of sugar to absorb excess moisture.
I know, I know, "dry" is usually a terrible word to associate with baked goods, but it's a good thing in this case. Because flour needs water to develop gluten, a low-moisture dough does not have a lot of gluten development. Less gluten means a more tender cookie.
Of course, egg yolks add wonderful flavor, richness and color, but they are also great emulsifiers. When the egg yolks are added to the butter and sugar mix, the water in the butter is held in an emulsion with the fat.
With the water trapped in the suspension, it's not available to the flour for the formation of gluten. So using only yolks not only minimizes the amount of water in the dough, the yolks also make the water less available to the flour.
Last but not least, sablé cookies should hold their shape as they bake, not puff up and spread in the oven. Cookies made from a very wet dough will spread in the oven, so that's another advantage of a low-moisture dough.
How do we prevent the cookies from puffing in the oven? Well, first of all we don't use any chemical leaveners.
As you probably already know, when you cream butter with granulated sugar the crystals cut through the butter and form air pockets that help the dough rise in the heat of the oven.
To minimize the amount of air whipped into the dough we use confectioner's sugar for sablé cookies. Less air means less rise in the oven.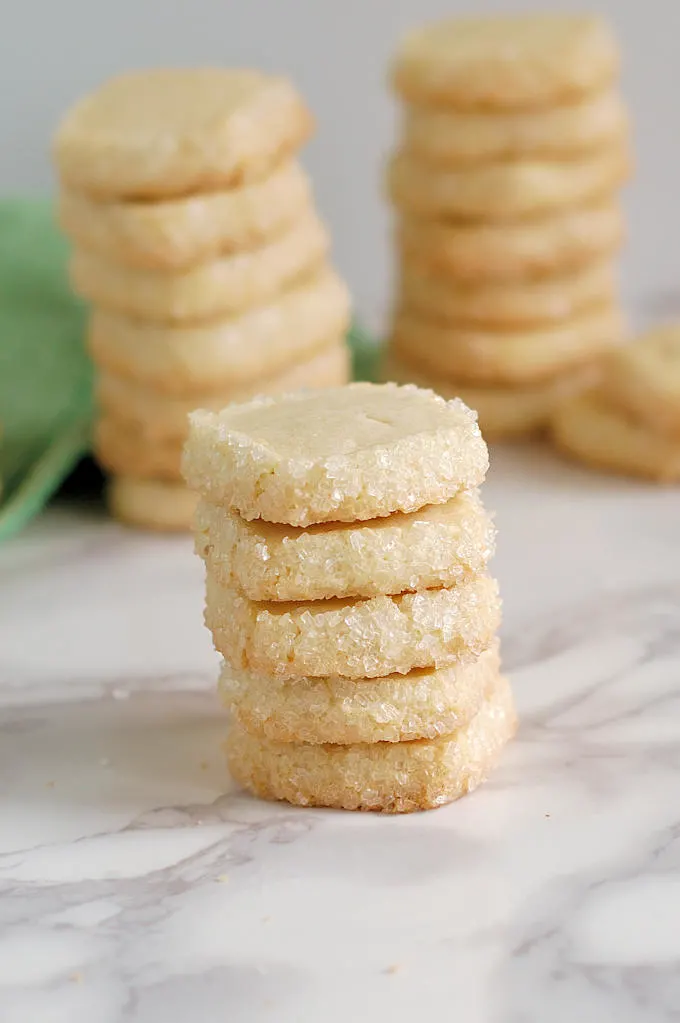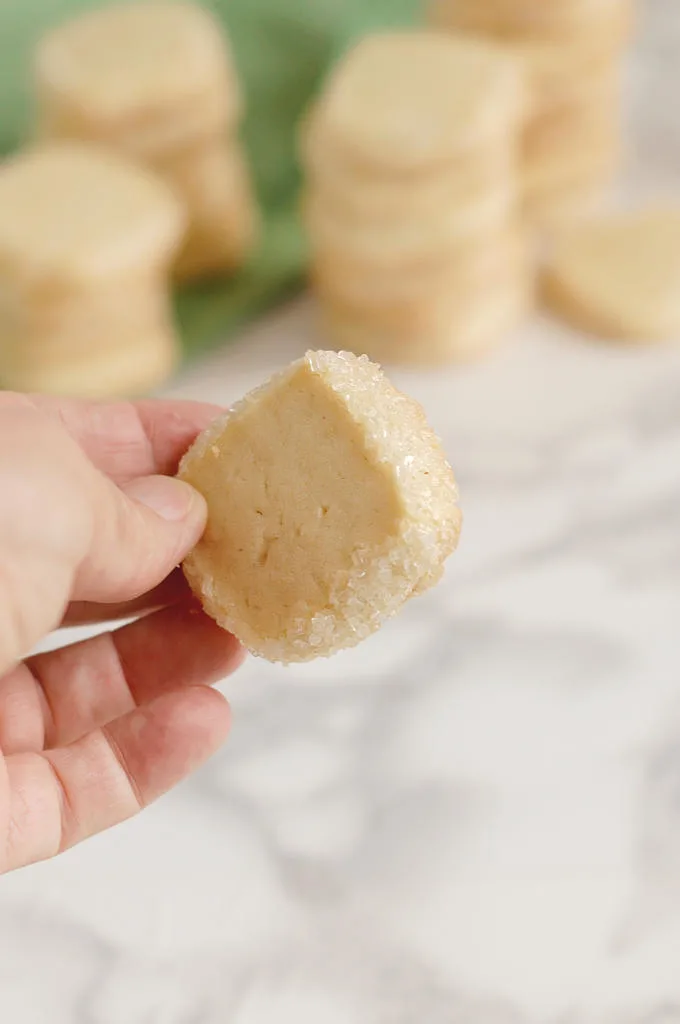 Helpful hints for making Sablé Cookies:
Don't over aerate the butter and sugar. You don't want the cookies to rise too much when baking.
Chill the dough before slicing so the cookies hold their shape.
To work ahead, the dough logs can be wrapped and frozen.
The baked cookies will keep in a covered container for several days at room temperature.
You might also like: Savory Shortbread Cookies, Dutch Boterkoek, Madeleines, Rose Shortbread Cookies, Lemon Thin Cookies, Lemon Filled Shortbread and traditional Lebkuchen.
If you love these cookies as much as I do, please consider leaving a 5-star review.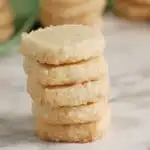 Print Recipe
Diamant Sablé Cookies – Diamond Shortbreads
Buttery and light shortbread cookies coated with crystal sugar for a crunchy, sweet bite. I shape them into cute little "diamond" shapes for a nice presentation.
Ingredients
8

oz

unsalted butter

(room temperature)

4

oz

confectioner sugar

(1 cup)

2

large egg yolks

2

teaspoons

vanilla extract

10

oz

all purpose flour

(2 cups)

2

large egg whites

(beaten)

1

cup

crystal sugar
Instructions
Cream

8 oz unsalted butter

with

4 oz confectioner sugar

until it becomes very smooth and lighter in color, about 1-2 minutes. Add

2 large egg yolks

and

2 teaspoons vanilla extract

and mix until combined. Turn off the mixer and add

10 oz all purpose flour

. Mix on low speed until almost all the flour is incorporated.

Turn the dough out onto a lightly floured surface and knead together. Split the dough in ½ and roll each piece into a 12" long log. Use a ruler or another flat tool to square off the sides of the logs. Transfer the logs to a parchment or silicone baking mat lined half sheet pan. Wrap the logs in plastic and chill about 20 minutes to firm up the dough. (see note)

Pour the crystal sugar in a 12″ long line in the middle of a piece of parchment paper or a silpat. Brush one of the dough logs lightly on the top and sides with egg white. Set the log, egg white side down, onto the crystal sugar. Brush the last side of the log with egg white. Roll the log in the sugar and press gently to adhere a coating of sugar on all 4 sides. Repeat with the other log. Return the sugar coated logs to the parchment lined pan. Chill another 20 minutes.

Preheat the oven to

350

°F

. If you have a second sheet pan line it with parchment paper or a silicone baking mat.

Remove the logs from the refrigerator. Use a serrated knife to cut the logs into ½" slices. Place 24 slices onto each sheet pan. If you only have one sheet pan work with 1 log at a time.

Bake until the bottoms of the cookies are golden brown and the dough is set in the middle, 10-13 minutes. The tops of the cookies should still be quite pale.

Cool 10 minutes on the sheet pan then transfer the cookies to a cooling rack to cool completely. Store in a covered container at room temperature for several days.
As an Amazon Associate and member of other affiliate programs, I earn from qualifying purchases.
Notes
The logs can be wrapped and frozen for up to 3 months. Defrost the logs then proceed with the recipe to bake.
Nutrition
Serving:
1
cookie
|
Calories:
68
kcal
|
Carbohydrates:
7
g
|
Protein:
1
g
|
Fat:
4
g
|
Saturated Fat:
3
g
|
Polyunsaturated Fat:
0.2
g
|
Monounsaturated Fat:
1
g
|
Trans Fat:
0.2
g
|
Cholesterol:
18
mg
|
Sodium:
3
mg
|
Potassium:
11
mg
|
Fiber:
0.2
g
|
Sugar:
2
g
|
Vitamin A:
129
IU
|
Calcium:
3
mg
|
Iron:
0.3
mg