Savory Dutch Pancakes (Pannekoeken) are satisfying for breakfast, lunch or even dinner. This is not a "dutch baby" puffy pancake. Keep reading to find out how to make a true Dutch Pancake.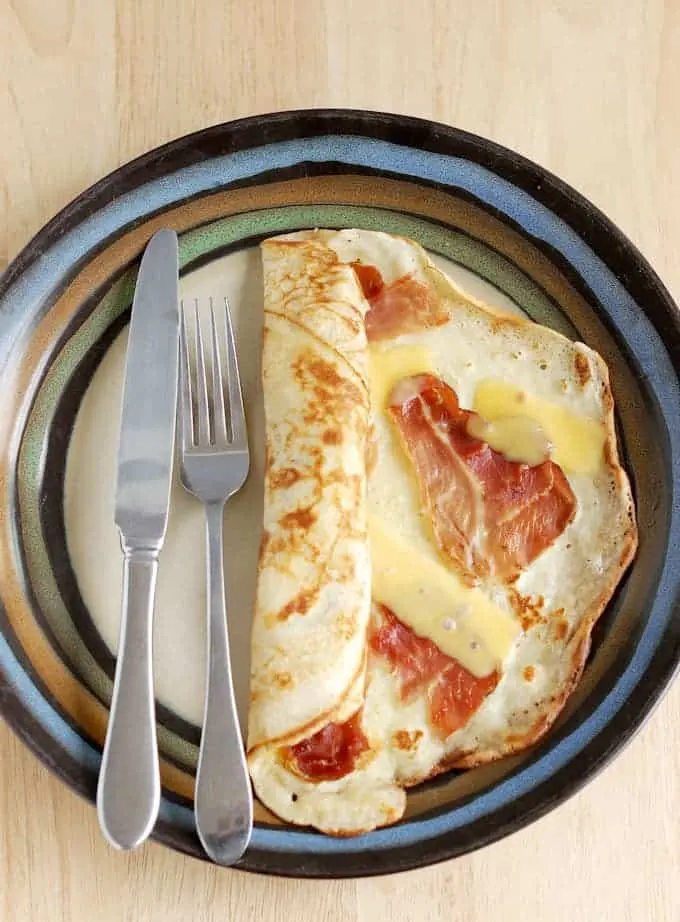 These Savory Dutch Pancakes are are not the same as the "dutch baby" pancakes that are all over the internet. A "dutch baby" is a pancake that you bake in a cast iron skillet. It puffs up, then collapses when it comes out of the oven.
According to Wikipedia, "dutch baby" pancakes were popularized in the US in the early 20th century. It's based on a German recipe (Deutsch, not Dutch!).
Although dutch babies are delicious, they are not what I'm writing about today.
Dutch Pancakes, or Pannekoeken, are from Holland!
Pannekoeken are true Dutch pancakes. Dutch as in from Holland or The Netherlands.
My husband is Dutch and we've been visiting Holland together for more than 30 years. Every trip to Holland includes at least one meal at a Pannekoekehuis (Pancake house).
How to Make Savory Dutch Pancakes (Pannekoeken)
This recipe is based on one I found in an old Dutch cookbook. The book has recipes for several styles of pancake.
Some recipes are made with yeast and a thick batter and some are more like a crepe with no leavening and melted butter in the batter.
I adapted the recipe that seems closest to the type of pancake we like. We like the more crepe-like thin pancakes. You can eat them plain, or with savory or sweet toppings.
I love the savory version topped with "spek" (smoked proscuitto) and cheese.
To make sweet pancakes top them with sauteed apples or any fruit of your choice.
When our kids were young they loved pancakes topped with whipped cream and chocolate sauce, or "stroop" (Dutch syrup).
Scroll through the step by step photos to see how to make Dutch Pancakes (Pannekoeken):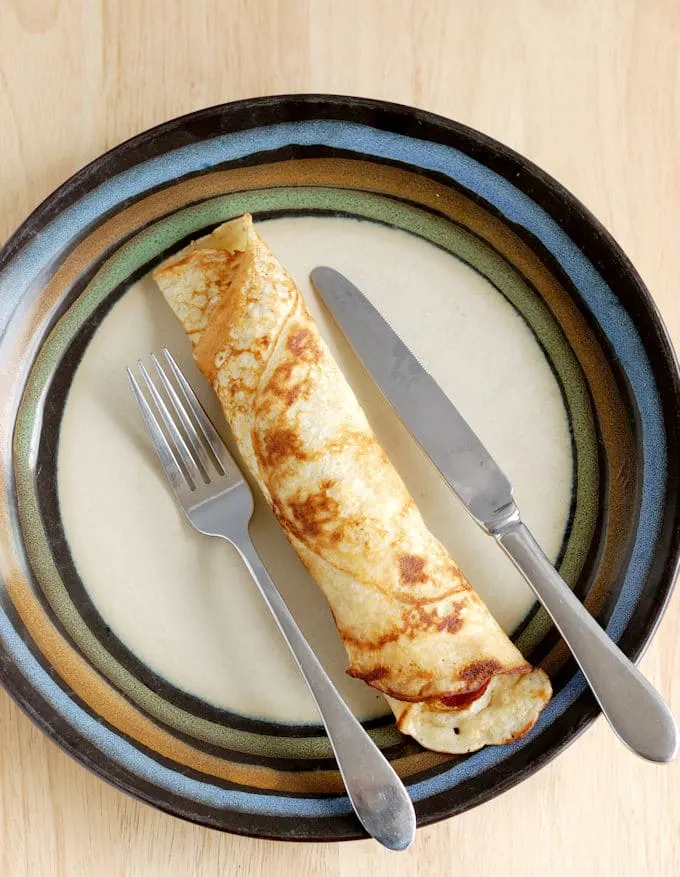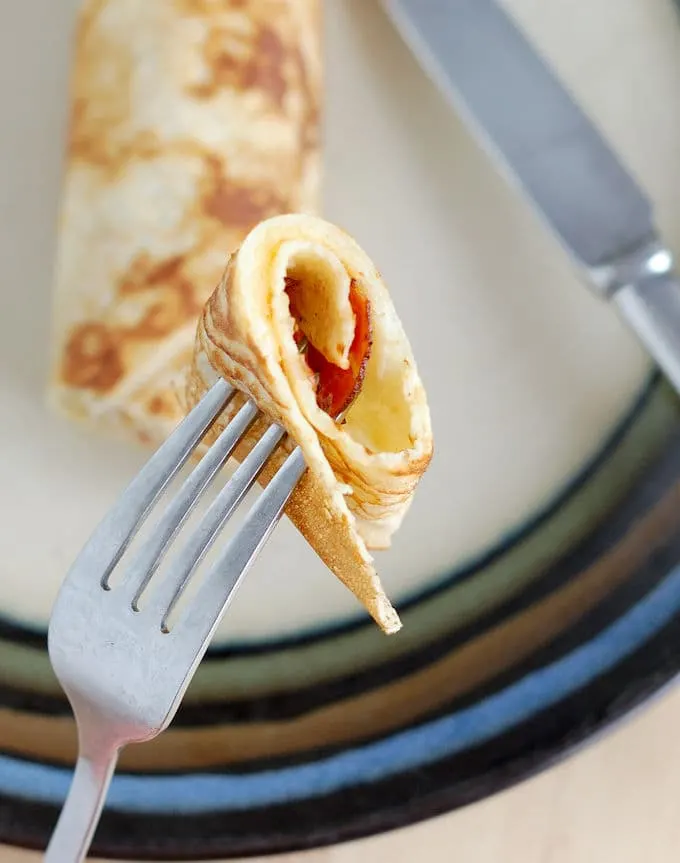 Roll them up and enjoy. Personally, I like the speck and cheese pancakes with a little maple syrup. Sorry, it's the American in me. I just love my maple syrup!
Want to try more Authentic Dutch Recipes?
If you love this recipe as much as I do, I'd really appreciate a 5-star review.
Savory Dutch Pancakes - Pannekoeken
Yield:
6-8 large pancakes
Savory Dutch Pancakes (Pannekoeken) are satisfying for breakfast, lunch or even dinner.
Ingredients
1 2/3 cups (8.5 oz, 240g) all purpose flour
1.5 teaspoons (7g) baking powder
1.25 teaspoons salt (7 g)
1 large egg
2 cups (16oz, 480ml) milk
1/4 cup (2 oz, 56g) butter
4 oz (112g) speck (smoked proscuitto) or bacon of your choice (see note)
4 oz (112g) young Gouda cheese or cheese of your choice
Instructions
In a large bowl, whisk together the flour, baking powder and salt. Make a well in the center of the dry ingredients. Add the egg and half the milk to the well. Mix until the ingredients are combined. Slowly add the remaining milk. The texture should be like a thin pancake or crepe batter.
Heat a large (12") non-stick skillet over medium. Melt a teaspoon of butter and swirl to coat the pan. Pour 1/2 cup of the batter into the pan and swirl to create a large thin pancake that covers the bottom of the pan.
Place several slices of the speck or bacon over the top of the pancake. Cook until the top of the pancake is set. Flip the pancake over and cook until that side is browned.
Flip back over so the speck is on top. Add a few slices of cheese, cover and allow the cheese to melt.
Serve hot or hold in a warm oven while you make the remaining pancakes
Notes
Speck is a smoked proscuitto. If you use American bacon you'll need to cook it before making the pancakes.
You can also make sweet Dutch pancakes by adding sauteed apples, raisins or the fruit of your choice. Serve sweet pancakes with syrup or Dutch Stroop.
Recommended Products
As an Amazon Associate and member of other affiliate programs, I earn from qualifying purchases.