Speculaas cookies are crunchy, sweet and have a lovely warm-spice flavor. Shape them with a traditional windmill cookie mold or with a cookie cutter for a real Dutch treat.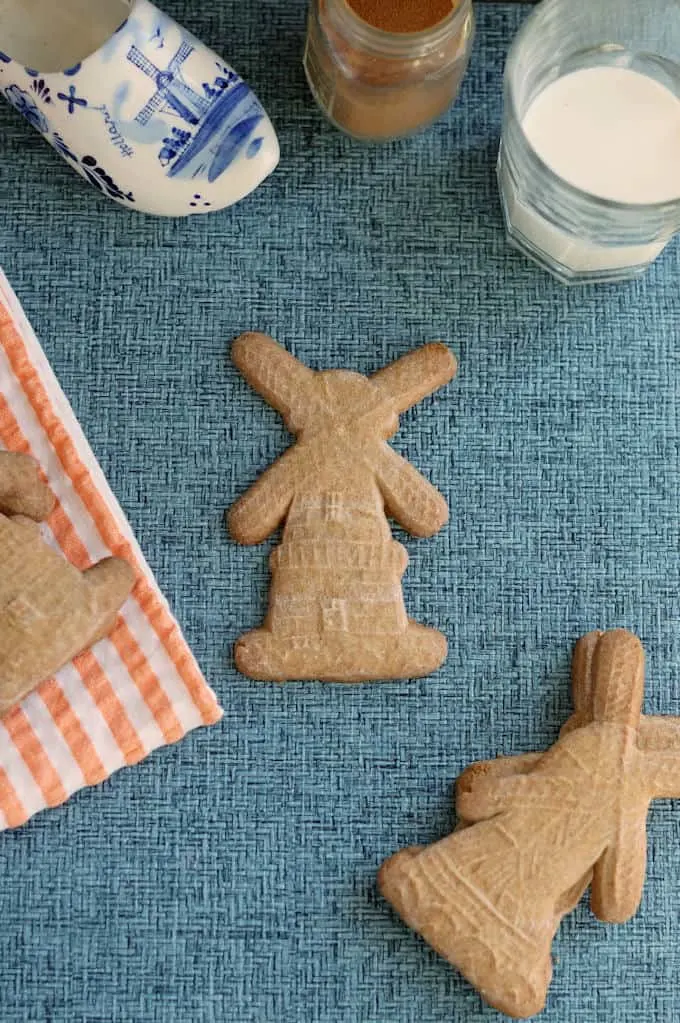 About authentic speculaas cookies:
The Dutch call them Speculaas, the Belgians call them Speculoos and the Germans call them Spekulatius. Since my husband is Dutch, in our house they only go by the original, Speculaas. Whatever you call them, they are delicious.
Speculaas have been made in the Netherlands since the 17th century. What makes these cookies so addictive is the mix of warm spice and brown sugar in the dough.
Large speculaas cookies are traditionally baked and given as gifts for St. Nicolas Day on December 5th. I have a collection of traditional wooden speculaas molds, including a large St. Nicolas design. The windmill design is probably the one most familiar to Americans.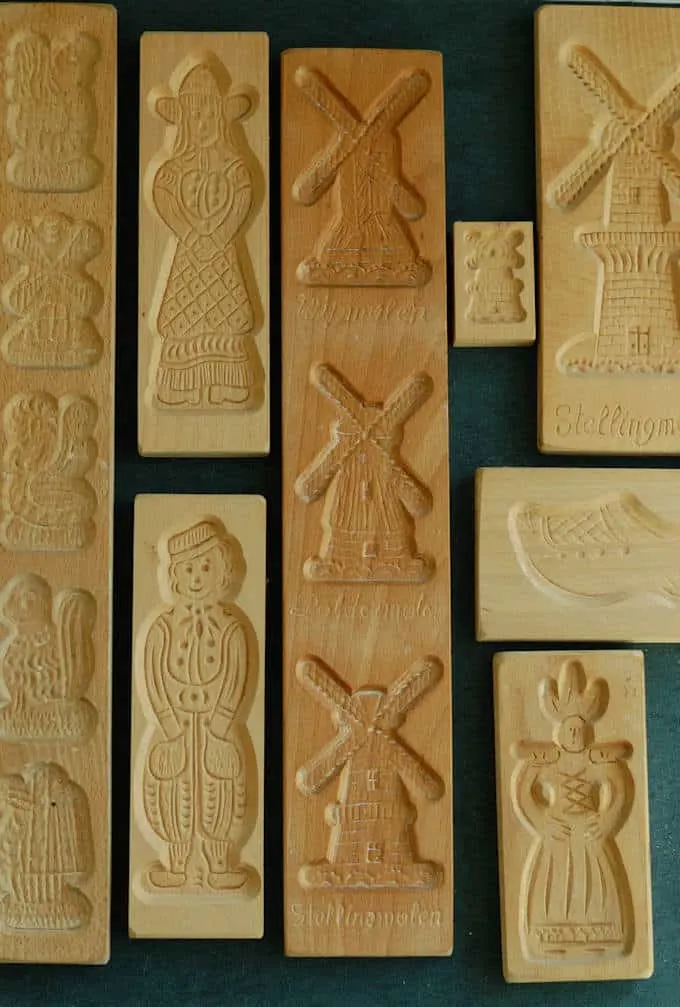 You don't have to use the traditional molds to make Speculaas, but they are fun to collect and use. You can find them on Etsy if you want to give it a try.
You can also use a windmill shaped cookie cutter or even a simple round or rectangle cookie cutter will do.
Whatever the shape, roll them nice and thin so they bake up crisp and crunchy.
How to make the best speculaas cookies:
I struggled for years to make a speculaas cookie at home that was as light and crunchy as those we enjoyed on our trips to Holland.
I was using a recipe from an old Dutch cookbook so I couldn't figure out why my cookies weren't the right texture.
In the age of the internet, I was able to do lots of research on various Dutch websites to try and crack the code. But it was a helpful (Dutch) member of my Facebook group (ask to join and I'll add you to the group) that finally set me straight.
She explained to me that Dutch all purpose flour is softer than the all purpose flour in the US. Also, most Dutch speculaas recipes call for "zeeuwse bloem" which would be the equivalent of pastry flour here in the US.
When I want to use pastry flour, as I do for my Pie Dough and Buttermilk Biscuits, I use a mix of AP flour and cake flour. So here was a great solution to my speculaas troubles.
I also came across a recipe that used almond flour in the mix and liked what the almond flour did for the texture. Because almond flour does not have gluten, it has a tenderizing effect on the dough. Also, the gritty texture of the almond flour helped create the perfect light, crunchy texture I was after.
So I finally had it. After years and years of testing it turns out a great speculaas is made by using a mix of all purpose, cake and almond flours.
Oh, and the specific mix of spices I use is a knock-out. It was inspired by another Dutch treat, Spekkoek. But you can buy pre-mixed speculaas spice to make life a little easier.
Scroll through the step by step photos to see how to make authentic Speculass Cookies: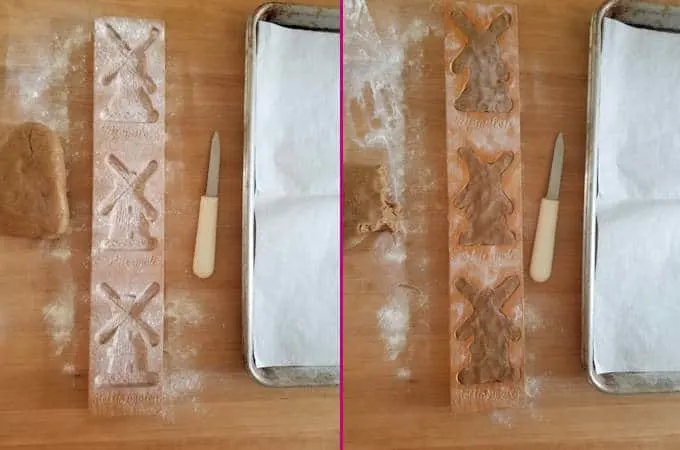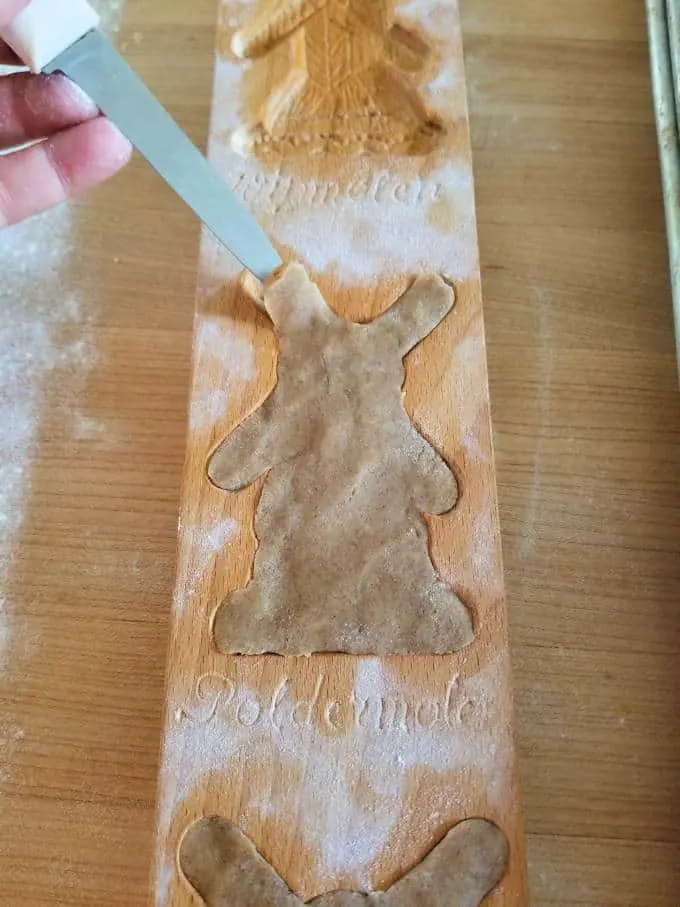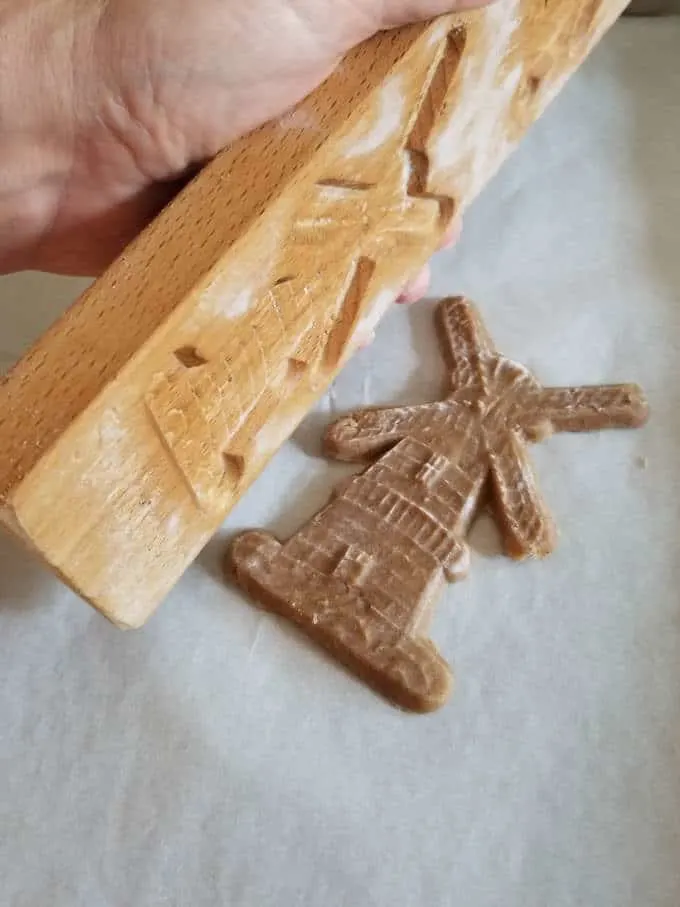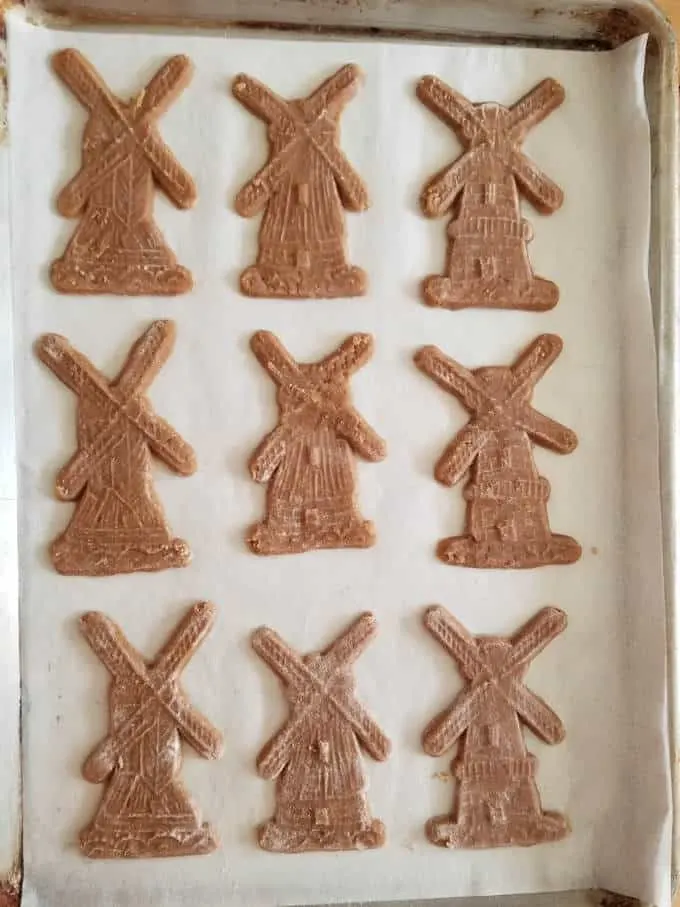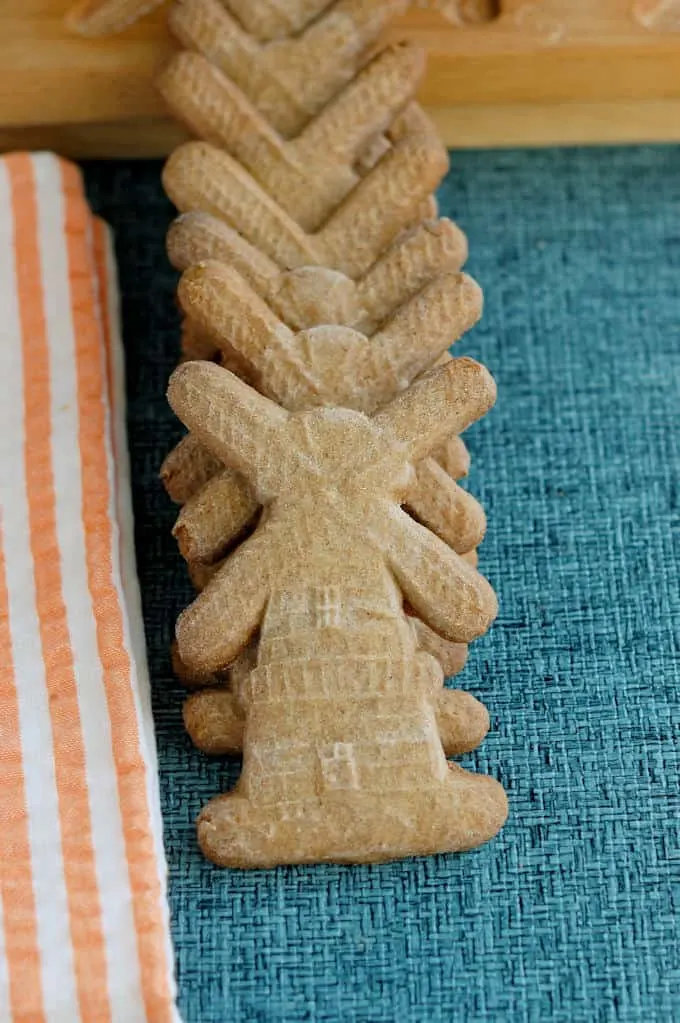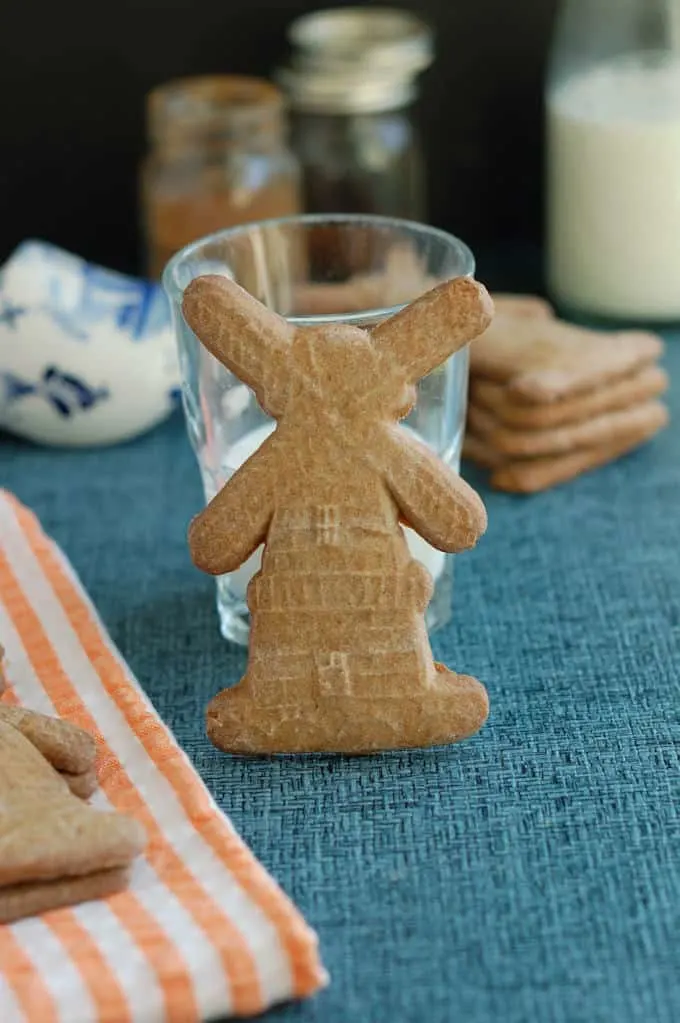 If you love these Speculaas Cookies, you'll really love almond filled Speculaas Cake. For another Dutch treat try authentic Dutch Boterkoek, Dutch Apple Tart or make sweet or savory Dutch Pancakes.
If you love this recipe as much as I do, I'd really appreciate a 5-star review.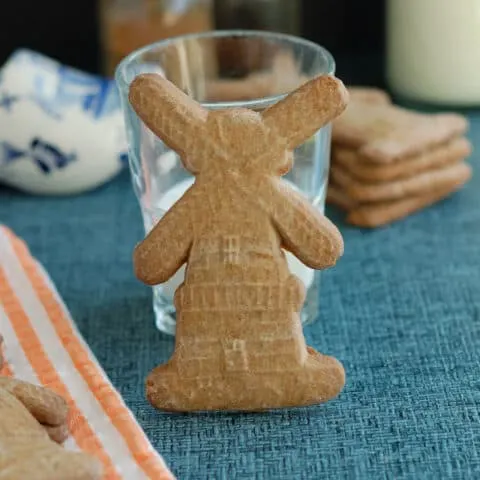 Speculaas
Rolling/Cutting Time:
20 minutes
Speculaas cookes are crunchy, sweet and have a lovely warm-spice flavor. Shape them with a traditional windmill cookie molds or cutter for a real Dutch treat.
Ingredients
1 cup (5 oz, 140g) all purpose flour
1/2 cup (2 oz, 56g) cake flour
1/2 teaspoon baking soda
1/4 teaspoon table salt
2 teaspoons cinnamon
1/2 teaspoon ginger
1/4 teaspoon nutmeg
1/4 teaspoon cardamom
1/4 teaspoon cloves
1/4 teaspoon white pepper
1/4 teaspoon ground ground anise
1 stick (4 oz, 112g) unsalted butter, softened to room temperature
3/4 cup (6 oz, 168g) light brown sugar, packed
1/3 cup (2 oz, 56g) almond flour
2 tablespoons (1 oz, 30ml) whole milk
rice flour for molds or ap flour for rolling
Instructions
Sift together the ap flour, cake flour, baking soda, salt, cinnamon, ginger, nutmeg, cardamom, cloves, white pepper, and anise.
In the bowl of a stand mixer or a large mixing bowl, cream together the butter and brown sugar until lightened in color and slightly aerated. Add the almond flour and mix until incorporated.
Add the milk to the butter mixture. Add the sifted flour mixture. Mix until the dough comes together.
Turn the dough out onto a lightly floured surface and knead briefly to form the dough into a ball, wrap and refrigerate at least 2-3 hours or overnight.
Line two half sheet pans with parchment paper. Preheat the oven to 400°F.
If your're using a cookie cutter, roll the dough to 1/4" thick and cut the shapes. Reroll the scraps and continue cutting. If using wooden speculaas molds it's easier to work with the dough if you let it soften up. Dust the molds with rice flour and press a ball of dough to fill the cavity. Trim off excess dough and flip the cookie onto the parchment lined baking sheet.
Bake the cookies for 5 minutes. Turn the trays and bake another 3 minutes until brown around the edges and the dough is set in the middle.
When cool, store cookies in an air-tight container.
Notes
You can use 1 tablespoon plus a teaspoon of pre-mixed speculaas spice in place of the spices listed in the recipe.
Recommended Products
As an Amazon Associate and member of other affiliate programs, I earn from qualifying purchases.