Filled Speculaas Cake (gevulde speculaas)! If you love speculaas (speculoos) cookies, you'll really love this giant cookie/cake/tart filled with luscious almond paste.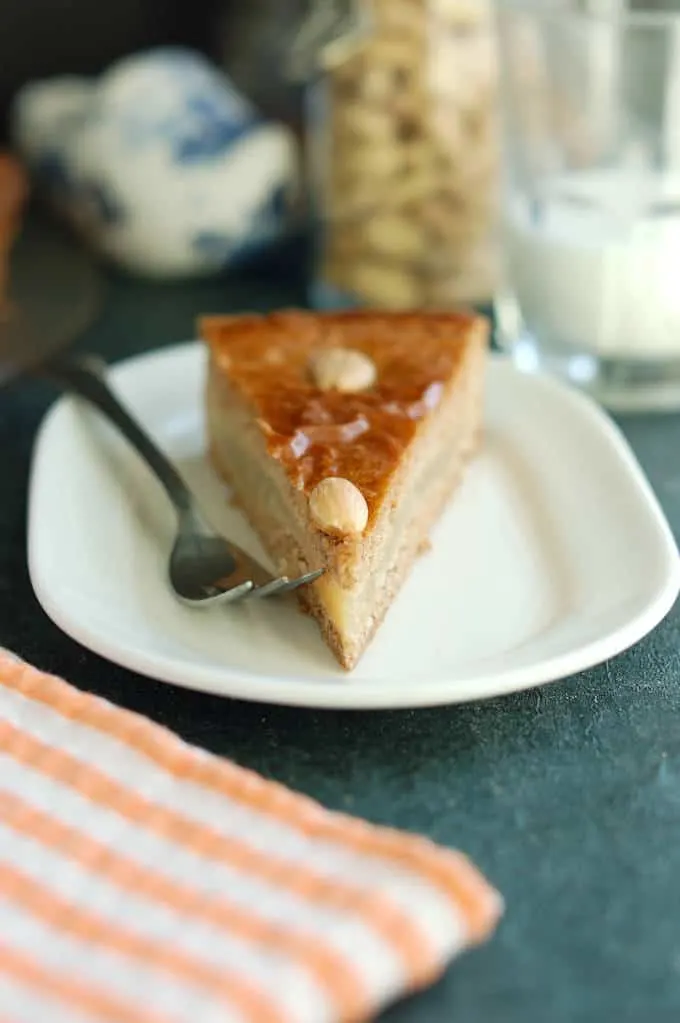 Introducing your favorite new recipe, Filled Speculaas Cake (aka Gevulde Speculaas)
You can thank me later.
You've probably heard of Speculaas Cookies. You know, those cute, windmill-shaped cookies with the wonderful spiced flavor and crispy crunchy texture.
Speculaas cookies have been made in the Netherlands since the 17th century. What makes those cookies so addictive is the mix of warm spice and brown sugar in the dough.
The same mix of warm spices flavors this Speculaas Cake with almond paste filling. In Dutch it's called Gevulde Speculaas (literally, filled speculaas).
The dough is a little softer than the cookie dough thanks to an egg yolk and a little extra milk. The cake/cookie/tart, what have you, is filled with one of my all time favorite pastry ingredients, almond paste.
How to make a great Speculaas Cake (gevulde speculaas):
Make the dough several hours ahead and refrigerate to allow the flavor to develop.
Use a mixture of all purpose and cake flour to make your own pastry flour. In my quest to make a great Speculaas Cookie, I discovered that the flour in Holland is a little different that American flour. A helpful (Dutch) member of my Facebook group (ask to join and I'll add you to the group) explained that Dutch AP flour is softer than American AP flour. Most Dutch speculaas cake recipes call for "zeeuwse bloem", which would be the equivalent of pastry flour here in the US.
Form the cake in a tart pan with a removeable bottom for a beautiful presentation (or make it free form on a cookie sheet).
Use fresh spices for the best flavor. If your spices have been in the pantry for years, it's time to chuck them and buy fresh spices. Fresh spices are more fragrant and flavorful, and this recipe is all about the spice!
Scroll through the step by step photos to see how to make Filled Speculaas Cake (Gevulde Speculaas):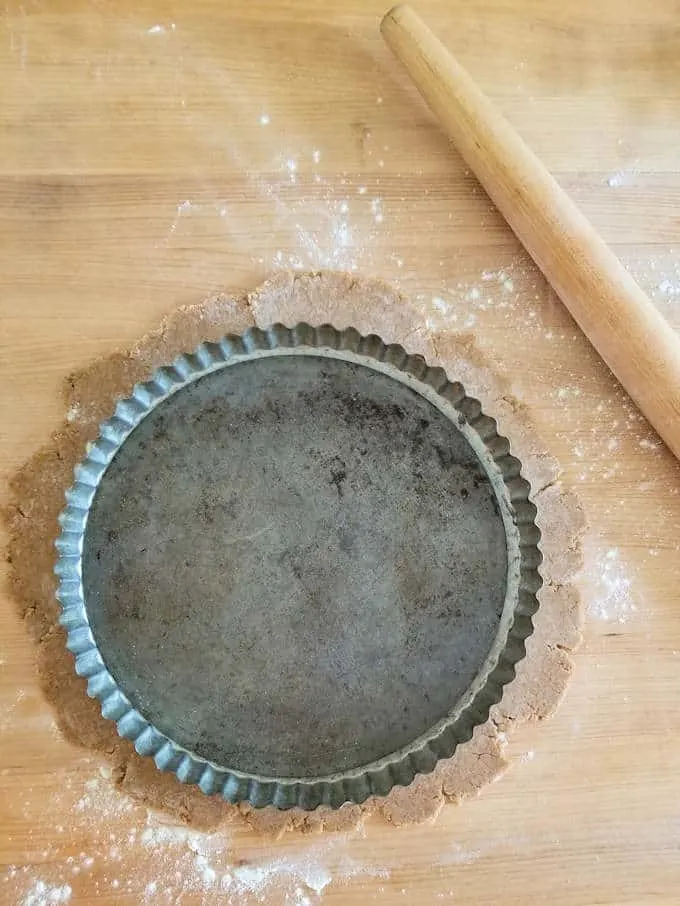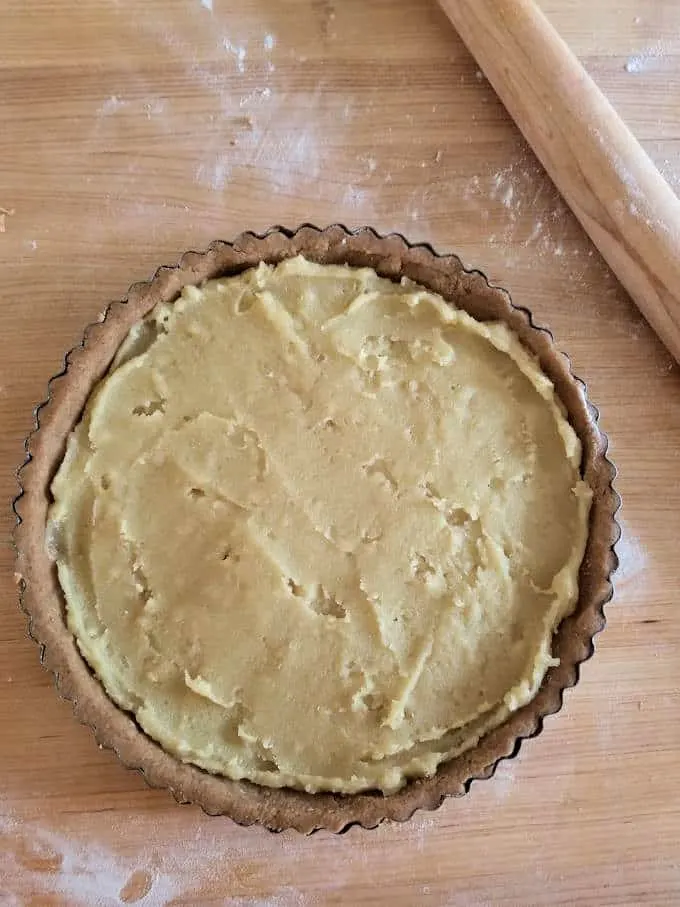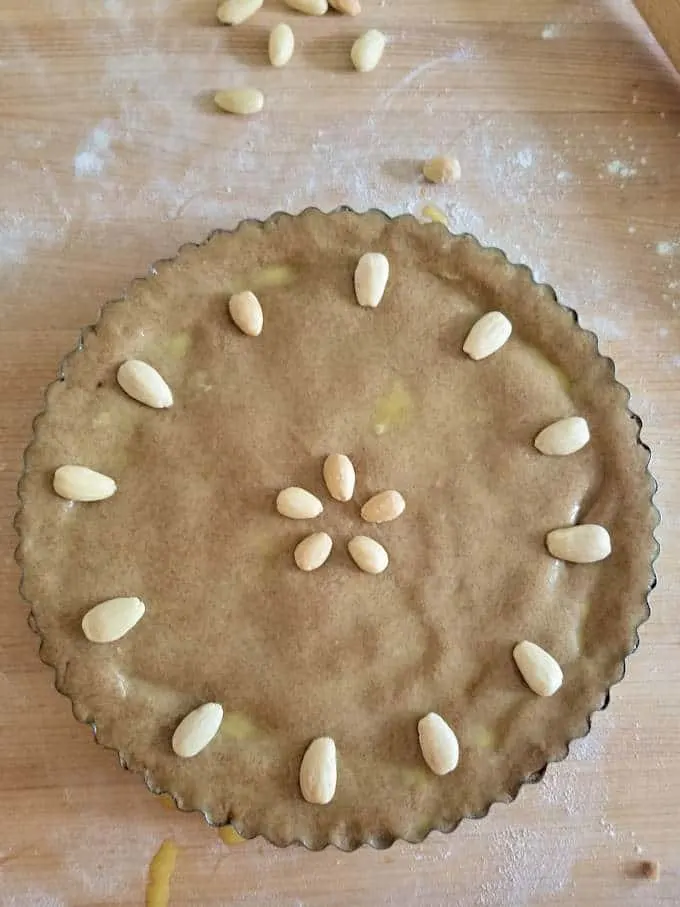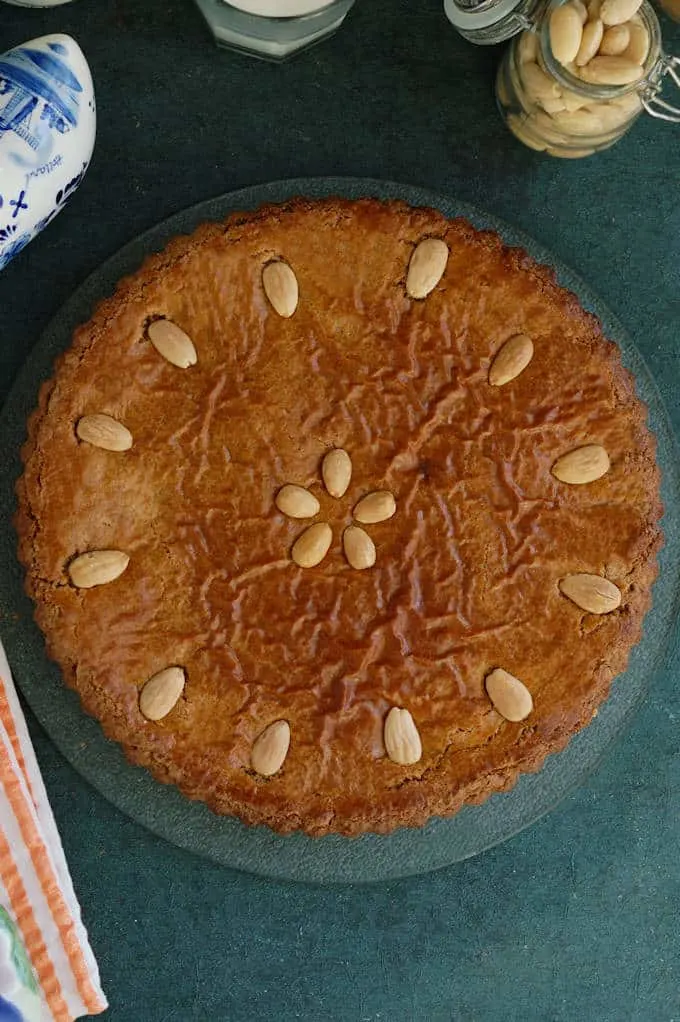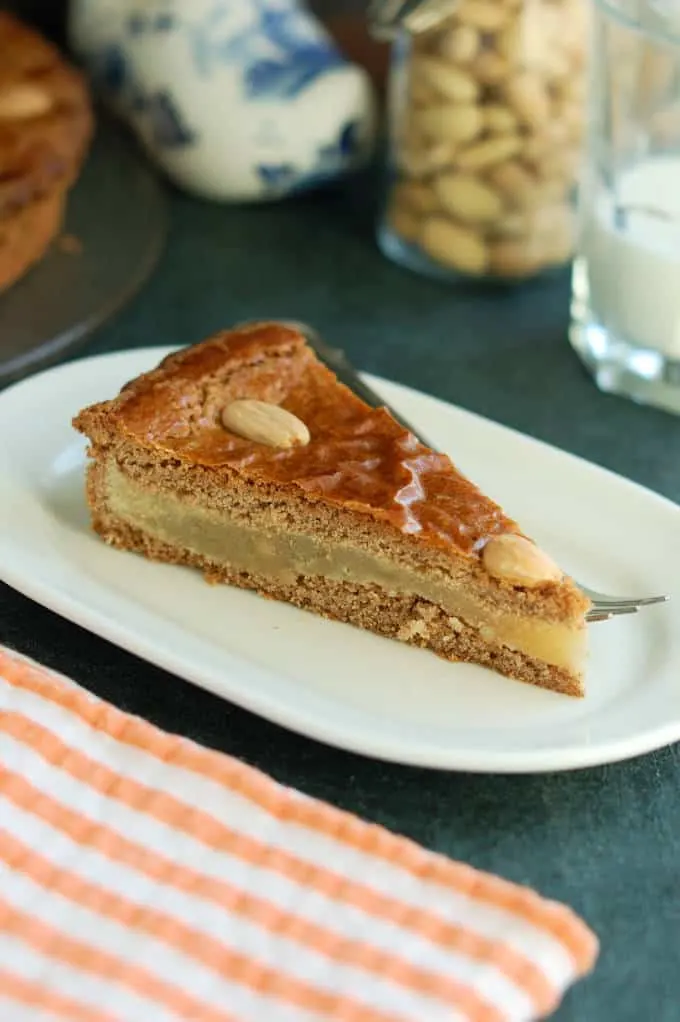 FAQs for Speculaas Cake:
Can Speculaas Cake be made ahead?
Yes, you can make the dough and filling a couple of days before assembling and baking the cake. The assembled cake can be refrigerated or frozen before baking. If frozen, defrost before baking.
Can I use pre-mixed speculaas spice?
Yes, I love my specific spice mix, but using pre-made speculaas spice eliminates the need to buy all the different spices in the recipe.
Do I have to use a fancy tart pan?
No, you can make a "free form" cake. Roll half the dough to a 10″ circle and place it on a parchment lined sheet pan. Spread the filling over the circle leaving a 1″ border. Egg wash the edges of the dough. Top with the remaining dough and bake.
How should I store Speculaas Cake?
The cake will keep for several days at room temperature. Left over slices can be individually wrapped and frozen. Defrost and reheat in the oven briefly for the best texture.
For another Dutch treat try authentic Dutch Boterkoek, Dutch Apple Tart or make sweet or savory Dutch Pancakes.
If you love this recipe as much as I do, I'd really appreciate a 5-star review.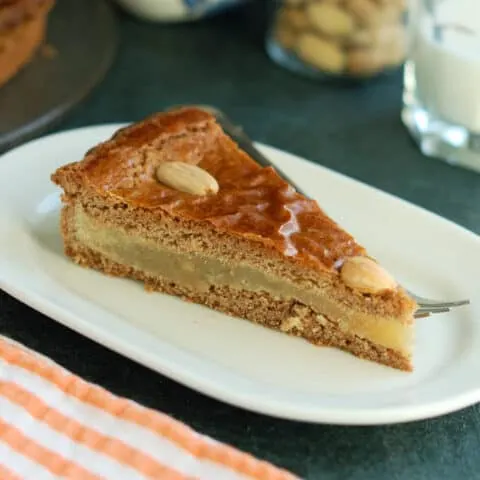 Filled Speculaas Cake (Gevulde Speculaas)
Total Time:
9 hours
10 minutes
Filled Speculaas Cake! If you love speculaas (speculoos, windmill) cookies, you'll really love this giant cookie/cake filled with luscious almond paste.
Ingredients
1 cup (5 oz, 140g) all purpose flour
3/4 cup (3 oz, 84g) cake flour
1 1/2 teaspoons baking powder
1/4 teaspoon table salt
1 tablespoon cinnamon
1 teaspoon ginger
1/2 teaspoon nutmeg
1/4 teaspoon cardamom
1/4 teaspoon cloves
1/4 teaspoon white pepper
1/4 teaspoon ground ground anise
3/4 cup (6 oz, 168g) brown sugar, packed
1 stick (4 oz, 112g) unsalted butter, chilled cut into 1" pieces
1/4 cup (2 oz, 60ml) whole milk
2 large eggs, separated
12 oz (336g) almond paste
1/4 cup (1 oz, 28g) confectioner's sugar
Whole blanched almonds for decorating
Instructions
In a large mixing bowl, combine the ap flour, cake flour, baking powder, salt, all the spices and the brown sugar. Use a hand whisk to combine the ingredients.
Toss the butter into the flour and mix with your fingers or a pastry cutter until there are no pieces of butter larger than a pea. You can also do this on a stand mixer or with a hand mixer. Add the milk and 1 egg yolk and mix until the dough comes together.
Turn the dough out onto a lightly floured surface and knead briefly form it into a ball. Divide the dough into two pieces, 2/3 and 1/3 of the dough. Wrap and refrigerate the dough for several hours or overnight.
Using a stand or hand mixer, mix the almond paste with the confectioner's sugar. Add the 2 egg whites and mix until it is smooth. Refrigerate the almond paste until you're ready to assemble the cake.
Preheat the oven to 350°F.
Roll one piece of the dough to a 12" circle and fit it into the bottom and sides of a 9" or 10" tart or cake pan with a removable bottom.
Spread the almond paste over the dough. Roll the other piece of dough to a 10" circle and cover the almond paste. Trim the edges flush with the pan.
Whisk the remaining egg yolk with a little water. Brush the top of the cake with the yolk and arrange the almonds around the edge of the cake, pressing lightly so they are embedded in the dough.
Bake until the center of the cake is set, about 40 minutes. Cool completely before removing the sides of the pan. The cake will keep for several days at room temperature.
Notes
You can use 2 tablespoons of pre-mixed speculaas spice in place of the spices listed in the recipe.
Recommended Products
As an Amazon Associate and member of other affiliate programs, I earn from qualifying purchases.