These Savory Shortbread Cookies are so pretty and so tasty. They have bold flavor thanks to walnuts, parmesan and fresh rosemary. These would be a great addition to your next charcuterie board.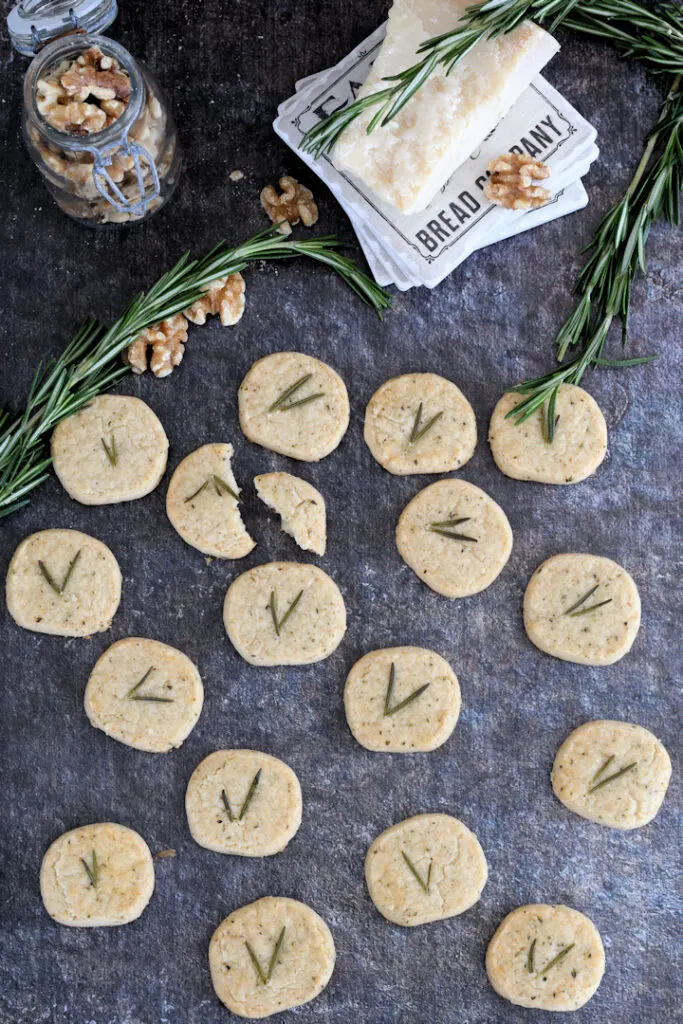 If you spend any time at all looking at social media, you probably know that Charcuterie boards are all the rage. I can see why they're so popular. They're a wonderful centerpiece for a party table, they look great in photos and they offer endless possibility for creativity.
These savory shortbread cookies would be a lovely addition to any charcuterie board, but they're also perfect as a quick snack.
They keep in a cookie jar for the better part of a week. You can customize the flavor by swapping out any nut, cheese or herb as you prefer.
They're also a great make-ahead treat. The dough can be refrigerated for several days or frozen for up to 3 months.
Scroll through the step by step photos to see how to make savory cookies: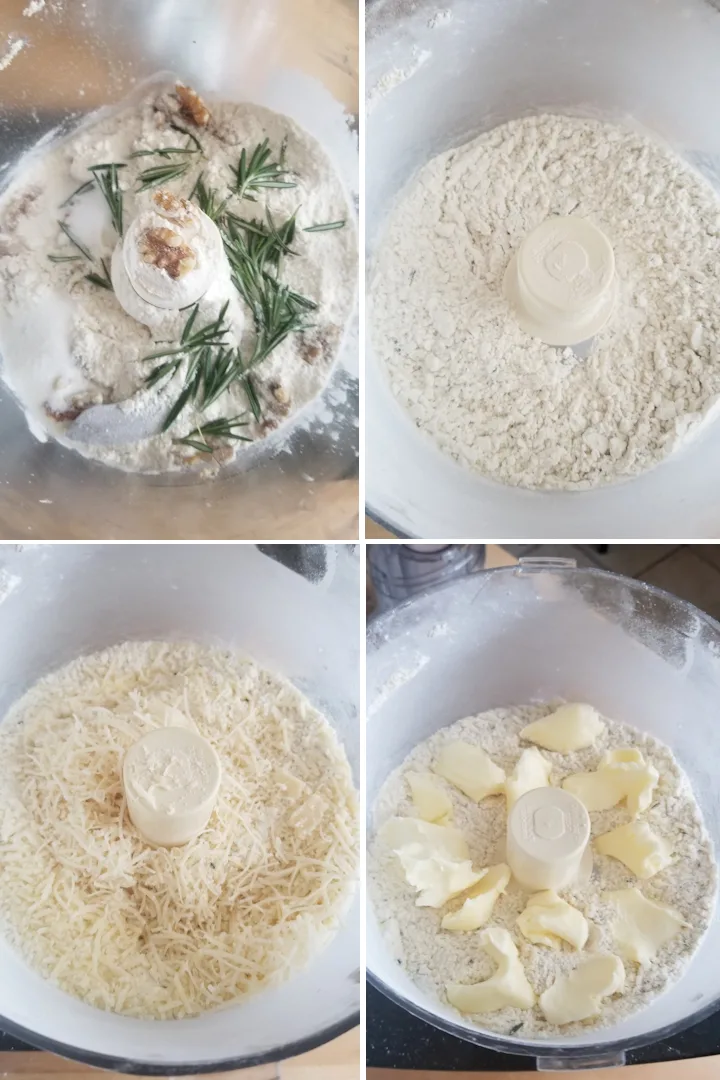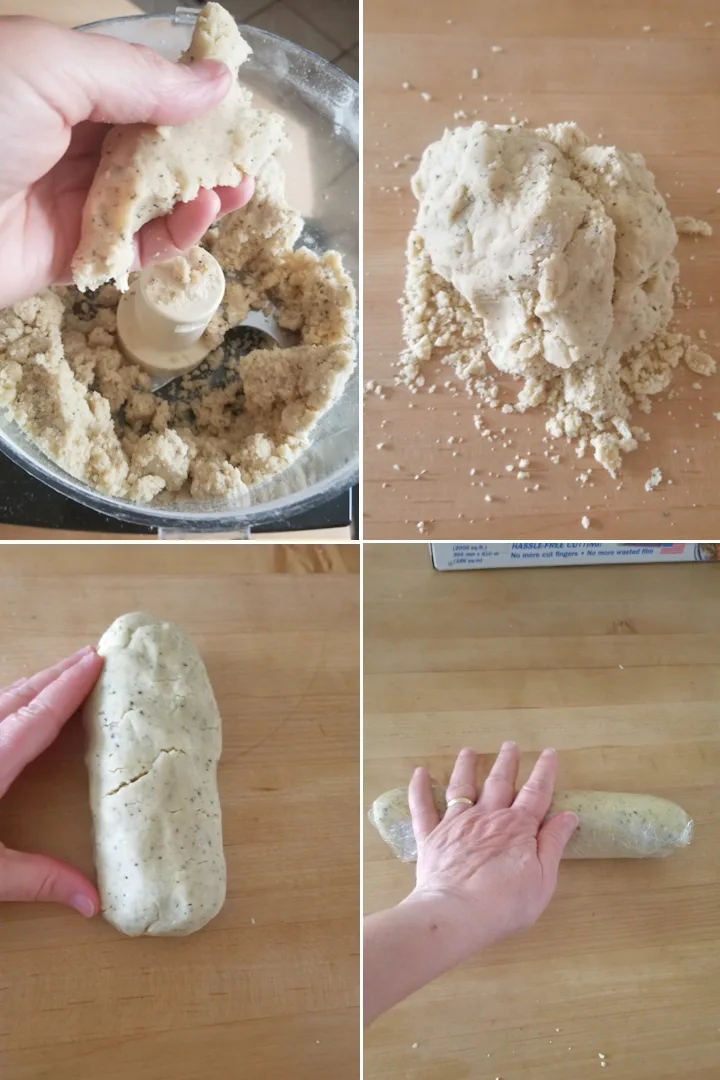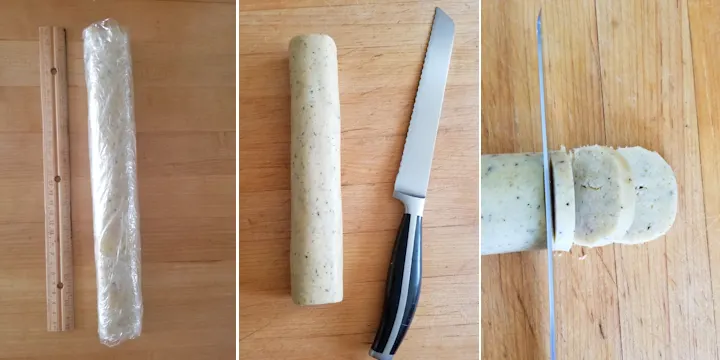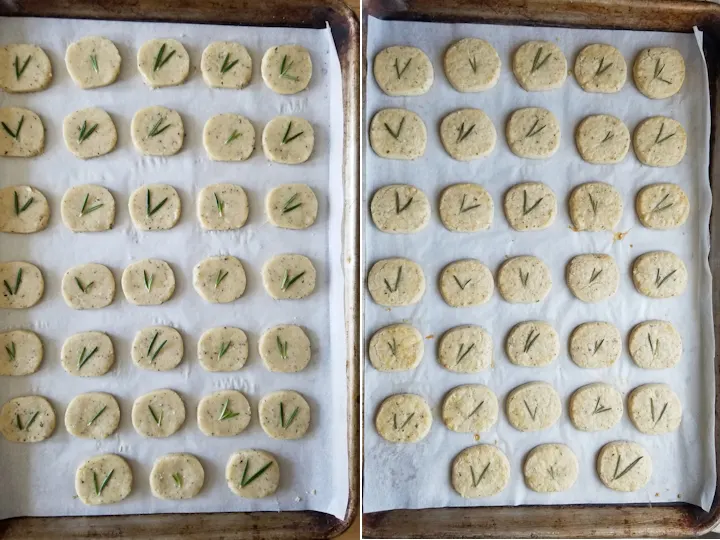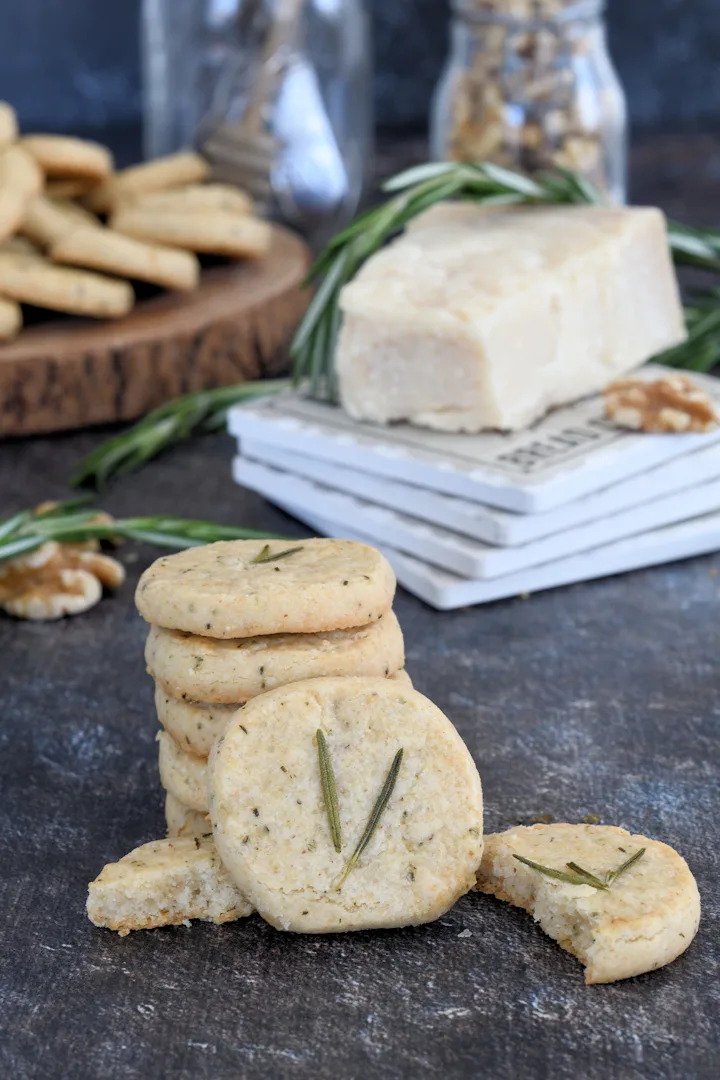 When you're ready for dessert, here are sweet shortbread recipes to try:
If you love this recipe as much as I do, I'd really appreciate a 5-star review.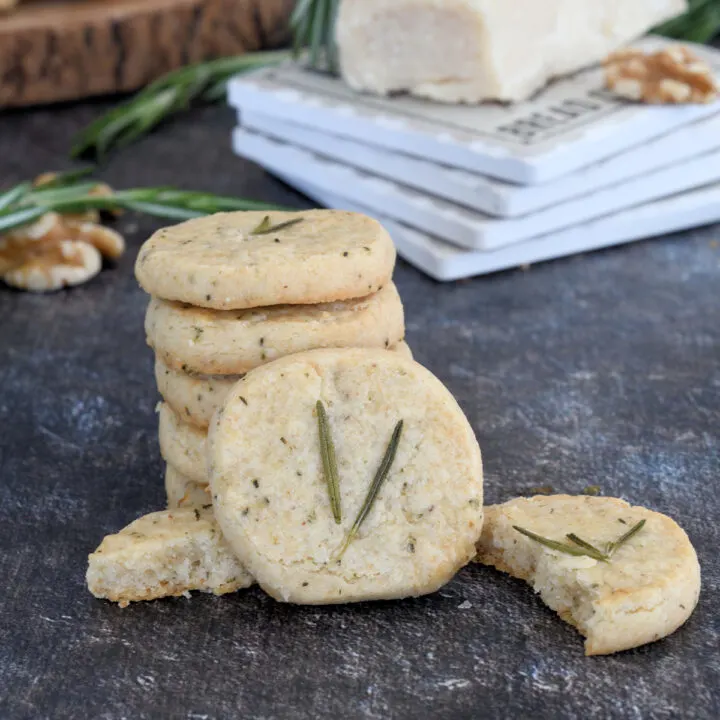 Walnut, Parmesan & Rosemary Savory Shortbread Cookies
These Savory Shortbread Cookies are so pretty and so tasty. These would be a great addition to your next charcuterie board.
Ingredients
1 1/2 cups (7 1/2oz, 212g) unbleached all purpose flour
1/4 cup (1 1/2 oz, 42g) walnut pieces
1 tablespoon chopped fresh rosemary
1 teaspoon granulated sugar
1/2 teaspoon table salt
1 cup (4 oz, 112g) shredded parmesan cheese
1 stick (4 oz, 112g) unsalted butter, cut into 1" cubes
1 egg white, whisked
Whole rosemary leaves for garnish
Instructions
Place the flour, walnuts, rosemary, sugar and salt in the bowl of a food processor. Pulse until the walnuts are finely ground. Add the parmesan. Pulse a few times to combine.
Toss in the butter cubes and process until the dough comes together. Dump the dough onto a sheet of plastic wrap or waxed paper. Form the dough into a 12" log. Wrap and refrigerate for at least 1 hour or up to 3 days. At this point the dough can be frozen for up to 3 months.
When you're ready to bake, preheat the oven to 375°F. Line a 1/2 sheet pan with parchment paper or a silicone baking mat.
Slice the log into 1/4" thick rounds. Line the cookies on the prepared sheet pan about 1/2" apart.
Brush the tops of the cookies with egg white and then press 2 rosemary leaves onto each cookie.
Bake the cookies until they are lightly browned and center is set, about 10-12minutes. If you're oven bakes unevenly, rotate the tray halfway through baking.
Recommended Products
As an Amazon Associate and member of other affiliate programs, I earn from qualifying purchases.