Lemon Thin Cookies are, as the name suggests, crisp, thin and lightly lemony. This lovely little cookie is the perfect tea-time or snack-time treat.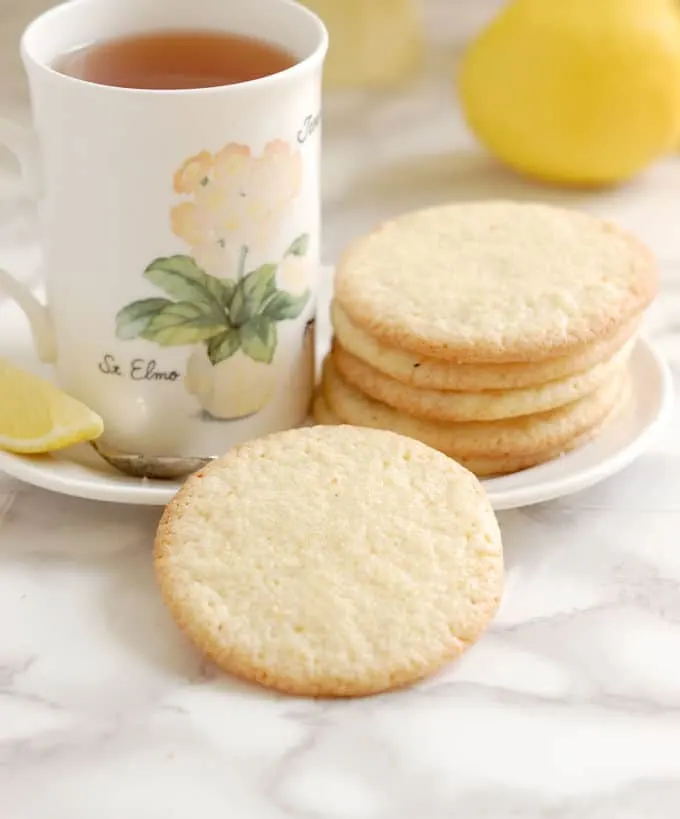 This is a simple little cookie. It has no nuts or chunky chips or gooey filling, and that simplicity is exactly why I worked so hard to perfect this recipe.
Like all "simple" recipes, for example Angel Food Cake, Shortbread Cookies or a perfect Creme Brulee, when a recipe is short on ingredients, the quality of the ingredients and the technique becomes even more important. With no extraneous ingredients to hide behind, this cookie all all about getting that one perfectly light and crisp bite.
How to create the perfect Lemon Thin Cookie recipe:
I started my Lemon Thin quest a few months ago as I was perusing my old recipe notebooks looking for inspiration. I started keeping these notes at my first job out of pastry school. In these binders I collected techniques and recipes from all my pastry jobs over the years. I can't tell you how often I refer back to these books.
At the back of one book I found a folded up recipe for "Lemon Thins" that I used to make when I worked for a local caterer. I remembered liking those cookies and set out to make them for the blog.
The first step was to resize the recipe from one that made several hundred cookies to one that made several dozen. I baked a batch and was sorely disappointed to find that, although the cookies looked pretty, they didn't have the texture that I remembered. I wanted a classic thin and crisp lemon cookie with a light open texture. The cookies I baked had a cakey, soft crumb.
I soon got sidetracked testing the recipes for my book, Easy Baking From Scratch and the Lemon Thin recipe was put on the back burner (no pun intended). So now that my book is all done, I decided to tackle this recipe again.
Click through the step-by-step process photos to see how to make Crisp Lemon Thin Cookies: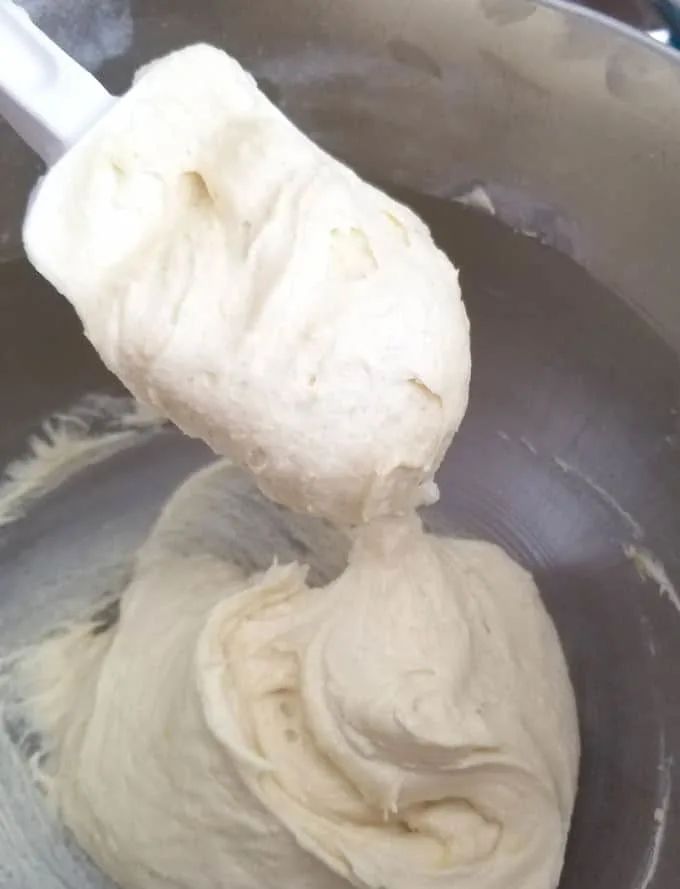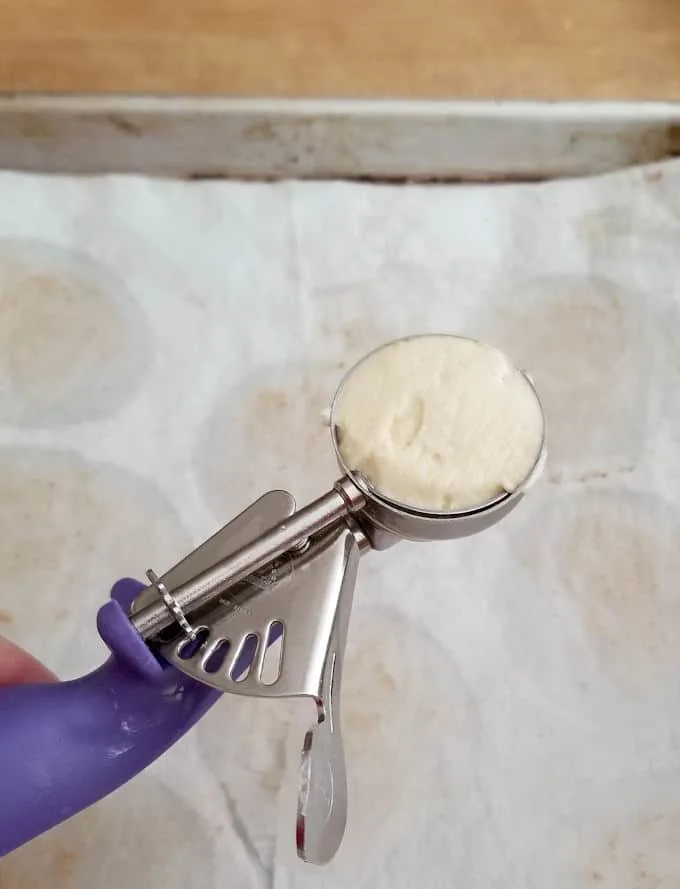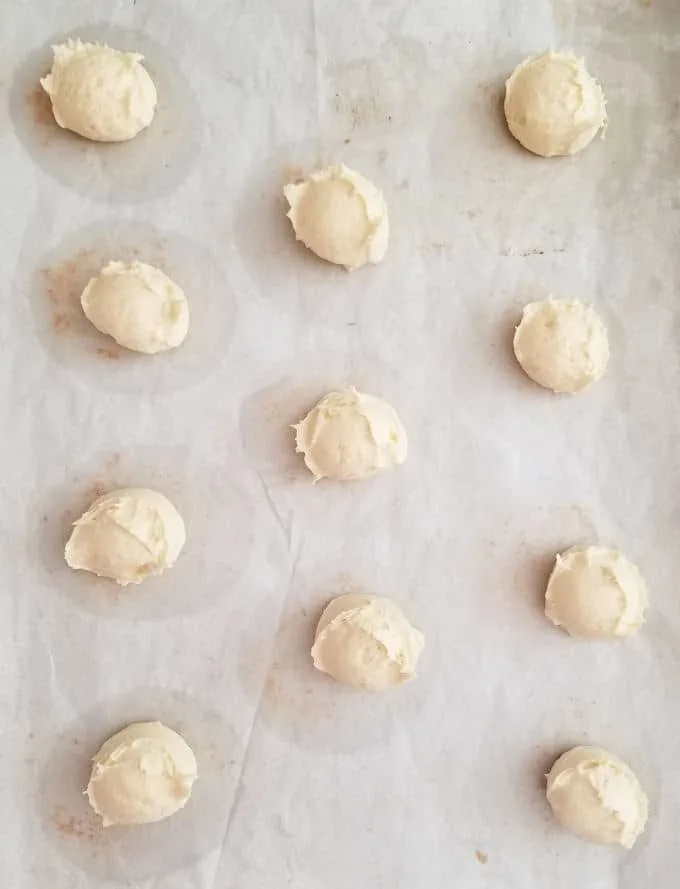 Experimentation leads to a great Lemon Cookie recipe:
My first thought was to adjust the amount of sugar in the recipe. I know that more sugar generally leads to a crisper cookie, so I upped the sugar a little bit.
The cookies were better than the original recipe but still not quite what I was after. Although the cookies were less cakey, the centers were still soft and chewy and the cookies were more dense than I wanted.
I reduced the eggs from 2 to 1 to reduce the amount of moisture in the dough. Less moisture means more crispness.
I also decided to add a little baking soda. Even though I wanted a flat cookie and not a puffy cookie, I wanted a light texture.
So why doesn't the baking soda make the cookies puffy? We know that, baking soda will react with acidic lemon juice and release carbon dioxide into the batter. The carbon dioxide expands the air bubbles in the batter which should cause the cookies to rise.
But, once again, this is why baking is both a science and an art. I figured that the soft batter would not be able to hold onto the bubbles and I was right. The bubbles ended up popping and the cookies collapsed a little as they baked.
Normally we don't want things collapsing in the oven. But I was happy to see it happen this time. The result is a cookie that has a light open crumb, but is still nice and thin.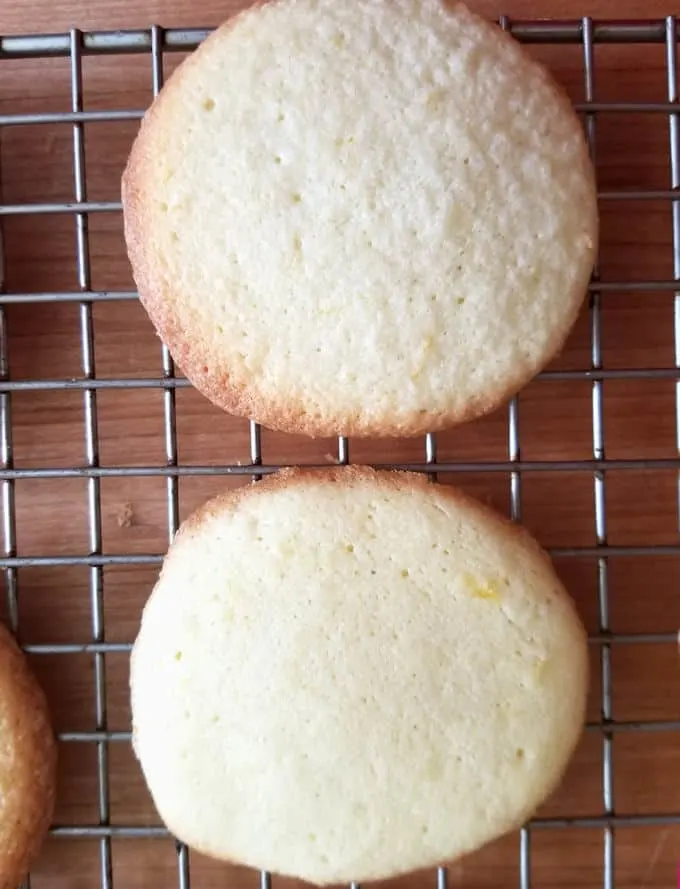 I made one last test batch. I had been working with confectioner's sugar in the recipe because, with it's smaller crystals, confectioner's will more readily absorb moisture in the dough. When the sugar absorbs more moisture, the cookies spread more. For this Lemon Thin Cookie recipe I wanted the cookies to spread because I wanted them to be, well, thin.
But I also know that more folks keep granulated sugar in the house than confectioner's sugar. For convenience sake, I decided to test the recipe with granulated sugar. Right out of the oven the cookies made with the granulated sugar seemed pretty close in texture and crispness to the one's made with confectioner's sugar.
But I found that the cookies made with the confectioner's sugar held on to the crisp texture longer than those made with granulated sugar. Even the next day they had a good crisp bite.
Finally, after baking about 101029102190 Lemon Thins, I had the exact texture and flavor I was after. Put on the kettle and enjoy a couple of these little beauties.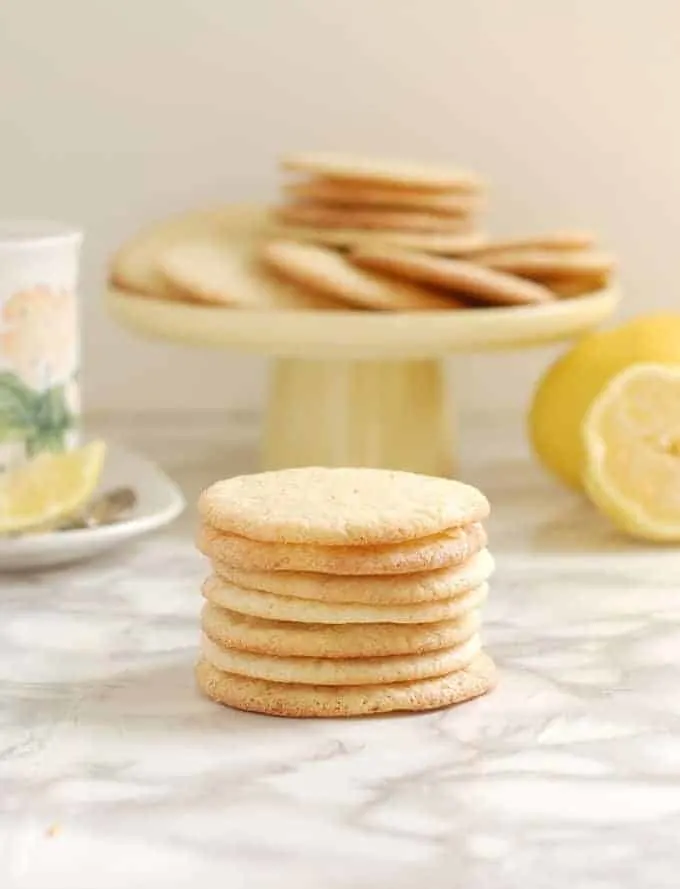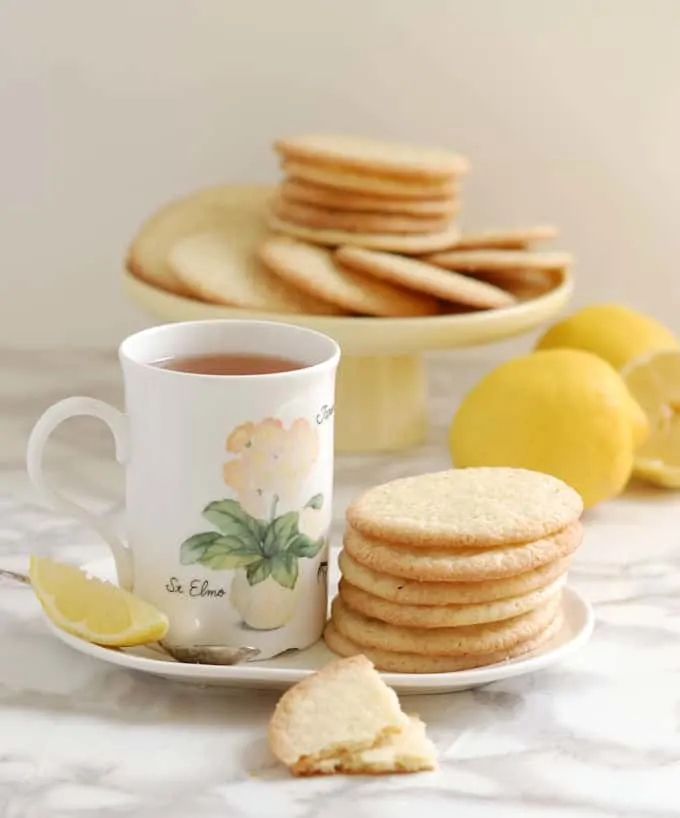 You might also enjoy these adorable Checkerboard Cookies.
If you love this recipe as much as I do, please consider giving it a 5-star review.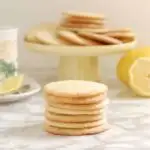 Print Recipe
Lemon Thins
A simple and perfect little cookie. Thin, crisp and lightly lemony.
Ingredients
5

oz

unsalted butter

(room temperature)

6

oz

confectioner sugar

(1 ½ cups)

finely grated zest of 1 large lemon

1

tablespoon

lemon juice

1

teaspoon

lemon extract

1

egg

(room temperature)

¼

tsp

table salt

¼

teaspoon

baking soda

5

oz

all purpose flour

(1 cup)
Instructions
Preheat the oven to

350

°F

. Line two baking sheets with parchment paper (see note).

Cream the butter, sugar and lemon zest until light and fluffy. Scrape the bowl. Add the lemon juice and lemon extract mix until well combined. Add the egg and mix until well combined. Scrape the bowl. Add the salt, baking soda and flour and mix until incorporated.

5 oz unsalted butter,

6 oz confectioner sugar,

finely grated zest of 1 large lemon,

1 tablespoon lemon juice,

1 teaspoon lemon extract,

1 egg,

¼ tsp table salt,

¼ teaspoon baking soda,

5 oz all purpose flour

Use a .75 oz scoop or a tablespoon to scoop the cookies onto the prepared baking sheets, leaving 2" between the cookies. They will spread as they bake so make sure to leave enough room.

Bake until the edges are golden brown and the middle of the cookies are set, about 8-10 minutes.

Allow the cookies to cool for 5 minutes on the pan to set then transfer the cookies to a cooling rack and allow to cool completely.

Store at room temperature in a covered container.
As an Amazon Associate and member of other affiliate programs, I earn from qualifying purchases.
Notes
Parchment paper is the best surface for these cookies to have just the right thickness and texture.
Nutrition
Serving:
1
cookies
|
Calories:
94
kcal
|
Carbohydrates:
12
g
|
Protein:
1
g
|
Fat:
5
g
|
Saturated Fat:
3
g
|
Polyunsaturated Fat:
0.2
g
|
Monounsaturated Fat:
1
g
|
Trans Fat:
0.2
g
|
Cholesterol:
20
mg
|
Sodium:
39
mg
|
Potassium:
11
mg
|
Fiber:
0.2
g
|
Sugar:
7
g
|
Vitamin A:
158
IU
|
Vitamin C:
0.2
mg
|
Calcium:
3
mg
|
Iron:
0.3
mg