Lebkuchen are traditional German spice cookies made with hazelnuts, almonds, candied orange and lots of warm spice. The vanilla glaze adds a sweet finish.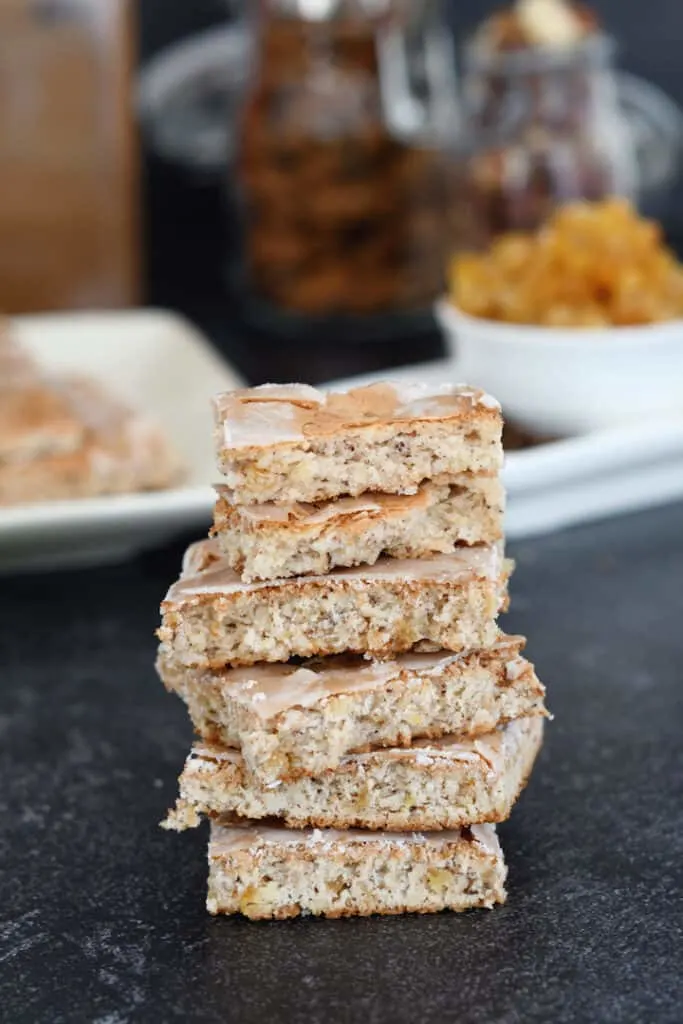 Have you heard of Lebkuchen before? No? Well, I'm very happy to introduce you to these delightful cookies.
Lebkuchen are often likened to gingerbread cookies. But that's not really accurate. Since there is no molasses in Lebkuchen, and the mix of spices is not heavy with ginger, Lebkuchen have a softer flavor than gingerbread.
But, like gingerbread, Lebkuchen are traditionally baked around the holidays.
This recipe is an adaptation of the one I got from an Austrian pastry chef waaay back when I was just a newbie pastry chef fresh out of school.
It's a fairly easy recipe to make. The main sticking point, and I mean that literally, is that the dough is quite sticky and a bit of a pain to spread to 1/4″ thin.
It might look wrong, and you can't imagine how that sticky mess will bake up into a bar cookie, but it will. Trust me.
Scroll through the process photos to see how to make traditional Lebkuchen: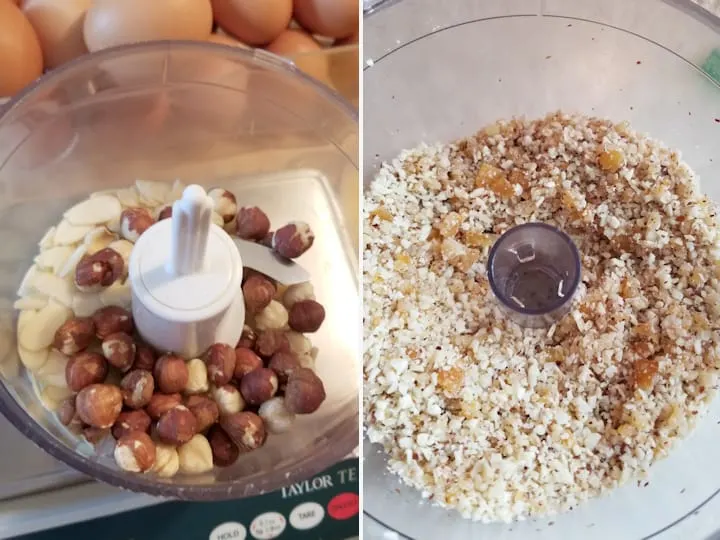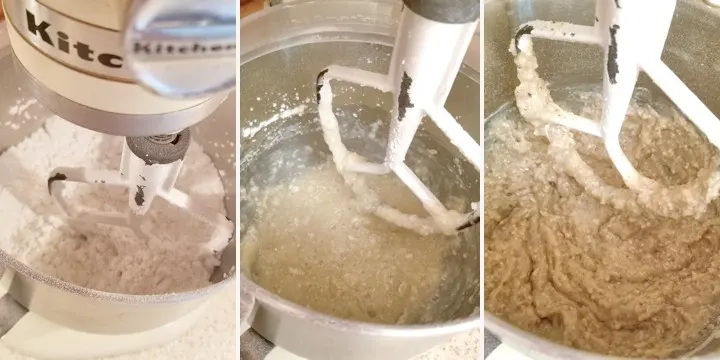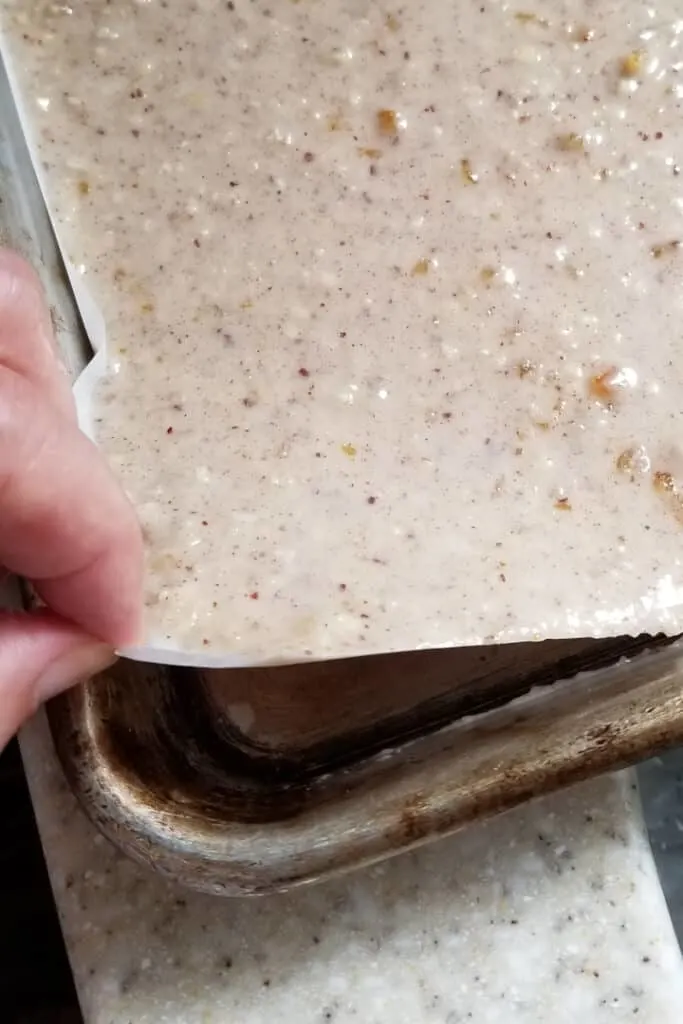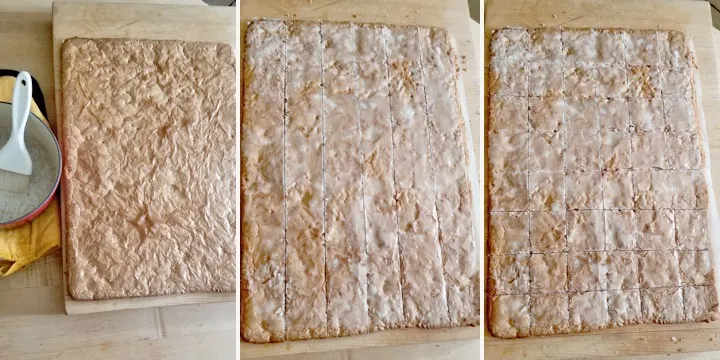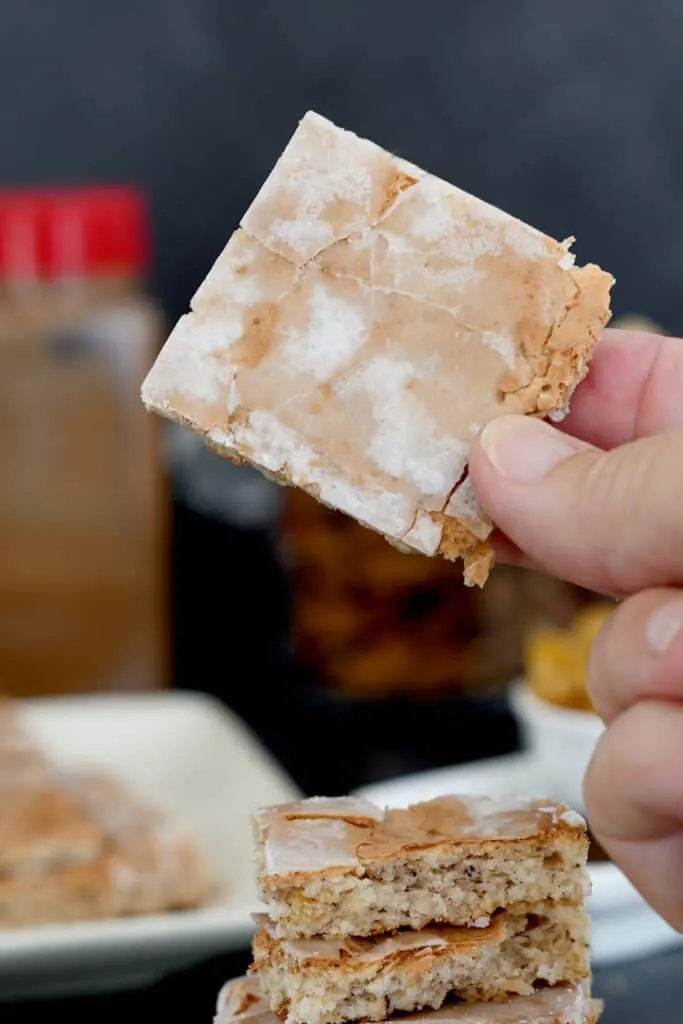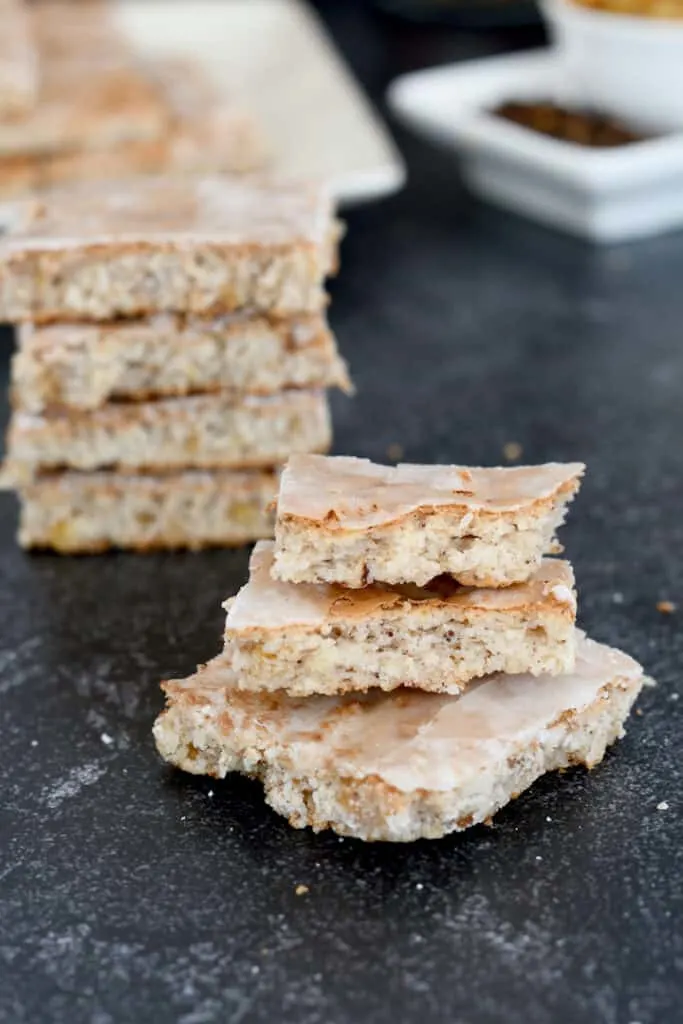 Here are some more great cookie recipes you'll want to try: Vanilla Kipferl, Speculaas, Oatmeal Cranberry Chocolate Chip, Triple Ginger Cranberry Biscotti and Nutella Sandwich Cookies.
If you love this recipe as much as I do, I'd really appreciate a 5-star review.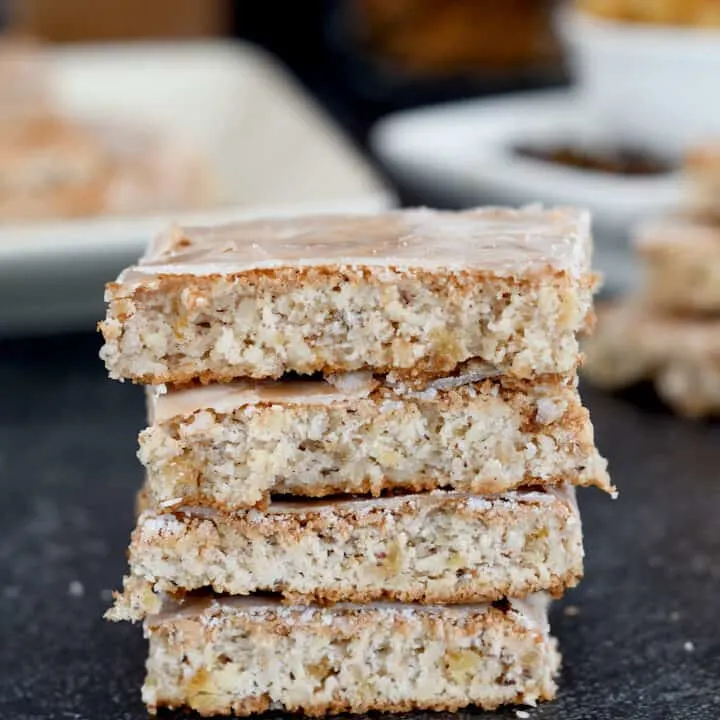 Lebkuchen Cookies
Traditional German cookies with hazelnuts, almonds, candied orange and lots of warm spice. The vanilla glaze adds a sweet finish.
Ingredients
Dough
4 oz (112g) almond paste
3 cups (12 oz, 336g) confectioner's sugar
4 large (5 oz, 140g) egg whites
1/2 teaspoon vanilla extract
1/4 teaspoon lemon extract
1/3 cup (2 oz, 56g) ground hazelnuts, ground
1/3 cup (2 oz, 56g) ground almonds
(3 oz, 84g) candied orange peel
3/4 cups (3.75 oz, 105g) all purpose flour
1/2 teaspoon baking powder
1/4 teaspoon salt
1 teaspoon ground cinnamon
1/2 teaspoon ground ginger
1/4 teaspoon ground cloves
Glaze
1/2 cup (4 oz, 112g granulated sugar
2 tablespoons (1 oz, 28g) water
1 1/2 teaspoons (5g) corn starch
1/4 teaspoon vanilla extract
Instructions
Preheat the oven to 400°F. Have a 1/2 sheet pan and a sheet of parchment paper ready. Don't place the parchment into the sheet pan yet.
Cream the almond paste with the confectioner's sugar. Add the egg whites, vanilla and lemon extract.
Add the hazelnuts, almonds, orange peels. Add the flour, baking powder, salt, cinnamon, ginger and cloves.
Spread the dough over the parchment sheet. It will be very thin (1/4") and should cover the entire sheet of parchment.
Slide the parchment onto the sheet pan and bake until set all the way to the center of the sheet, about 10 minutes.
To make the glaze, combine the sugar and water in a small sauce pan. Bring the syrup to to a boil. Boil to 220°F. Remove the pan from the heat and add the corn starch and vanilla.
Use a pastry brush to coat the entire surface of the cooled cookie with the glaze. Allow the glaze to set then cut into 48 bars.
Recommended Products
As an Amazon Associate and member of other affiliate programs, I earn from qualifying purchases.