Espresso Heath Bar Chunk Cookies are thin, crisp and loaded with crunchy toffee bits. With plenty of espresso flavor, this is a cookie for grown ups.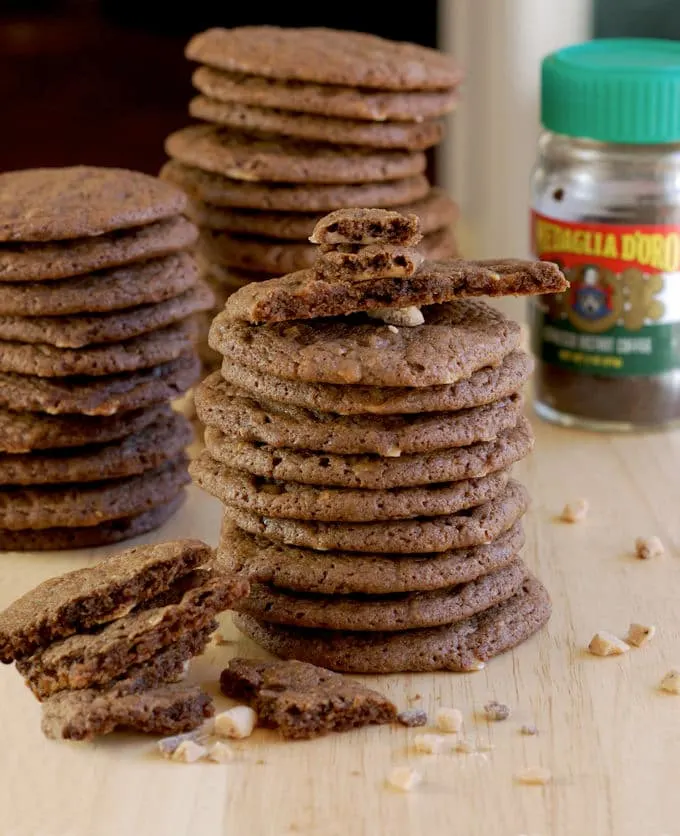 Since closing my custom cake business at the end of 2016 I've been in the process of dismantling my commercial kitchen. While going through the left-over ingredients I found 2 quart-size containers of Heath Bar chunks. SCORE!! I'd bought the toffee bits for a custom wedding cake that included a brownie layer, dark chocolate cake, dark chocolate ganache and coffee/toffee buttercream (yum!!).
Of course I immediately began thinking of recipes to use up the Heath chunks. Pretty much every recipe in my head was a version of coffee & Heath Bar. My absolute all-time favorite ice cream is Ben & Jerry's Coffee Heath Bar Crunch. These cookies have that same fantastic flavor combination. In fact, these cookies would make a fabulous ice cream sandwich with B&J Coffee Heath Bar Crunch ice cream. Ok, now this is getting embarrassing. You can see how my mind works…
I started with your standard chocolate chip cookie recipe, replaced 1/4 cup of the flour with cocoa, added a tablespoon of espresso powder, added a little extra brown sugar versus white sugar and was ready to add the toffee bits.
I opened the bin and was sad to find that they were soft instead of crunchy. They must have picked up some moisture in the heat of my kitchen. It got pretty hot and humid in there on baking days. So I baked the cookies anyway hoping that the toffee bits would crisp up in the oven. They didn't. There was too much moisture and the cookies pretty much melted into the sheet pan.
As has happened on more than one occasion, I created a recipe to use up an ingredient which I had on hand, didn't like the result, and ended up buying even more of the original ingredient I was trying to use up. I threw away two quarts of toffee bits and headed to the grocery store to buy more.
On the second go-round, I tweaked the recipe. The first version tasted more like chocolate than espresso. I upped the espresso powder to a 1/4 cup and used just enough cocoa to deepen the color and accentuate the coffee flavor. I originally envisioned a cookie with a softer texture, more like a Toll House cookie. But I really liked the thin and crisp texture that I got with slightly less flour and more sugar. Beware, these cookies are addictive!
Click through the slider to see how to make Espresso Heath Bar Chunk Cookies:
[metaslider id=6716]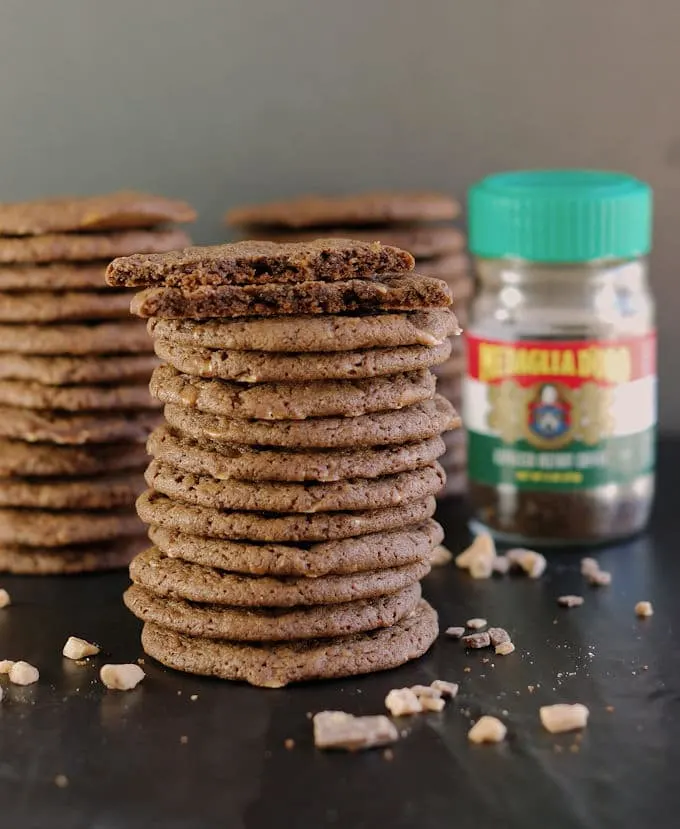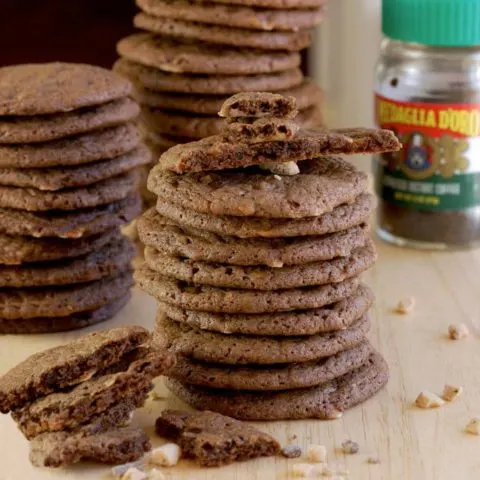 Espresso Heath Bar Chunk Cookies
Espresso Heath Bar Chunk Cookies are thin, crisp and loaded with crunchy toffee bits. With plenty of espresso flavor, this is a cookie for grown ups.
Ingredients
2 1/4 cups (11.5 oz, 330g) all purpose flour
2 tablespoons cocoa (1 oz, 20g)
1 teaspoon salt
1 teaspoon baking soda
1 cup (8 oz, 225 g) butter
1/2 cup (4 oz, 115 g) granulated sugar
1 cup (8 oz, 230 g) brown sugar
1 tablespoon vanilla
1/4 cup (2.25 oz 65 g) instant espresso powder
2 eggs
2 cups Heath Bar chunks
Instructions
Sift the flour, cocoa, salt and baking soda. Set Aside.
Cream butter with both sugars, vanilla and espresso powder.
Add the eggs.
Add the dry ingredients.
Add the Heath bar chunks, finish mixing in by hand to avoid breaking up the toffee bits.
Line a sheet pan with parchment paper or silcone mat.
Use a3/4 oz scoop or tablespoon to form 48 dough balls, leaving 2" space between (see note)
Bake at 350°F until set all the way to the middle
Cool on the sheet pan.
Notes
I usually place 18 cookies on a half sheet pan. These cookies spread a bit so place a dozen per half sheet. Allow 2" between cookies.