Raspberry Linzer Cookies are the perfect little cookie – Tender almond cookie dough sandwiched with raspberry preserves. Just a hint of rum gives the cookie a special flavor.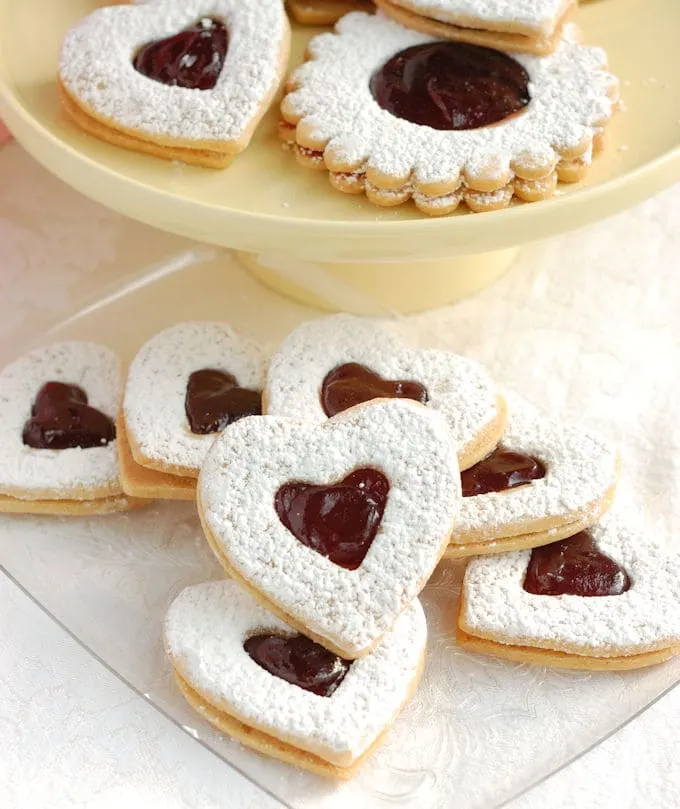 About Raspberry Linzer Cookies
This is the recipe that inspired me to start a home baking blog. I made these raspberry Linzer cookies last year around Valentines Day and served them at a couple of get-togethers. I got so many questions such as, "Why do these taste so good?" and "How do you make these?".
There are plenty of Linzer cookie recipes available in the internet, but I realized that after 25+ years as a professional baker I'd learned quite a bit about what makes a recipe a good recipe.
Believe me, pretty pictures aside, not all recipes are good recipes. So I decided it would be fun to share that knowledge with home bakers.
The secret to the best Raspberry Linzer Cookies:
The secret to the great flavor and moisture in these cookies is the addition of just a hint of dark rum. As I discussed in my post all about simple syrup, alcohol enhances flavor in ways that other ingredients simply do not.
Even if you don't drink alcohol I urge you to give this recipe a try (unless there are health or religious issues, of course) and see what a difference that little bit of rum makes for the flavor.
In fact, vanilla and other extracts are often alcohol based so this is not such a strange idea.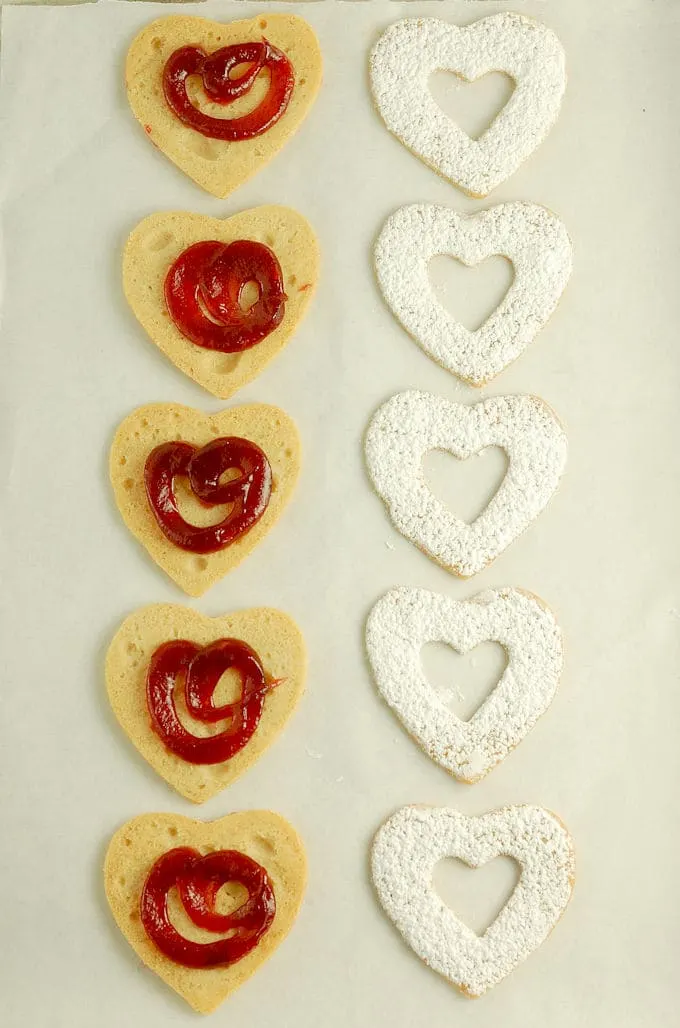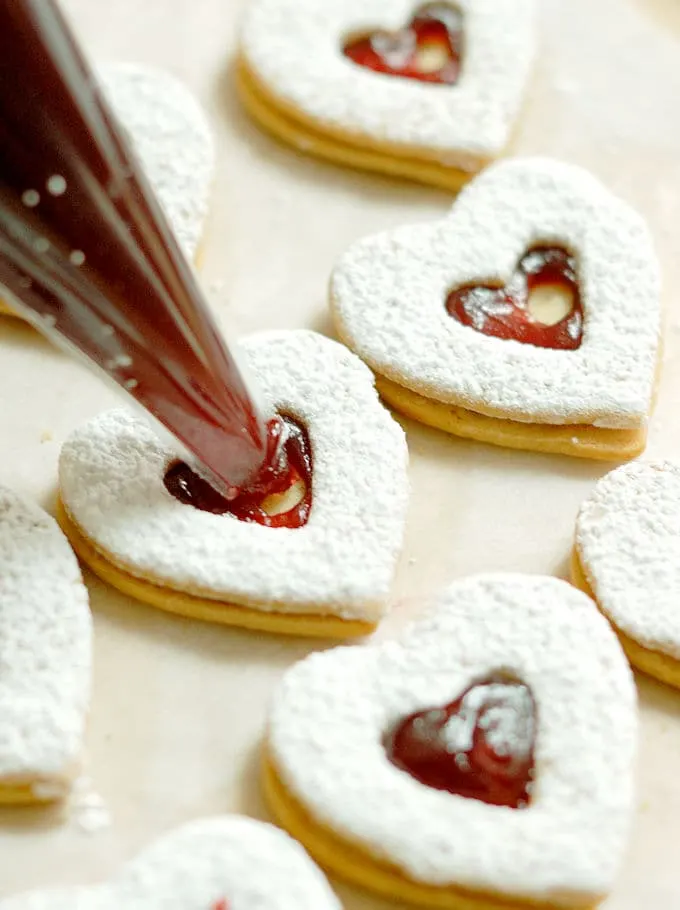 Variations:
I used heart-shaped cookies cutters because I think they're cute for valentines day. Of course you can cut them into any shape you'd like and make them any time of year.
They're delicious the day they're made, but I actually prefer Linzer cookies the second day. I like them best when they've had time to soften just a bit so the jam melds into the cookie.
Oh, and if you're a chocoholic, then these wouldn't be terrible filled with chocolate ganache instead of (or with!) the raspberry preserves.
You may also like these variations of the classic Linzer: Nutella Sandwich Cookies or Pistachio Apricot Linzer Cookies,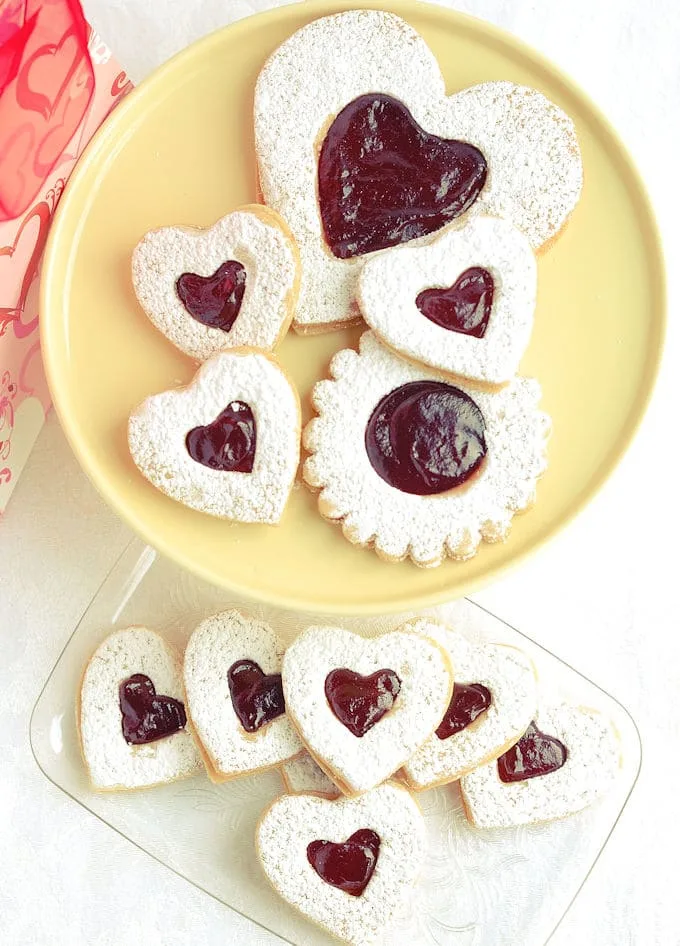 Hey Cookies Monster! Here are a few more classic cookies for you to try: Rainbow Cookies, Black & White Cookies, Diamant Sablé, Coconut Thin Cookies, Lemon Thins, Classic Shortbread Cookies, and cute little Checkerboard Cookies.
If you love this recipe as much as I do, I'd really appreciate a 5-star review.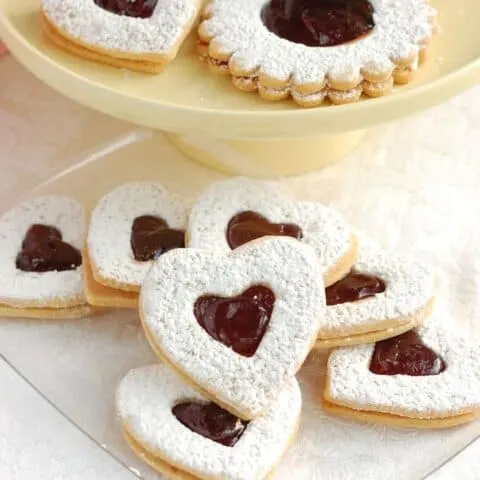 Raspberry Linzer Cookies
The perfect little cookie - Tender almond cookie dough sandwiched with raspberry preserves. Just a hint of rum gives the cookie a special flavor.
Ingredients
1 1/2 cups (6 oz, 170g) all-purpose flour, plus more for rolling
Pinch of salt
1/8 tsp baking soda
1 tsp ground cinnamon
3/4 cup (6 oz, 170g) unsalted butter, softened
1 1/2 cups (6 oz, 170g) confectioners' sugar
1/4 cup (2 oz, 60g) almond flour or finely ground blanched almonds
2 large egg yolks
1 Tbsp dark rum
1/2 tsp vanilla extract
confectioner's sugar for dusting
1 cup seedless raspberry preserves for filling
Instructions
Sift together the flour, salt, baking soda and cinnamon. Set aside
Cream the butter and sugar until the mixture lightens in color and is aerated, about 2 minutes. Scrape the bowl thoroughly. Add the ground almonds, vanilla and rum, mix to combine. Add the egg yolks and mix just until combined, don't over-mix once the eggs are added. Scrape the bowl thoroughly. With the mixer running on low speed, slowly add the flour.
Turn the dough out onto a lightly floured surface and knead lightly to finish combining the ingredients. Split the dough into two equal portions and form each into a disc. Wrap and refrigerate for several hours until chilled and firm.
Preheat the oven to 350°F. Line two 1/2 sheet pans with parchment paper or a silcone baking mat.
Remove one of the dough discs from the refrigerator. Break the dough into chunks and knead briefly to soften just a bit. Roll the dough to 1/8" thick and use a heart shaped cookie cutter (or whatever shape you prefer) to cut out cookie bottoms.
Set the cookie bottoms onto one of the prepared sheetpans, spaced 1/4" apart.
Reroll the scraps and continue cutting until the first portion of dough is gone. If the dough gets too soft to roll return it to the refrigerator to firm up.
Roll the second portion of dough to 1/8" thick and use the same cutter to cut cookie tops. Use a smaller heart cutter (or whatever shape your prefer) to cut a hole in the center of each cookie top. Continue rolling and cutting until you have an equal number of cookie tops and bottoms.
Bake until lightly golden, turning the trays 1/2 way through the cooking time if the are browning unevenly. Cool completely
Dust an even layer of confectioner's sugar over the cookie tops. Flip all the cookie bottoms over so the flat side is facing up. Using apastry bag or small spatula, pipe a rim of raspberry preserves over each cookie bottom.
Carefully place a cookie top onto each cookie bottom to form a sandwich. Use a pastry bag or small spoon to fill the cut-outs with raspberry preserves.
Notes
If you don't own a pastry bag, a sandwich bag with a corner cut off works very well to pipe the preserves.
The cookies keep for several days in a covered container at room temperature. I actually prefer them the second day when they've softened just a bit.
This recipes yields (36) 2" heart-shaped cookie sandwiches. The yield will vary based on the shape and size of the cookie cutter.