You can buy it, so why would you need to know how to make rolled fondant? Let's face it, commercial fondant does not taste good. Making your own is worth the time and is surprisingly easy to do.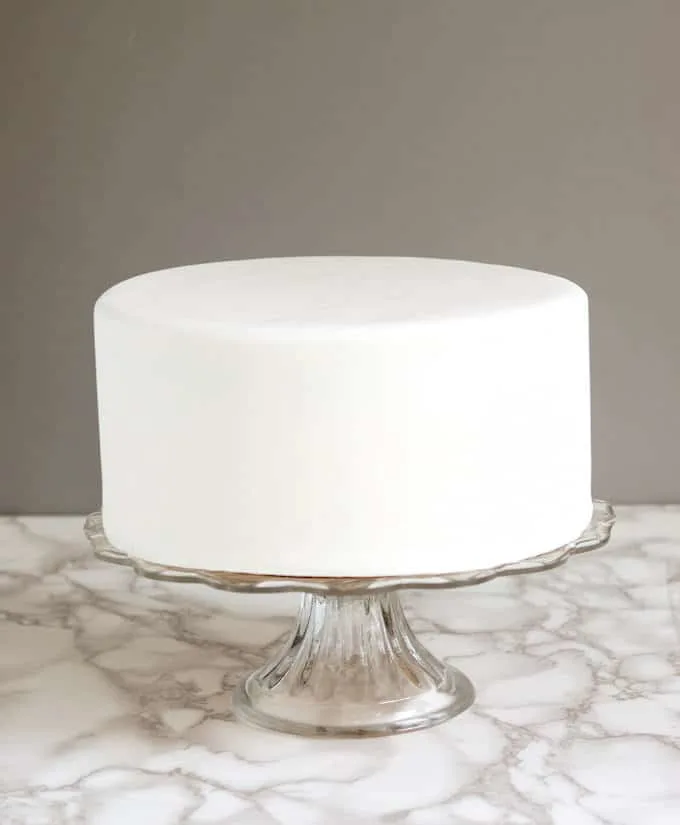 For 10 years I owned a wedding cake business. I can't count how many times I had this conversation after the bride saw a photo like this in my portfolio: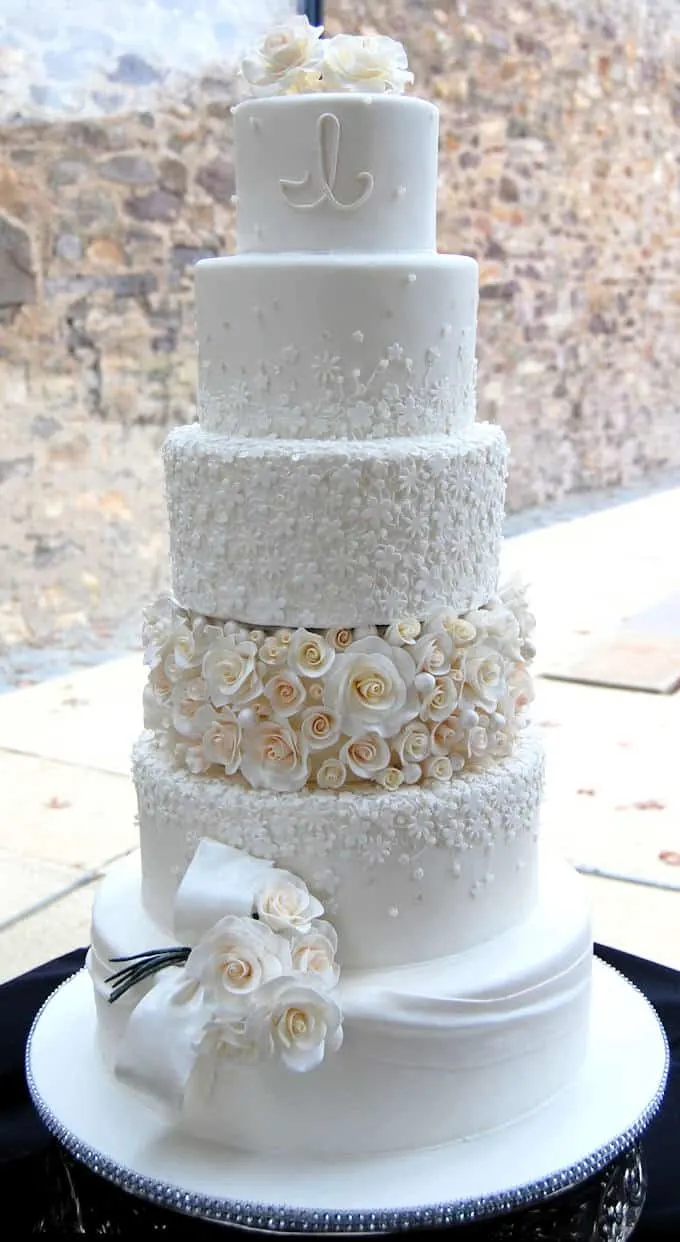 Bride: I love this look of this cake, but I hate fondant. Can you make the same cake using buttercream?
Me: No. I can do a version of that cake, but it won't really look the same with buttercream. It will be pretty, but it won't look exactly the same. There are certain decorative effects that can't be done on buttercream.
Bride: But it tastes so bad. Won't it ruin the flavor of the cake?
Me: No. Personally, I find fondant too sweet and don't eat it. I just leave it on the plate after eating the cake. I put two layers of buttercream under the fondant, so you still get plenty of buttercream. Also, I make my own so it doesn't taste like Playdough, as commercial products do.
Bride: (Big smile since she can have her beautiful fondant cake and enjoy eating it too!)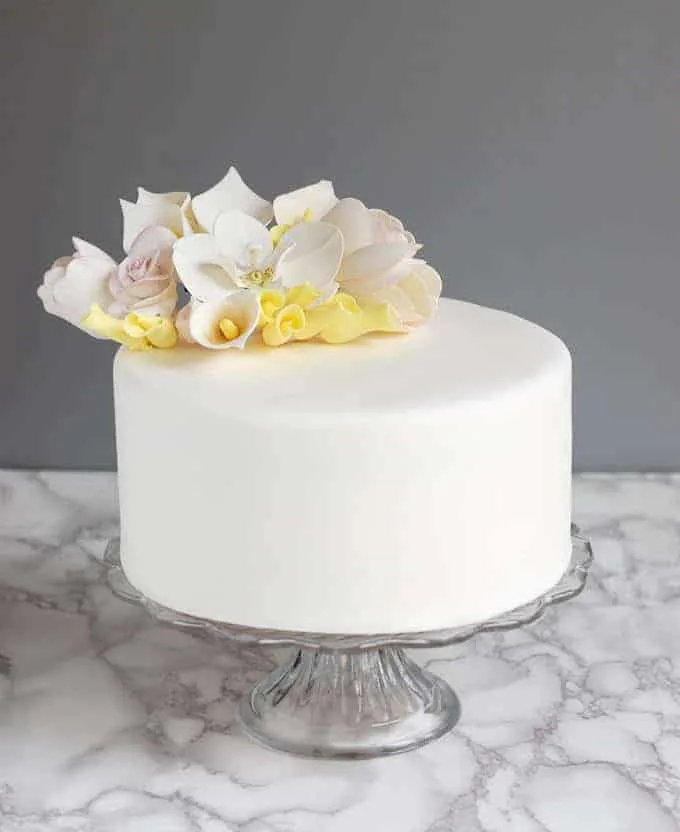 Why homemade rolled fondant is better
It's true, most people don't like the taste of fondant. But I think most people have only eaten commercially made fondant. Some brands are better than others, but even the best commercial products have a texture and taste that are, sadly, reminiscent of Playdough.
I've always made my own fondant. When I started making cakes almost 30 years ago, you couldn't buy it in the stores and there was no internet, so I had no other choice than to make it.
For my cake business, I made my own fondant since it's easy enough to make and is much cheaper than buying it. Even better, although it is sweet (it's mostly sugar, after all) it doesn't have a weird taste or smell. It just tastes like sugar.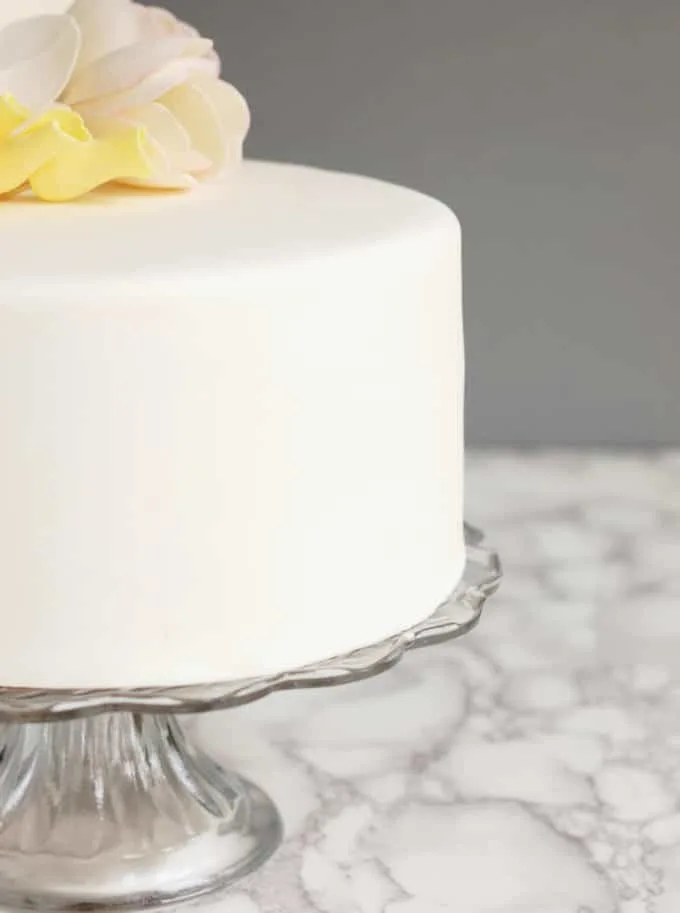 Tips for making your own rolled fondant:
If you want a tinted fondant, add the coloring to the gelatin mixture. It's easier than kneading in color later.
Unfortunately, if you want a very dark or vibrant color you'll just have to buy fondant. For bright red or black, for example, you'd have to add so much coloring that it ruins the texture of the fondant. Believe me, I've tried it. That's the only time I used commercial fondant.
I find it's easiest to mostly mix the fondant with the dough hook and then finish kneading in the sugar by hand.
No matter how you mix it, the freshly made fondant is a sticky mess and is a bit of a pain to knead together. Just keep kneading and appreciate the arm workout.
The fondant must set overnight and be re-kneaded before rolling.
This recipe makes a little more than you need to cover an 8″ cake because it's easier to have a little too much and trim away excess.
***UPDATE***I have included volume measures here for those who don't have a kitchen scale. But I do recommend that you weigh the ingredients to get the most consistent results.
A little variation in the amount of moisture or sugar in the fondant can make a big difference in texture.
Watch the recipe video to see how to make rolled fondant.
Now that you've made your own fondant, watch this video to see How To Cover A Cake with Fondant.
---
If you love easy to follow recipes like this, you'll love my new book: Easy Baking From Scratch: Quick Tutorials, Time-Saving Tips, Extraordinary Sweet and Savory Classics. The book contains over 100 recipes that have been well-tested and are presented in simple, clear language. It's available now on Amazon.
If you love this recipe as much as I do, I'd really appreciate a 5-star review.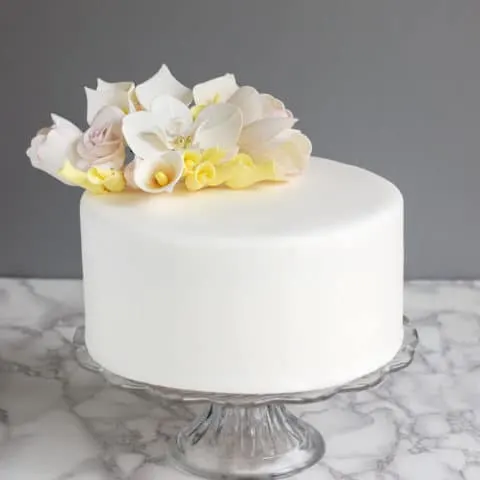 Rolled Fondant
Total Time:
8 hours
30 minutes
This is a good, reliable rolled fondant recipe. I used this recipe for 10 years in my custom cake business.
Ingredients
24 oz (6 cups, 685g) confectioner's sugar
2 oz (1/4 cup, 60 ml) cool water
1 Tbsp gelatin powder
3.5 oz (1/4 cup plus 2 Tbsp, 95g) white corn syrup
.75 oz (1 Tbsp, 20g) glycerin
Instructions
Sift the confectioner's sugar into a large mixing bowl or in a stand mixer bowl with the hook attachment.
Put the water in a small microwave-safe bowl. Sprinkle the gelatin powder evenly over the surface of the water. Whisk 1-2 times to combine. Let the gelatin "bloom" for 5 minutes.
Heat the gelatin in the microwave for 15 seconds to melt. Whisk the corn syrup and glycerine into the warm gelatin (see note if you want to tint the fondant). Heat another 15 seconds in the microwave to make sure everything is melted.
Pour the warm gelatin mixture into the sugar all at once. If working by hand use a wooden spoon to stir the mixture until most of the sugar is incorporated. If using a stand mixer, use the dough hook on medium-low until most of the sugar is incorporated.
With the fondant still in the bowl, use your hands to finish kneading the rest of the sugar into the fondant. It will be quite sticky and messy at this point, just keep kneading. A plastic bowl scraper is helpful for handling the fondant.
Turn the fondant out onto the plastic wrap. Wrap 2x in plastic wrap and let it set at least 8 hours or overnight before using.
When ready to use, knead the fondant until it's smooth and supple. Roll on a surface dusted with powdered sugar. When not using always keep the fondant covered so it doesn't form a skin.
Notes
If you want to tint the fondant, this is a good time to add the coloring. Whisk the coloring into the warm gelatin mixture before adding it to the sugar.
You must let the fondant rest overnight before using so the gelatin has time to set. Knead the fondant into a smooth ball before rolling. If it's well wrapped and kept in an air tight container, the fondant will keep for several weeks.
Recommended Products
As an Amazon Associate and member of other affiliate programs, I earn from qualifying purchases.
You might also like: