This is the real-deal folks. Learn how to make classic Almond Petit Fours with rich almond cake and a quick fondant icing made from powdered sugar.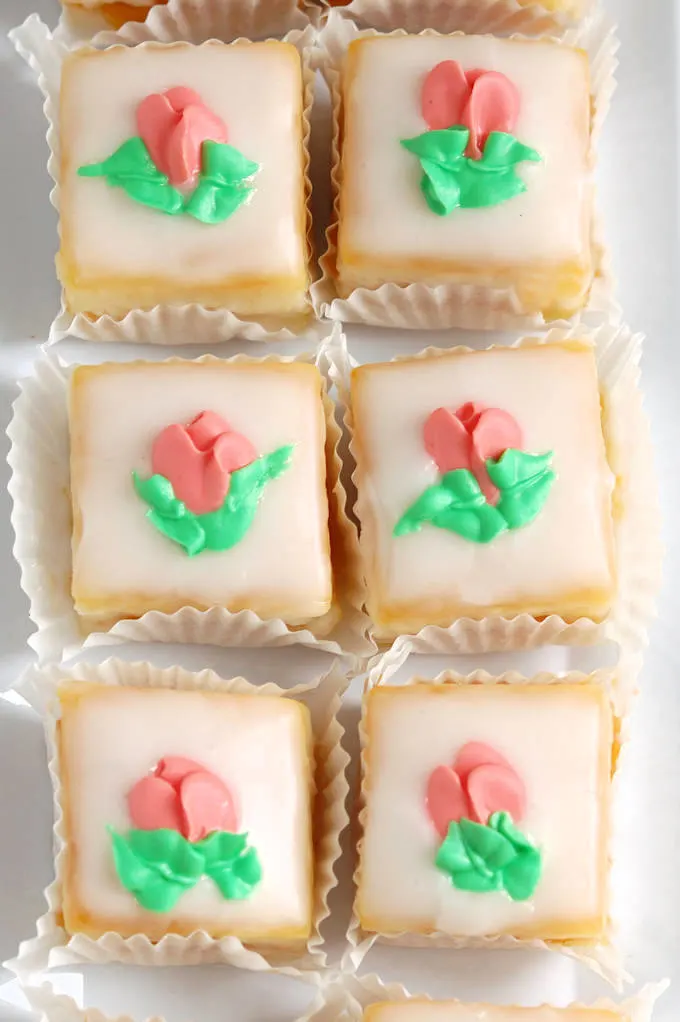 Ok, I'll start off by saying (contrary to almost every recipe on the internet, apparently) this is not a particularly easy recipe to make.
In fact, Petit Fours are tedious and fussy to make. Not only that, you will create a huge mess in your kitchen with lots of bowls, pans and utensils to clean up.
Have I lost you yet? No? Great! Because for special occasions there is nothing like a perfectly iced, perfectly pretty little Petit Four on a lovely little plate. It's an extremely sophisticated and civilized way to have dessert.
Because Petit Fours are such a pain to make you may have noticed that real, honest-to-goodness, Classic Almond Petit Fours are very expensive to buy.
When I had a cake business I made them very infrequently because I charged A LOT for them, like several dollars each.
But for a very special occasion like a wedding shower or wedding favor, they are so very pretty and so very tasty. They are worth the occasional splurge of time (or money) for the right occasion.
I'm going to show you exactly how-to make perfect Petit Fours.
Why are Petit Fours such a pain to make? Well, it's not the cake. Technique-wise, the almond cake is a straight-forward creamed cake.
The batter does include almond paste, which makes it a little more expensive than regular cake. But making the cake itself is pretty simple. Well, until you spread the batter in the pan.
Because Petit Fours are all about being perfect little cakes, every step of the process requires careful execution.
You've got to be careful to spread the batter evenly in the pan. If you do this, when you layer and cut the cake you'll have consistently sized, level cakes instead of some thick, some thin and some lopsided cakes.
But the biggest pain about making Petit Fours is icing the little buggers. After icing hundreds of Petit Fours I have perfected a process for glazing Petit Fours with as little mess and fuss as is possible.
How to Ice Petite Fours:
Traditionally, fondant is the icing of choice for these fancy cakes. You can learn about true Fondant Icing in the Easy Fondant Icing post.
While true fondant creates a beautiful sheen when used as an icing, it is complicated and tedious to make. I've decided that using a simple powdered sugar icing is an acceptable compromise. You'll find a recipe for the icing at the end of the post.
The key to getting a nice coating on the Petit fours is to have waaaaaay more icing than you need.
You must completely flood every cake, corner to corner and edge to edge, to have no gaps in the icing. This means you will have lots of overflow as you ice the cakes.
You can set the rack of petit fours over a clean sheet pan to catch the drips, but I have found that setting the rack over a really big bowl works better. It much easier to scoop the icing back into the pouring container from a bowl than from a flat sheet pan.
If your bowl isn't large enough for all the cakes to sit over the opening at the same time, simply move the rack up and back so the cakes which you are covering are over the bowl as your pour the icing. You can see me move the rack around in the video.
Once you've got the cakes covered leave them to dry completely on the rack.
Use a small spatula to lift the cakes, one by one, and transfer them onto a serving platter. I like to put them into little paper cups which makes them easier to pick up.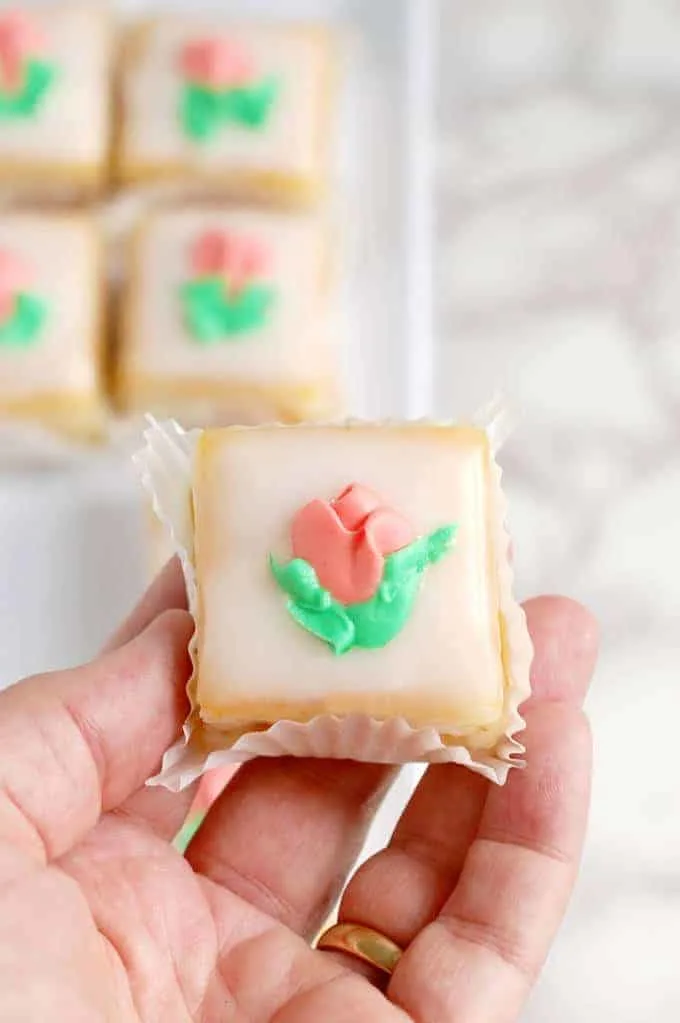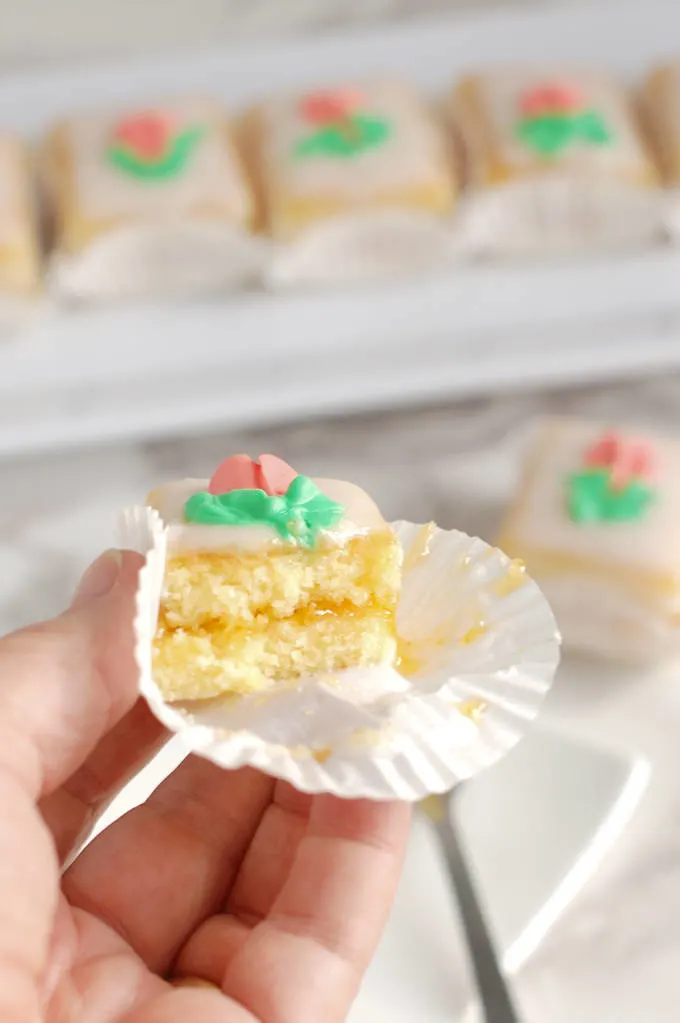 Finally, Petit Fours should have a dainty decoration on top. As you can see, I piped Royal Icing rose buds on the Petit Fours for this post. This is a pretty way to decorate for a bridal shower. You can match the colors to the wedding colors.
Another nice way to finish Petit Fours is with a few scattered dragees or fancy sprinkles. For the holidays I like to make tiny holly leaves and berries out of marzipan or rolled fondant to put on top.
You can tint the icing as well. A pale blue, pink or yellow icing is a nice touch for a baby shower. I find that subtle colors look best for these fancy cakes. Just add a drop of color as you mix the boiling water into the sugar.
Watch the recipe video to see how to make Classic Almond Petit Fours:
If you love this recipe as much as I do, I'd really appreciate a 5-star review.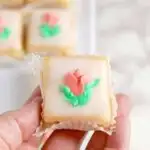 Print Recipe
Almond Petit Fours
Classic Almond Petit Fours made with rich almond cake and a quick fondant icing that can be made from powdered sugar.
Ingredients
Batter
6

oz

almond paste

6

oz

unsalted butter

(room temperature)

6

oz

confectioner's sugar

(1 ½ cups)

6

eggs

(whisked in a small bowl)

½

teaspoon

table salt

1

teaspoon

vanilla extract

1

teaspoon

lemon extract

4 ½

oz

cake flour

(1 cup)
Instructions
Preheat the oven to

350

°F

. Line a half sheet pan with parchment paper or butter and flour the pan.

Cream

6 oz almond paste

until softened and smooth. With the mixer running, add

6 oz unsalted butter

and mix on low until there are no lumps of almond paste. Add

6 oz confectioner's sugar

and increase the speed to medium. Cream until light and aerated. Scrape down the bowl and paddle.

Add

6 eggs

in three batches, scraping the bowl and mixer between each addition. Add

½ teaspoon table salt

,

1 teaspoon vanilla extract

and

1 teaspoon lemon extract

and mix to combine. Add

4 ½ oz cake flour

all at once and mix just until incorporated.

Spread the batter onto the prepared sheet pan. Try to get the batter as even and flat as possible. The flatter the cake bakes the better the finished petit fours will look.

Bake until the cake is lightly browned and springs back when the center is pressed, about 15 minutes. Cool the cake completely in the pan.
Assembly
Place a piece of parchment paper on top of the cake in the pan. Flip the cooled cake from the pan onto a work surface. Peel off the used parchment paper and leave the cake, with the clean parchment underneath, bottom side up on the work surface.

With the long side of the cake facing you, slice the cake down the middle. Spread 1 cup strained apricot preserves onto one piece of the cake. Place the other piece of cake on top. Spread 1 cup strained apricot preserves onto the top of the cake. Set the cake in the freezer for 30 minutes to firm it up.

Remove the cake from the freezer. Trim the uneven edges of the cake. Use a ruler to mark of 1½" increments across the top edge of the cake. Use a long serrated knife to cut the cake into 1½" inch strips. Turn the cake so the strips are now horizontal to you. Use a ruler to mark of 1½" increments. Use a serrated knife to cut the cake into 1½" inch squares.

Lift each square and place on a cooling rack set over a clean sheet pan or a large bowl. Leave at least ½" between each cake square. Use freshly made fondant or warm the fondant to

100

°F

(slightly warmer than body temp). Put the fondant into a container with a pouring spout.

Slowly drizzle the icing over each square. Work slowly pouring back and forth and over each corner. Continue covering squares until you run out of icing. As you work, if you see any gaps in the cakes use a small spatula to filling them in with more icing. You can reuse the icing from the bowl or the sheet pan under the cakes to finish icing all the petit fours.

Allow the icing to set completely. You should be able to lightly touch the icing without it sticking to your finger. Use a small spatula to lift each petit four and set them into small paper cups or onto a serving tray. Decorate the petit fours as desired. Store at room temperature until ready to serve.
As an Amazon Associate and member of other affiliate programs, I earn from qualifying purchases.
Notes
I love the flavor combination of the rich almond cake with tangy apricot preserves, but you can layer the cake with buttercream or another type of jelly. Darker colored jellies like raspberry will show through the icing more, but I think that's just fine.
Nutrition
Serving:
1
piece
|
Calories:
96
kcal
|
Carbohydrates:
16
g
|
Protein:
2
g
|
Fat:
6
g
|
Saturated Fat:
3
g
|
Polyunsaturated Fat:
1
g
|
Monounsaturated Fat:
2
g
|
Trans Fat:
0.2
g
|
Cholesterol:
37
mg
|
Sodium:
44
mg
|
Potassium:
38
mg
|
Fiber:
1
g
|
Sugar:
6
g
|
Vitamin A:
158
IU
|
Vitamin C:
0.005
mg
|
Calcium:
15
mg
|
Iron:
0.3
mg
You might also like: