Summer is the perfect time to make this rustic and beautiful Plum Tart with a Walnut Crust.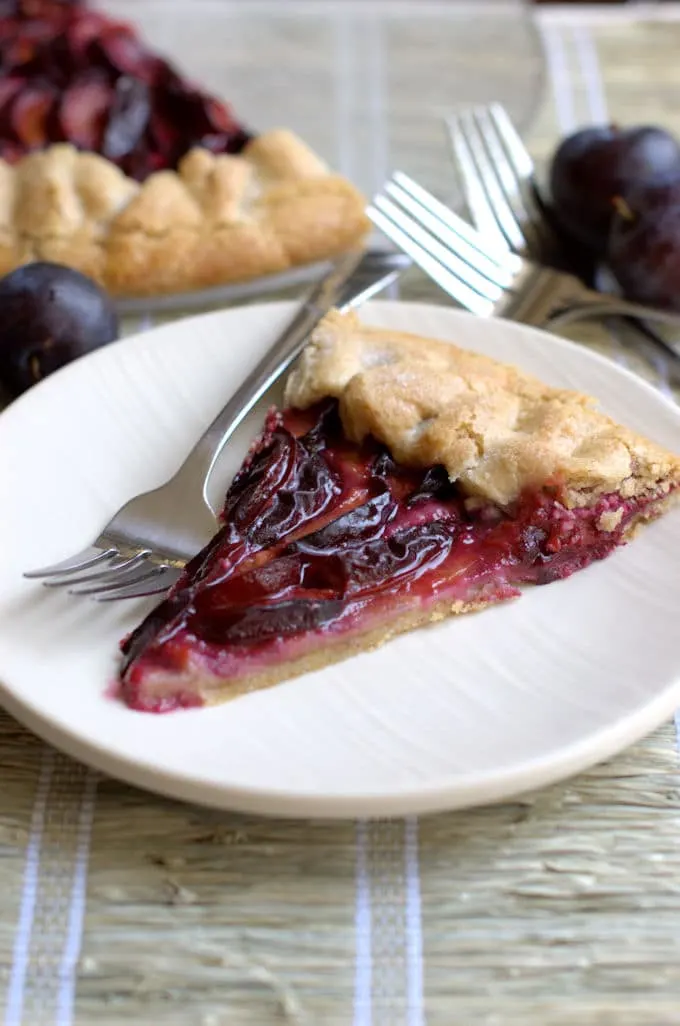 On my very first trip to Paris, about a million years ago, after a long day of walking the city scoping out the famous sights, my friend and I found ourselves slightly lost on a side street beyond the touristy places. We stopped into a cafe for a glass of wine and a place to sit while we tried to make sense of the maze of streets on the map (this was before GPS).
I spoke no French and my friend knew just a few words from her high school French class. From the menu I ordered what I thought was a fruit tart, imagining something like an American fruit pie (mmm, pie!) or luscious fruit-topped custard tart. This was years before I would go to culinary school. What I was served was a slender wedge of sweet plums baked in a crust, with no other filling or embellishments. It was absolutely perfect in it's simplicity and the memory of that elegant tart stays with me to this day.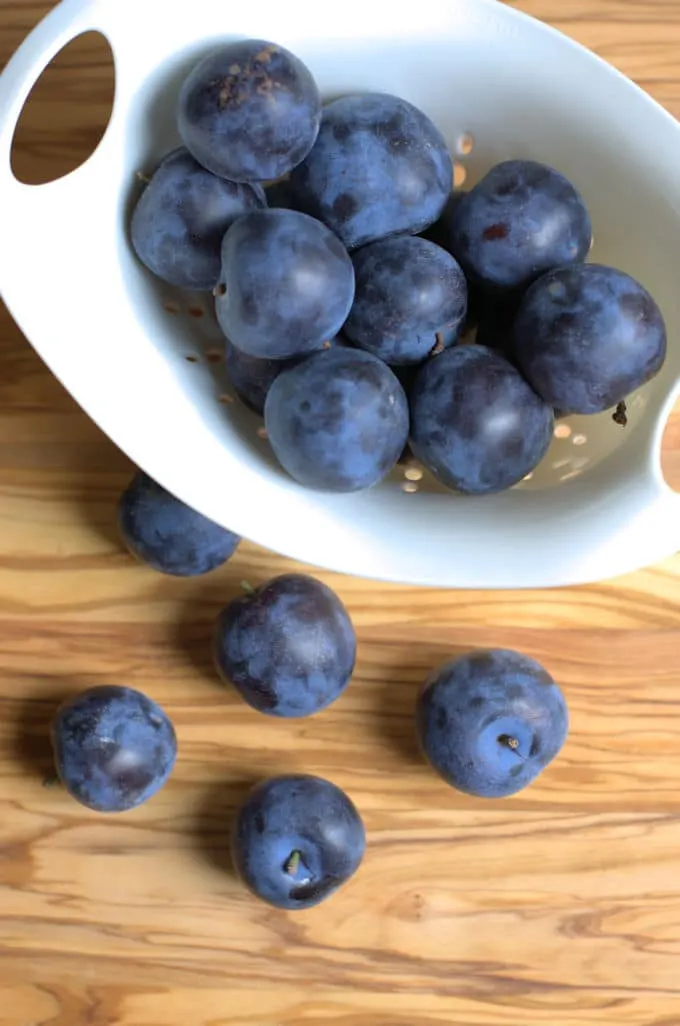 Farm Share Inspiration for a Plum Tart with a Walnut Crust:
As soon as I saw the beautiful blue "Mount Royal" plums in my farm share last week I had an instant craving for a plum tart like the one I had in Paris decades ago.
My plum tart is made with a buttery walnut crust, which is just perfect with the sweet juicy plums. It is a very tender crust that can be a little tricky to roll. After it's baked it stays a little soft so should be handled gently to avoid breaking the crust.
Since Plum Tart with a Walnut Crust is meant to be rustic there's no shame in just serving it from the baking pan if you don't want to try and transfer it to a serving platter. You can use the parchment paper lining to transfer the tart and then just cut away the excess paper. If you have a flat serving tray you can slide it under the tart and lift it off the baking paper.
I'm not trying to scare you away from trying this recipe because I think it's delicious and worth the effort. I'm just setting expectations so that if you're a perfectionist (as many bakers are!) you know that this is simply how this dough behaves.
Click through the slider to see how to make the walnut dough and put together the tart:
[metaslider id=5995]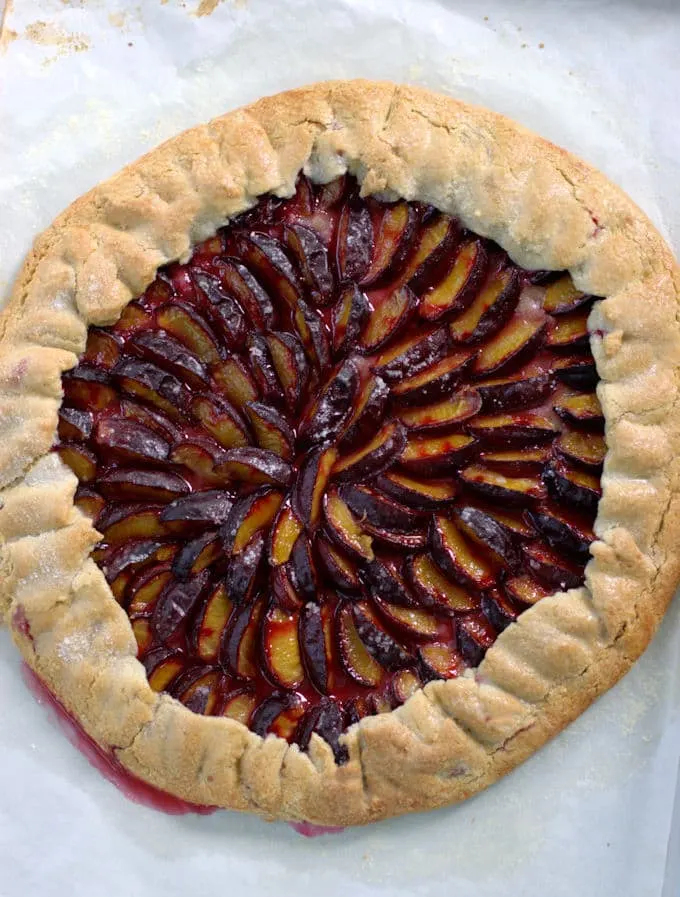 If you want a slightly dressier presentation you can press the dough into a fluted tart pan with a removable base. You can make the tart with pie crust or short dough if you don't like nuts or if you prefer to work a dough that's a little easier to handle.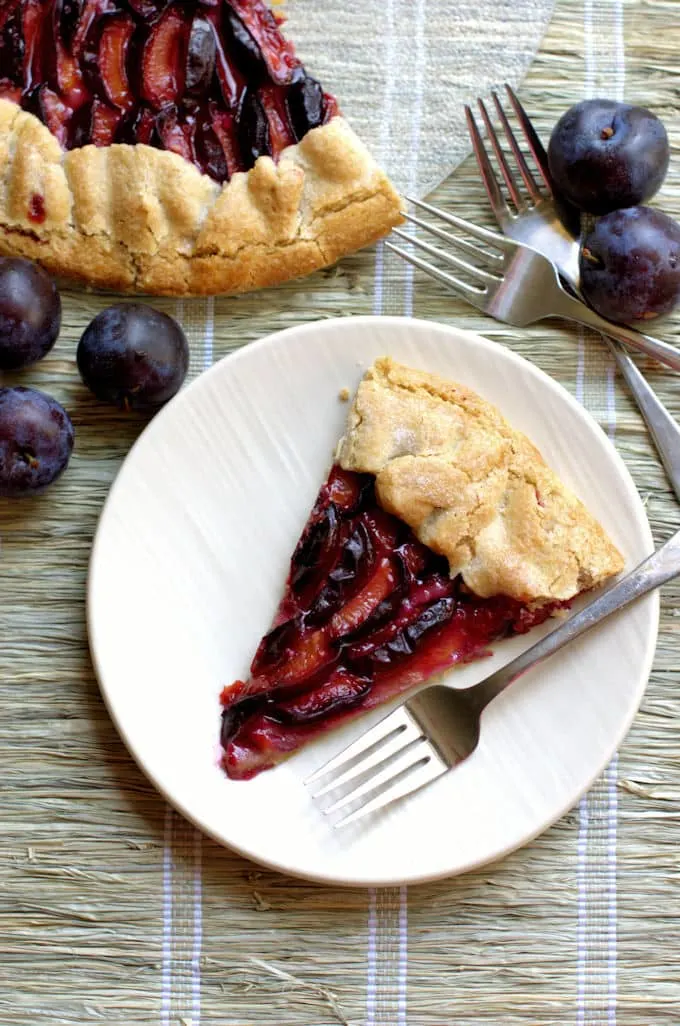 Beautiful, simple, yet so tasty. This Plum Tart with a Walnut Crust brought me right back to that Parisian cafe, if just for a moment.
Special equipment: I used a cake lifter to move the tart.

Rustic Plum Tart with Walnut Crust
Yield: 10

Prep Time: 40 minutes

Cook Time: 20 minutes

Total Time: 1 hour
Ingredients
For the Crust
1/2 cup walnuts
1/3 cup granulated sugar
4 oz (1 stick) cold unsalted butter cut into 1" cubes
1 cup (5 oz) all purpose flour
1/4 teaspoon cinnamon
Pinch of salt
2 egg yolks
Assembly
1 pound plums
1/4 cup granulated sugar
1 egg for egg wash
Instructions
For the Crust
Combine the walnuts, salt, cinnamon and sugar in a food processor
Pulse until the nuts are finely ground
Add the butter and pulse until the pieces of butter are no larger than a pea
Add the flour and pulse until the mixture looks like wet sand
Add the yolks and process until the mixture forms a ball
Remover the dough, wrap in plastic, form into a flat disc
Refrigerate at least 2 hours, or until completely firm.
For Assembly
Preheat the oven to 325°F convection or 350°F regular
Flour a sheet of parchment paper generously
Roll the dough to a circle slightly larger than the short side of the parchment
If the dough gets soft and starts to break apart, generously flour your hands and piece the dough together
Cut each plum in half and remove the pit
Cut each plum half into 4 pieces
Arrange the plums in circles, starting at least 1.5 inches from the edge of the dough
Sprinkle 3 tablespoons of the granulated sugar over the fruit
Use the parchment paper to lift the edges of the dough over the fruit
Transfer the parchment with the tart onto a baking sheet
Brush the crust with egg wash and sprinkle the dough and fruit with the remaining tablespoon of sugar
Bake until the crust is golden brown and fruit is bubbling, about 20 minutes
Cool on the pan for at least 1-2 hours before transferring to a serving plate
Notes
Because of the nuts this is a very tender crust. To transfer the tart to a serving platter it's easiest to carefully slide acake lifter or plate between the tart and the parchment paper, or use the parchment to lift the crust onto a serving platter and then cut away the excess paper.