Fresh blueberries baked under a lightly sweet cornbread topping with just a hint of cinnamon. Blueberry Cornbread Cobbler baked in a cast iron skillet couldn't be easier to make. It's the perfect dessert for casual summer dining.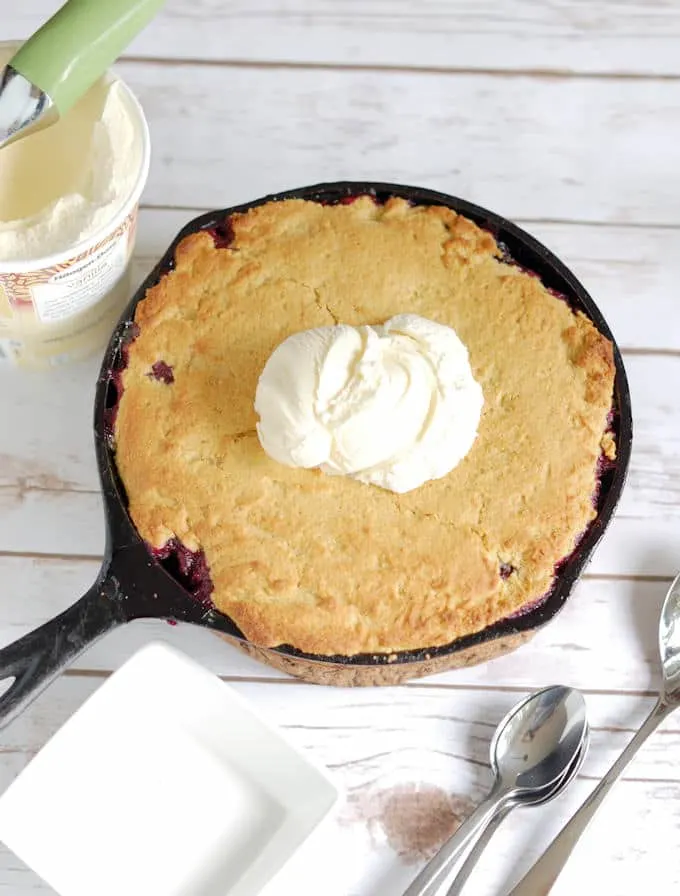 What I love about summer dining is how casual it is.  You don't want to be stuck in a hot kitchen for hours while everyone else is outside relaxing and visiting, do you?
You'll love this super simple recipe that can be thrown together in minutes with ingredients that you probably already have on hand. Blueberry Cornbread Cobbler is a go-to recipe that's special enough to serve company but easy enough to throw together for a family meal.
I make this all the time in the summer when blueberries are abundant. It's the perfect ending to a barbecue supper.
The combination of blueberries and cornmeal just screams "summer". You'll find the same combination of flavors in this Blueberry Cheesecake Tart.
There's really not much else to say about this recipe since it's so simple. Toss the fruit with a little sugar and lemon, then make a simple cornbread batter for the top.  You bake and serve Blueberry Cornbread Cobbler in a cast iron skillet for a casual and fun presentation.
Of course, a dollop of ice cream is the perfect topping. But I didn't need to tell you that, did I?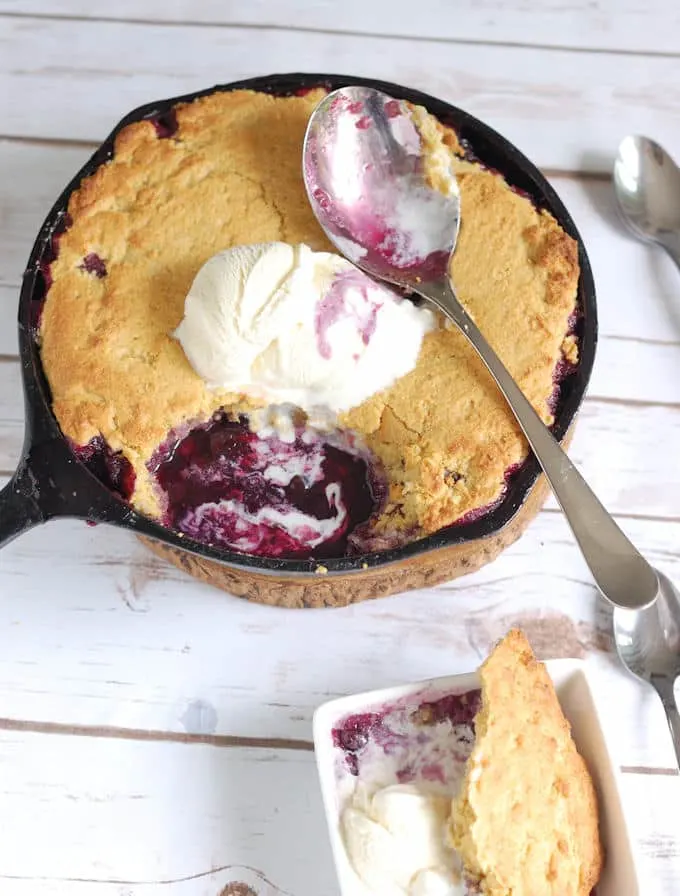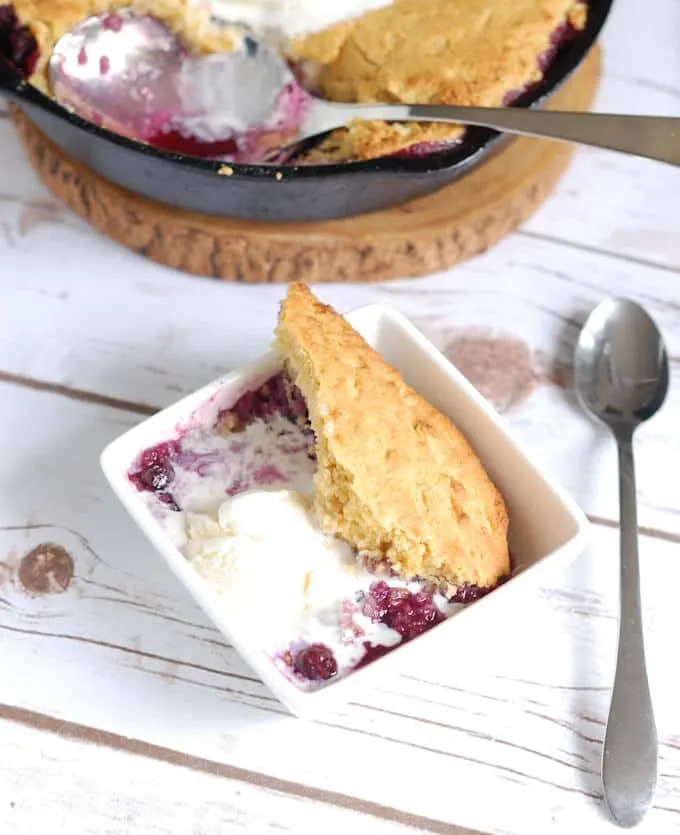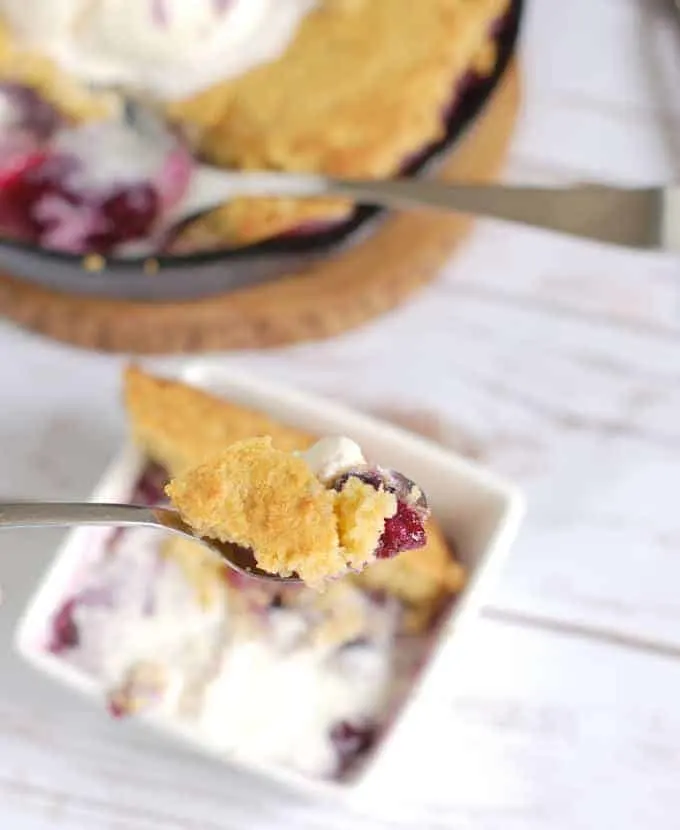 Watch the recipe video to see how easy it is to make Blueberry Cornbread Cobbler.
Yields 8 portions
Blueberry Cornbread Cobbler baked in a cast iron skillet
10 minPrep Time
40 minCook Time
50 minTotal Time
Ingredients
2 tablespoons (1 oz, 25g) unsalted butter
6 cups (3 pints, 850g) blueberries
1/3 cup (2.5 oz, 65g) sugar
pinch of salt
grated zest and juice of 1 lemon

Topping

2/3 cup (2.5 oz, 75g) cornmeal
1/2 cup (2 oz, 60g) all purpose flour
1/3 cup (2.5 oz, 65g) sugar
2 teaspoons baking powder
1/2 tsp cinnamon
1/4 tsp salt
1/2 cup (4 oz, 120ml) buttermilk (see note)
4 tablespoons (2 oz, 55g) melted butter
1 egg
Instructions
Preheat the oven to 350°F convection or 375°F regular
Set a 9" cast iron skillet over low heat and melt the 2 tablespoons of butter in the pan. Swirl the pan to coat the bottom and sides with butter. Or use a casserole dish brushed with melted butter.
Combine the blueberries with sugar, salt, lemon zest & juice.
Pour the berries into the skillet.

Cornmeal Batter

Whisk together the dry ingredients in a mixing bowl.
Combine the buttermilk, butter and egg
Pour the buttermilk mixture into the dry ingredients and stir just until combined.
Drop dollops of the batter all over the berries and spread the batter to cover the berries.
Slide a sheet pan covered with foil on the shelf beneath the cobbler in the oven to catch any blueberry boil over.
Bake until the topping is golden brown and the berries are bubbling, about 35-40 minutes.
Serve warm or room temperature.
Notes
If you don't want to keep fresh buttermilk on hand I recommend using buttermilk powder as the best substitute.
7.8.1.2
167
https://www.baking-sense.com/2017/06/08/blueberry-cornbread-cobbler/