If you like Twix Bars, you'll love Chocolate Caramel Crackle Tart. Buttery Pastry filled with caramel and Rice Krispies, then topped with rich chocolate ganache.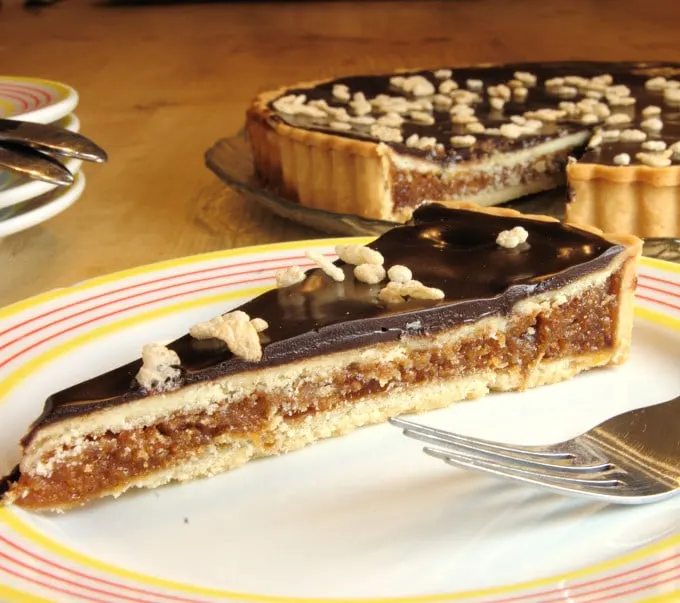 Is it a pastry? Is it a candy bar? Is is something in-between? Who cares! This tart is so good I got a (not serious) caramel-induced marriage proposal after a friend ate a slice of it at a party years ago.
I've been making this tart for years based on a recipe in this book. The original recipe has walnuts in the filling. It's really good with the walnuts and I recommend giving that a try if you like nuts.
But I wanted to try something different, since not everyone likes nuts in their dessert. I thought Rice Krispies would give me the crunchy texture of the nuts, but I wasn't sure they'd hold up in the caramel.
Luckily they do. The Rice Krispies not only add a nice snap, crackle and pop (sorry!) to the filling but also tame the sweetness of the caramel.
Scroll through the process photos to see how to make Caramel Rice Krispie Tart:
To line the tart pan, roll the short dough on the rolling pin and unroll into the pan.
Push the dough into the fluted edges then use the rolling pin to cut off the excess dough
As the edges begin to melt stir the caramelized sugar into the dry sugar.
Continue Stirring the caramel until all the dry sugar is melted.
As soon as all the sugar is melted and caramelized, you're ready to add the cream and butter.
Drizzle the hot caramel over the Rice Krispies, then use a small spatula to mix the cereal into the caramel. Leave no dry cereal.
Spread the ganache over the slightly warm tart and sprinkle a few Rice Krispies for decoration
Want to try a totally new kind of caramel sauce? Check out this recipe for Mexican Cajeta made with goat milk.
If you love this recipe as much as I do, I'd really appreciate a 5-star review.