Classic French Buttercream is light, fluffy and not too sweet. This frosting is a dream to work with and will take on any flavor you'd like.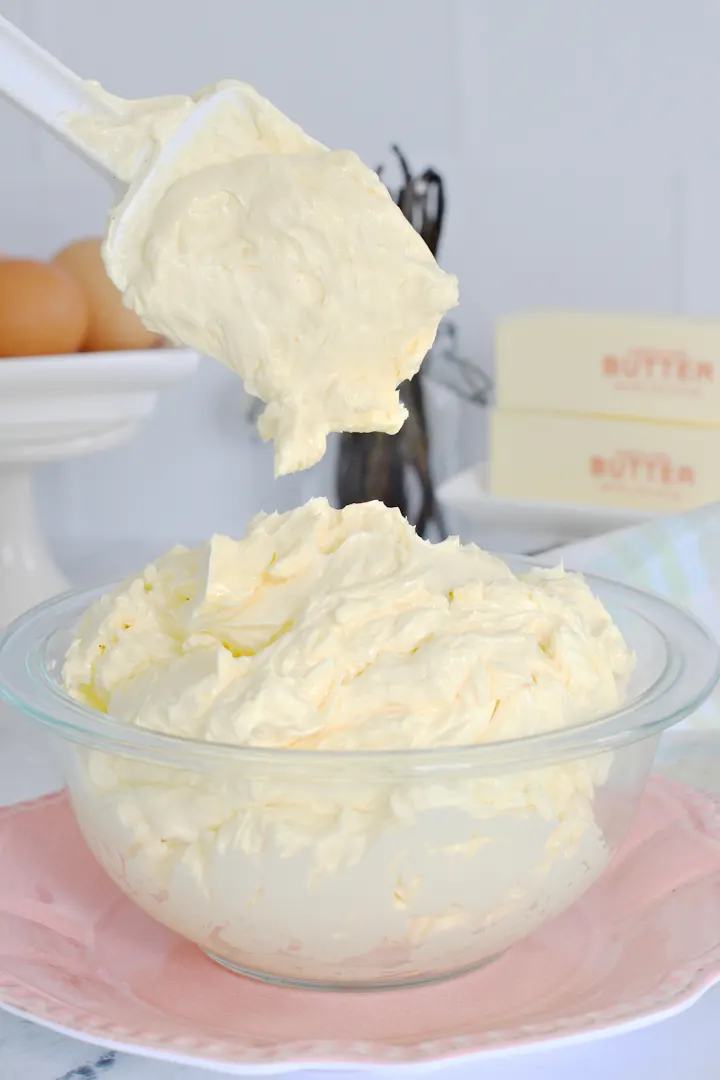 Ooh la la, let's make some French Buttercream. This frosting is rich, yet light as a feather.
If you love Italian and Swiss Meringue buttercreams, I think you'll love their French cousin. The process for making French Buttercream is exactly like making Meringue Buttercream, but we use egg yolks as the base for the frosting rather than egg whites.
The difference is subtle, but the slightly yellow color and rich flavor make this a lovely filling and frosting for any cake where the frosting is the star. This recipe is pairs perfectly with Vanilla Butter Cake, Vanilla Genoise, Vanilla Chiffon Cake or Old Fashioned Buttermilk Cake.
Ingredients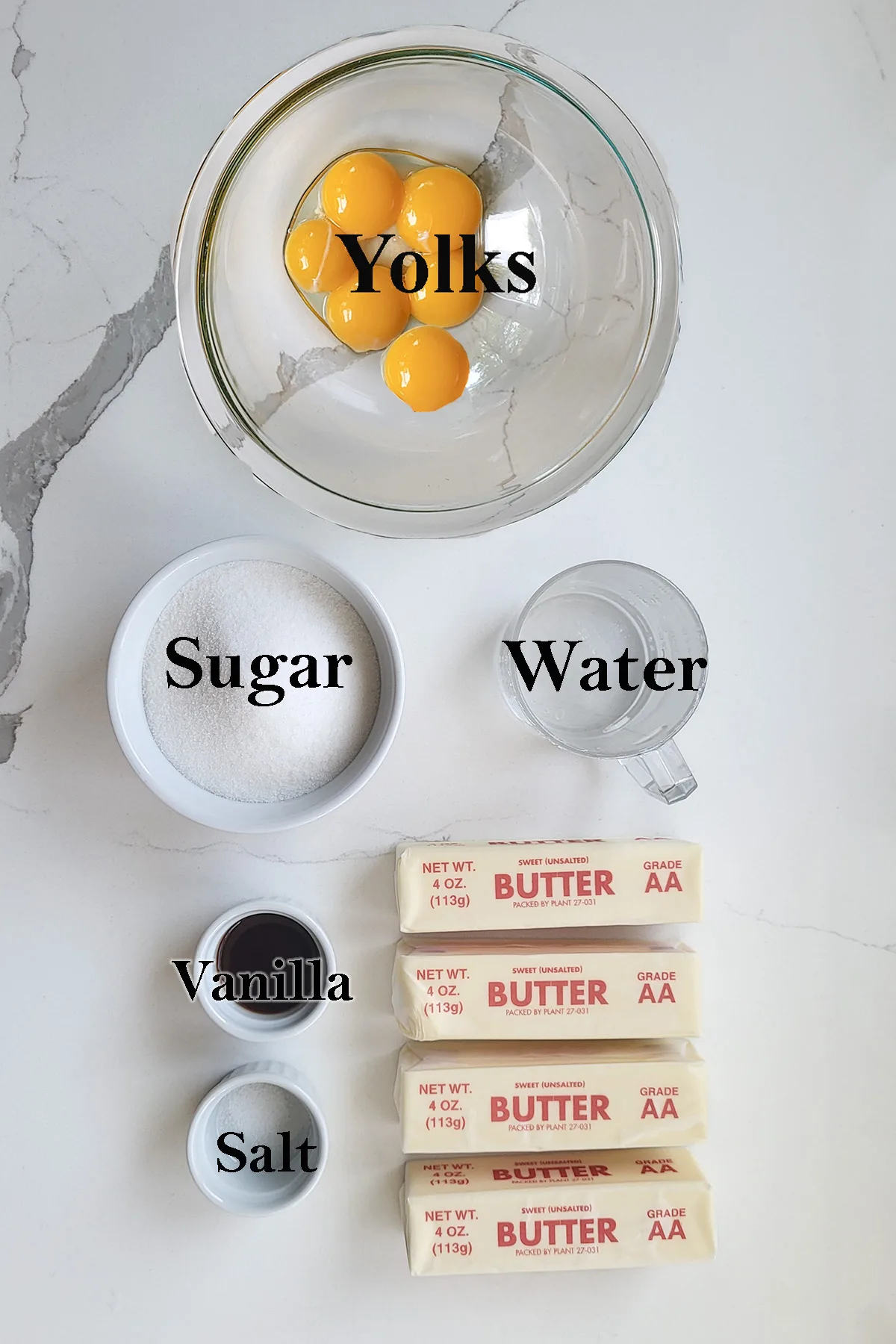 Ingredient Notes
Unsalted butter – Softened butter is whipped into the meringue base. Unsalted butter allows you to control the amount of salt in the recipe.
Salt – Just a tiny bit of salt balances out the sweetness of the buttercream.
Vanilla extract – Use natural vanilla extract for the best flavor. You can also use vanilla bean if you don't mind the little specks.
How to make French Buttercream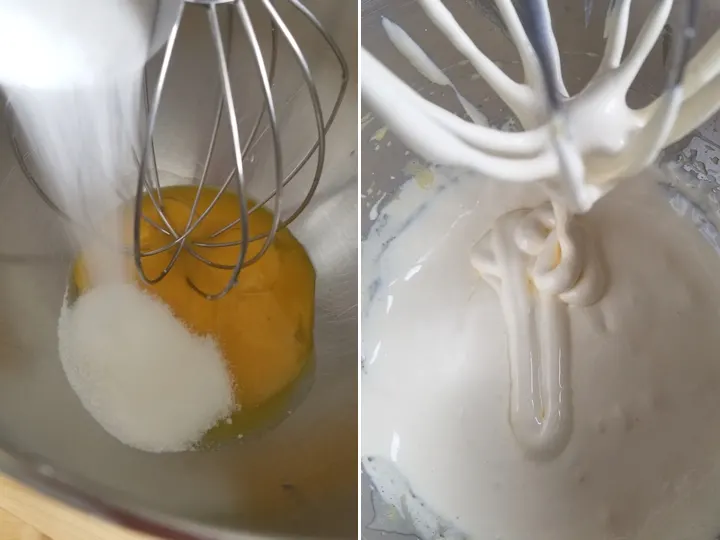 Combine the yolks and sugar.
Whip until the yolks are "ribboned".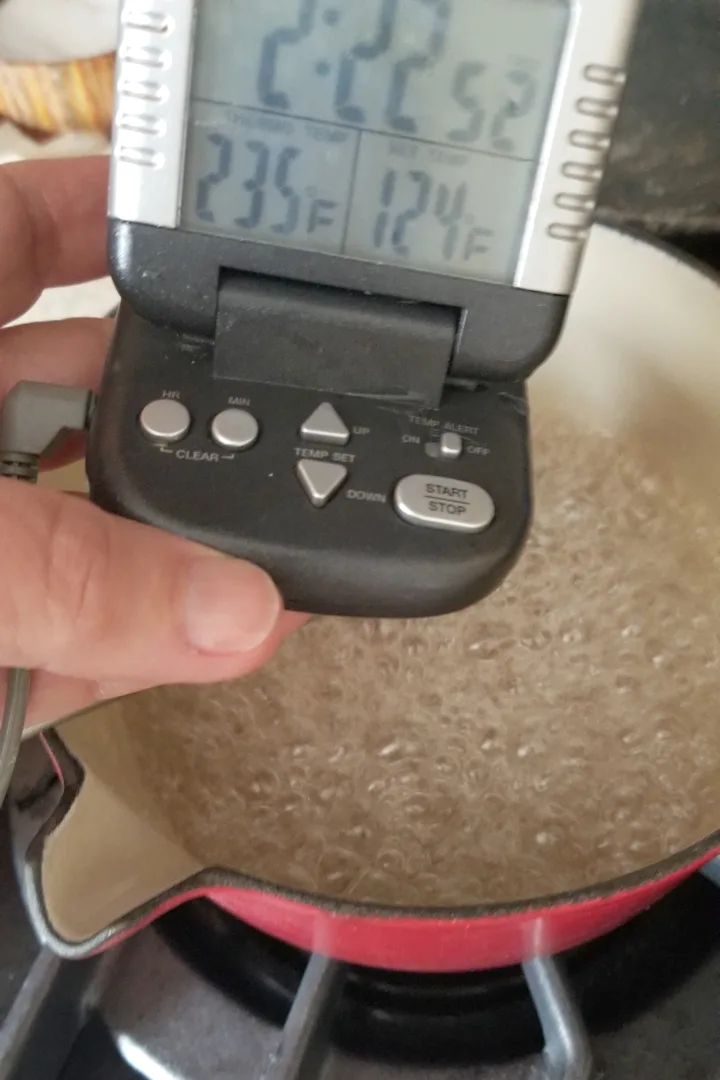 Meanwhile, boil the sugar syrup to the soft ball stage.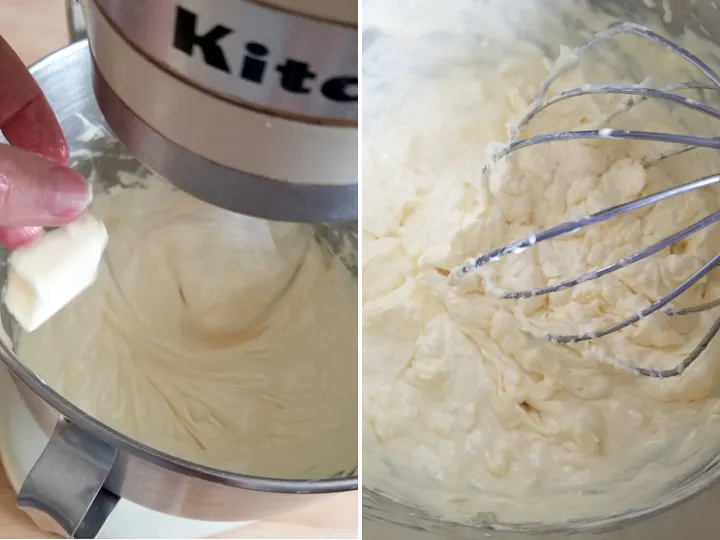 Add the butter to the whipped egg yolks.
The mixture may look a little curdled, keep whipping until it becomes light and fluffy.
How to fix French Buttercream:
If you're working in a warm kitchen and your buttercream is just a little too soft you can refrigerate it briefly and then re-whip it until it's light and fluffy.
If your buttercream is a little too cold (my kitchen is fairly cool in the winter and I often have this problem) you can warm the bowl and then whip it until it's light and fluffy.
I use a propane torch to warm up the buttercream, which is fun, but you can also place a small bowl of warm water under the mixing bowl to warm the buttercream.
If you do have a propane torch and want to use it, here's what you do: With the mixer running, wave the torch back and forth across the outside surface of the bowl to warm the buttercream. Keep it moving at all times to avoid burning the buttercream. You'll see the edges melt a bit and then mix in. This works fast, so be careful.
If you have refrigerated or frozen your buttercream, bring it back to room temperature then follow the instructions above for rewhipping.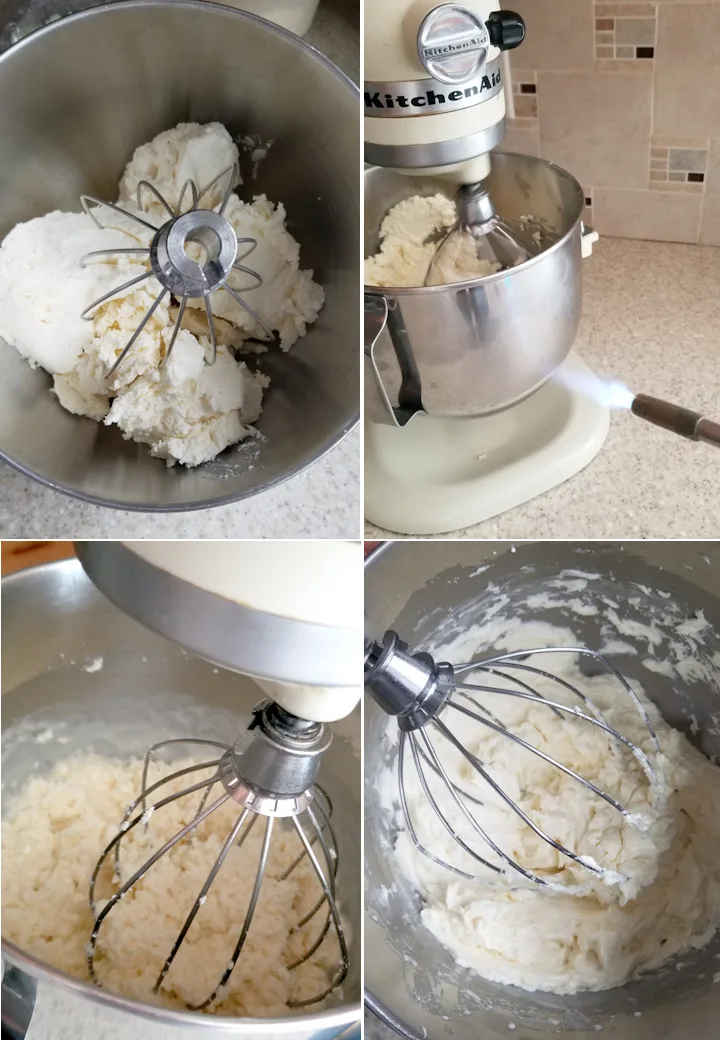 Place chilled buttercream into the mixing bowl.
Use a propane torch or a bowl of warm water to warm the buttercream as it whips.
The buttercream will curdle a bit, keep whipping.
The buttercream becomes light and fluffy again.
FAQs for making Classic French Buttercream:
What is the correct temperature for the sugar syrup in French Buttercream?
The sugar syrup should be boiled to 235°F, soft ball stage. If you don't boil the sugar long enough the buttercream will be runny, if you over-cook the syrup the buttercream will be too firm.
Can I tint French Buttercream?
Yes, this buttercream takes color well. I prefer to use a gel color, but you can use any food coloring to tint the buttercream. Add the food color right after you finish making the buttercream. Keep in the mind that the buttercream is naturally yellow from the yolks and butter, so this will affect the color of the tinted frosting.
Is French Buttercream shelf stable?
No, after 4-5 hours the buttercream should be refrigerated or frozen.
How much French Buttercream do I need for an 8 inch cake?
This recipe makes enough buttercream to fill and frost an 8 inch cake or frost 24 cupcakes.
Can I fix French Buttercream that is curdled or cracking?
Yes, see the previous section explaining how to fix buttercream.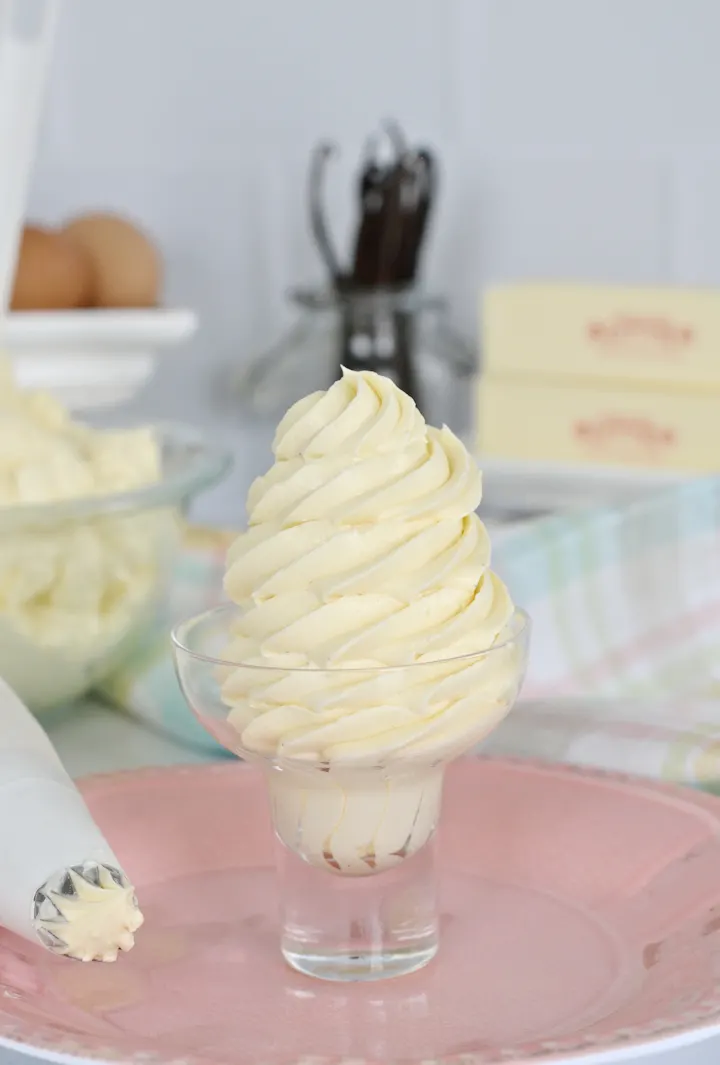 If you love this buttercream, but you want something even lighter in color and flavor try making either Swiss Meringue Buttercream or Italian Meringue Buttercream. They're both very similar to French Buttercream, except they're made with egg whites instead of egg yolks.
Now that you've made this recipe what should you do with all the extra egg whites? Check out this collection of recipes that use extra whites for some great ideas.
If you love this recipe as much as I do, I'd really appreciate a 5-star review.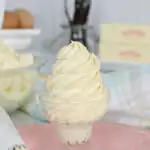 Print Recipe
French Buttercream Recipe
Classic French Buttercream is light, fluffy and not too sweet. This frosting is a dream to work with and will take on any flavor you'd like. This recipe makes enough buttercream to fill and frost an 8" cake
Ingredients
2

oz

water

(¼ cup)

8

oz

granulated sugar

(1 cup, divided)

6

large egg yolks

(room temperature)

⅛

teaspoon

salt

1

pound

unsalted butter

(room temperature, cut into 16 pieces)

1

tablespoon

vanilla extract

Other flavorings to taste
Instructions
Combine

2 oz water

with 6 oz, (3/4 cup) granulated sugar in a small saucepan. Cook the sugar syrup on medium high heat, stirring until the sugar is melted. Once the syrup begins to boil do not stir the syrup. Allow it to cook to

235

°F

(soft ball stage).

While the syrup is boiling, whip

6 large egg yolks

on medium with the remaining 1/4 cup of sugar and

⅛ teaspoon salt

. Increase the speed to medium high and whip until the yolks are aerated and pale yellow.

As soon as the syrup is at the correct temperature, remove the pan from the heat. With the mixer running on medium low, pour the hot syrup in a steady stream between the edge of the bowl and the whisk. Increase the speed to medium high and continue whisking until the yolks are cooled to about

80

°F

.

When the yolks have cooled, with the mixer running on medium, add

1 pound unsalted butter

one piece at a time. Add

1 tablespoon vanilla extract

and increase the speed to medium high and whip until the buttercream comes together.

Store at room temperature for 4 hours, refrigerate up to 2 days or freeze for up to 3 months. Bring the buttercream back to room temperature and rewhip before using.
As an Amazon Associate and member of other affiliate programs, I earn from qualifying purchases.
Nutrition
Serving:
1
serving
|
Calories:
282
kcal
|
Carbohydrates:
14
g
|
Protein:
1
g
|
Fat:
25
g
|
Saturated Fat:
15
g
|
Polyunsaturated Fat:
1
g
|
Monounsaturated Fat:
7
g
|
Trans Fat:
1
g
|
Cholesterol:
134
mg
|
Sodium:
25
mg
|
Potassium:
16
mg
|
Sugar:
14
g
|
Vitamin A:
806
IU
|
Calcium:
16
mg
|
Iron:
0.2
mg