German Buttercream is less sweet than American Buttercream and a little easier to make than Italian Meringue Buttercream or Swiss Meringue Buttercream. It's rich thanks to the custard base of the frosting.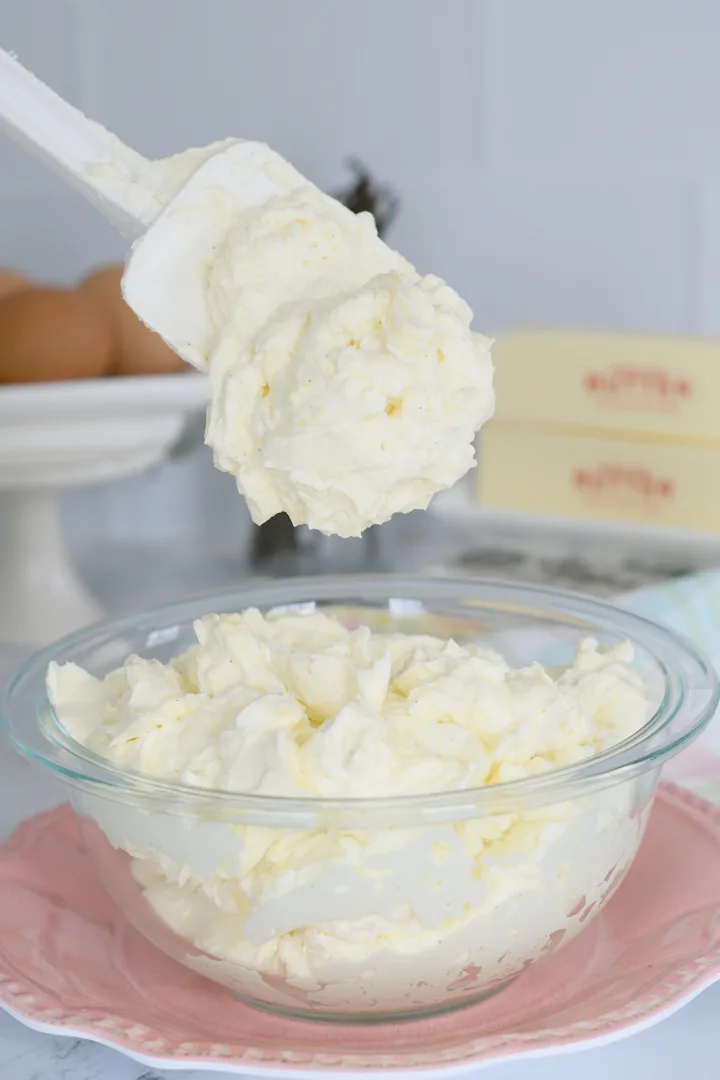 Why is this rich and creamy frosting called German Buttercream? Is this the national frosting of Germany?
Honestly, I have no idea if this style of buttercream was invented in Germany, or if it's their national frosting. But I did originally learned to make this style of buttercream from an Austrian pastry chef.
Whatever the reason for the name, I love this style of buttercream because it's not very sweet, it's really quite easy to make and it has the most amazing "vanilla ice cream" flavor thanks to the custard base. It's so good.
Scroll through the step by step photos to see how to make German Buttercream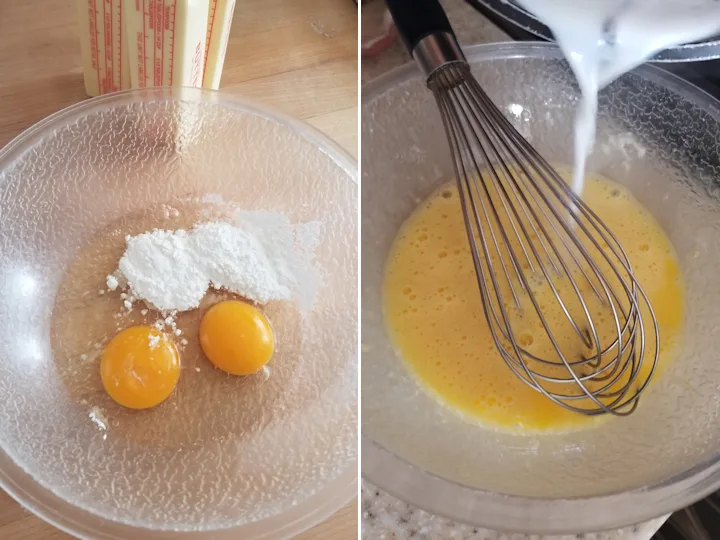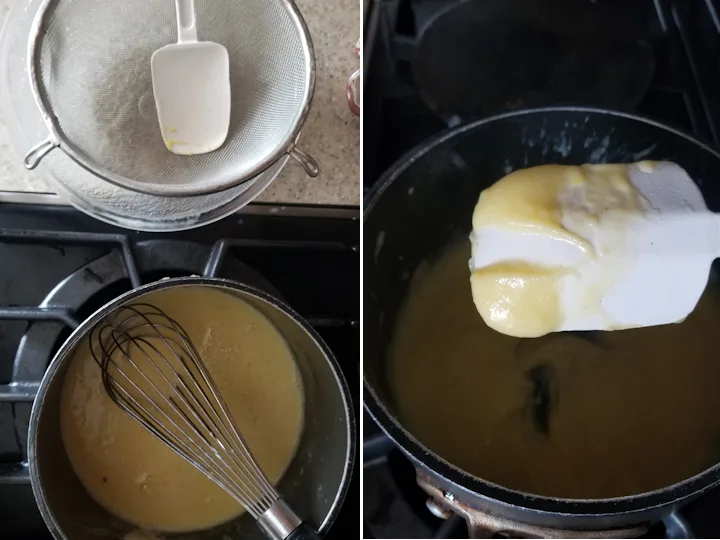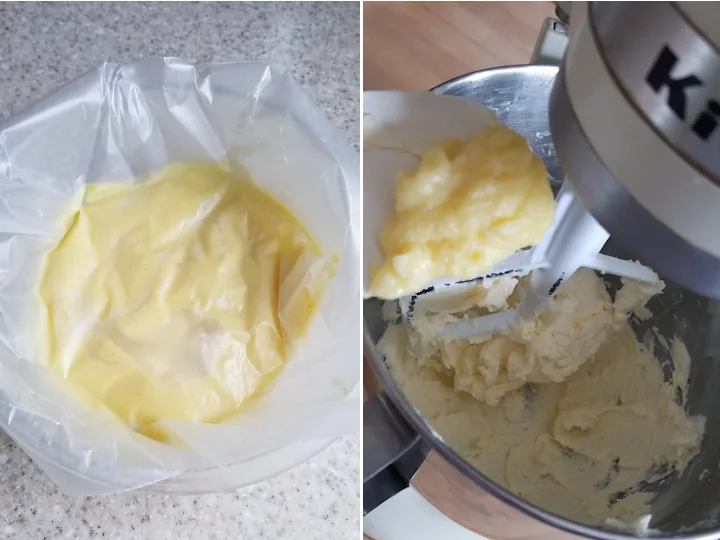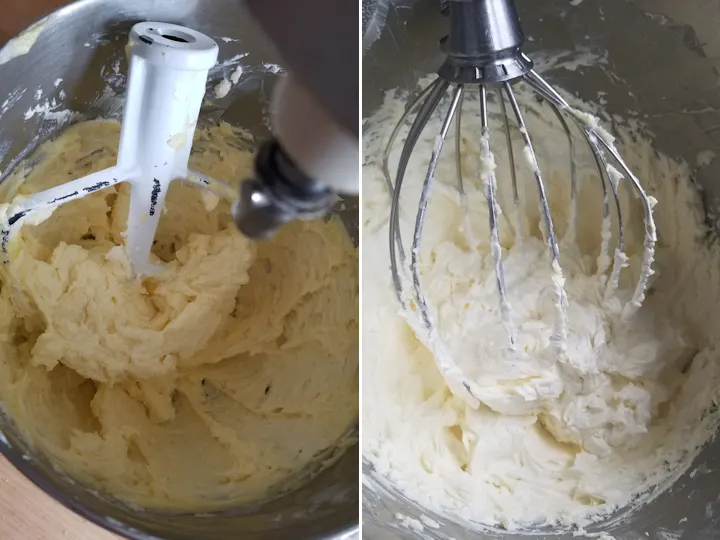 How to fix German Buttercream:
If you're working in a warm kitchen and your buttercream is just a little too soft you can refrigerate it briefly and then re-whip it until it's light and fluffy.
If your buttercream is a little too cold (my kitchen is fairly cool in the winter and I often have this problem) you can warm the bowl and then whip it until it's light and fluffy.
I use a propane torch to warm up the buttercream, which is fun, but you can also place a small bowl of warm water under the mixing bowl to warm the buttercream.
If you do have a propane torch and want to use it, here's what you do: With the mixer running, wave the torch back and forth across the outside surface of the bowl to warm the buttercream. Keep it moving at all times to avoid burning the buttercream. You'll see the edges melt a bit and then mix in. This works fast, so be careful.
If you have refrigerated or frozen your buttercream, bring it back to room temperature then follow the instructions above for rewhipping.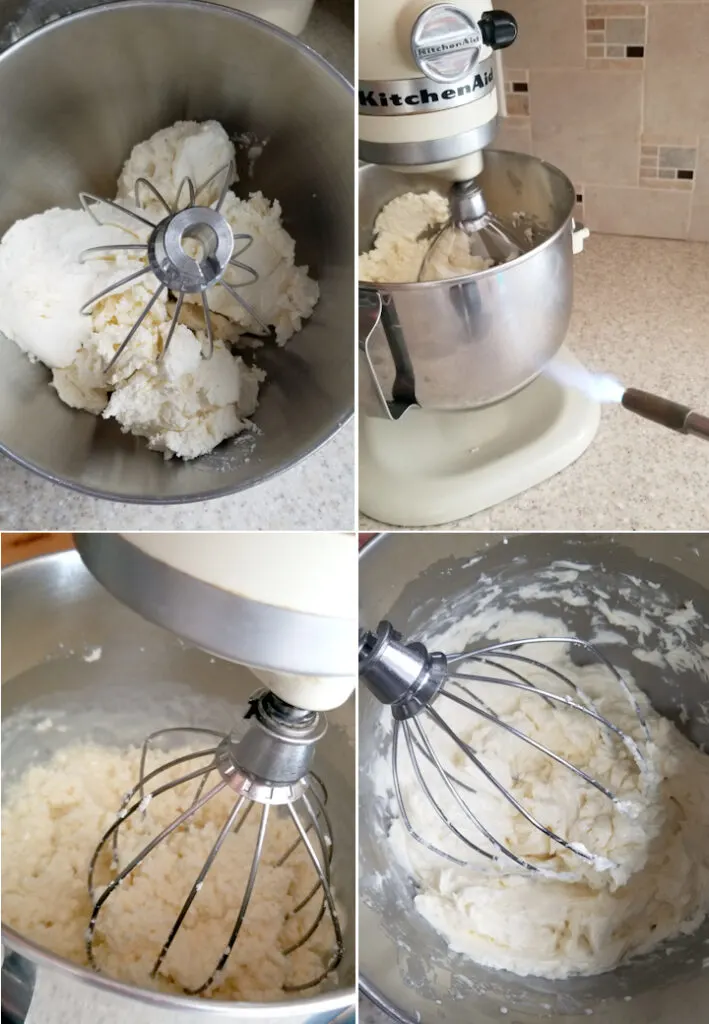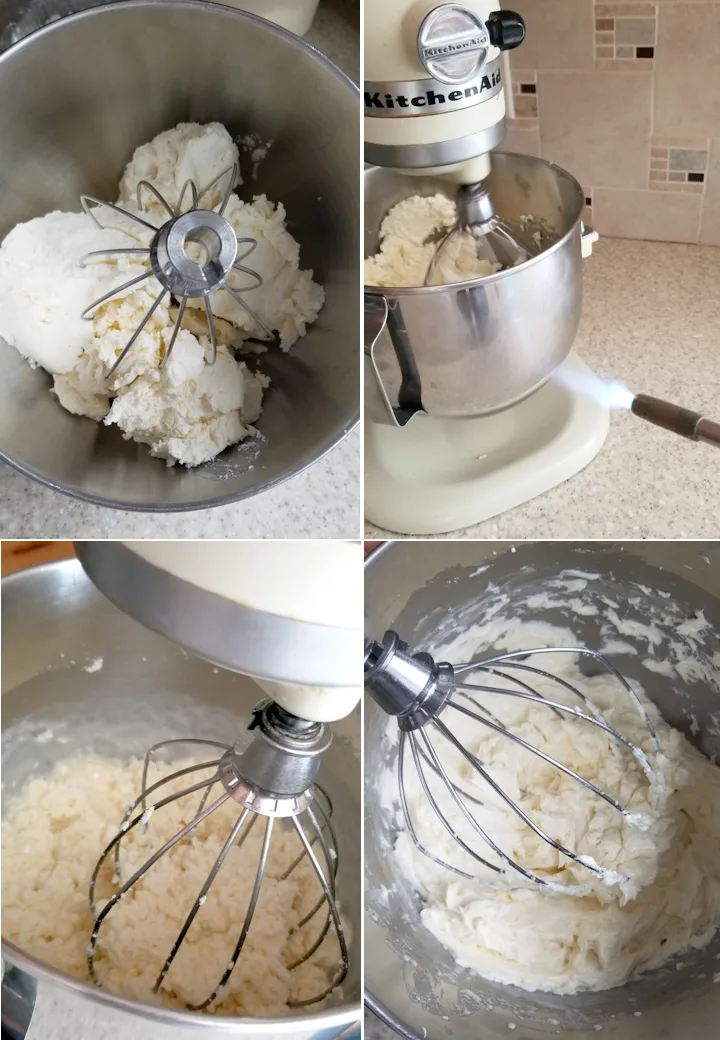 FAQs about German Buttercream
What does German Buttercream taste like?
Because of the custard base, German Buttercream has a rich, ice-creamy flavor.
Can I tint German Buttercream?
Yes, this buttercream takes color very well. I prefer to use a gel color, but you can use any food coloring to tint the buttercream. Add the food color right after you finish making the buttercream.
How can I flavor German Buttercream?
You can add melted chocolate to make Chocolate German Buttercream. Add raspberry puree or other fruit purees for fruit flavor. Liquors such as Limoncello, rum or Kahlua can flavor German Buttercream.
Can I make German Buttercream in advance?
Yes, German buttercream can be stored at room temperature for the better part of a day, refrigerated for several days or frozen for up to 3 months. Bring the buttercream back to room a temperature and re-whip before using.
Is German Buttercream shelf stable?
No, after 6-8 hours the buttercream should be refrigerated or frozen.
How much German Buttercream do I need for an 8″ cake?
This recipe makes enough buttercream to fill and frost an 8″ cake or frost 24 cupcakes.
Can I fix German Buttercream that is curdled or cracking?
Yes, see the previous section explaining how to fix buttercream.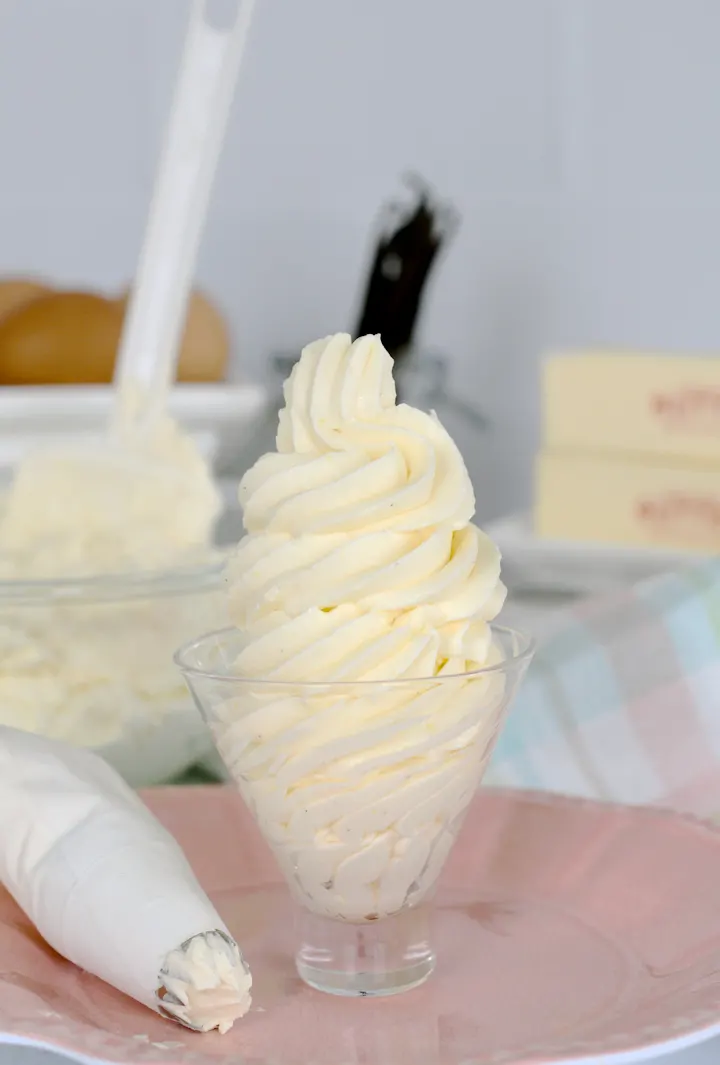 If you love this style of frosting, I think you should try making German Buttercream's American cousin, Ermine Frosting.
If you love this recipe as much as I do, I'd really appreciate a 5-star review.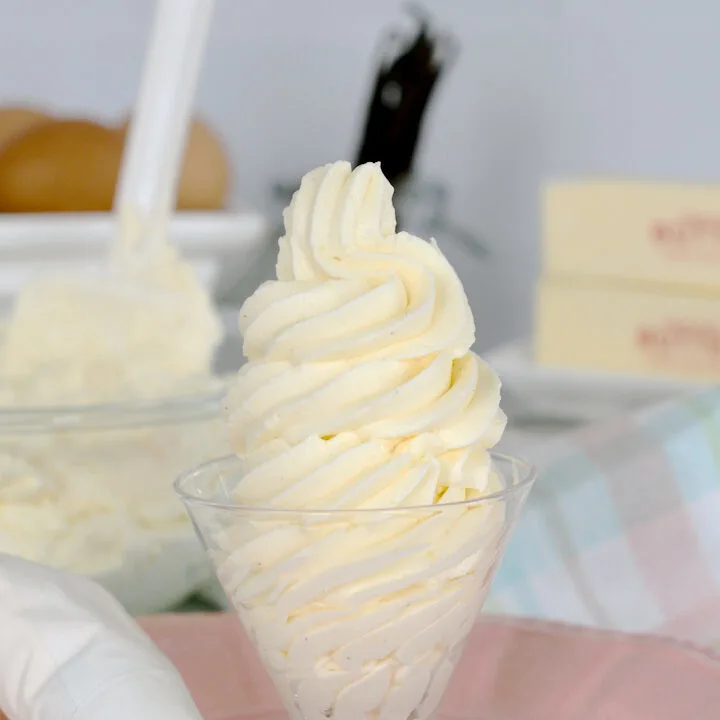 German Buttercream
Yield:
Enough to fill & frost an 8" cake
German Buttercream is less sweet than American Buttercream and a little easier to make than Italian Meringue Buttercream. It's rich thanks to the custard base of the frosting.
Ingredients
1 cup (8 oz, 240 ml) whole milk
2/3 cup (6 oz, 170g) granulated sugar
Pinch of salt
1/2 vanilla bean, split or 1 tablespoon vanilla extract
2 large eggs
2 tablespoons (.75 oz, 20g) corn starch
3 sticks (12 oz, 336g) unsalted butter, room temperature
Instructions
Place the milk, sugar and salt in a small sauce pan. Scrape the seeds from the vanilla bean and add the seeds and pod to the milk. Heat over medium high until scalding.
Meanwhile, in a large bowl use a hand whisk to combine the eggs and cornstarch until smooth.
Whisk the scalding milk into the egg mixture, then return the custard to the pan. Cook over low heat, stirring constantly, until the mixture thickens and just begins to boil. You only need to see 1 or 2 bubbles.
Immediately strain the pastry cream back into the bowl. Place a sheet of wax paper on the surface and cool to room temperature. The custard must be completely cooled. You can chill it in the refrigerator until the middle of the custard is completely cooled. The custard should be at room temperature, not chilled, when it's added to the butter.
Using the beater attachment, cream the butter until light and fluffy. Add the room temperature pastry cream, a little at a time, until completely incorporated. Switch to the whisk attachment and whip the buttercream until it's light and fluffy.
Use immediately to fill and frost your favorite cake.
Notes
One batch of frosting is enough to fill and frost a 9" round cake.
Recommended Products
As an Amazon Associate and member of other affiliate programs, I earn from qualifying purchases.