Apple Maple Baked Oatmeal is pure breakfast comfort food. It's delicious, easy to make and the leftovers are great for snacking.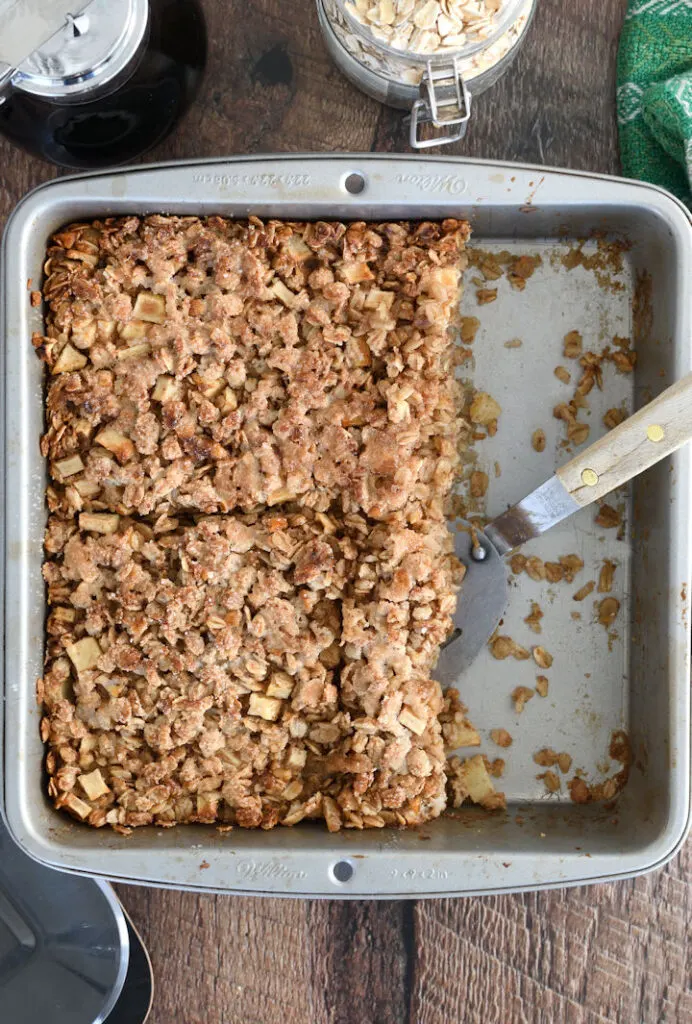 Baked oatmeal is one of my favorite winter breakfasts. It's mixed by hand in one bowl and you can prep the ingredients the night before.
I don't like my breakfast to taste like dessert, so I use just enough maple syrup for a lightly sweet taste. An apple adds a little more sweetness and some moisture.
If you like your oatmeal sweeter you can add up to a 1/2 cup of white or brown sugar to the recipe.
Scroll through the process photos to see how to make Apple Maple Baked Oatmeal: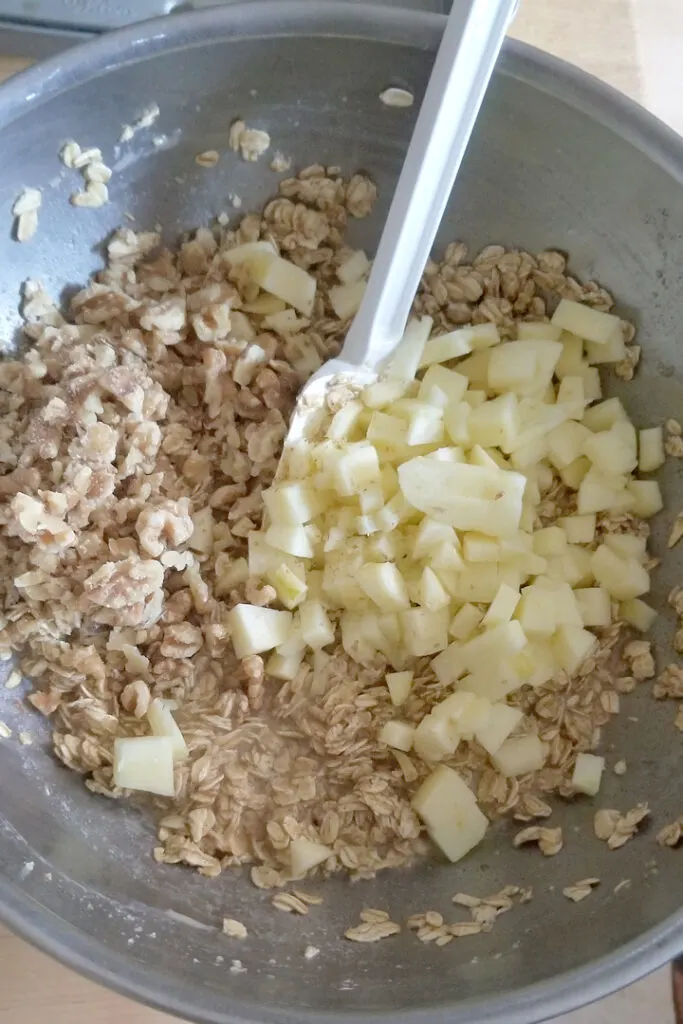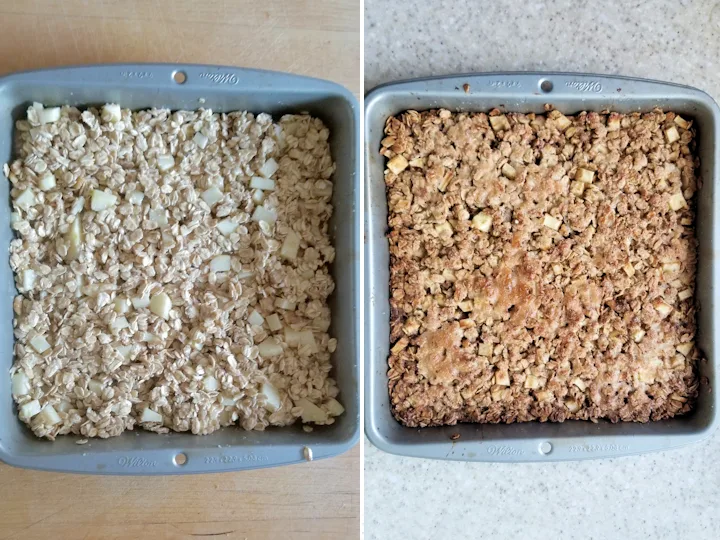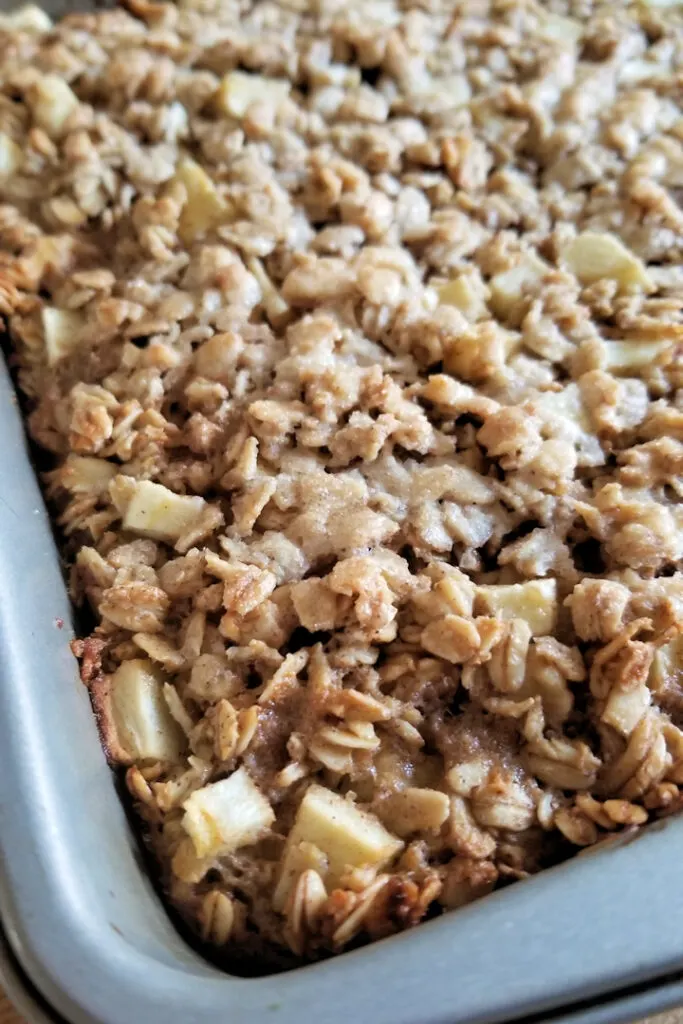 FAQs for making Apple Maple Baked Oatmeal:
Can Apple Maple Baked Oatmeal be made the night before?
You can measure all the ingredients the night before (keep the milk and eggs chilled) then mix and bake in the morning.
How do I eat baked oatmeal?
My favorite way to enjoy baked oatmeal is warm with cold milk poured over top. If you like it a little sweeter you can drizzle it with maple syrup. You can also eat it plain, at room temperature or chilled .
How long does Apple Maple Baked Oatmeal last?
Baked oatmeal keeps at room temperature for one day and for 2-3 days in the refrigerator.
How do I reheat leftover Apple Maple Baked Oatmeal?
To reheat a single portion of baked oatmeal, microwave for 1-2 minutes until the center is warm. A pan of baked oatmeal can be re-heated in a low oven (200°F).
How do I store baked oatmeal?
Refrigerate or freeze left over baked oatmeal.
Can Baked Oatmeal be frozen?
Yes.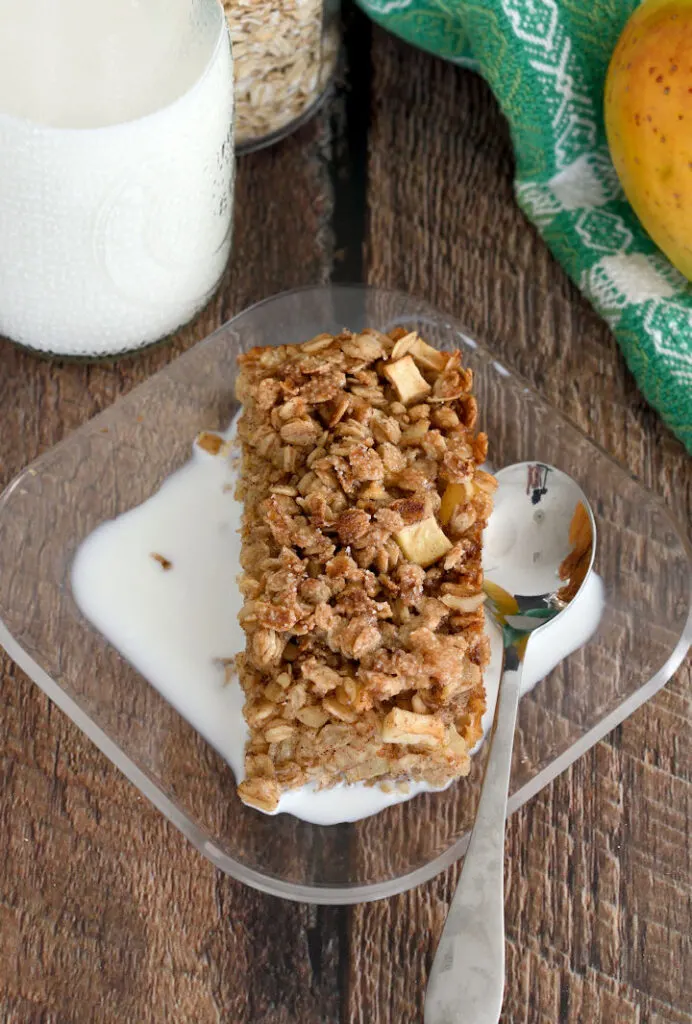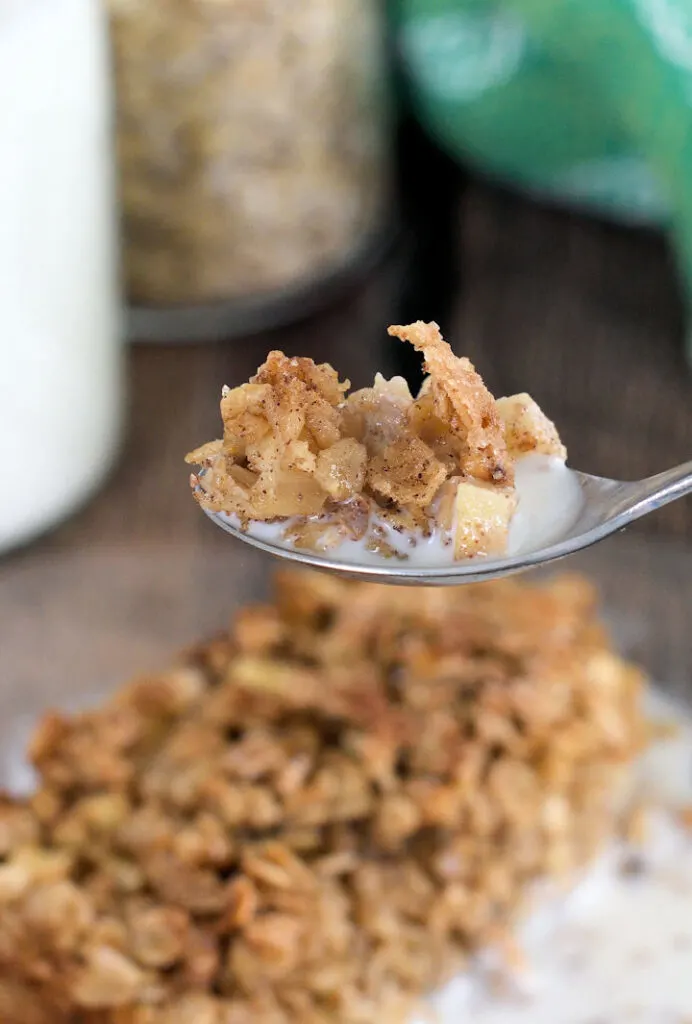 Since we can't have too many oatmeal recipes, you should try these amazing and easy to make Crispy Oatmeal Pancakes made from left over oatmeal.
You should also try Chunky Cranberry Walnut Granola, Sourdough Granola, Peanut Butter Granola or these chewy Sunflower & Apricot Granola Bars for a tasty and satisfying snack or breakfast on the go.
If you love this recipe as much as I do, I'd really appreciate a 5-star review.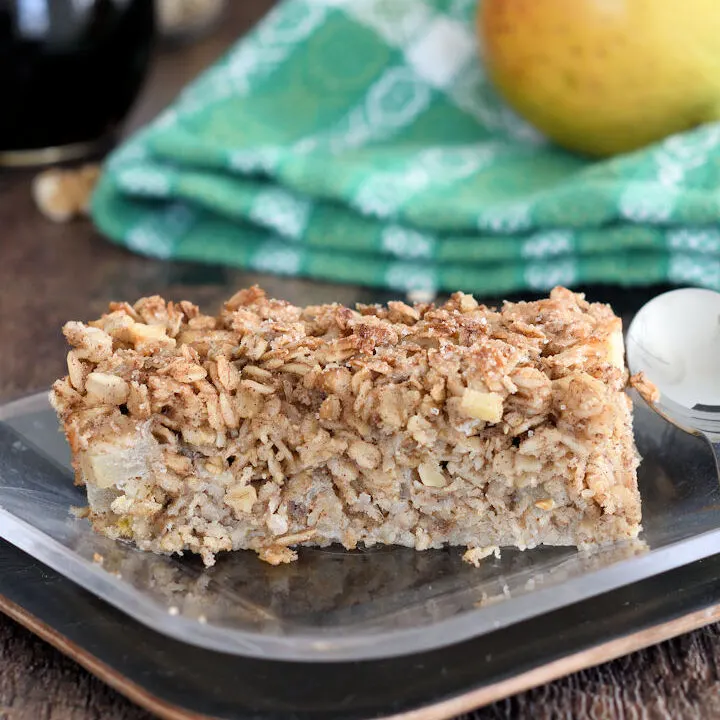 Apple Maple Baked Oatmeal
Apple Maple Baked Oatmeal is delicious breakfast comfort food. It's easy to make and the leftovers make a great snack.
Ingredients
3 cups (10 oz, 280g) old-fashioned rolled oats
2 teaspoons baking powder
1 teaspoon ground cinnamon
1/2 teaspoon table salt
1/4 teaspoon nutmeg
1 1/2 cups (12 oz, 360ml) whole milk
1/2 cup (4 oz, 112g) unsalted butter, melted
1/2 cup (4 oz, 120ml) real maple syrup
2 large eggs
1 teaspoon vanilla extract
1 large apple, peeled and diced to 1/4"
1/2 cup walnuts, chopped fine
2 tablespoons granulated sugar for topping
Instructions
Preheat the oven to 350°F. Butter a 9" square pan.
In a large bowl, combine the oats with the baking powder, cinnamon, salt and nutmeg.
In a large measuring cup, whisk together the milk, melted butter, maple syrup and eggs.
Stir the liquid into the oat mixture until combined. Fold in the chopped apples and walnuts. Pour the batter into the prepared pan and smooth to an even layer. Sprinkle with granulated sugar.
Bake until the center springs back when lightly pressed or a toothpick inserted into the center comes out clean, 30-35 minutes. Optionally, you can turn on the broiler for a minute or two after the oatmeal is done baking. The broiler will caramelize the sugar for an extra crunchy topping.
Cool 10 minutes before slicing.
Notes
This is delicious served warm or at room temperature as a snack. Keep leftovers refrigerated and microwave to reheat.
Recommended Products
As an Amazon Associate and member of other affiliate programs, I earn from qualifying purchases.