Here's a Dark Chocolate Pudding recipe that you'll want to bookmark! This comforting dessert is made with dark cocoa and a hint of rum. You can adjust the cocoa and rum to taste.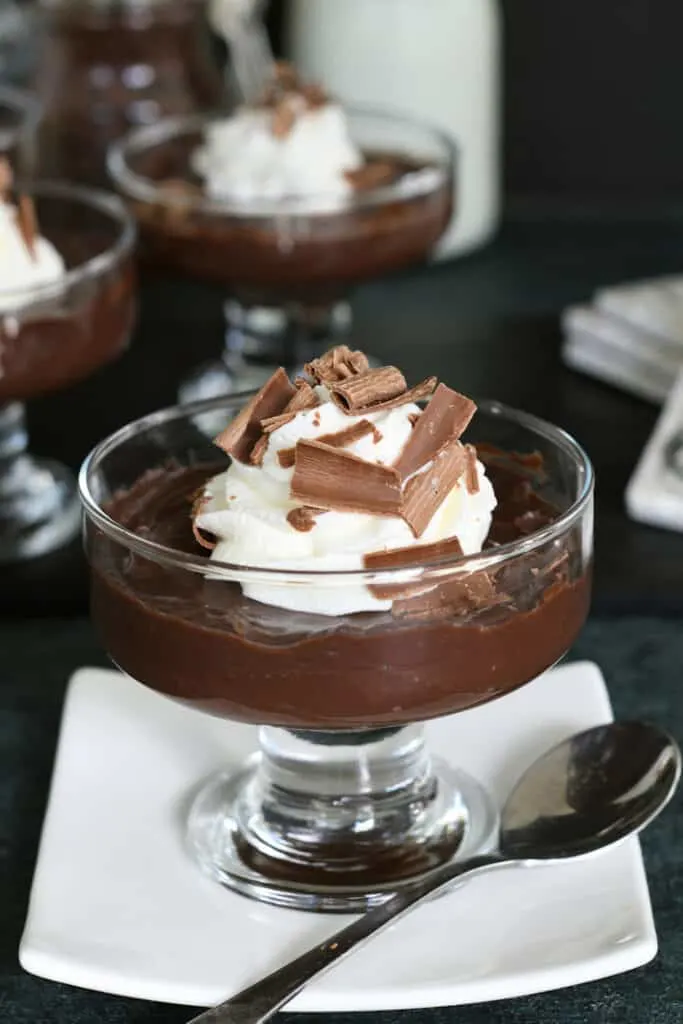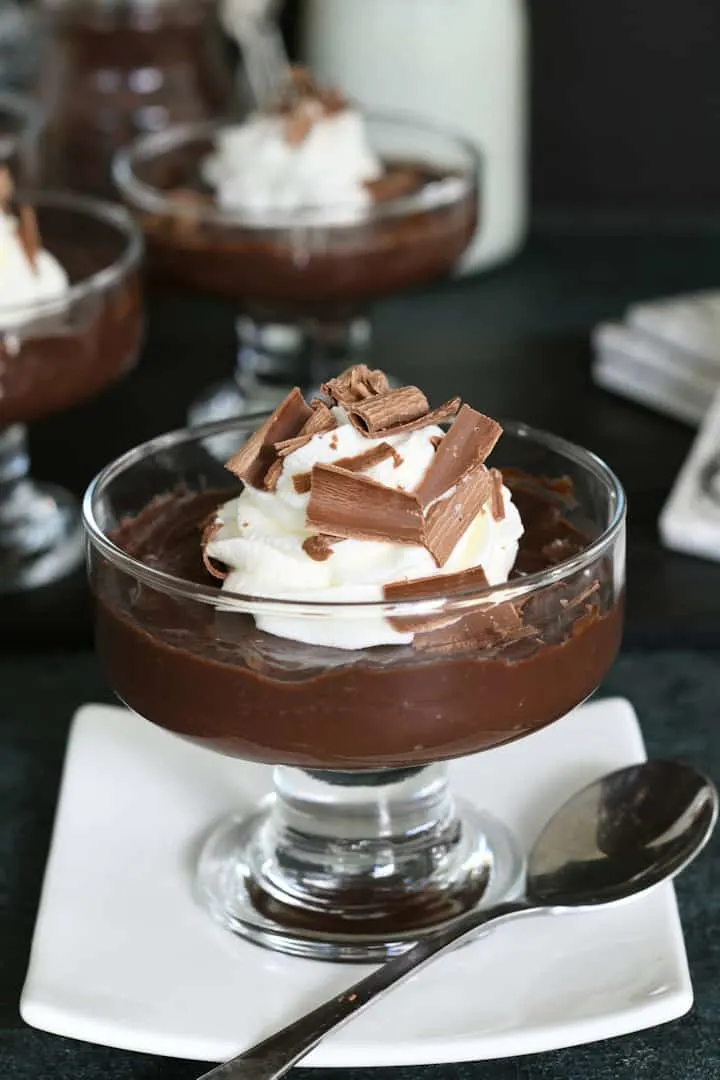 How to make the best Dark Chocolate Pudding:
To get a true chocolate flavor, I use dutch processed cocoa powder. Dutch processed cocoa is darker in color and has a mellow, very true chocolate flavor. I highly recommend the brand listed in the recipe card (as an Amazon Associate, I earn from qualifying purchases). You can use natural cocoa if that's all you have available.
I use a 1/2 cup of cocoa in my pudding for a very dark, deep flavor. If you want a lighter chocolate flavor (that's probably better for kids) use as little as 1/4 cup of cocoa.
I love using rum in chocolate recipes not only because I like the flavor of rum (and I do) but mostly because alcohol enhances other flavors. If you don't do alcohol or you're worried about serving it to children you can reduce or omit the rum. If you're serving both kids and adults, you can divide the pudding before flavoring and just add rum to the grown-ups' portion.
I use both corn starch and egg yolks as thickeners. Cornstarch alone will thicken the pudding, but cornstarch does have a tendency to break down over time or if the pudding is stirred after it has cooled. Yolks add great flavor and can thicken the liquid, but you'll get more thickening power and less chance of curdling with a combination of starch and yolks.
The cornstarch needs to come to a boil to unleash it's thickening power. Make sure you bring the pudding up to a boil and then immediately remove it from the heat.
You can either serve the pudding in a large bowl, family style, or portion the warm pudding into individual serving bowls. However you store the pudding, make sure to cover the bowl to prevent a skin from forming.
Scroll through the process photos to see how to make Dark Chocolate Pudding from scratch: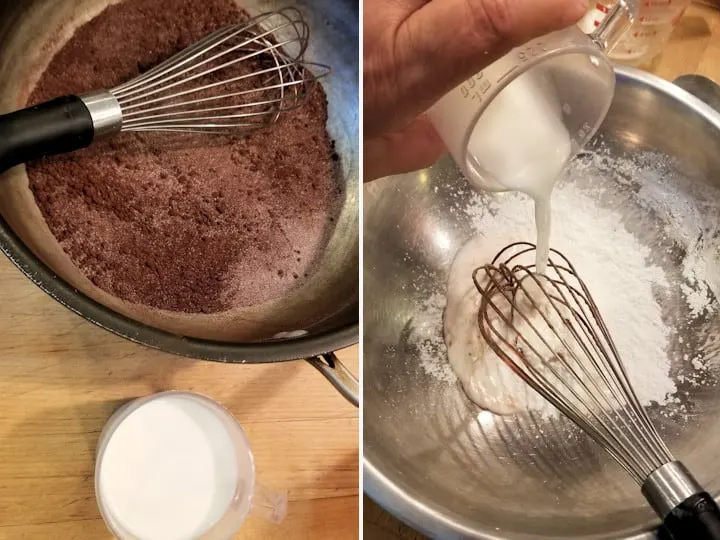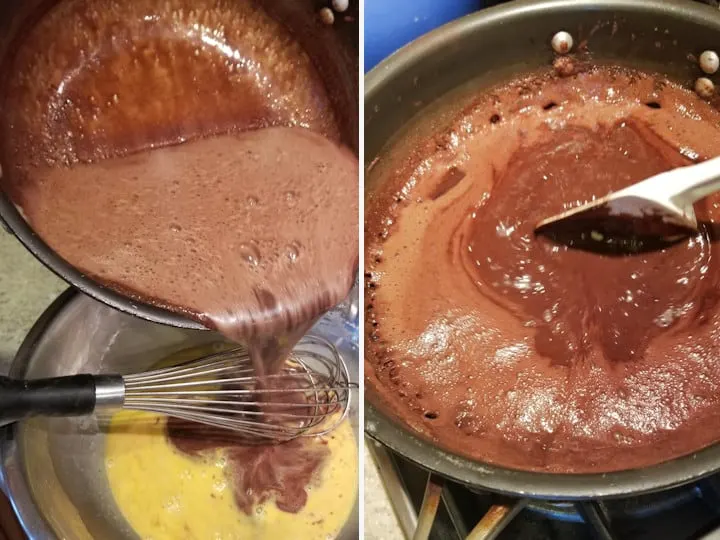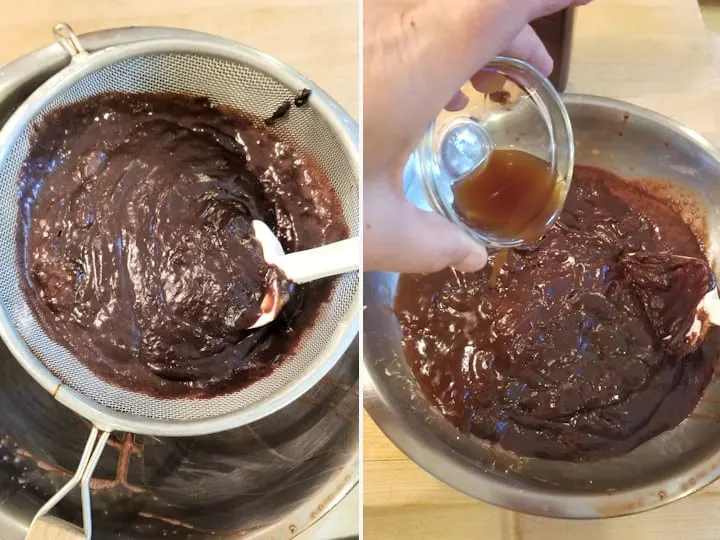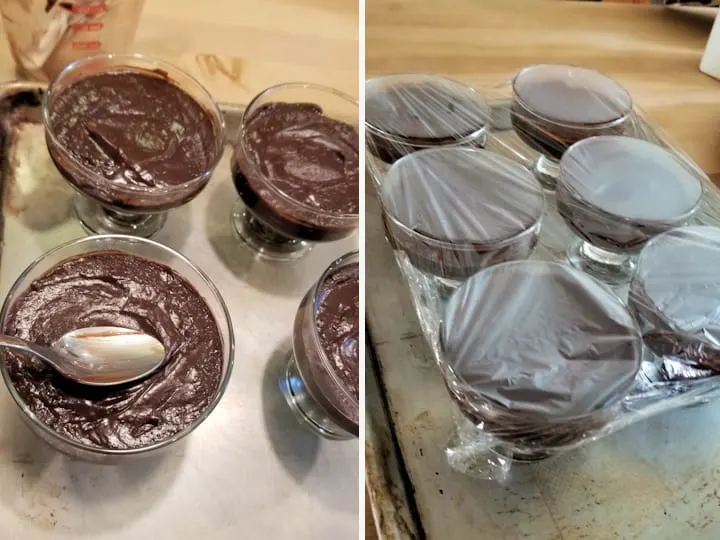 If you're a chocoholic (and I bet you are) you should also try Dark Chocolate Mousse and Triple Chocolate Cream Pie.
For another comforting old-fashioned dessert make this Butterscotch Pudding.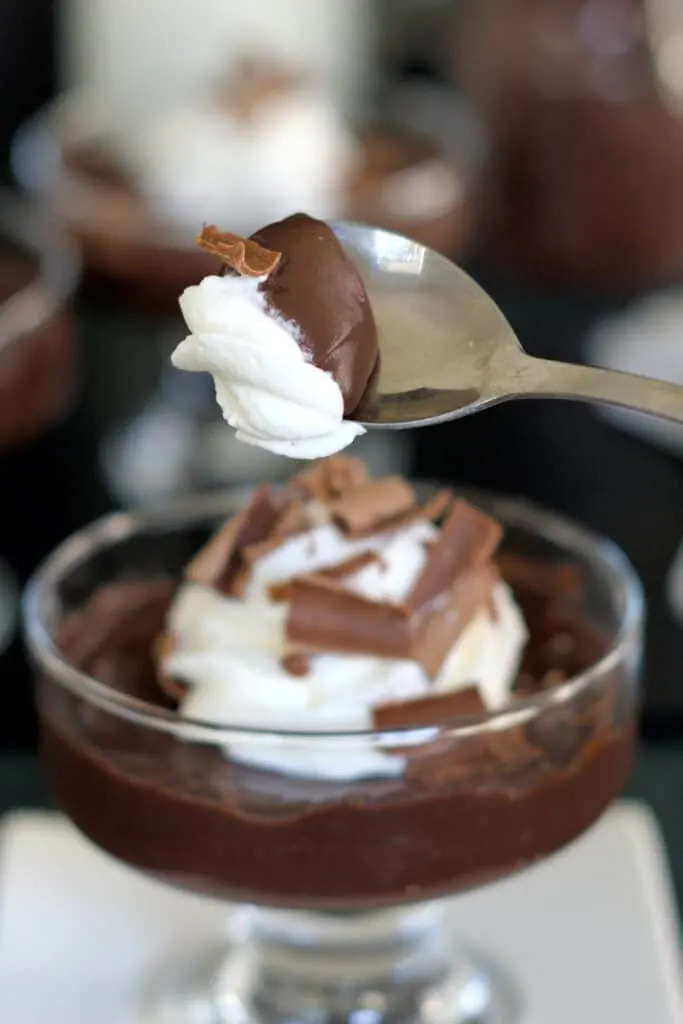 If you love this recipe as much as I do, I'd really appreciate a 5-star review.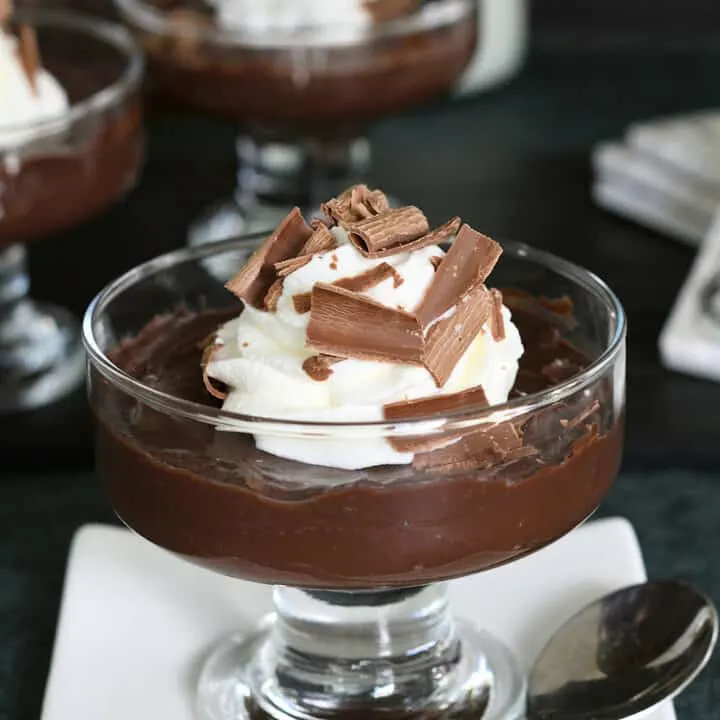 Dark Chocolate Pudding
Total Time:
2 hours
40 minutes
Old fashioned chocolate pudding made with dark cocoa and a hint of (optional) rum.
Ingredients
1 cup (8 oz, 224g) granulated sugar
1/4-1/2 cup (1-2 oz, 28-56g) cocoa powder
1 cup (8 oz, 240 ml) whole milk, divided
2 cups (16 oz, 480 ml) heavy cream
1/4 cup (1 oz, 28g) corn starch
1/2 tsp kosher salt (if you use table salt use 1/4 teaspoon)
6 large egg yolks
2 tablespoons dark rum, optional
1 tablespoon vanilla extract
Instructions
Combine the sugar, and cocoa powder in a medium sauce pan. Slowly whisk in 3/4 cup of the milk until there are no lumps of cocoa. Whisk in the heavy cream. Heat over medium-high until scalding.
Meanwhile, in a large bowl, whisk together the remaining 1/4 cup of milk with the corn starch until smooth. Add the yolks and salt.
As soon as the milk/cocoa mixture is scalding, pour it into the the cornstarch/yolk mixture, vigorously whisking as you pour. Return the entire mixture to the pan.
Stirring constantly, cook over low heat until the pudding begins to thicken and begins to simmer.
Immediately remove from the heat and pour the pudding through a sieve back into the mixing bowl. Whisk in the optional rum and vanilla.
Divide the pudding among 6 serving dishes or one large serving bowl.
Chill until set.
Recommended Products
As an Amazon Associate and member of other affiliate programs, I earn from qualifying purchases.