The is the perfect, moist (I know people hate that word, but it's a fact), super-dark, Old Fashioned Chocolate Cake. Fill it with buttercream, whipped cream or fruit fillings.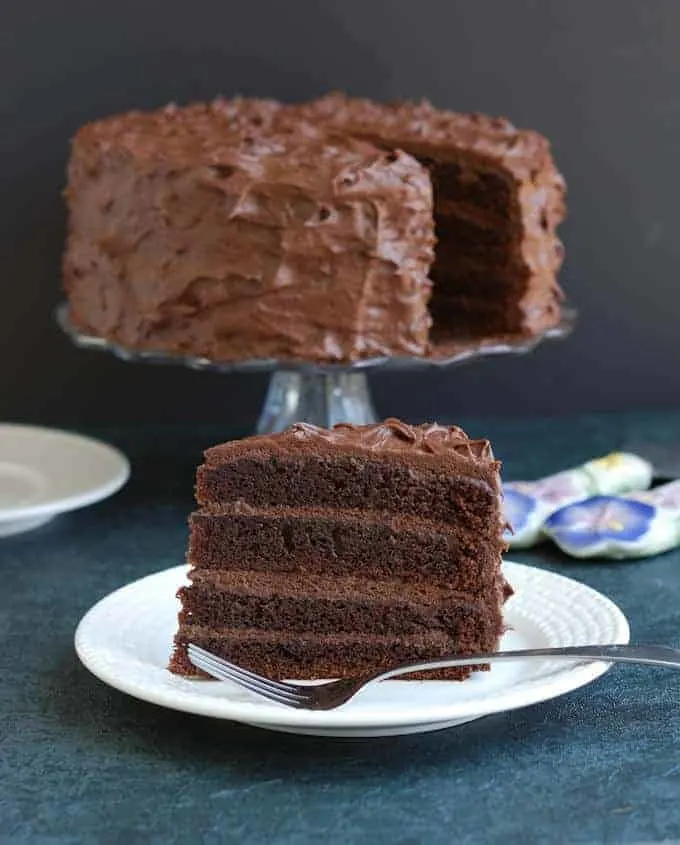 Really? ANOTHER chocolate cake recipe? Yep! Much as I love my Chocolate Butter Cake's melt-in-your-mouth texture, and the super light and airy crumb of my Chocolate Genoise, there is also a place on our menu for this Old Fashioned Chocolate Cake recipe.
So, how is this cake different than those other two cakes? I call this "Old Fashioned" Chocolate Cake because it has a very soft and moist crumb that is reminiscent of a cake made from a box-mix. WHAT??? How dare I talk about cake mix in this everything-baked-from-scratch-all-the-time blog. (Ok, Ok, if you want to call me a snob because I don't use cake mix, go ahead. But the goal of this blog is to teach folks how to bake from scratch.)
But wait, stay with me a minute. While I'm convinced that I can always spot a cake made from a mix because there is a certain artificial flavor that comes through, what cake mixes do have going for them is the super soft, very fine crumb that many, many people think of as the quintessential chocolate layer cake. It's the kind of cake that I grew up with, and maybe you did too.
But we don't have to resort to using cake mix. The secret to making a from-scratch cake with that kind of fine crumb is to use oil, rather than butter, in the recipe. Oil stays liquid at room temperature, so cakes made with oil are softer than cakes made with butter. Oil has more water than butter, so the wet batter bakes up into a very moist (again, sorry it's just the best description) cake.
This is the recipe you want to bake when, A: you want a simple cake that comes together very easily without any fussy techniques, and, B: you want the sweeter, softer taste of an Old Fashioned Chocolate Cake.
What's the perfect icing for this Old Fashioned Chocolate Cake? Why, Old Fashioned Chocolate Frosting, of course. I'll even go so far as to suggest that you skip the pastry chef-y, smooth-icing technique and ice the cake with the "Betty Crocker swirls" that make it look like a cake from a 1960s TV commercial (and I mean that in a good way).
Watch this slideshow to see how to make Old Fashioned Chocolate Cake:
[metaslider id=10637]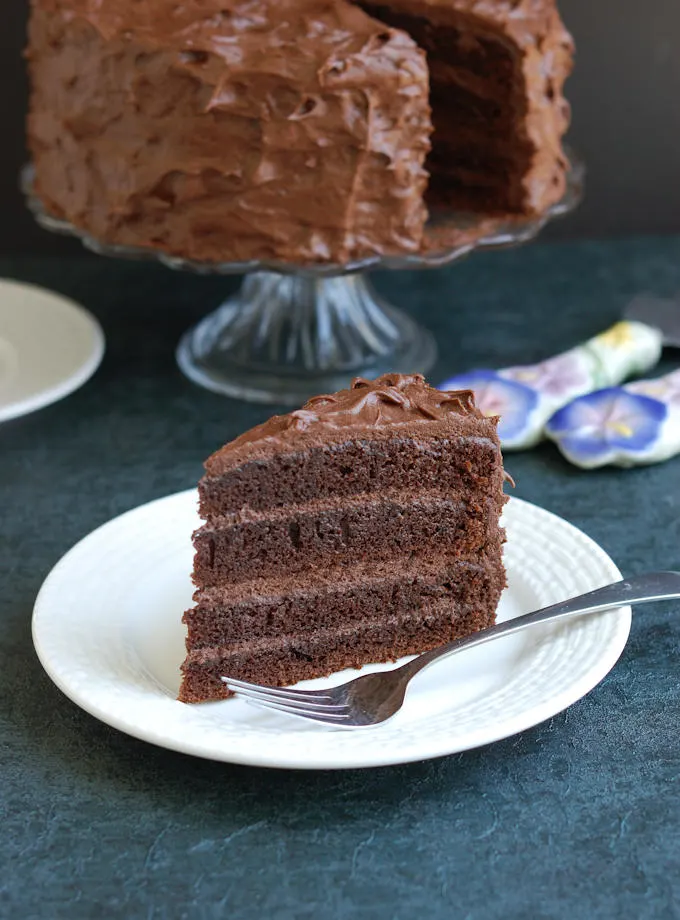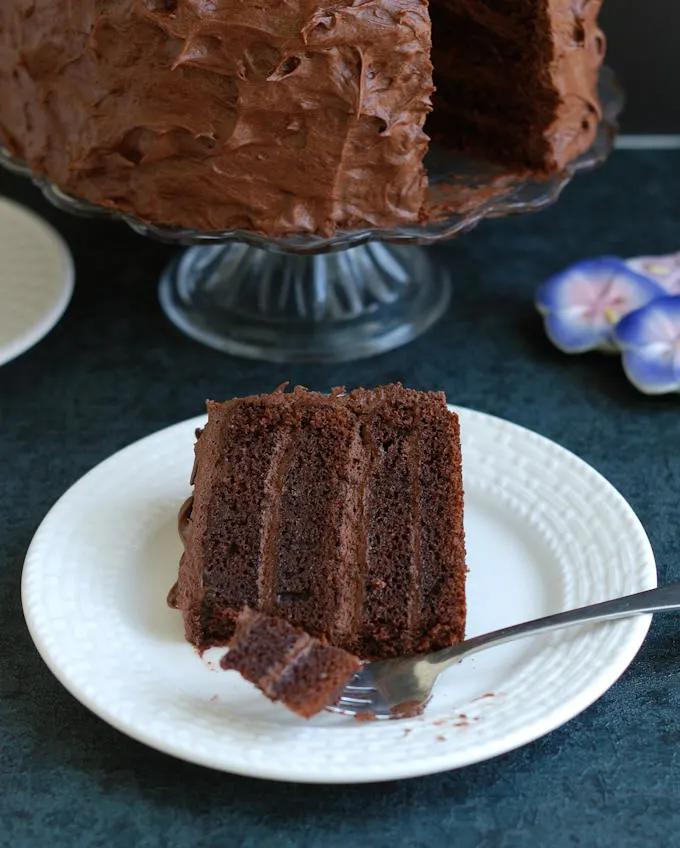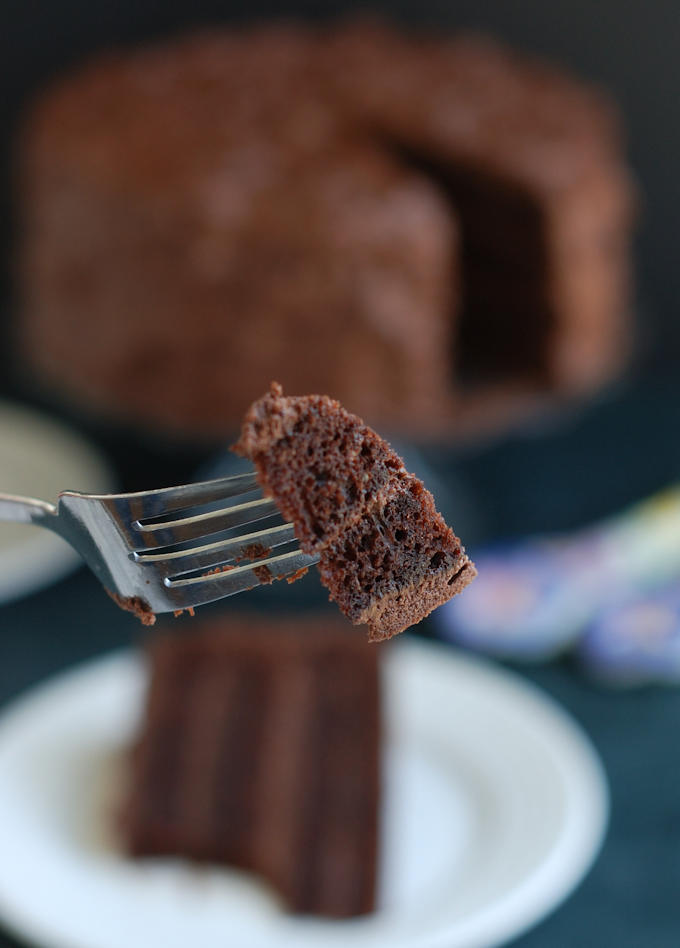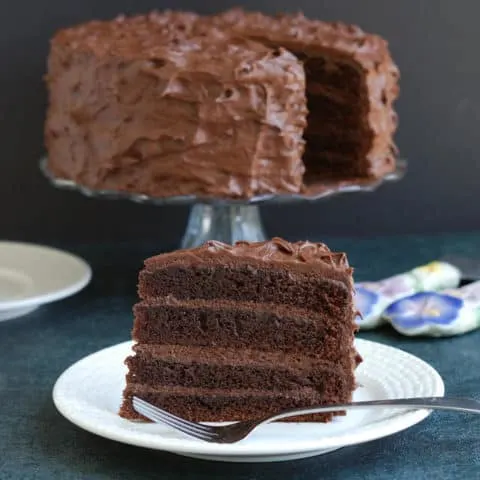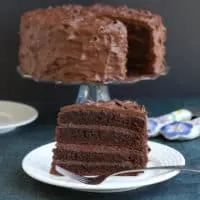 Old Fashioned Chocolate Layer Cake
The is the perfect, moist, super-dark Old Fashioned Chocolate Cake. Fill it with buttercream, whipped cream or fruit fillings.
Ingredients
1/2 cup (2 oz, 55 g) Dutch process cocoa powder
1/2 tsp baking soda
1/2 cup (4 oz, 125 ml) boiling water
2 cups (9 oz, 255g) cake flour
1 tsp baking powder
1/2 tsp table salt
1 cup (8 oz, 255 ml) vegetable oil
4 large eggs
1 cup (8 oz, 225 ml) buttermilk
1 Tbsp vanilla extract
2 cups (16 oz, 455 g) granulated sugar
Instructions
Preheat the oven to 325°F convection or 350°F regular. Line the bottom of two 8" round cake pans with parchment paper, or butter and flour the bottom of the pans (don't butter/flour the sides).
Combine the cocoa and the baking soda in a small heat-proof bowl. Whisk the boiling water into the cocoa, it will foam up a bit from the baking soda. Set aside to cool while preparing the other ingredients.
Sift the flour with the baking powder and salt, set aside.
Combine the oil, eggs, buttermilk, vanilla and sugar in a mixer bowl. Mix on medium speed to combine the ingredients, continue mixing for 2-3 minutes to emulsify the ingredients. With the mixer running on low, add the flour. With the mixer running on low, add the cocoa mixture and mix until completely incorporated.
Divide the batter evenly between the two pans. Bake until the top springs back when lightly pressed or a toothpick inserted in the middle of the cake comes out clean, about 30 minutes.
Cool in the pan for 20 minutes before turning out onto a cooling rack.
Cool completely before filling and icing.