Pistachio Apricot Linzer Cookies are a perfect little treat. Tender pistachio cookie dough is sandwiched with apricot preserves. A hint of rum gives the cookies a special flavor.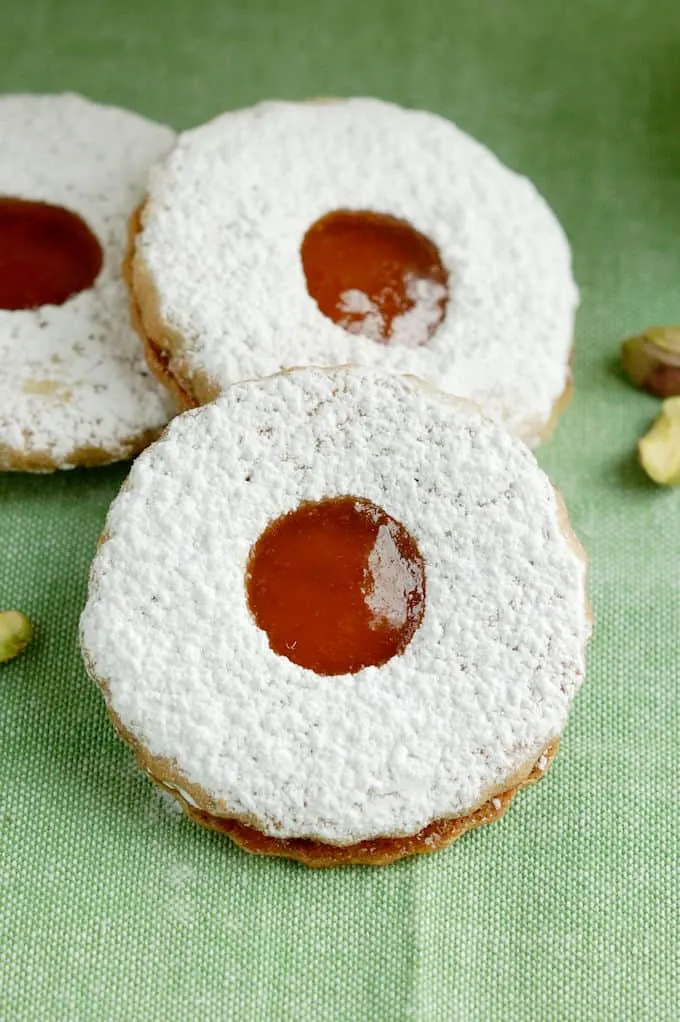 My original Linzer Cookie recipe is the reason I started this blog.
I just happened to serve my Linzer Cookies at several get-togethers over the course of a few weeks. Every time I served them someone would ask me, in all earnesty, why my Linzer cookies were better than any other they'd tasted.
I explained more than once that the cookies are so good because the rum in the dough enhances the other flavors. I expected their eyes to glaze over. But I realized that folks were not just being polite. They were genuinely interested in how baking works.
This interest in the "whys and hows" of baking is the reason I started Baking Sense. Explaining how to make your recipes better is my mission.
Now I'll explain how I adapted that original Linzer Cookie recipe for this new version of the classic cookie.
How to make Pistachio Apricot Linzer Cookies:
These cookies are a simple variation on the original. The main switch I made was using ground pistachios instead of almonds. I used a little more pistachios than I do almonds because I wanted the flavor and color to be more prominent.
You'll probably find both raw and roasted pistachios in your grocery. So I tested both types in this recipe.
I thought that maybe the color would be more green with the raw nuts or the flavor might be deeper with the roasted nuts.
You know what? It didn't matter. Either will work just fine in this recipe. The differences were indistinguishable. If you use salted nuts (I used unsalted) you might want to eliminate the salt in the recipe. If you like a little salty edge in your sweets, leave it in.
I also tested baking the cookies as soon as they were rolled, after chilling for an hour and straight from the freezer. There was no appreciable difference in how much the cookies spread or rose if they were chilled or frozen.
One note; I rolled and cut the dough fairly quickly in a very cool kitchen (it was December while I was testing). If it's summer and the dough gets very soft while you're working, I would definitely recommend chilling before baking.
Scroll through the step by step process photos to see how to make Pistachio Apricot Linzer Cookies: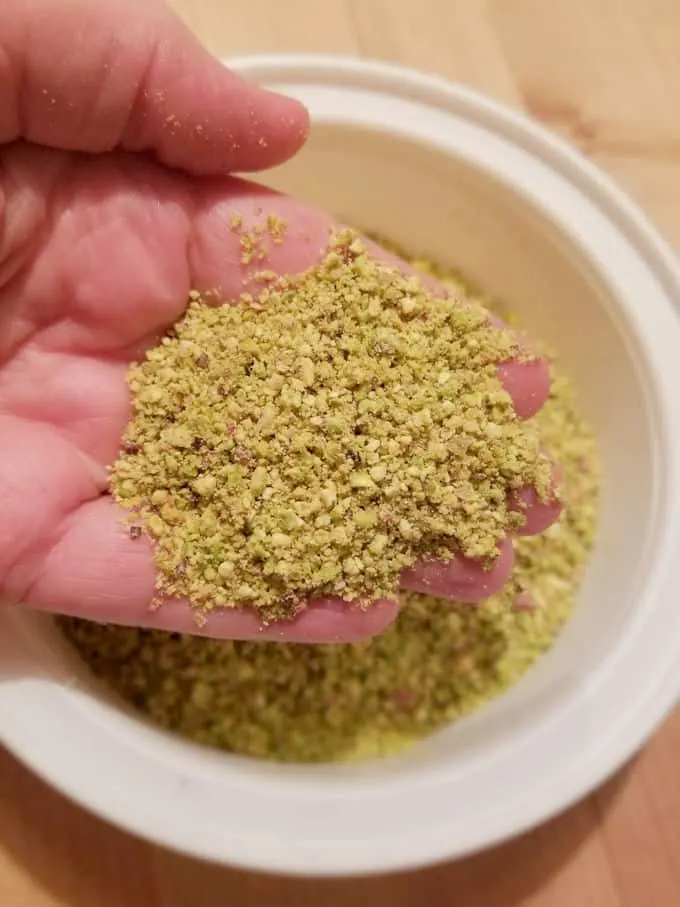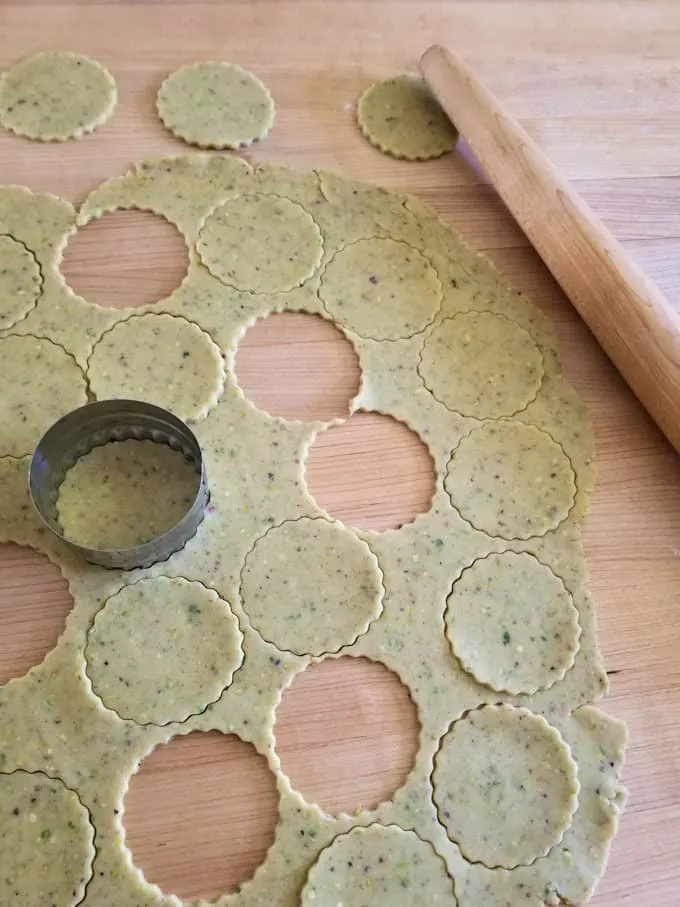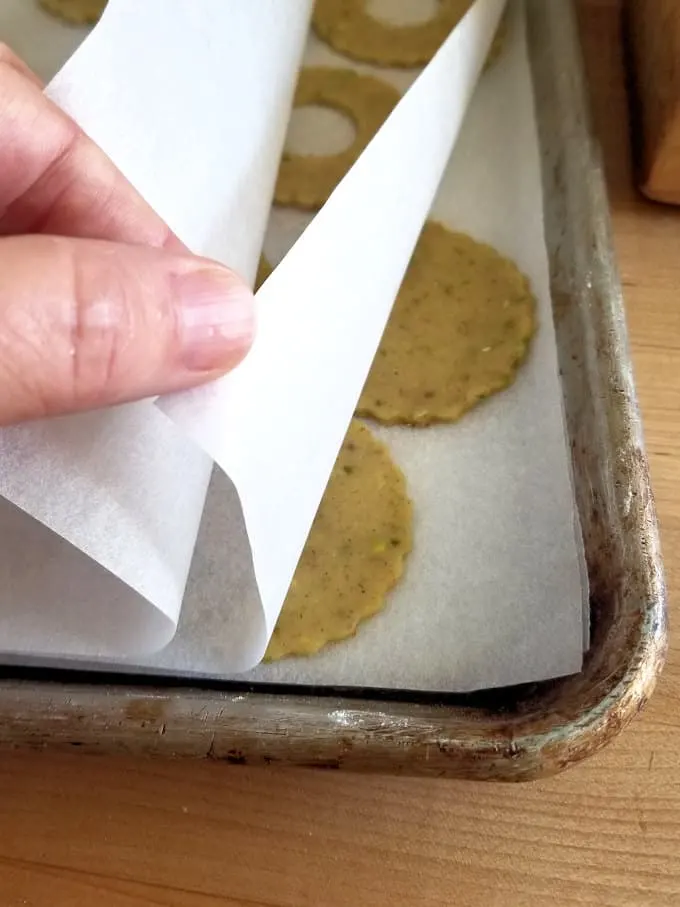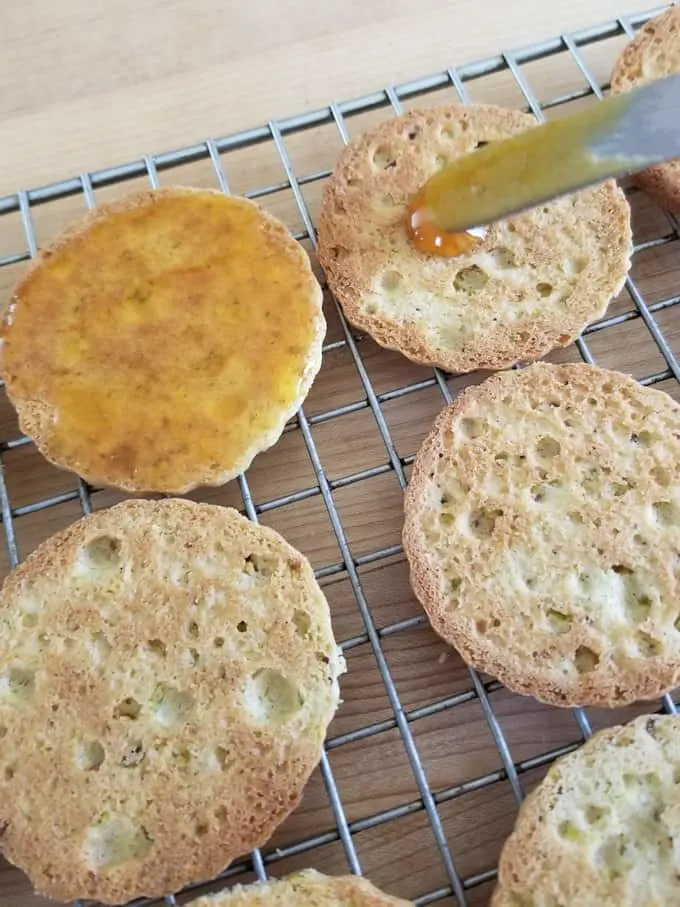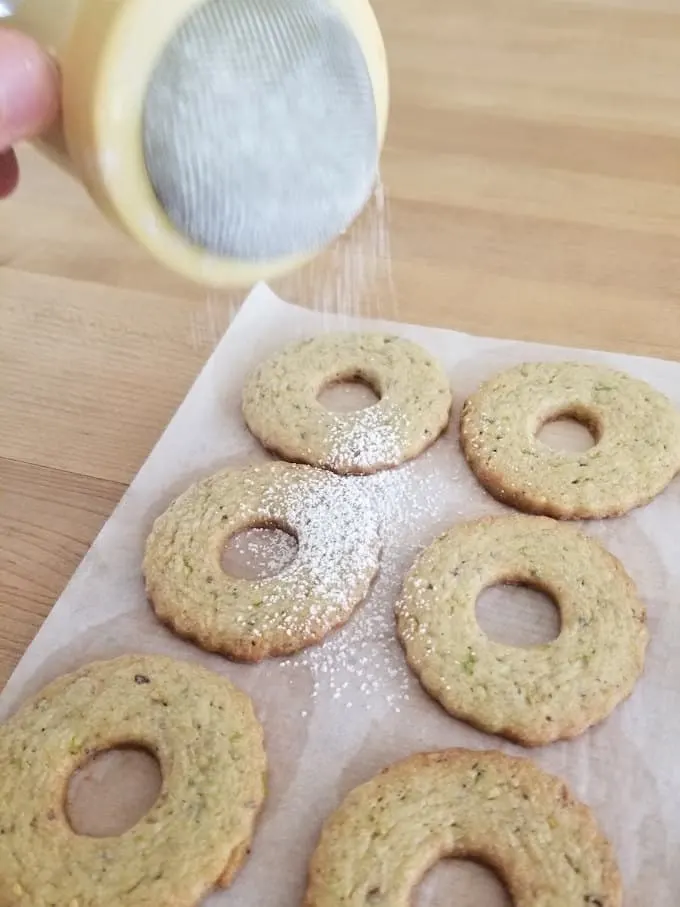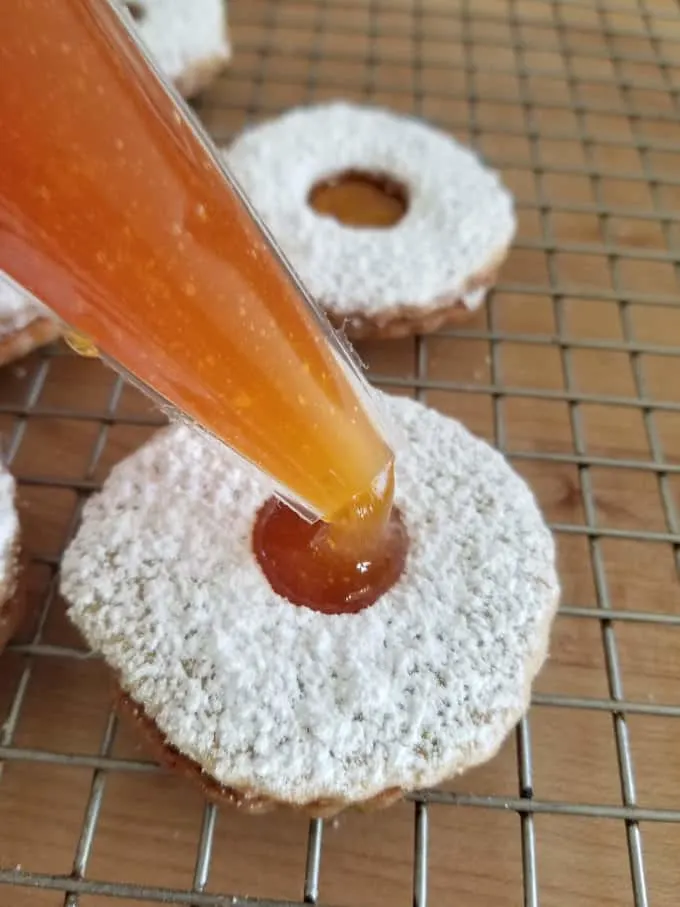 FAQs about Pistachio Apricot Linzer Cookies:
What type of pistachios should I use?
Use either raw or roasted pistachios. I prefer unsalted, but salted will work if you eliminate the salt in the recipe.
Can Pistachio Apricot Linzer Cookies be made ahead?
Yes! You can make the dough and refrigerate it several days before rolling. The unbaked cookies can be layered with parchment paper on a sheet pan and refrigerated for several days or frozen for several months.
Do I need to defrost linzer cookies before baking?
No, the cookies can go straight from the freezer to the oven. Add 1-2 minutes to the baking time.
Which type of Apricot Preserves should I use?
Use a high quality preserve, but you'll need to strain out the chunks of fruit.
How do I get the sugar on top without getting it onto the preserves?
Sprinkle the sugar onto the cookie tops before assembling the cookies.
How do I fill a linzer cookie?
It's easiest to pipe the preserves into the cookie using a pastry bag. If you don't own a pastry bag you can cut the corner off a plastic sandwich bag or even use a small spoon. It's easiest if you pipe while the preserves are still a little warm. It will set to a shiny finish as it cools.
How do I store Pistachio Apricot Linzer Cookies?
Stack and layer the cookies on a tray or in a plastic storage container. Place sheets of parchment or wax paper between the layers to prevent them from sticking together.
How long do the cookies keep?
In a covered container, the cookies will keep up to a week. In fact, I like them best after a day when they've had time to soften and meld with the preserves.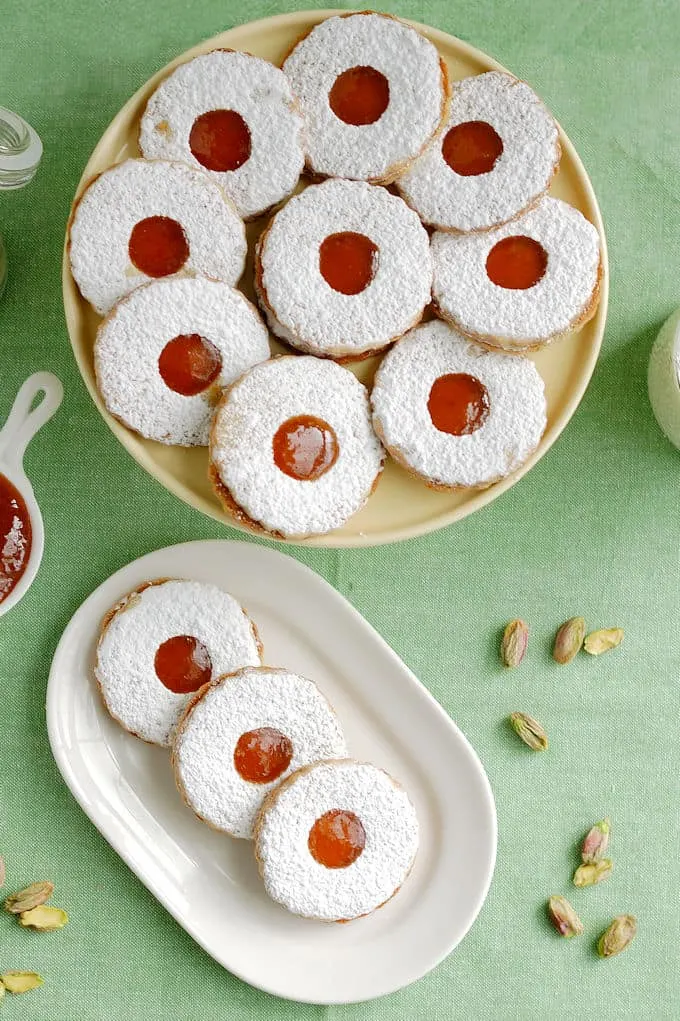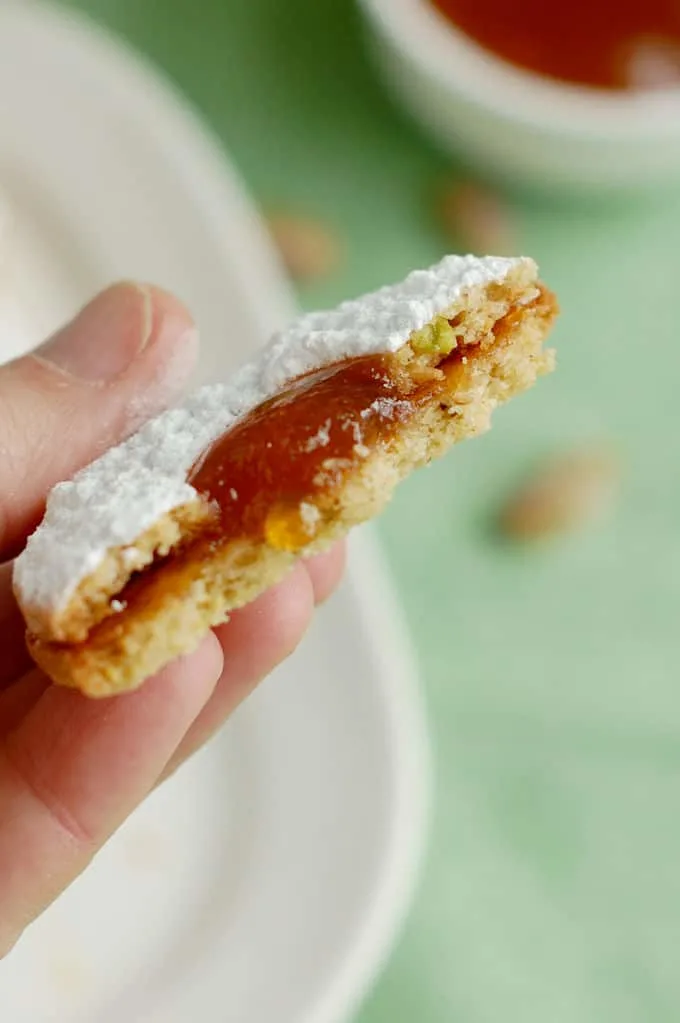 For all you chocoholics, try these fabulous Nutella Sandwich Cookies. If you're ready for a little bit of a challenge, try making 100% Pistachio Macarons. You might also enjoy these adorable Checkerboard Cookies.
If you love this recipe as much as I do, I'd really appreciate a 5-star review.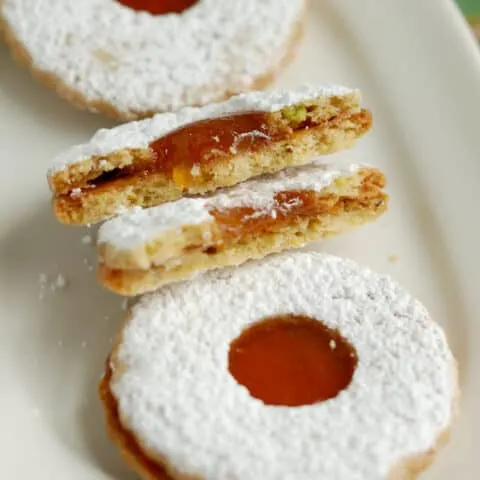 Pistachio Apricot Linzer Cookies
The perfect little cookie - Tender pistachio cookie dough sandwiched with apricot preserves. Just a hint of rum gives the cookie a special flavor.
Ingredients
1 1/2 cups (7.5 oz, 210g) all-purpose flour, plus more for rolling
1/8 teaspoon of salt
1/8 teaspoon baking soda
1 teaspoon ground cinnamon
1 1/2 sticks (6 oz, 168g) unsalted butter, softened
1 1/2 cups (6 oz, 168g) confectioners' sugar
1/2 cup (2 oz, 56g) finely ground pistachios
2 large egg yolks
1 tablespoon dark rum
1/2 teaspoon vanilla extract
confectioner's sugar for dusting
1 jar (16 oz) apricot preserves, about 1 cup after straining
Instructions
Sift together the flour, baking soda and cinnamon. Set aside
Cream the butter and sugar until the mixture lightens in color and is aerated, about 2 minutes. Scrape the bowl thoroughly. Add the ground pistachios, vanilla and rum. Add the egg yolks and mix just until combined. Scrape the bowl thoroughly. With the mixer running on low speed, slowly add the flour mixture.
Turn the dough out onto a lightly floured surface and knead lightly to finish combining the ingredients. Split the dough into two equal portions and form each into a disc. Wrap and refrigerate for several hours until chilled and firm.
Preheat the oven to 350°F. Line two 1/2 sheet pans with parchment paper.
Remove one of the dough discs from the refrigerator. Knead the dough briefly to soften just a bit. Roll the dough to 1/8" thick and use a cookie cutter (whatever shape you prefer) to cut out cookie bottoms.
Set the cookie bottoms onto one of the prepared sheet pans, spaced 1/4" apart.
Reroll the scraps and continue cutting until the first portion of dough is gone. If the dough gets too soft to roll return it to the refrigerator to firm up.
Roll the second portion of dough to 1/8" thick and use the same cutter to cut cookie tops. Use a smaller cutter to cut a hole in the center of each cookie top. Continue rolling and cutting until you have an equal number of cookie tops and bottoms.
Bake until lightly golden around the edges, about 7-8 minutes. Turn the trays after 5 minutes through the baking time. Cool completely.
While the cookies are cooling, warm the apricot preserves briefly in the microwave then strain to remove chunks of fruit.
Dust an even layer of confectioner's sugar over the cooled cookie tops. Flip the cookie bottoms over so the flat side is facing up. Spread a thin layer of apricot preserves over each cookie bottom.
Carefully place a cookie top onto each cookie bottom to form a sandwich. Use a pastry bag or small spoon to fill the cut-outs with the strained apricot preserves. The is easiest of the preserves are still a little warm.
Notes
If using frozen cookies add 1-2 minutes to the baking time.
The cookies keep for several days in a covered container at room temperature. I actually prefer them the second day when they've softened just a bit.
This recipes yields (36) 2" cookie sandwiches. The yield will vary based on the shape and size of the cookie cutter.
Recommended Products
As an Amazon Associate and member of other affiliate programs, I earn from qualifying purchases.