Make Chipotle Peppers at home? Peppers are grown, not made, right? Not always! Chipotle are not a type of pepper that you grow in the garden. Chipotle Peppers are ripe, red jalapeno peppers that have been smoked and dried.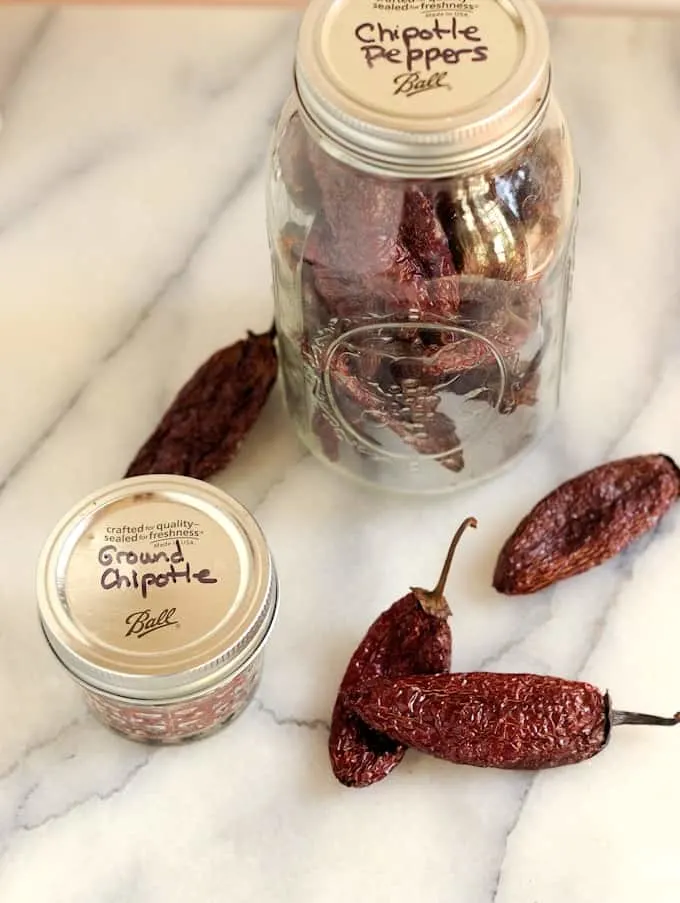 If you've got a bunch of jalapenos from your garden or farmers' market, you can DIY Chipotle Peppers at home.
Although peppers are a summer crop in my part of the world, the plants will keep producing into the early fall. In fact, the plants seem to put out loads of peppers as the weather starts turning cool.
We're still getting chiles in our farm share and we've saved up quite a few hot peppers over the last few weeks. I've already made Picked Jalapeno Peppers and Ghost Pepper Jelly. Pickling and jellying (is jellying a verb?) are great ways to preserve seasonal produce.
Since I've already pickled and jellied some of my hot peppers, I needed another way to preserve the lovely red and ripe jalapeno peppers in my refrigerator. I decided to preserve them by smoking and drying, which turns them into one of my favorite ingredients, Chipotle Peppers.
This is the shortest recipe I've ever written since it has just one ingredient, ripe jalapeno peppers. Well, if you count "smoke" as an ingredient then I guess it has two.
You don't have to have a special smoker grill to make Chipotle peppers at home:
We have a large charcoal grill with a smoker box attached. But even with a kettle style charcoal grill or a gas grill you can still create the right smoky environment for DIY Chipotle Peppers. See the notes in the recipe to find out how to turn any grill into a smoker.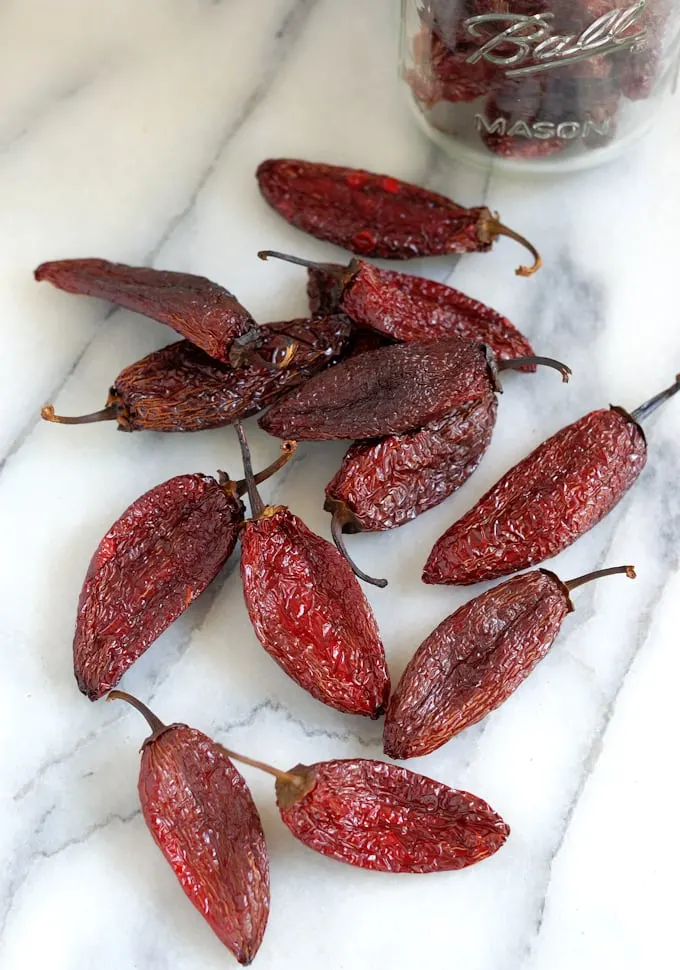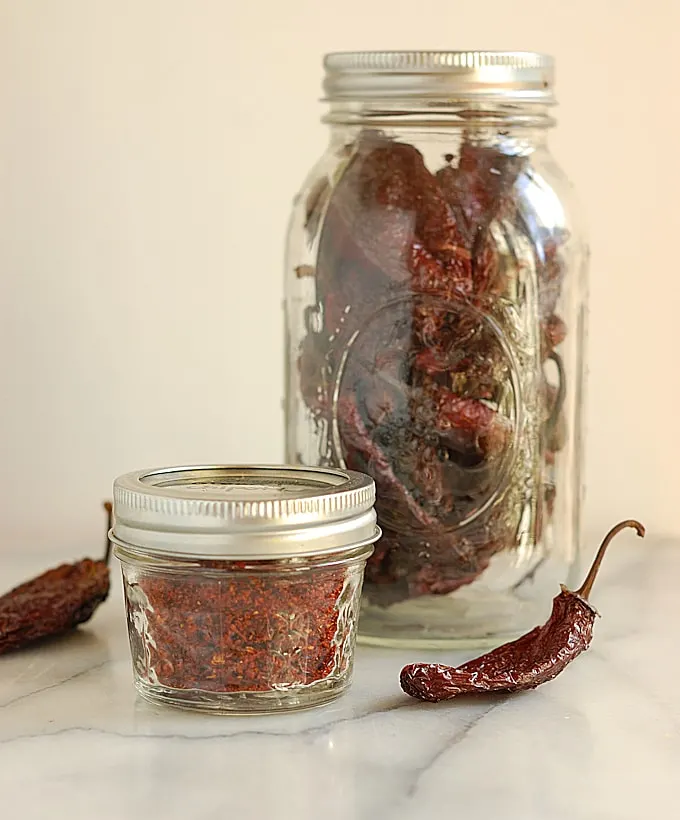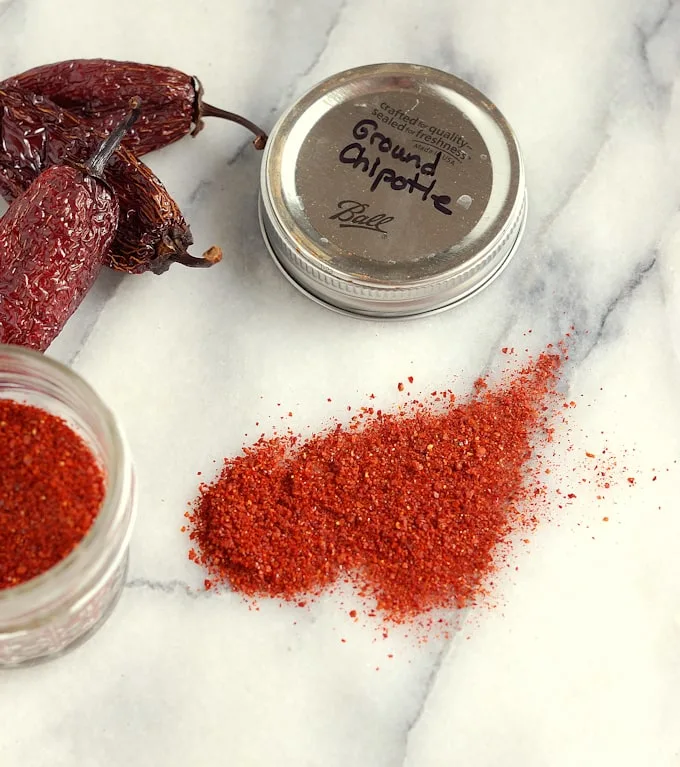 I stored my DIY Chipotle Peppers in a mason jar to keep them clean and dry, and to keep the smoke smell out of my spice cabinet. To use them in any recipe simply soak them in boiling water to soften or add right to a soup or stew.
How to make Chipotle Powder:
I made Chipotle Powder with some of the dried peppers. I have a coffee grinder that I use just for grinding spices, which made a nice fine powder from the DIY Chipotle Peppers. A blender or small food processor would also work to create your own Chipotle Powder.
The next recipe on my to-do list is DIY Chipotles in Adobe Sauce.
If you love this recipe as much as I do, please consider giving it 5 stars.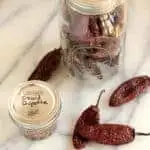 Print Recipe
DIY Chipotle Peppers
When you get a bounty of jalapeno peppers you can smoke them to make your own Chipotle Peppers and Chipotle Pepper Powder.
Ingredients
Ripe

(Red Jalapeno Peppers, as many as you've got.)

Smoking Chips
Instructions
Soak wood chips for at least 2 hours. We used applewood chips.
For a Grill with A Smoker Box
Light a chimney of charcoal. Lay the peppers out on the foil lined grill grate. Set up the smoker box with hot coals and a handful of the soaked chips. Replace the charcoal with new hot coals as needed and add new wood chips as the old ones burn away. Smoke the peppers for 3-4 hours, keeping the temperature between

180-200

°F

.
For a Regular Charcoal or Gas Grill
Set up a hot side and a cool side by turning on half the gas elements to low or piling the hot coals off to one side of the grill.

Arrange the peppers on the cool side of the grill. Place a handful of soaked wood chips on the charcoal. Replace charcoal with hot coals as needed.

For a gas grill wrap the soaked chips in smoker box or a foil packet with slits cut in the top. Place the chips on the grill element to create smoke.
To Dry the Peppers
Remove the smoked peppers from the grill and arrange them on a cooling rack. Place the cooling rack in the oven on the lowest setting possible. Turn on the convection fan if you have one.

Dry the peppers in the oven for 12-24 hours until they are completely dry but still slightly pliable.

If you have a food dehydrator you can use that, but it will smell of smoke when you're done.
As an Amazon Associate and member of other affiliate programs, I earn from qualifying purchases.
Notes
If your oven smells of smoke after the peppers are dried you can run the self clean cycle to get rid of the odor.
Nutrition
Serving:
1
serving
|
Calories:
4
kcal
|
Carbohydrates:
1
g
|
Protein:
0.1
g
|
Fat:
0.1
g
|
Saturated Fat:
0.01
g
|
Polyunsaturated Fat:
0.02
g
|
Monounsaturated Fat:
0.004
g
|
Sodium:
0.4
mg
|
Potassium:
36
mg
|
Fiber:
0.4
g
|
Sugar:
1
g
|
Vitamin A:
157
IU
|
Vitamin C:
17
mg
|
Calcium:
2
mg
|
Iron:
0.04
mg