August is the perfect time for us #Breadbakers to play with peppers-all sorts of peppers; sweet, hot, pickled, black, it's all good. I love hot peppers so I created a recipe for Jalapeno Sourdough Corn Bread.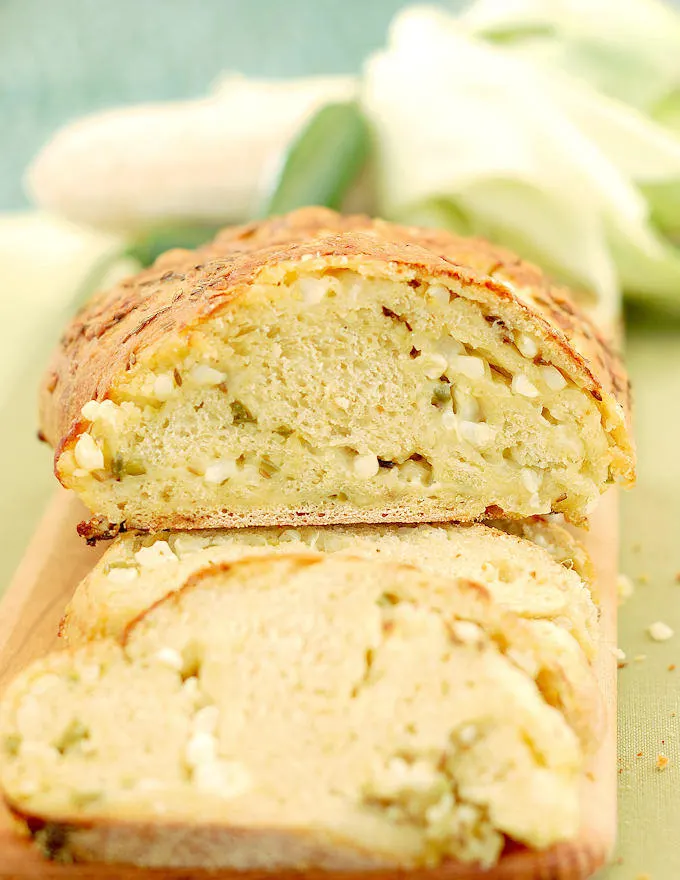 I love to bake hot peppers into bread. The starch in the bread tames the chili heat just enough to let the flavor of the particular pepper come through. This bread would also be delicious made with habanero, or any other hot or sweet pepper. I just happened to have a bunch of jalapenos in the refrigerator from our farm share so that what I used.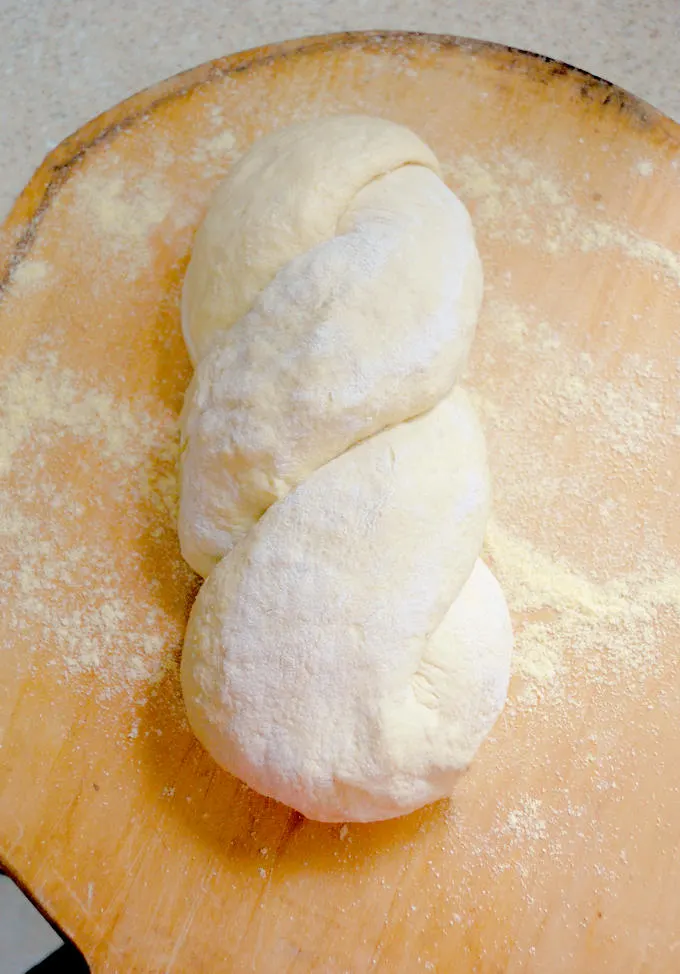 The flavors in this bread are just natural together. Peppers and corn are both in season, and everything is better with cheese, right? I added the cumin seeds because, well, because I just love them.
This is not a light and airy loaf of bread. Adding cornmeal and onion puree to the dough makes a hearty loaf. This is not a "cornbread" so much as a sourdough bread with corn added two ways, cornmeal and fresh corn.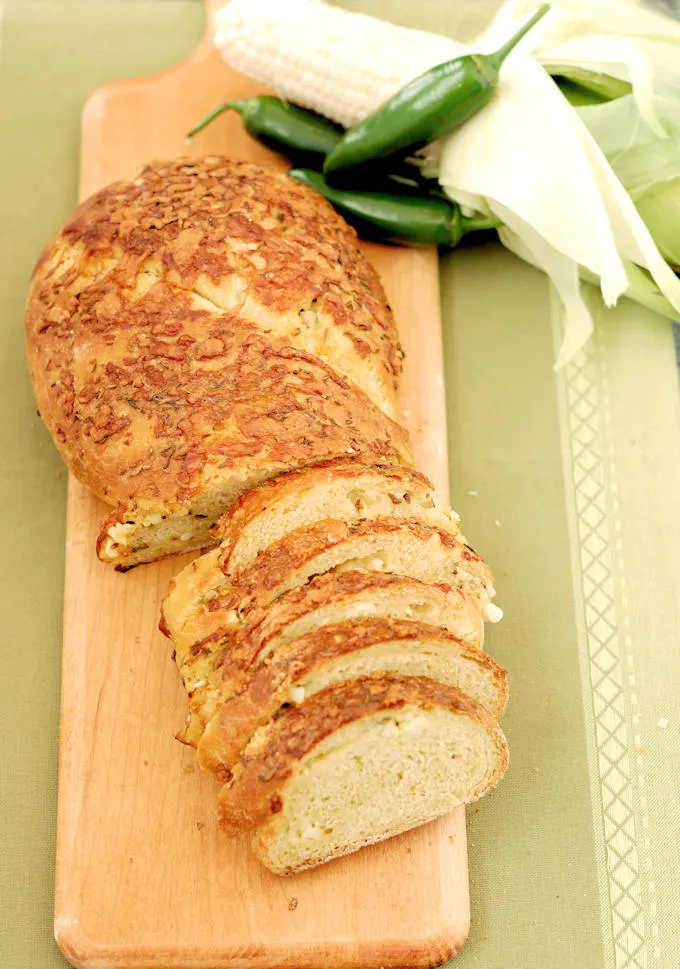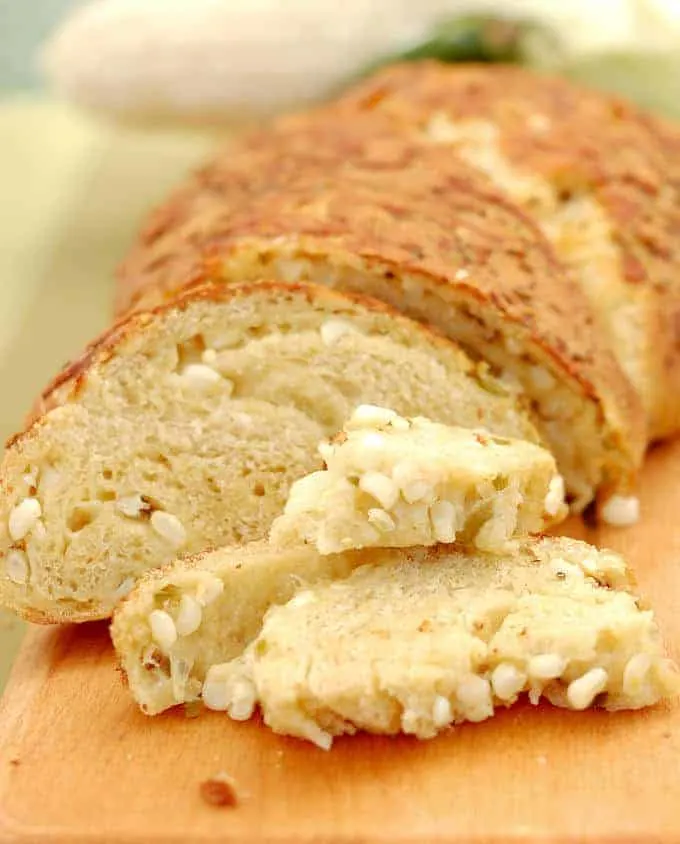 You can eat this bread without any condiments at all. With the corn, cheese and jalapeno filling, it's a snack all by itself. I ate a slice of Jalapeno Sourdough Corn Bread with a beautiful summer tomato salad and it was a perfectly satisfying summer meal.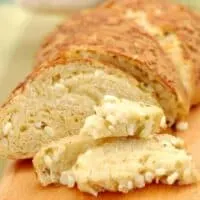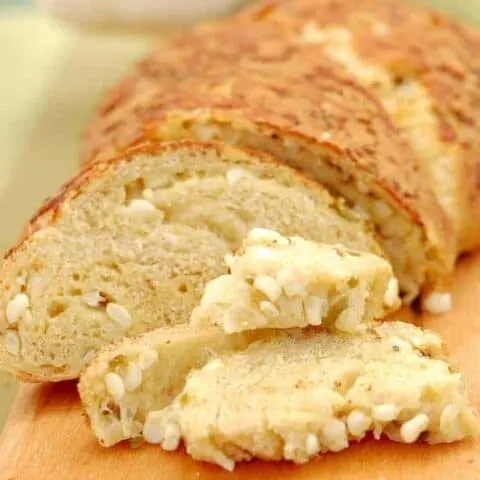 Jalapeno Sourdough Corn Bread
Yield: 1 large loaf

Prep Time: 30 minutes

Cook Time: 25 minutes

Total Time: 55 minutes

A hearty sourdough bread made with fresh corn, jalapeno peppers and cheese. It's a snack all by itself.
Ingredients
1 cup active (250 ml) [url undefined]sourdough starter[/url] (See note if you don't have a starter)
1/2 teaspoon dry yeast (not rapid rise yeast)
1 cup (2 oz, 50 ml) warm water
1 teaspoons salt
1 tablespoon honey
2 1/2 cups (11 oz, 300g) all purpose flour
1 cup (4 oz, 113g) cornmeal
2 tablespoons grated or pureed onion (about 1 small onion)
2 Jalapeno peppers, ribs and seeds removed, minced
4 oz (113g) cheddar cheese, grated
1 cup fresh or frozen corn kernels
1 teaspoon toasted cumin seeds (plus extra for topping)
1 egg whisked with 1 tablespoon of water for egg wash
Instructions
Combine the starter (or sponge-see note), yeast, water, salt and honey in a mixing bowl
Mix with paddle attachment on medium speed to combine
Add 1 1/2 cup all purpose flour and mix for 1 minute on medium speed
With the mixer running on low speed, add the cornmeal and grated onion
Switch to the dough hook
Add the remaining flour, 1/4 cup at a time, until the dough gathers around the hook and cleans the sides of the bowl
You can mix the dough by hand starting with a wooden spoon and switching to your hands when the dough gets too thick to stir.
Turn the dough out onto a floured surface and knead a few times to create a smooth ball
Place the dough into a lightly oiled bowl, turn once to coat the dough
Cover the bowl with plastic wrap
Set aside in a warm place until doubled in volume, about 1 1/2-2 hours
Dump the dough onto a lightly floured surface and gently stretch to a 16"x8" rectangle
Brush the entire surface of the bread with egg wash
Sprinkle the dough with the grated cheese, corn, cumin and jalapeno
Tightly roll the dough into a log, pinch the seam to seal
Use your palms to gently roll the log to 24" long
Cut the log in 1/2 and flip the two ends so that there is a cut and uncut end on each side of the loaf.
Use your fingers to pinch the cut ends closed.
Twist the two logs together to form twisted loaf, folding the uncut ends over the cut ends to seal in the filling
Set the loaf on a wooden peel or sheet pan sprinkled heavily with cornmeal or lined with parchment paper
Spray a piece of plastic wrap with baking spray and cover the dough with the oiled side down
Allow the loaf to rise about 1 - 1 1/2 hours until the dough springs back slowly when poked
Meanwhile, preheat the oven to 375°F convection or 400°F regular, place a baking stone in the oven if you have one.
Brush the surface of the bread with egg wash and sprinkle with cumin seeds
Slide the loaf onto the preheated baking stone (or slide the sheet pan into the oven).
Bake until the loaf is nicely browned and sounds hollow when tapped on the bottom (or the center of the loaf reaches 200°F).
Cool on a wire rack before slicing.
Notes
If you don't have a sourdough starter, make a sponge with 1/2 cup of warm water, 1/2 cup of all purpose flour and 1/2 teaspoon of yeast. Combine the ingredients in a mixer bowl, cover and allow to rise for at least 1 hour or up to 12 hours. The longer you wait to use the sponge, the better the bread's flavor will be. Proceed with the recipe, increasing the amount of yeast listed in the recipe to 1 teaspoon.
Thanks so much Sue Slusser Lau of Palatable Pastime for hosting today's event. Check out these other Peppery and delicious bread recipes:
#BreadBakers is a group of bread loving bakers who get together once a month to bake bread with a common ingredient or theme. Follow our Pinterest board right here. Links are also updated each month on this home page.
We take turns hosting each month and choosing the theme/ingredient.
If you are a food blogger and would like to join us, just send Stacy an email with your blog URL to foodlustpeoplelove@gmail.com.