This Cracked Wheat Bread recipe is a real keeper. Rustic and chewy with a substantial bite, make this bulgur wheat bread when you want a hearty loaf full of whole wheat flavor and goodness.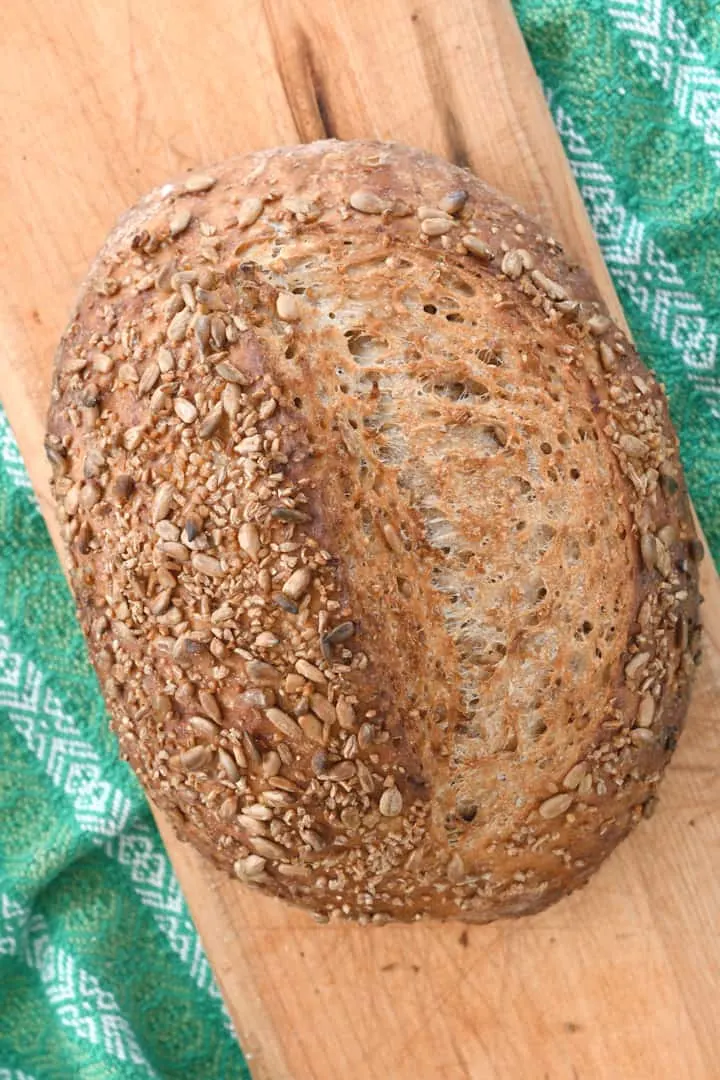 Wheat berries are unprocessed kernels of wheat, which include the bran, germ, and endosperm. Wheat berries and cracked wheat have all the great nutrition and full flavor of a whole grain.
Cracked wheat also adds a nice chewy texture to this hearty loaf of bread.
I used a grain mill to "crack" the wheat berries. I tried running the berries in a food processor but I got whole berries mixed with flour, not the texture I was after.
If you can't find wheat berries you can use bulgur wheat in this recipe. Bulgur wheat is a little different than cracked wheat in that the grains are steamed/parboiled and then dried. I've made this bread with both cracked and bulgur wheat with good results.
If you have a grain mill attachment for your stand mixer you can start with whole berries.
Scroll through the process photos to see how to make Cracked Wheat Bread: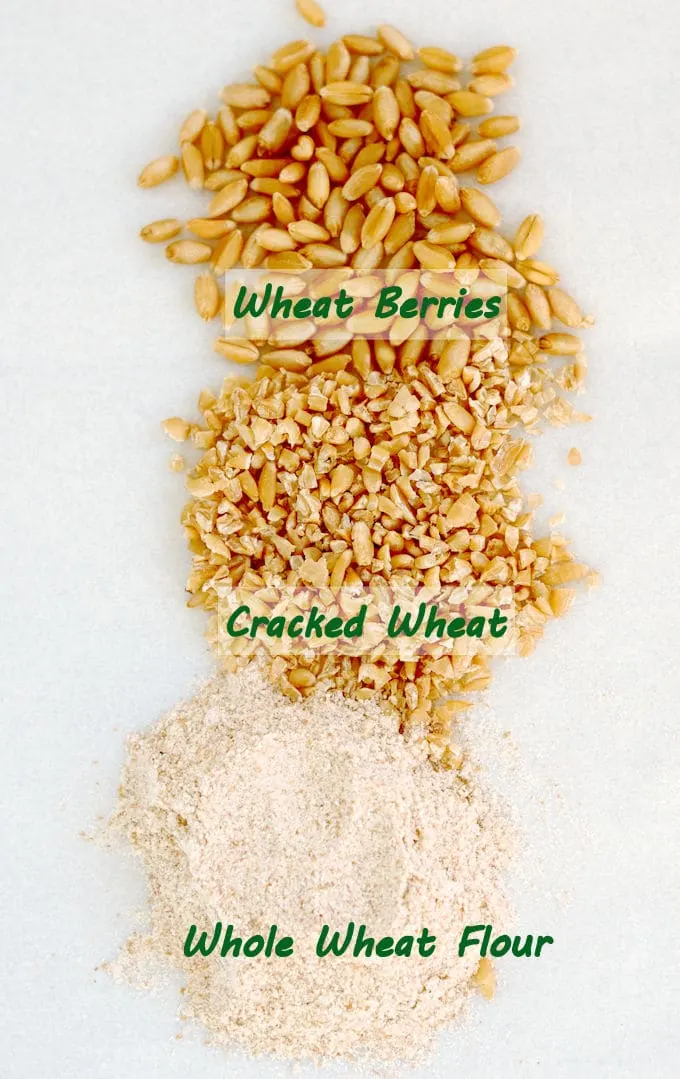 A hint of honey gives Cracked Wheat Bread a nice flavor and helps keep it moist. I love pepitas (pumpkin seed kernels) so I sprinkled them on top of the loaf with some more cracked wheat for a nice crunchy finish.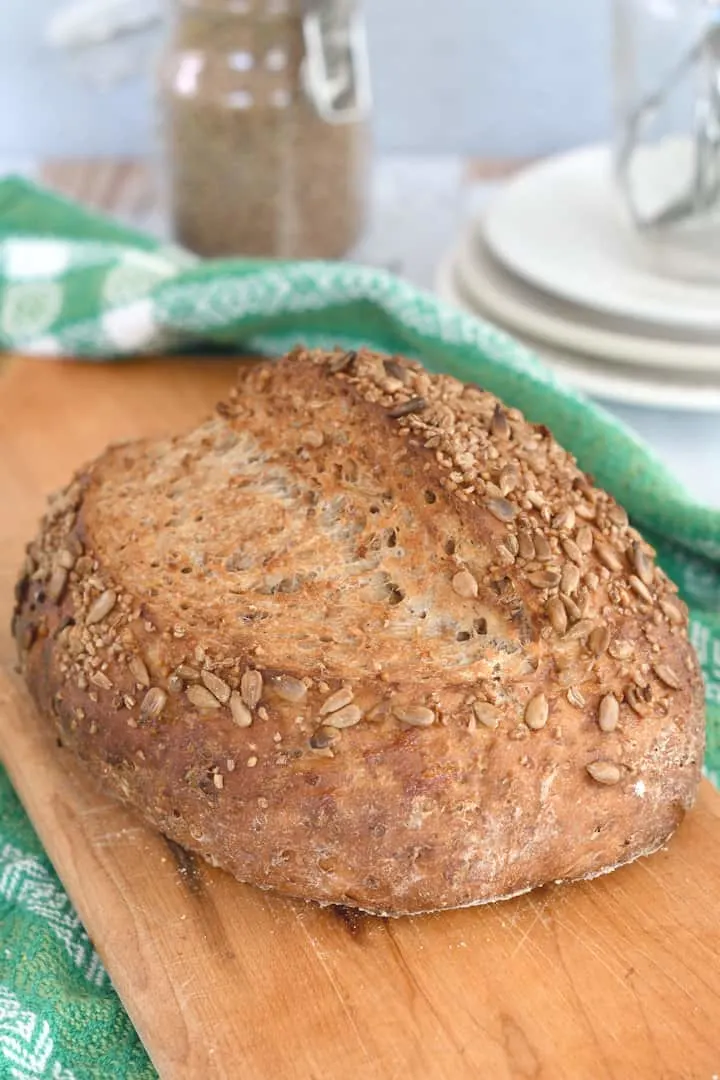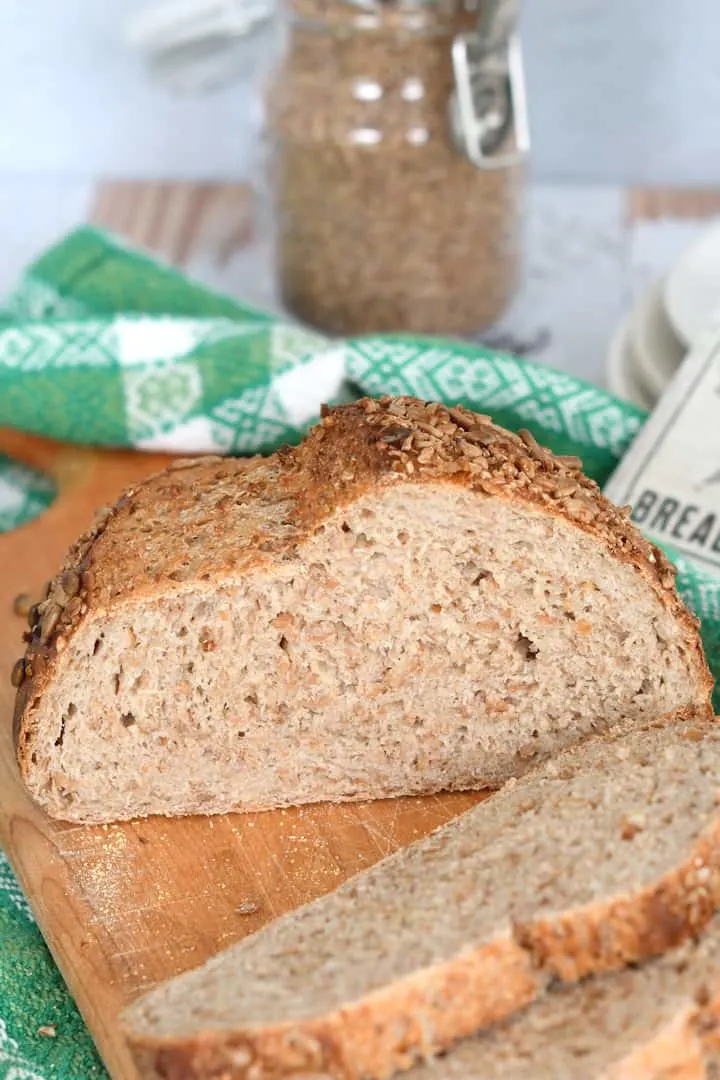 Bread is the staff of life, so here are a few more loaves you might want to bake:
Milk & Honey Whole Wheat Bread
,
Overnight Rye Bread
,
Honey Oatmeal Bread
,
Whole Grain Low Knead Bread
,
Soft White Sandwich Bread
.
If you love this recipe as much as I do, I'd really appreciate a 5-star review.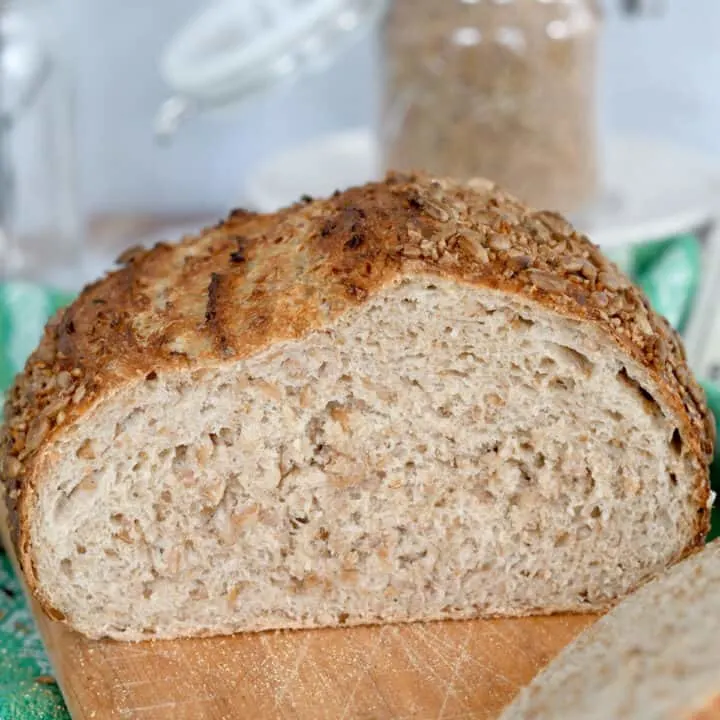 Cracked Wheat Bread (Bulgur Wheat Bread)
Total Time:
2 hours
55 minutes
Rustic and chewy with a substantial bite, Cracked Wheat Bread (aka Bulgur Wheat Bread) is a hearty loaf full of whole wheat flavor and goodness.
Ingredients
1/2 cup (3.5 oz, 98g) cracked wheat (or bulgur wheat)
1 cup (8 oz, 240 ml) boiling water
1/2 cup (4 oz 120 ml) warm water
1 packet (2 1/4 teaspoons, 7g) dry yeast
1 cup (5 oz 140g) bread flour
1 teaspoon salt
1 tablespoon honey (3/4 oz, 21g)
1 cup (5oz, 140g) whole wheat flour
1 egg whisked with 1 tablespoon of water for egg wash
Cracked wheat and pepitas (pumpkin seed kernels) for garnish
Instructions
Combine the cracked wheat and boiling water and set aside until cooled and most of the water has been absorbed.
In the bowl of a stand mixer or a large mixing bowl, combine the 1/2 cup of warm water with the yeast. Add 1/2 cup bread flour and mix to form a thick batter. Cover the bowl and let the batter rest for 30 minutes while the cracked wheat cools. With the mixer running on low, add the cooled cracked wheat along with the soaking water. Add the salt, honey and whole wheat flour. Mix to combine.
If using a stand mixer, switch to the dough hook. Add the remaining bread flour, 1/4 cup at a time, until the dough gathers around the hook and cleans the sides of the bowl. If working by hand mix in as much flour as you can then turn the dough out onto a floured surface and finish kneading in the flour by hand. Knead the dough for 2-3 minutes. Form the dough into a smooth ball
Place the dough into a lightly oiled bowl, turn once to coat the dough. Cover the bowl with plastic wrap and set aside in a warm place until doubled in volume, about 1 - 1 1/2 hours. At this point the dough can be refrigerated for up to 2 days.
Turn the dough onto a floured surface and gently knead for 5-10 seconds. Form the dough into a ball then roll the ends gently to form a football shape. If you will be using a baking stone, set the loaf on a wooden peel sprinkled heavily with cornmeal. If you don't have a baking stone put the loaf on a sheet pan sprinkled heavily with cornmeal or lined with parchment paper.
Cover the loaf with plastic wrap that has been lightly oiled or sprayed with baking spray to prevent it from sticking to the dough. Allow the loaf to rise about 1 - 1 1/2 hours until doubled in sized and the dough springs back slowly when poked. If the dough was cold from the refrigerator it may take longer to rise.
Meanwhile, preheat the oven to 450°F, place a baking stone in the oven to preheat if you have one. Place a small pan (with rocks if you have them) onto the floor of the oven.
When the bread is ready, use a thin, sharp knife or single edge razor to slash 5 diagonal cuts across the top of the loaf. Brush the surface of the bread with egg wash and sprinkle with cracked wheat and pepitas. Slide the loaf onto the preheated baking stone (or slide the sheet pan into the oven)
Pour a cup of water into the preheated pan at the bottom of the oven (CAREFUL, that steam is hot) and immediately close the oven door
Bake until the loaf is nicely browned and sounds hollow when tapped on the bottom (or the center of the loaf reaches 190°F), about 30 minutes. Cool on a wire rack.
Recommended Products
As an Amazon Associate and member of other affiliate programs, I earn from qualifying purchases.