This Cracked Wheat Bread recipe is a real keeper. Rustic and chewy with a substantial bite, make this bread when you want a hearty loaf full of whole wheat flavor and goodness.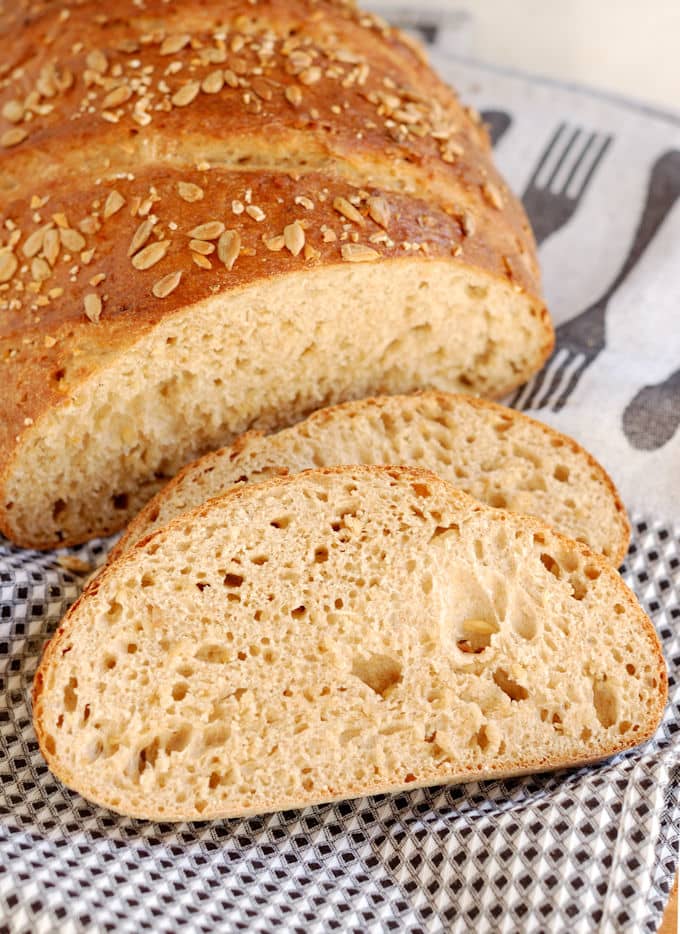 I've had a couple of pounds of wheat berries hanging around in the pantry since my last trip to the Indian grocery store. It was another one of my food-related impulse buys. My son made a very tasty wheat beer from some of the berries a few months ago. I figured I'd better make some bread with the remaining grains before they go bad.
Wheat berries are unprocessed kernels of wheat, which include the bran, germ, and endosperm. Wheat berries and cracked wheat have all the great nutrition and full flavor of a whole grain.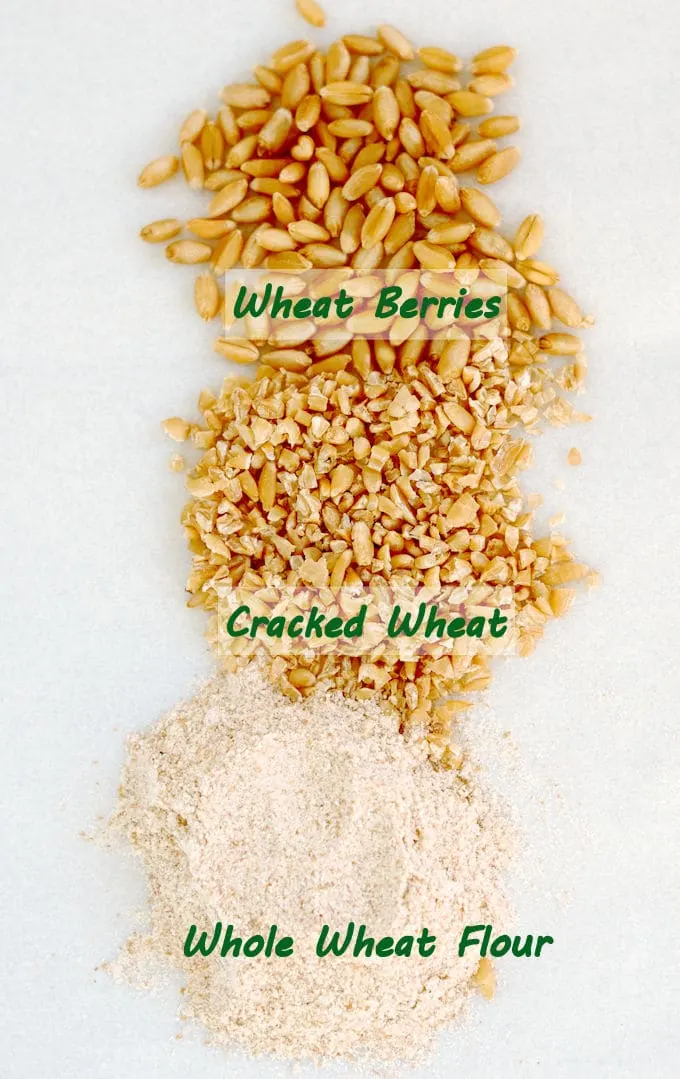 I used a grain mill to "crack" the wheat berries. I tried running the berries in a food processor but I got whole berries mixed with flour, not the texture I was after. You can buy cracked wheat at most grocery stores. If you have a grain mill attachment for your stand mixer you can start with whole berries.
Before mixing the dough I soaked the cracked wheat in boiling water to soften the grain. I began the dough with a sourdough starter, but the recipe also includes alternate instructions if you don't have a starter.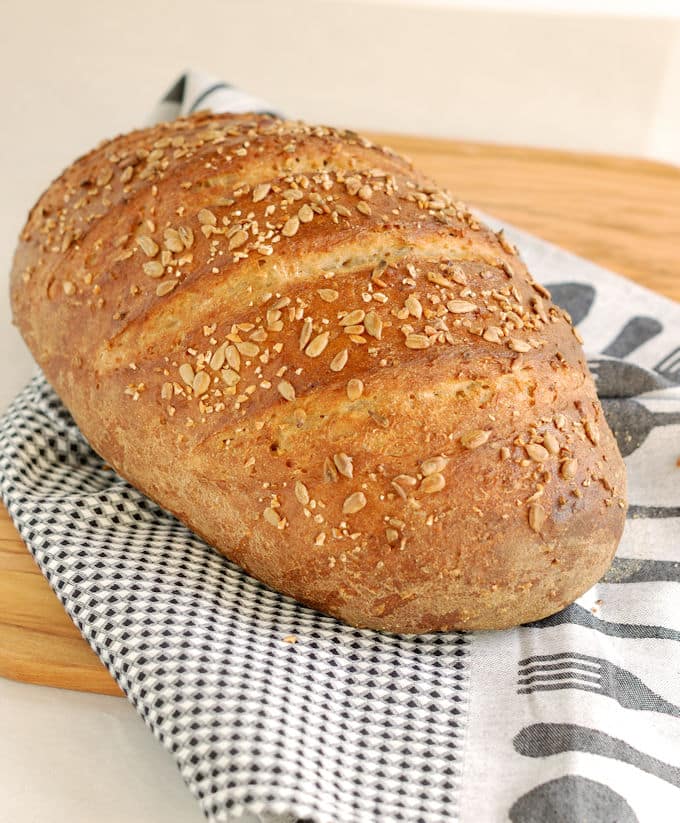 A hint of honey gives the bread a nice flavor and helps keep it moist. I love pepitas (pumpkin seed kernels) so I sprinkled them on top of the loaf with some more cracked wheat for a nice crunchy finish.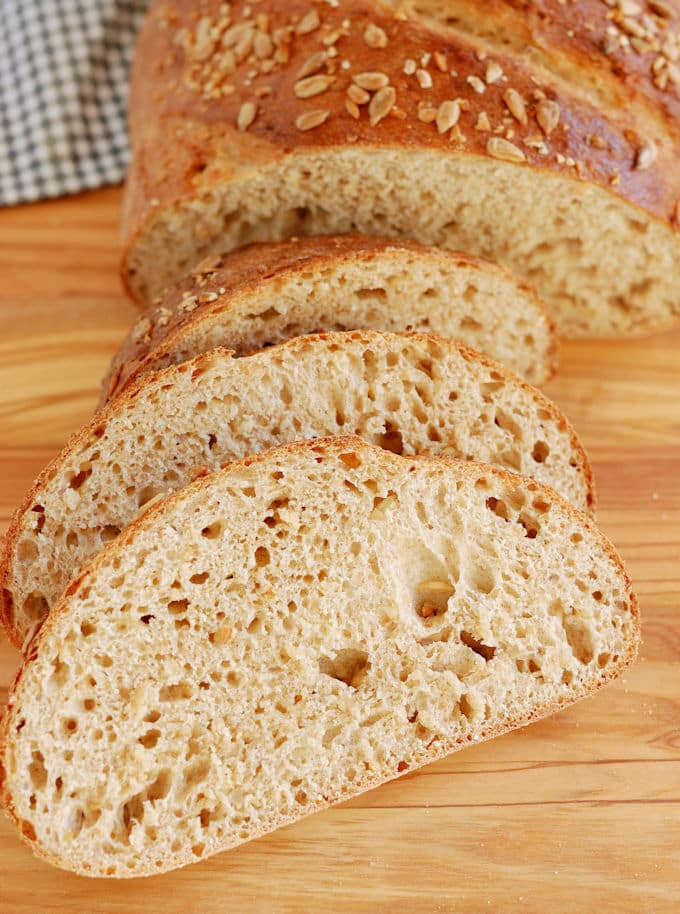 I've still got some more wheat berries left over, so I'll be experimenting with salad recipes. More on that later….

Cracked Wheat Bread
Yield: 1 large loaf

Prep Time: 2 hours 30 minutes

Cook Time: 25 minutes

Total Time: 2 hours 55 minutes

Rustic and chewy with a substantial bite, Cracked Wheat Bread is a hearty loaf full of whole wheat flavor and goodness.
Ingredients
1/2 cup (2.6 oz, 75g) cracked wheat
1 cup (8 oz, 250 ml) boiling water
1 cup (250 ml) sourdough starter (See note if you don't have a starter)
1/4 teaspoon dry yeast (not rapid rise yeast)
1/4 cup (2 oz 50 ml) warm water
1 teaspoon salt
1 tablespoon honey
1 1/4 cups (5 1/4 oz 150g) bread flour
1 cup (4 oz 113g) whole wheat flour
1 egg whisked with 1 tablespoon of water for egg wash
Cracked wheat and pepitas (pumpkin seed kernels) for garnish
Instructions
Combine the cracked wheat and boiling water and set aside until cooled to lukewarm
Combine the starter (or sponge-see note), yeast, 1/4 cup of water, salt and honey in a mixing bowl
Mix with paddle attachment on medium speed to combine
Add 1/2 to 3/4 cup bread flour, enough to form a thick batter
Mix for 1 minute on medium speed
Switch to the dough hook
With the mixer running on low speed, add the cracked wheat along with the soaking water
Add the whole wheat flour
Add the remaining bread flour, 1/4 cup at a time, until the dough gathers around the hook and cleans the sides of the bowl
Turn the dough out onto a floured surface and knead a few times to create a smooth ball
Place the dough into a lightly oiled bowl, turn once to coat the dough
Cover the bowl with plastic wrap
Set aside in a warm place until doubled in volume, about 1 - 1 1/2 hours
Turn the dough onto a floured surface and gently knead for 5-10 seconds
Form the dough into a ball then roll the ends gently to form a football shape
Set the loaf on a wooden peel or sheet pan sprinkled heavily with cornmeal
Cover the loaf with plastic wrap that has been lightly oiled or sprayed with baking spray to prevent it from sticking to the dough.
Allow the loaf to rise about 1 - 1 1/2 hours until the dough springs back slowly when poked
Meanwhile, preheat the oven to 425°F convection or 450°F regular, place a baking stone in the oven if you have one. Place a small pan (with rocks if you have them) onto the floor of the oven
When the bread is ready, use a thin, sharp knife or single edge razor to slash 5 diagonal cuts across the top of the loaf
Brush the surface of the bread with egg wash
Sprinkle with cracked wheat and pepitas
Slide the loaf onto the preheated baking stone (or slide the sheet pan into the oven)
Pour a cup of water into the preheated pan at the bottom of the oven (CAREFUL, that steam is hot) and immediately close the oven door
Bake until the loaf is nicely browned and sounds hollow when tapped on the bottom (or the center of the loaf reaches 190°F).
Cool on a wire rack
Notes
If you don't have a sourdough starter already, make a sponge with 1/2 cup of warm water, 1/2 cup of all purpose flour and 1/2 teaspoon of yeast. Combine the ingredients in a mixer bowl, cover and allow to rise for at least 1 hour or up to 12 hours. The longer you wait to use the sponge, the better the bread's flavor will be. Proceed with the recipe, increasing the amount of yeast added with the water salt and honey from 1/4 teaspoon to 1 teaspoon.
You might also like: