These bagels are chewy, crusty and properly dense New York Style Bagels. The overnight rise creates the perfect texture and flavor – and you'll have fresh, hot bagels for breakfast or brunch less than an hour after getting out of bed.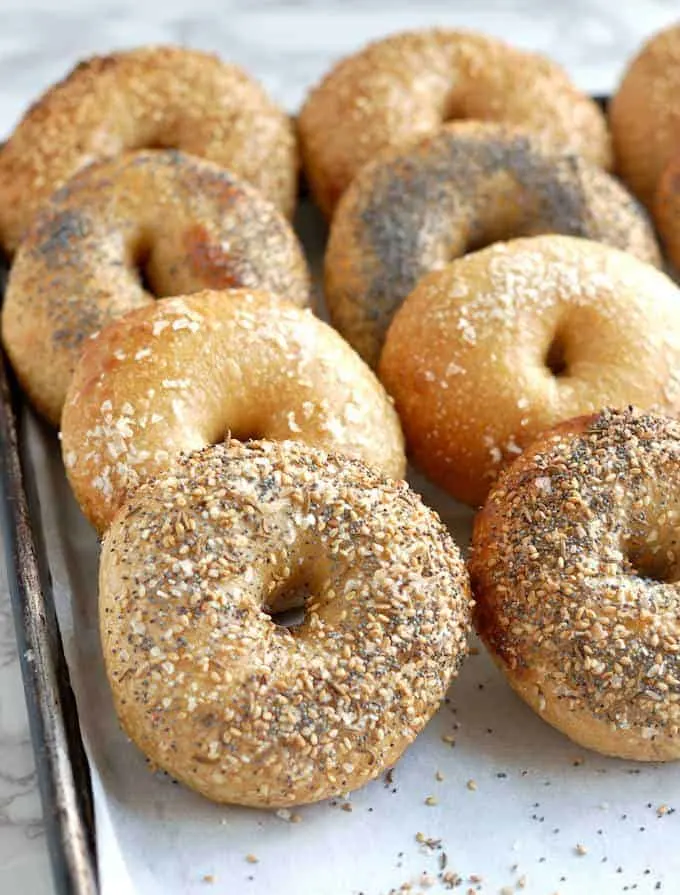 I promise you if you follow this recipe correctly you can make a good bagel at home. I mean, there are loads of really bad bagels in the world and life is just too short to eat a bad bagel.
Like a really great loaf of Rye Bread there's nothing like a true New York style bagel.
What is a true New York Style Bagel?
A good New York Style Bagel (really, is there any other kind?) must have a nicely dense and chewy texture with a toothsome crust.
To get that characteristic chewiness we've got to develop some really strong gluten in the dough.
How to make New York style Bagels: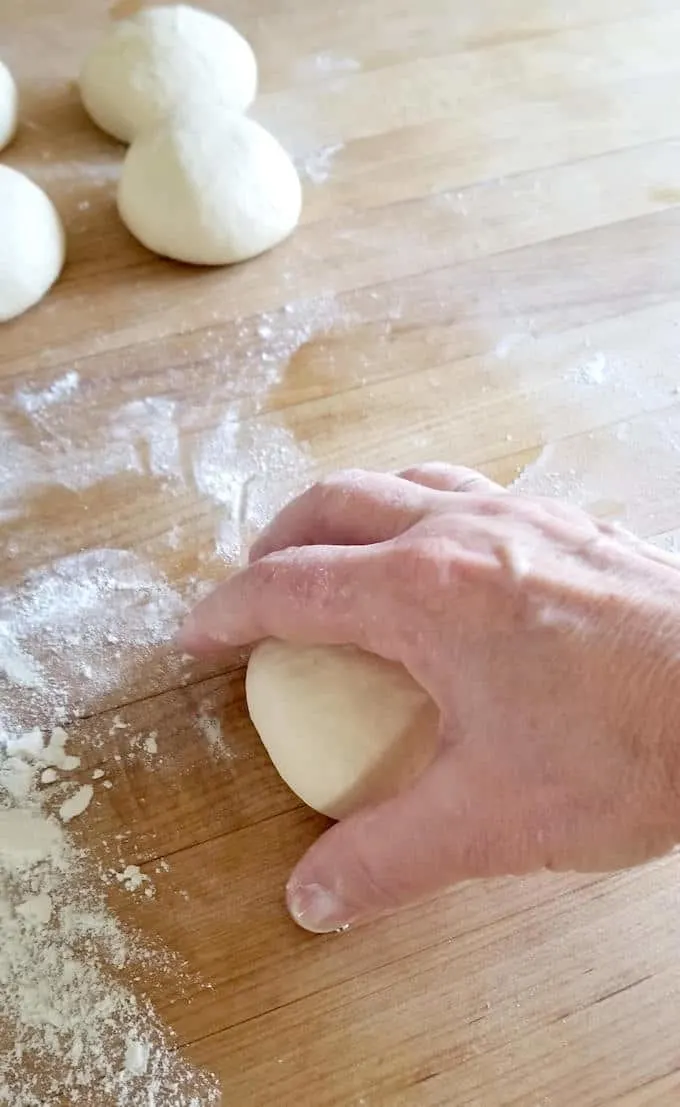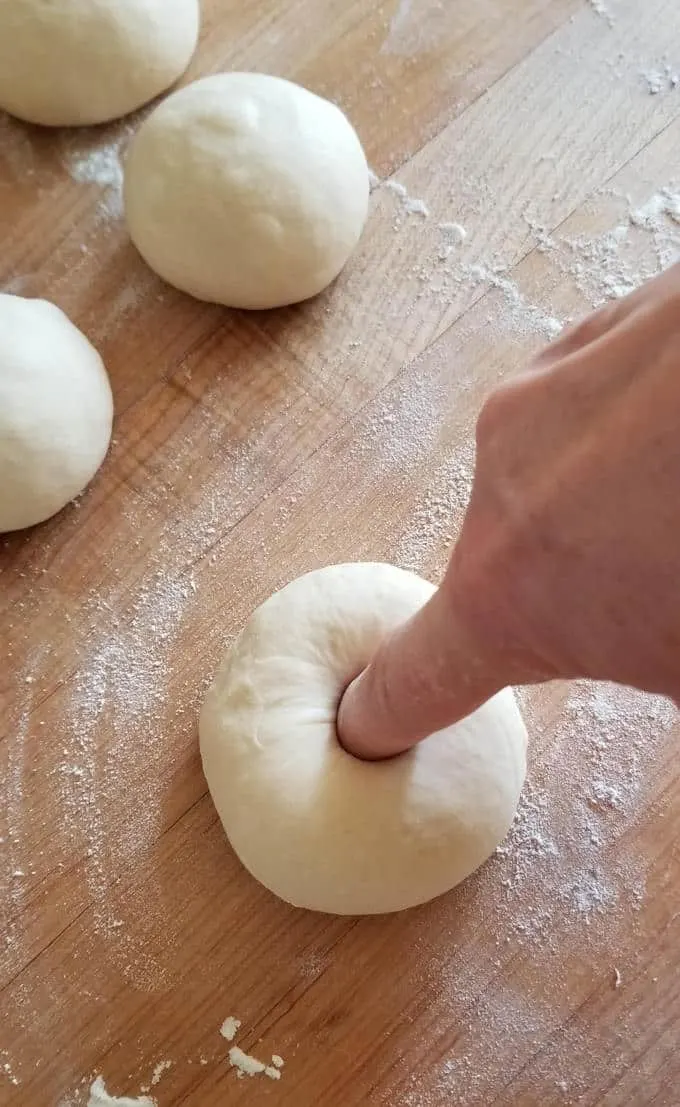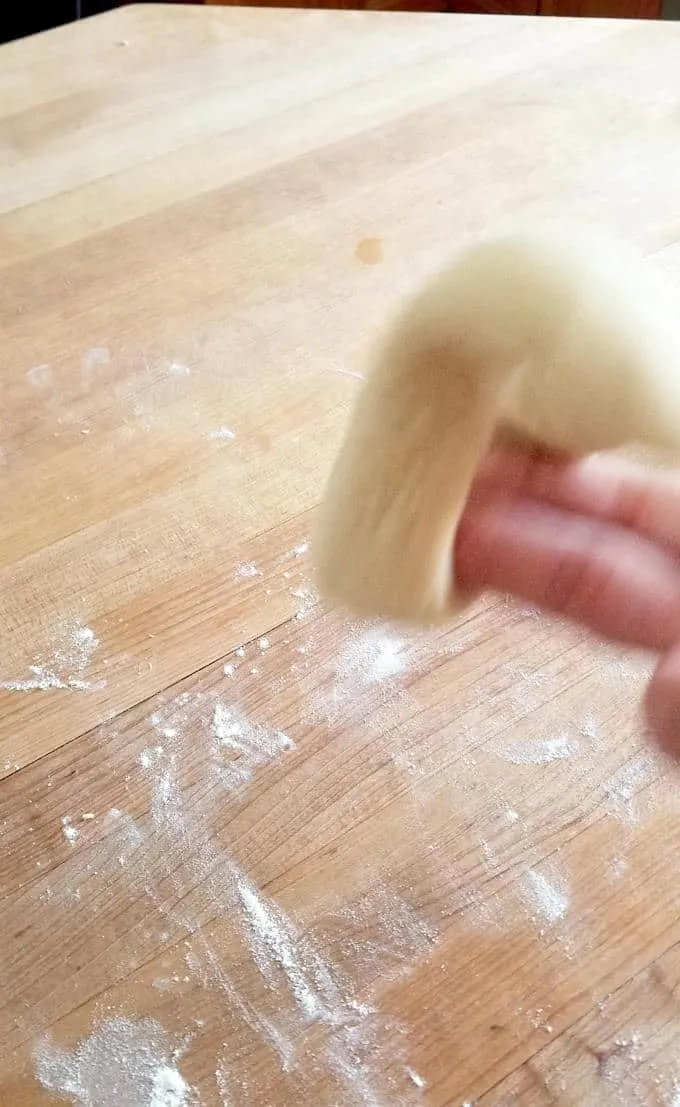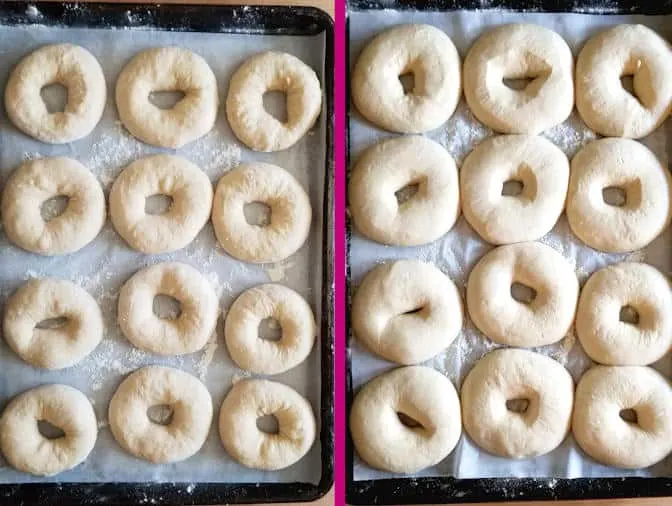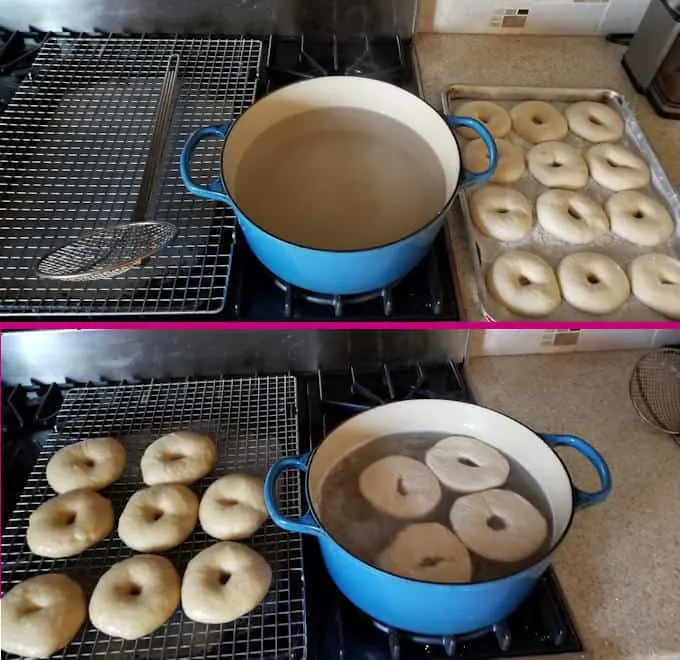 Pastry Chef's Tips for making bagels overnight:
Allow the sponge to rest for 30 minutes before mixing the dough. During that rest the water has time to hydrate the flour and gives us a head start on gluten develop. This little bit of hands off time also improves the flavor of the final product.
Use unbleached bread flour for maximum gluten development. Bread flour has a high protein content. More protein means more gluten development. Kneading also helps develop the gluten.
You can substitute molasses for the Malt syrup, but the malt syrup does give the bagels an authentic taste and color.
You could skip the overnight rise in the refrigerator and go straight ahead and boil and bake the bagels, but that long, cool rise is what gives these bagels their chewy texture and deep flavor.
Boiling the bagels in sugar/baking soda water is what gives them a super chewy yet crisp crust. If you skip this step your bagels will have a crust similar to a roll or bread.
Bagels should be baked in a very hot oven for a quick oven spring and good crust development.
Bagels are best the day they are baked. For longer term storage slice the bagels about 3/4 the way through and pack them into freezer bags.
Previously frozen bagels are best if toasted before serving.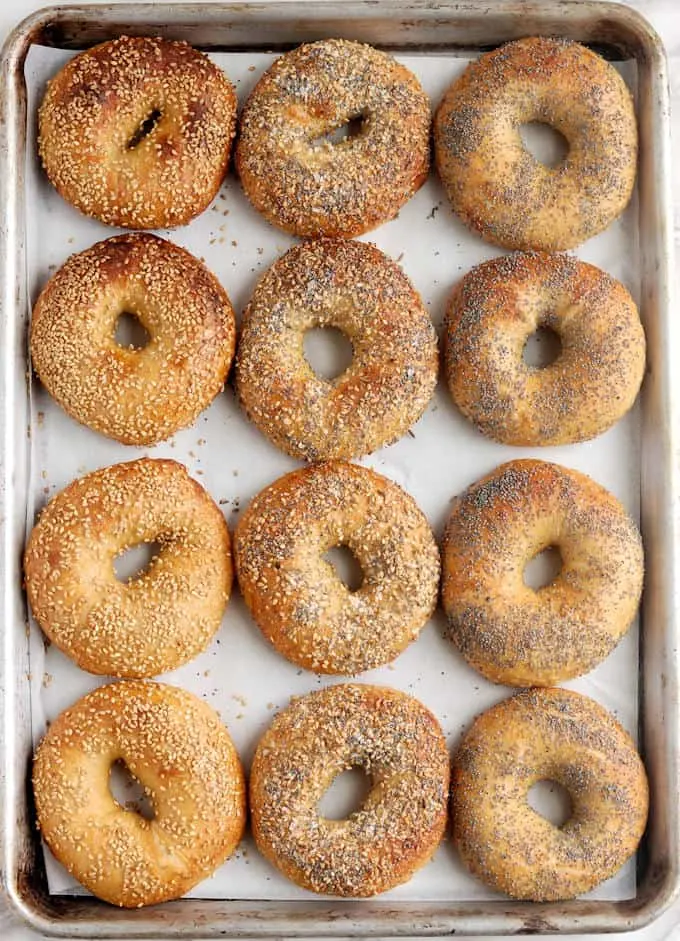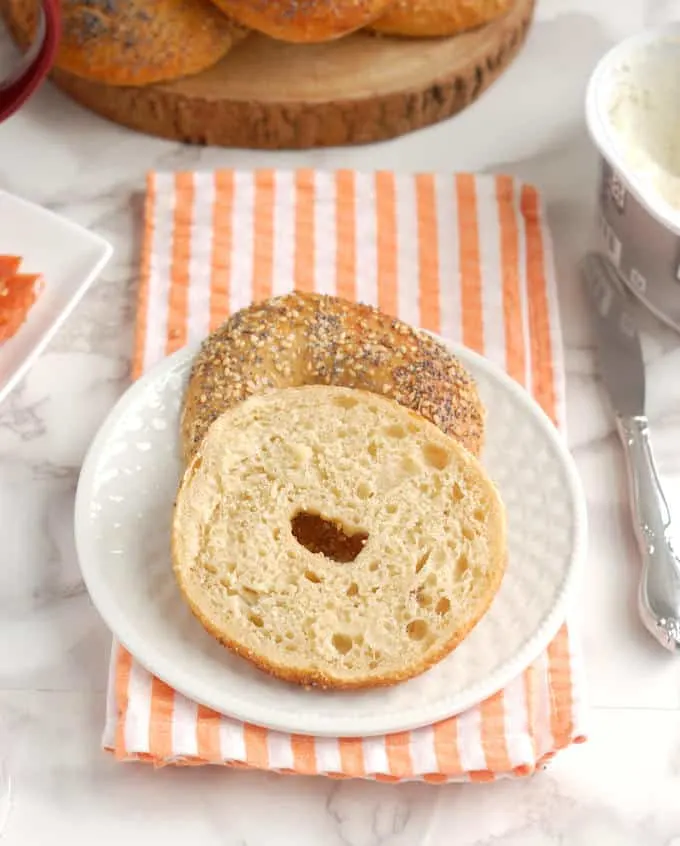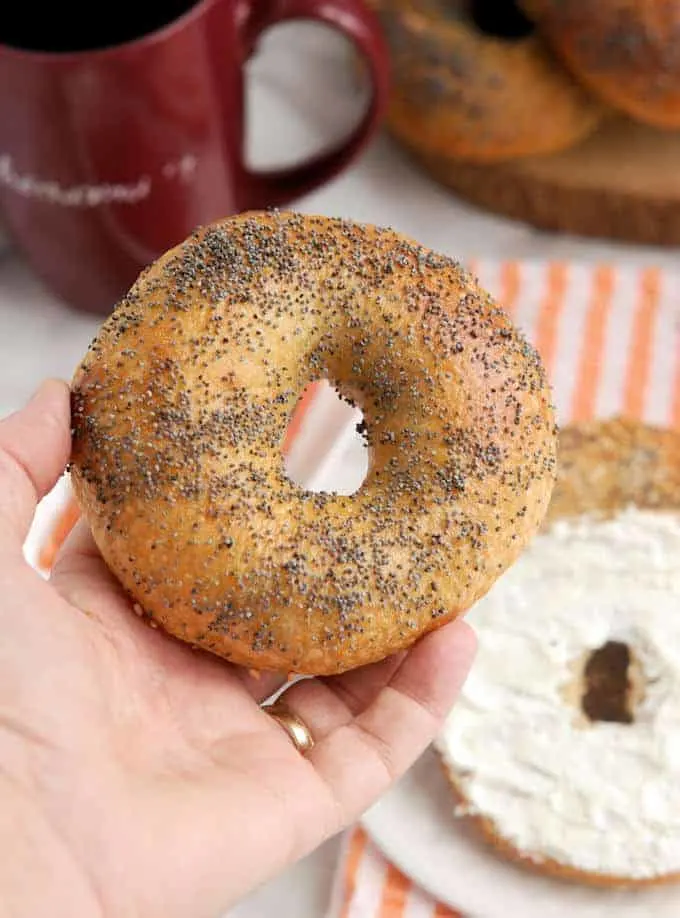 Fresh, hot delicious bagels for breakfast or brunch. They also freeze beautifully for future enjoyment. Now all you need is a schmear of cream cheese!
If you've got a sourdough starter, I highly recommend my Homemade Sourdough Bagels for a real treat.
If you love this recipe as much as I do, I'd really appreciate a 5-star review.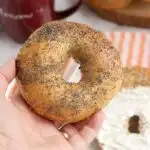 Print Recipe
Overnight Bagel Recipe
Chewy, crusty and properly dense, New York style bagels. They rise overnight so you can have fresh bagels for breakfast or brunch. All they need is a schmear of cream cheese.
Ingredients
16

oz

warm water

(2 cups (about 100°F))

¼

oz

instant yeast

(2 ¼ teaspoons)

25

oz

bread flour

(5 cups, divided)

1 ½

oz

barley malt syrup

( 2 tablespoons, see note)

1

tablespoon

table salt

2

oz

granulated sugar

(¼ cup (for boiling))

2

teaspoons

baking soda

(for boiling)

1

egg white

(whisked lightly)

Topping

(Sesame seeds, poppy seeds, caraway seeds or coarse sea salt)
Instructions
In a bowl for a stand mixer or a large mixing bowl combine the water, yeast and 3 cups (15 oz) of the flour . Mix to form a thick batter. Cover the bowl and set aside for 30-60 minutes.

16 oz warm water,

¼ oz instant yeast,

25 oz bread flour

Add the barley malt syrup and salt. If using a stand mixer, switch to the dough hook. Add the remaining flour and mix to combine. Knead 5 minutes on medium/low speed. If working by hand, stir in as much of the flour as you can, then turn the dough out onto a lightly floured surface and knead in the remaining flour. Knead 5 minutes. Form the dough into a smooth ball.

1 ½ oz barley malt syrup,

1 tablespoon table salt

Put the dough into a lightly oiled bowl, turning once to coat the dough. Cover the bowl and set aside to rise until doubled in size, about 1 hour.

Line a half sheet pan with parchment paper lightly sprinkled with flour or sprinkle the pan generously with cornmeal. Turn the dough out onto a lightly floured surface and knead briefly. Divide the dough into 10 even pieces. Use a cupped hand to roll each piece into a smooth, tight ball.

To form a bagel, poke your finger all the way through the center of a ball to make a hole. Use two fingers to gently widen the hole. Continue gently stretching to form the bagel or twirl the dough around your fingers to widen the center hole (see photos). The hole should be 1 – 1 ½" wide.

Place the bagel on the prepared sheet pan and continue to form the remaining bagels. The dough will probably spring back a bit so you can go back and re-stretch them once you're done forming all the bagels. Cover the pan with lighly oiled plastic wrap and leave at room temperature for 15 minutes then place the pan in the refrigerator overnight.

In the morning, take the pan out of the refrigerator. The bagels should be noticeably fuller. Leave the tray out until the bagels come to room temperature, about 1 – 1 ½ hours. The time will vary based on the temperature in the room and how much the dough rose in the refrigerator. Once the dough comes to room temperature the bagels are ready to boil.

Meanwhile, preheat the oven to

450

°F

. In a large pot combine 1 gallon of water with the sugar and baking soda and bring it to a boil. Reduce the heat to keep the water at a rolling simmer. Set a cooling rack over a clean sheet pan and place it next to the stove.

2 oz granulated sugar,

2 teaspoons baking soda

Lift a bagel off the sheet pan and lower it into the boiling water, bottom side down. Boil the bagels for 30-45 seconds on each side. Depending on the size of your pot, you can boil 3-4 bagels at a time. As you remove the boiled bagels from the water, set them on the cooling rack to drain.

Line two half-sheet pans with parchment paper or silicone baking mats and generously sprinkle with cornmeal (or flour). Place 5 of the boiled bagels on each sheet pan. You could fit them all on one pan but they may rise enough to stick together as they bake. I like all the sides to be crusty so I leave plenty of room between them.

Brush the bagels with egg white. You can leave the bagels plain or add the topping of your choice. To make "everything" bagels combine a tablespoon of each of the seeds & salt with a pinch each of garlic salt and onion powder. Adjust toppings to your taste.

Bake until golden brown, about 20 minutes.
As an Amazon Associate and member of other affiliate programs, I earn from qualifying purchases.
Notes
You can use 1 tablespoon molasses plus 1 tablespoon of honey instead of barley syrup.
Nutrition
Serving:
1
bagel
|
Calories:
292
kcal
|
Carbohydrates:
60
g
|
Protein:
9
g
|
Fat:
1
g
|
Saturated Fat:
0.2
g
|
Polyunsaturated Fat:
1
g
|
Monounsaturated Fat:
0.1
g
|
Sodium:
923
mg
|
Potassium:
79
mg
|
Fiber:
2
g
|
Sugar:
8
g
|
Vitamin A:
1
IU
|
Vitamin C:
0.002
mg
|
Calcium:
14
mg
|
Iron:
1
mg