These bagels are chewy, crusty and properly dense New York Style Bagels. The overnight rise creates the perfect texture and flavor – and you'll have fresh, hot bagels for breakfast or brunch less than an hour after getting out of bed.
I promise you if you follow this recipe correctly you can make a good bagel at home. I mean, there are loads of really bad bagels in the world and life is just too short to eat a bad bagel.
Personally, if a frozen grocery store bagel was the last bit of food on earth….well, I would eat it so I wouldn't starve, but I surely wouldn't enjoy it. Ditto for the big, puffy bagels from certain chain restaurants. Nope, not for me.
What's the difference between a bad bagel and a good bagel? Well, to start with, I would walk 30 minutes in the freezing cold for a good bagel. True story, on a recent trip to New York we did exactly that. And it was worth every single step.
What is a true New York Style Bagel?
A good New York Style Bagel (really, is there any other kind?) must have a nicely dense and chewy texture with a toothsome crust. To get that characteristic chewiness we've got to develop some really strong gluten in the dough.
First of all we use bread flour for maximum protein content. More protein means more gluten development. Kneading also helps develop the gluten.
But we can also employ a few "lazy" steps to help develop the dough. First we make a "sponge" and let it set for 30 minutes. During that rest the water has time to hydrate the flour and give us a head start on gluten develop. This little bit of hands off time also improves the flavor of the final product.
Once the bagels are shaped we give them a quick 15 minutes at room temperature to rise just a bit, then they go into the refrigerator overnight.
You can skip the 15 minutes at room temp if you want your bagels even a little more dense.
The cool, slow rise enhances the flavor and texture of the dough. I've left the formed bagels in the refrigerator as long as 16 hours and got great results.
An added benefit of overnight bagels – they are ready to finish first thing in the morning. Once your oven is preheated, it only takes about 30 minutes to boil and bake the bagels.
Scroll through the step by step photos to see how to make New York Style Bagels: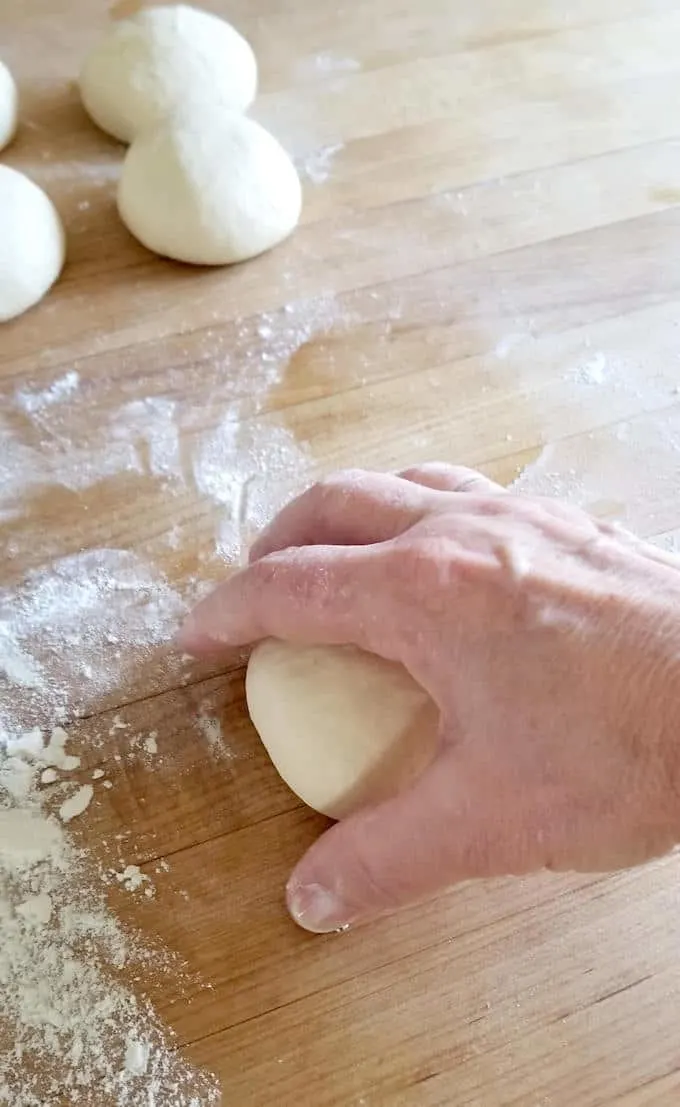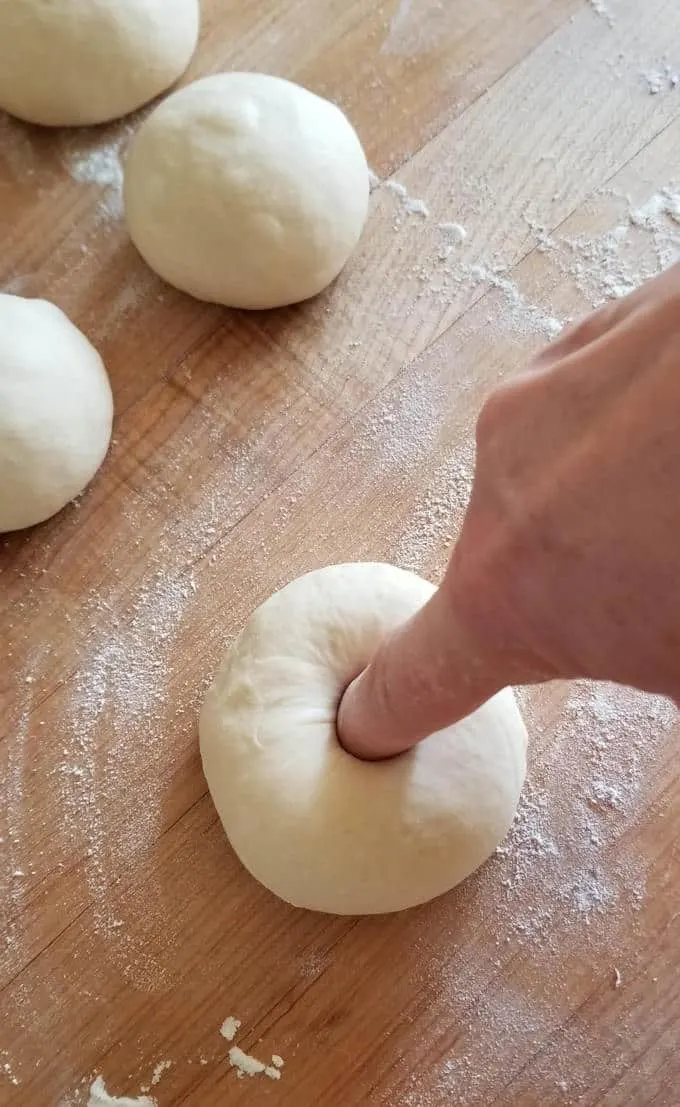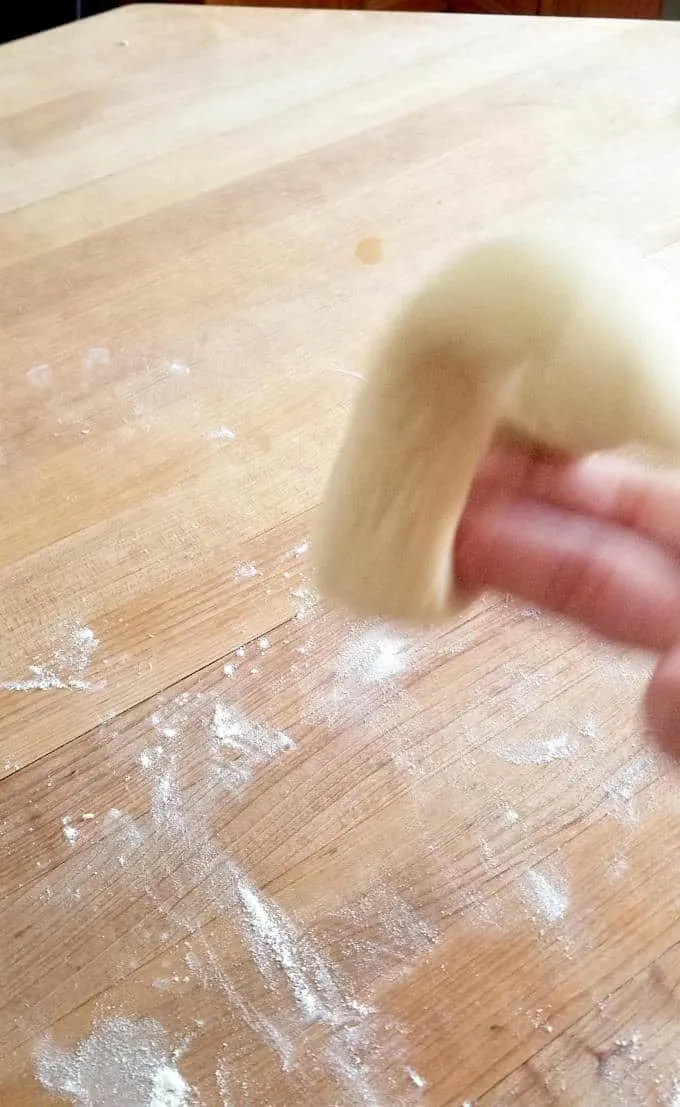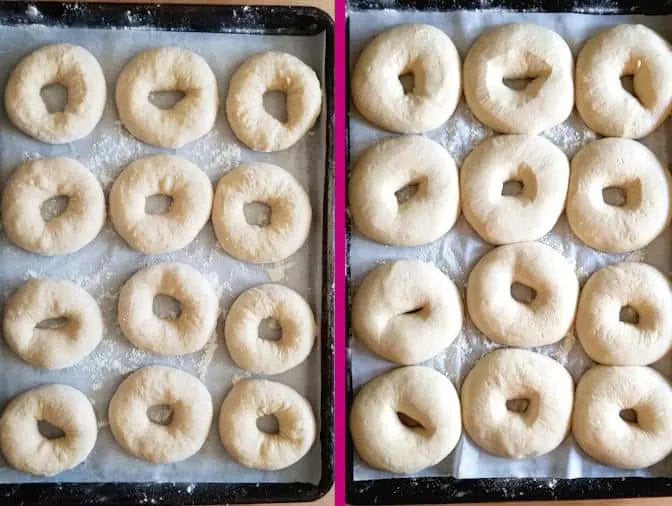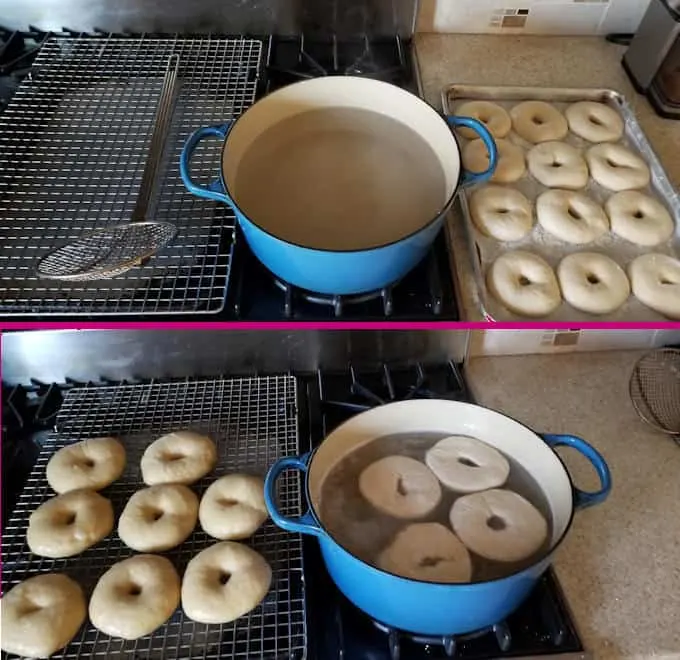 Tips for making perfectly chewy New York Style Bagels overnight:
Allowing the sponge to rest for 30 minutes before mixing the dough gives the gluten a head start in forming a strong network.
Use unbleached bread flour for maximum gluten development.
You can substitute molasses for the Malt syrup, but the malt syrup does give the bagels an authentic taste and color. If you can't find it in your local market, you can buy it on-line.
You could skip the overnight rise in the refrigerator and go straight ahead and boil and bake the bagels, but that long, cool rise is what gives these bagels their chewy texture and deep flavor.
Boiling the bagels in sugar/baking soda water is what gives them a super chewy yet crisp crust. If you skip this step your bagels will have a crust similar to a roll or bread.
Bagels should be baked in a very hot oven for a quick oven spring and good crust development.
Bagels are best the day they are baked. For longer term storage slice the bagels about 3/4 the way through and pack them into freezer bags.
Previously frozen bagels are best if toasted before serving.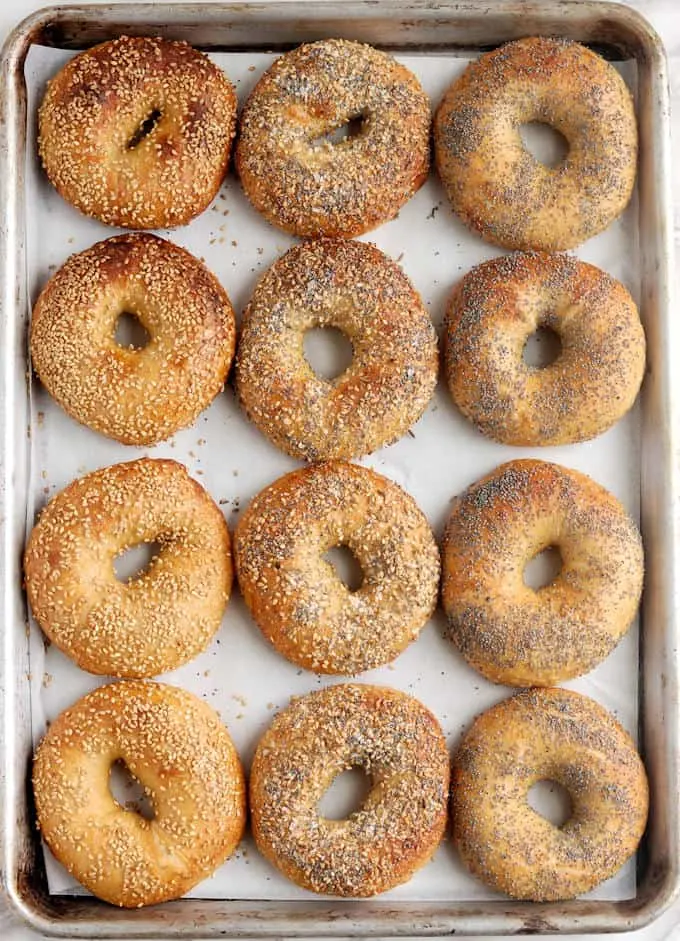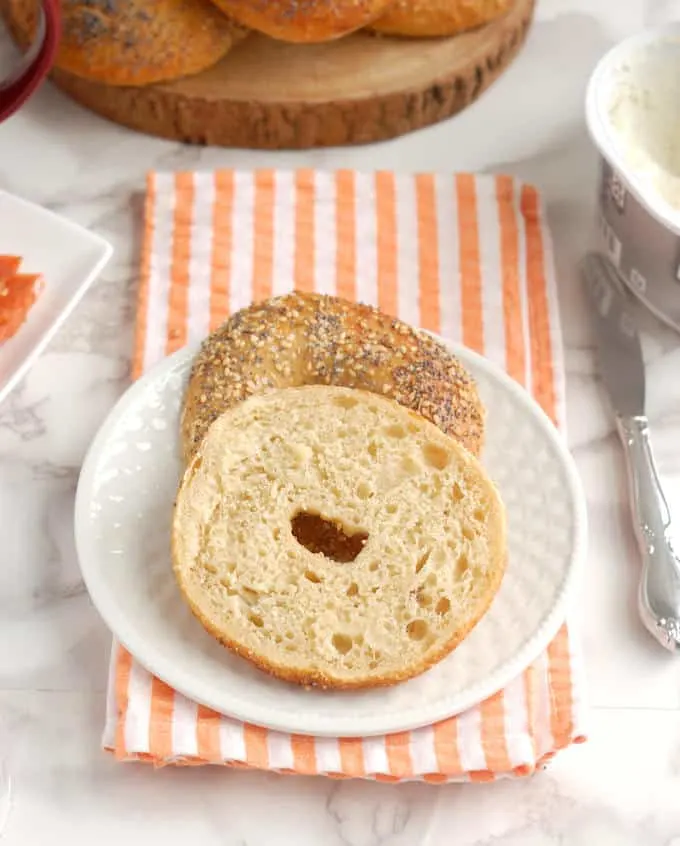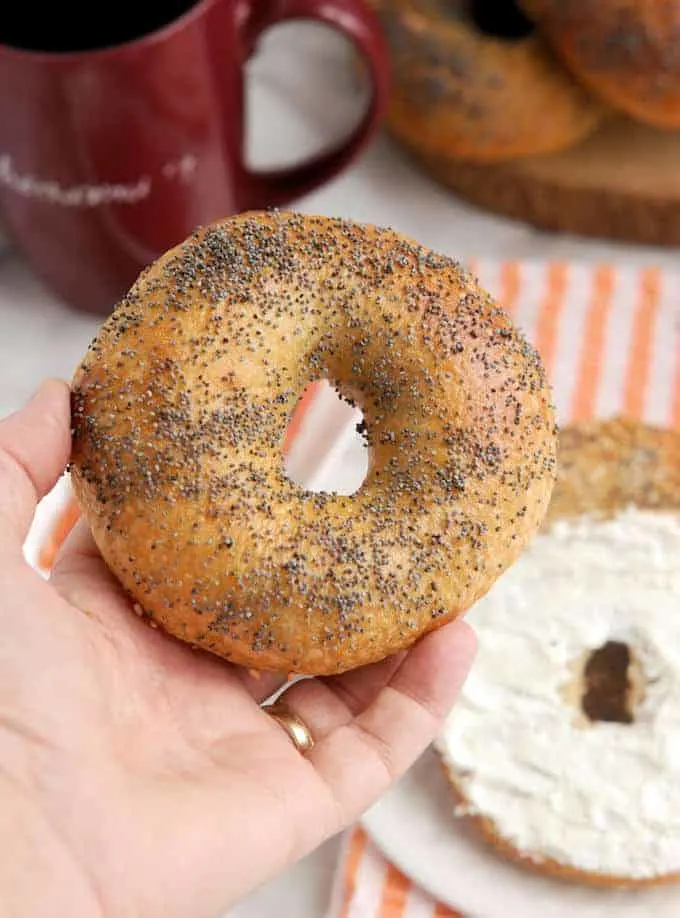 Fresh, hot delicious bagels for breakfast or brunch. They also freeze beautifully for future enjoyment. Now all you need is a schmear of cream cheese!
If you've got a sourdough starter, I highly recommend my Homemade Sourdough Bagels for a real treat.
If you love this recipe as much as I do, I'd really appreciate a 5-star review.
You might also like: