If you've never cooked with celeriac (or celery root) I encourage you to give it a try. It's got to be the world's ugliest vegetable, but it tastes great, keeps for months in the refrigerator, is low in calories and high in vitamins.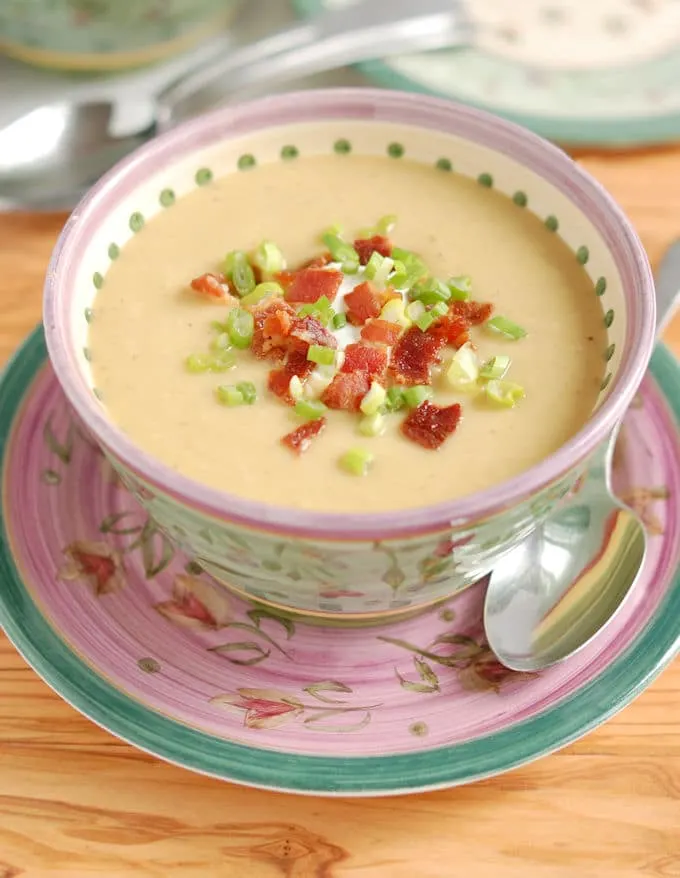 I first used celeriac when I starting getting them in my farm share about 10 years ago. I'd seen them in the stores but had no idea what to do with the strange looking thing. That's one of the reasons I love our farm share, I get to try vegetables that I might pass by in the grocery store. When it comes in the share, I have no choice but to give it a try.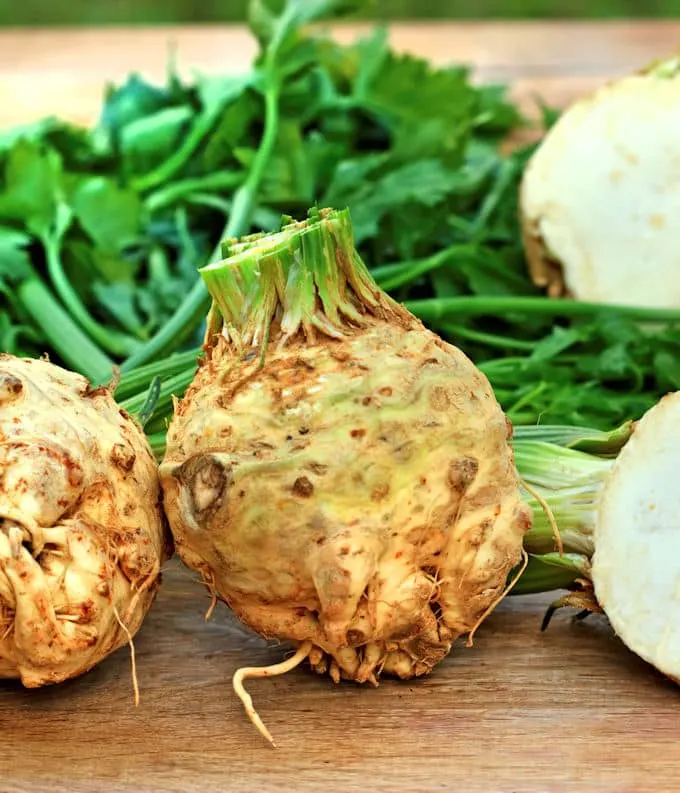 I like to use celeriac in mashed potatoes to lower the overall calories, since celeriac has about 1/2 the calories of an equal portion of potato. I like to roast chunks of celeriac with other root vegetables and I always use it in my bread stuffing for Thanksgiving. The flavor is similar to stalk celery with a slightly herbal edge.
The other day I found a couple of celery roots left over from our last farm share back in November. Since they were in a plastic bag they were still in pretty good shape.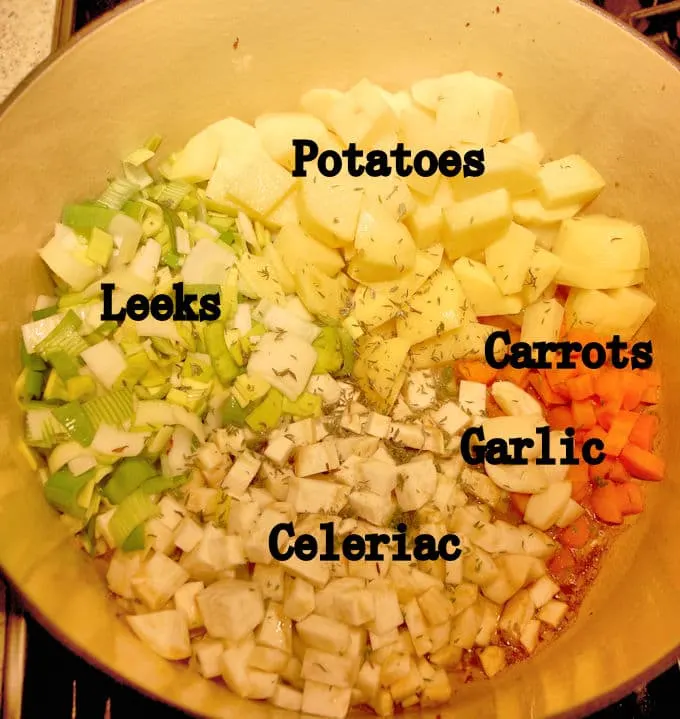 I love leek & potato soup and I thought the celeriac would add an interesting flavor, and also make a leaner soup since I could cut back on the number of potatoes. So this is a pretty healthy bowl of soup. I don't add any heavy cream or sour cream, just a little low fat Greek yogurt for a silky finish.
I like to garnish the soup with a few bacon bits, scallions and a dollop of yogurt.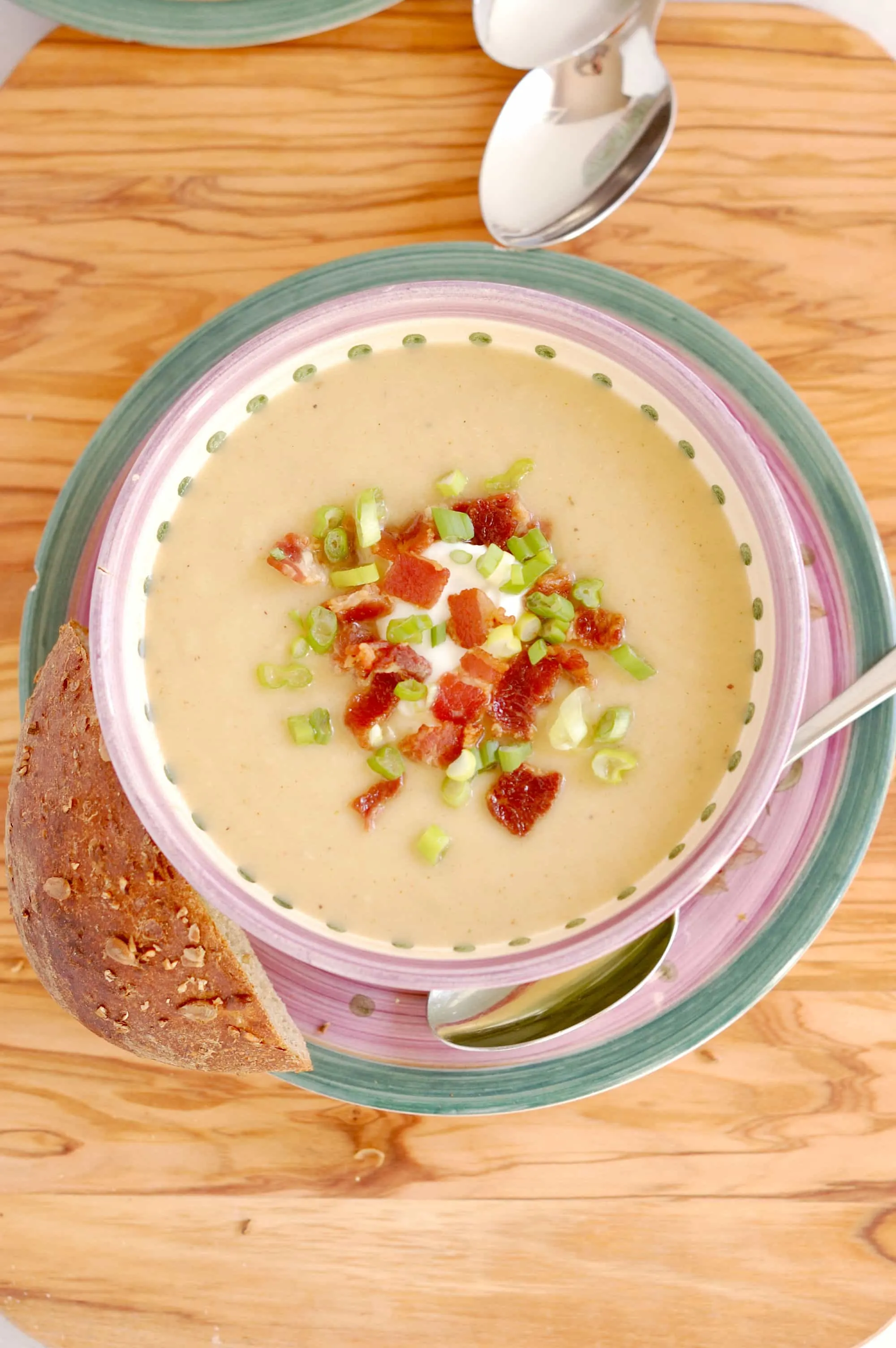 Eileen Gray
Yields 4
Celeriac, Leek & Potato Soup
20 minPrep Time
45 minCook Time
1 hr, 5 Total Time
Ingredients
3 slices bacon, chopped into 1/2" pieces
12 oz celeriac (about 2 cups), peeled and diced (see note)
2 large leeks (2 cups) diced and soaked in cold water to remove sand
3 large yellow potatoes (1 lb 4 oz), peeled and diced
1 large carrot, peeled and diced
3 cloves garlic
3 sprigs of thyme
1 teaspoon salt
1/2 cup white wine (optional, see note)
1 quart chicken stock or vegetable broth
1/2 cup low fat Greek yogurt or sour cream
salt and pepper to taste
Pinch of Cayenne Pepper (optional)

Garnish

Bacon bits
scallions
Low fat Greek yogurt
Instructions
In a large dutch oven or soup pot fry the bacon bits over medium heat until crisp
Remove the bacon bits to drain on a paper towel. Set aside to use as a garnish.
Pour excess bacon fat from the pot, leave about 2-3 tablespoons in the pan
Add the leeks, celeriac, potatoes, carrot, garlic, thyme leaves and 1 teaspoon of the salt
Cook over medium heat until the vegetables begin to soften
Add the optional white wine to deglaze the pan
Add chicken stock, cover and cook until all the vegetables are tender (about 30 minutes)
Puree the soup with an immersion blender or in a food processor or blender
If the soup is too thick add a little water or chicken stock to correct the texture
Add the yogurt or sour cream off the heat
Adjust the seasoning to taste
Serve garnished with bacon bits, scallions, yogurt or whatever strikes your fancy
Notes
To clean celeriac you first need to cut off any stems or knobs from the surface, then peel like a potato.

I used the wine because I happened to have a bottle in the refrigerator than was open. If you don't drink wine there's no need to buy a bottle just for the recipe.
7.6.4
86
https://www.baking-sense.com/2016/02/22/celeriac-leek-potato-soup/