Homemade pizza dough is surprisingly easy to make. A great pizza starts with a great dough. See step by step how to make and form your own pizzas.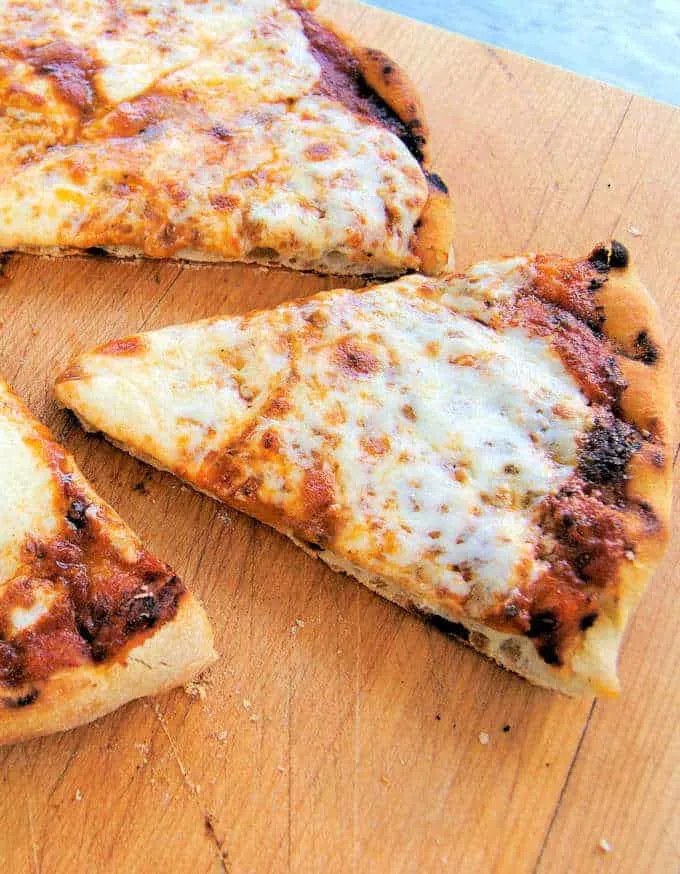 Everybody loves pizza, don't they?
For years I made a pizza dough that was very tough and dense.
But, as with almost all of my breads, I've gradually changed the way I make the dough. I've learned to use a lighter hand for a better bread.
Scroll through the step by step photos to see how to make homemade pizza dough: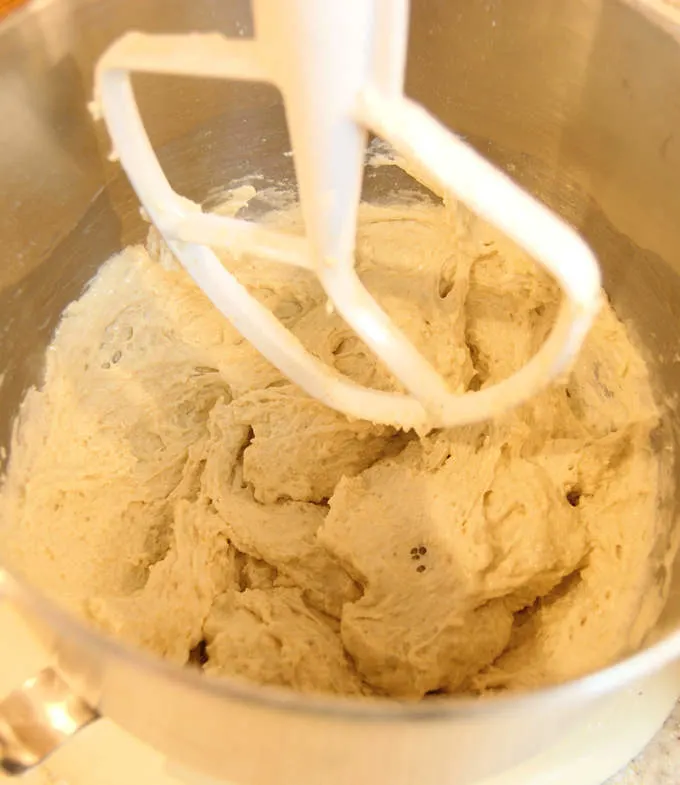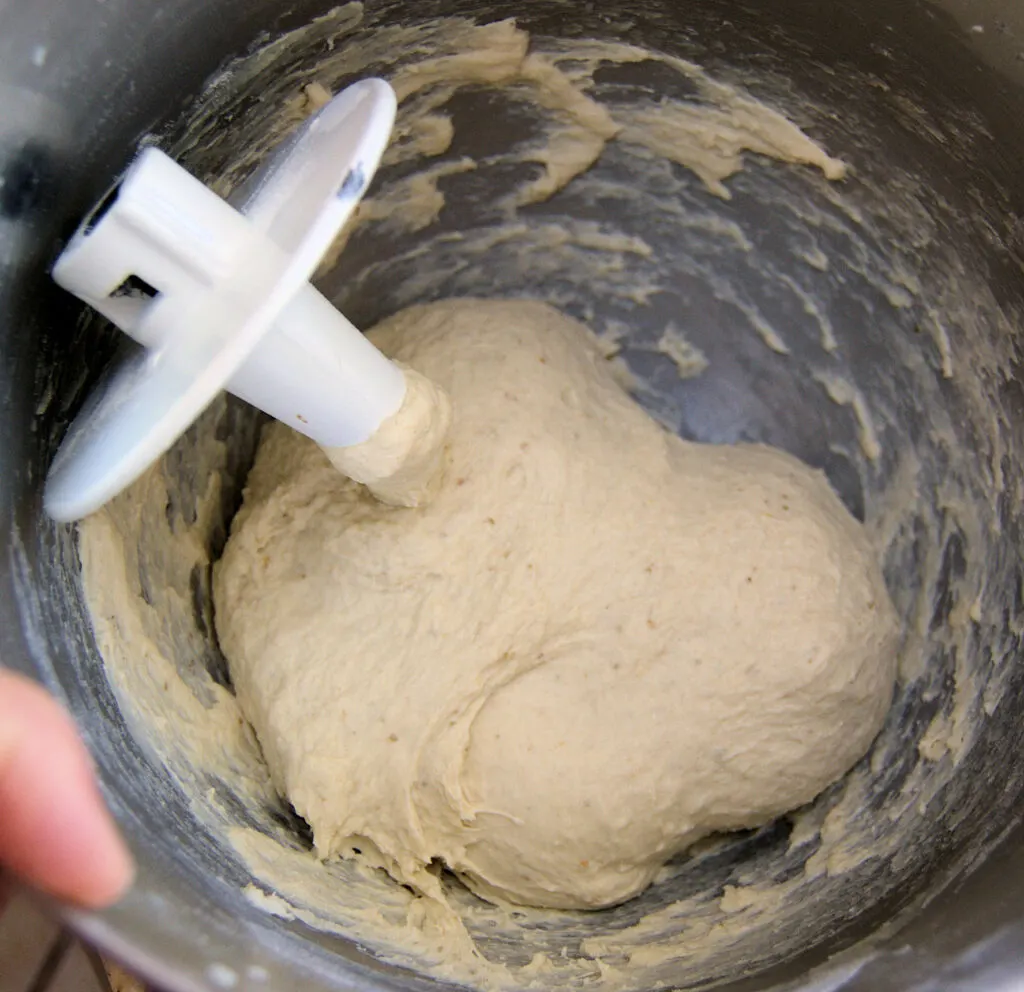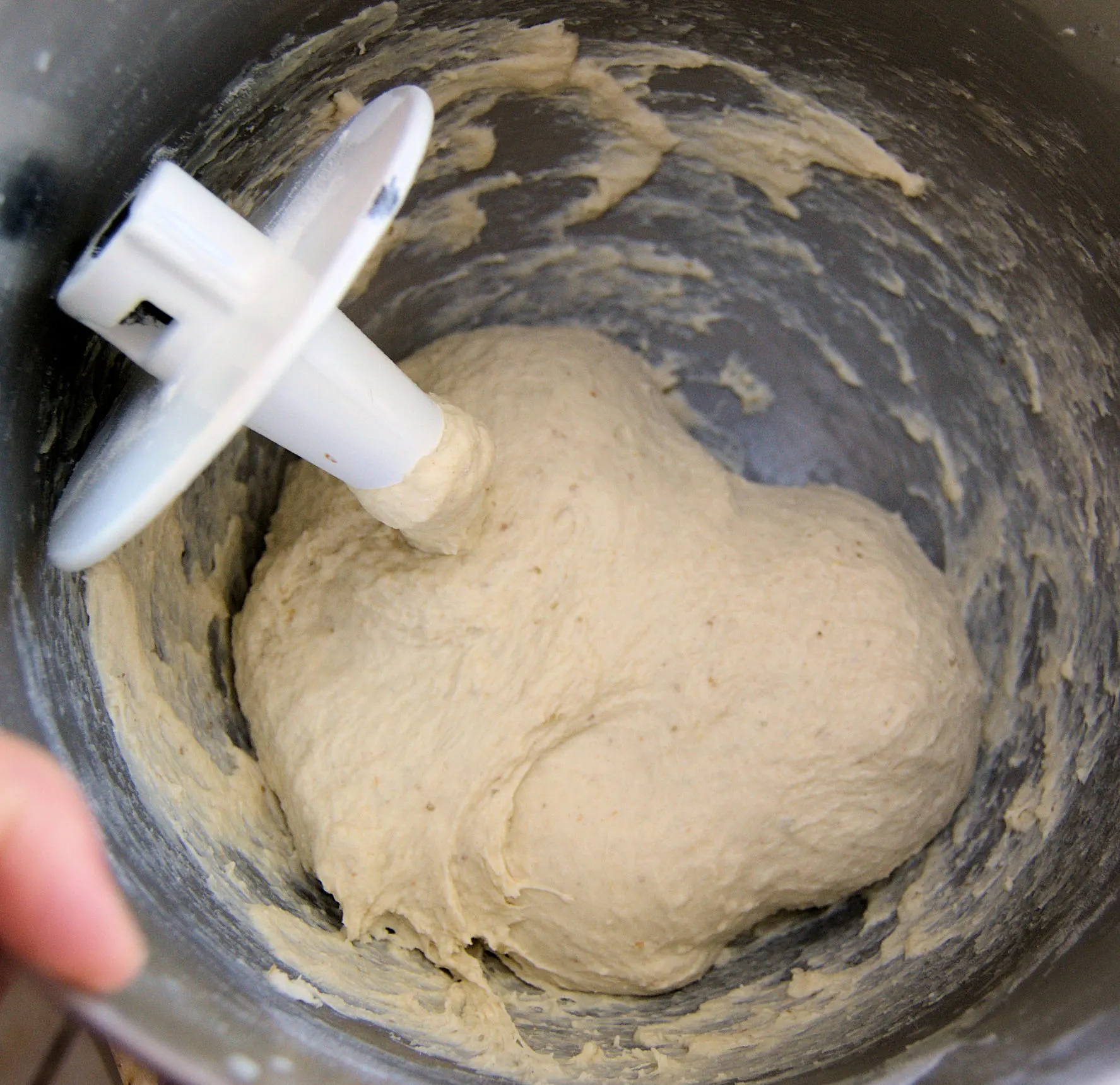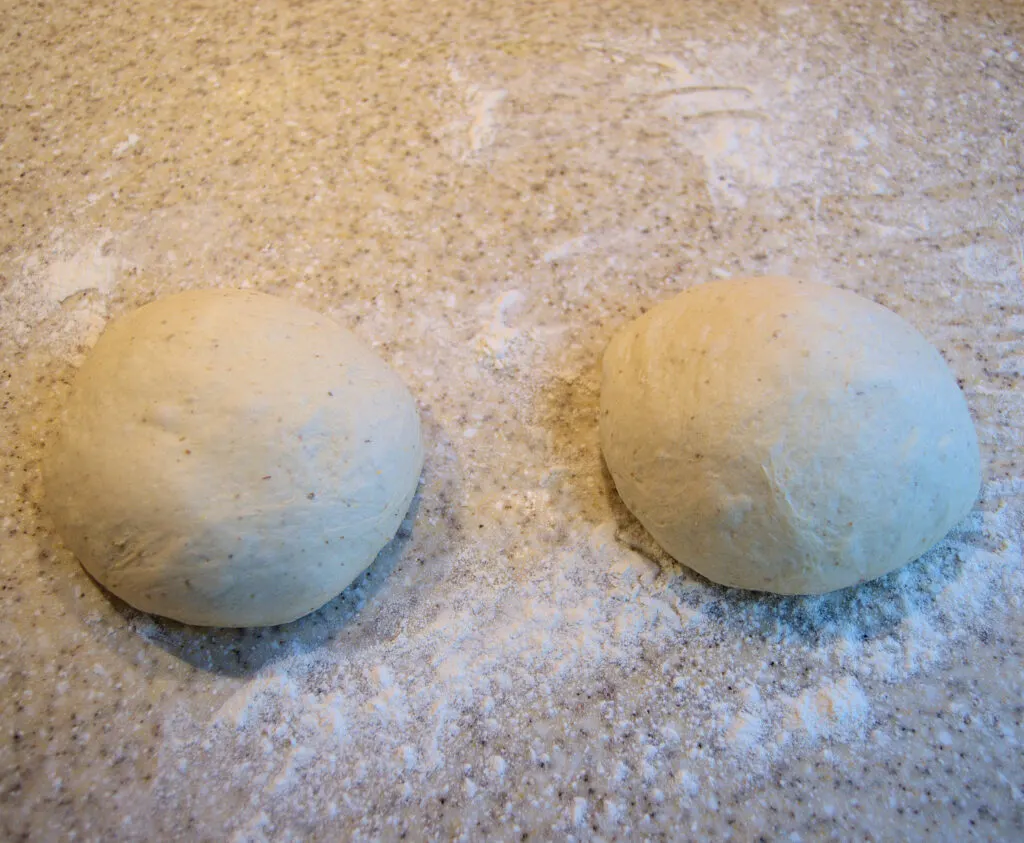 Visit this page to see exactly how to shape pizza dough with the best texture.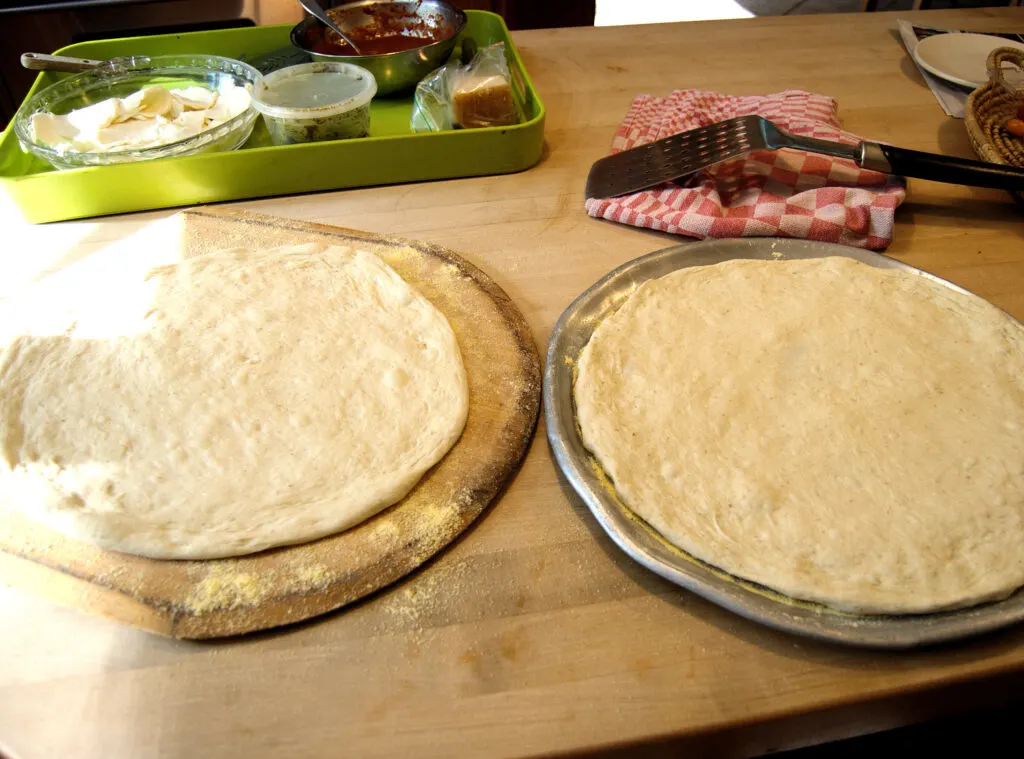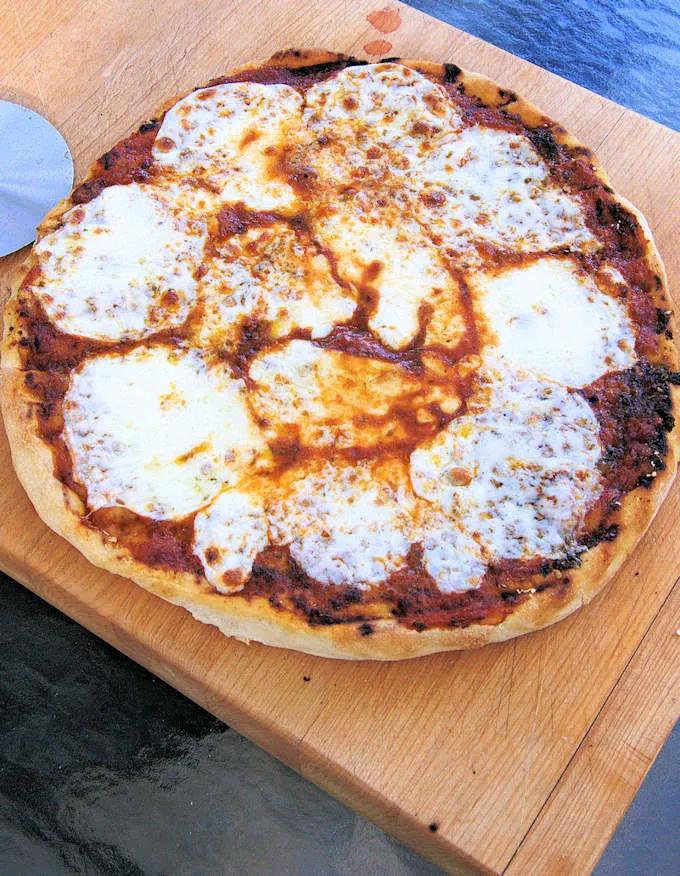 Tips for making great pizza dough.
Pre-mixing the water, yeast and some of the flour will give the gluten time to develop.
After the dough has risen, handle it gently to keep some of the air bubbles. This creates a more interesting texture and lighter crust.
You can replace about 1/3 to 1/2 of the flour with whole wheat flour to make a whole grain crust.
After the dough has risen 1x you can freeze it to use later. Defrost the dough then proceed to roll, add toppings and bake.
Use fresh summer tomatoes with basil and mozzarella to make a classic Margarita Pizza.
Bake your pizza in a very hot oven, 450-500F.
If you've got a grill, click here to learn how to make charcoal grilled pizza.
Adapt the recipe to use your favorite toppings. The possibilities are truly endless.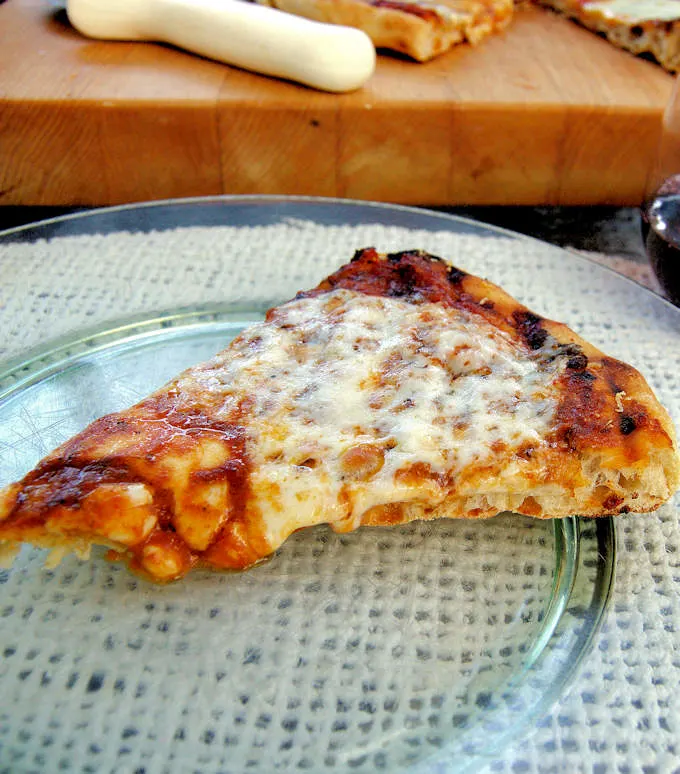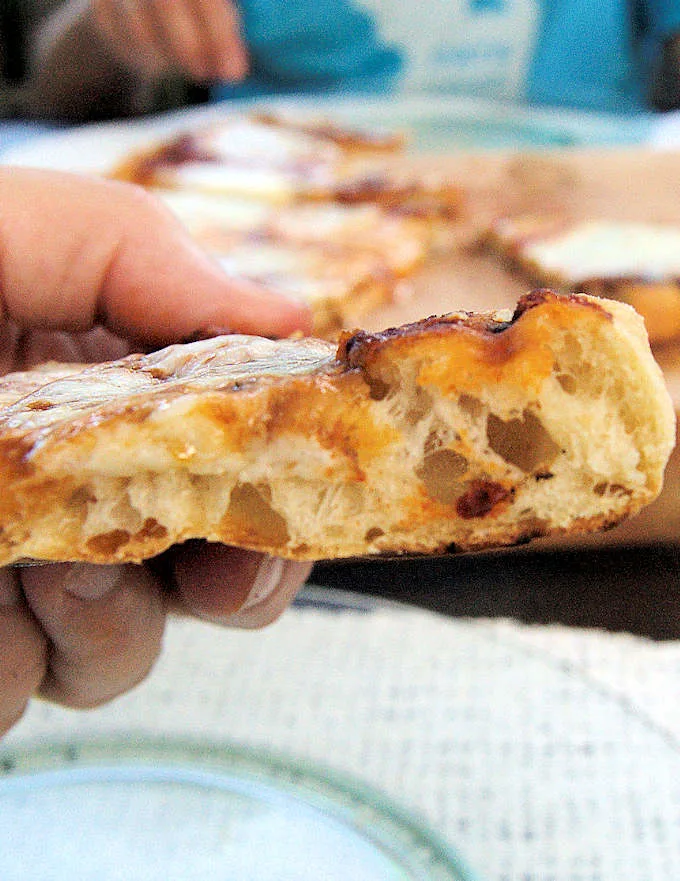 Use this same dough to make Philly Cheesesteak Calzones, Breakfast Calzones or Dessert Pizza topped with fresh berries.
If you love this recipe as much as I do, I'd really appreciate a 5-star review!
Super Easy Pizza Dough
Total Time:
2 hours
35 minutes
A great pizza starts with a great dough and homemade pizza dough is pretty easy to make.
Ingredients
1 1/4 cups (10 oz, 300 ml) warm water
1 packet ((2 1/4 teaspoons, 7g) instant dry yeast
About 3 cups (15 oz, 420g) all purpose flour
1 teaspoon table salt
2 tablespoons olive oil
cornmeal
Instructions
In a mixer bowl combine the water, yeast and 1 1/2 cups of the flour and mix until it looks like pancake batter. Cover the bowl and set aside for 30 minutes.
If using a stand mixer, switch to the dough hook.
Add the salt and olive oil. With the mixer on low speed, add the flour 1/4 cup at a time. The dough will begin to clear the sides of the bowl and gather on the hook. If mixing by hand continue with a spoon or spatula until the dough becomes too thick then turn the dough out onto a floured surface and finish kneading in the flour by hand.
Increase the speed to medium and knead for 3-4 minutes or knead by hand for 5-6 minutes. Dump the dough onto a floured surface and knead into a smooth ball.
Place the dough into a lightly oiled bowl and turn it over to coat the surface. Cover the bowl and leave in a warm place until doubled in volume, about 1 to 1 1/2 hours.
If you're baking the pizza in the oven, preheat it to 450° F. If you have a pizza stone preheat that too. Alternately, grilling the pizzas
Dump the dough onto a floured surface, do not knead out the air. Using a bench scraper or sharp knife, cut the dough into 2 equal pieces.
Gently form each piece into a ball by tucking the sides under the dough. Cover the dough balls and leave them to rise for 30 minutes.
Place each pizza round onto a wooden peel, pizza pan or baking sheet sprinkled heavily with corn meal.
Finish with your choice of toppings and proceed to bake or grill.
Recommended Products
As an Amazon Associate and member of other affiliate programs, I earn from qualifying purchases.