Sourdough Oatmeal Cookies! Buttery oatmeal cookie dough is enhanced with a whole cup of sourdough discard. The cookies are topped with a lemony glaze to compliment the sourdough tang.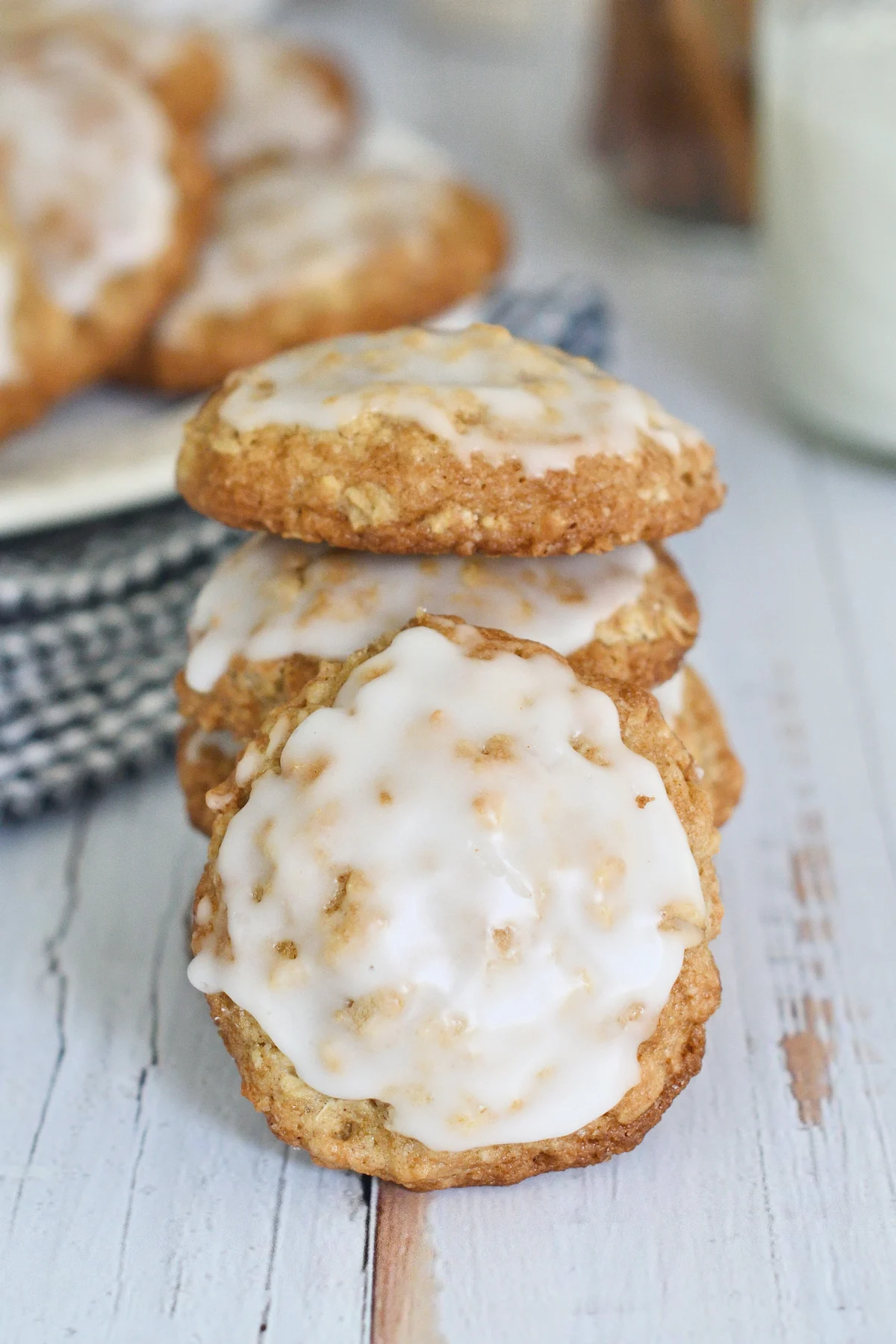 Can we have too many oatmeal cookie recipes? Definitely not! I'm obsessed with my original Oatmeal Cookies with maple glaze and my Iced Apple Oatmeal Cookies. My hearty Cranberry Oatmeal Chocolate Chip cookies are so satisfying.
But adding a cup of sourdough discard takes my beloved oatmeal cookies in another whole direction.
If you don't already have one, I can show you how to make a sourdough starter and how to feed a sourdough starter.
The sourdough discard not only adds a subtle tang to the cookies, it ever so slightly tenderizes and aerates the dough. These cookies have a softer and cakier texture than my other oatmeal cookie recipes.
What's that you say? You prefer thin and crisp cookies? No problem, read through the FAQ section after the process photos to find out how to get the cookie texture you desire.
Scroll through the process photos to see how to make Glazed Sourdough Oatmeal Cookies: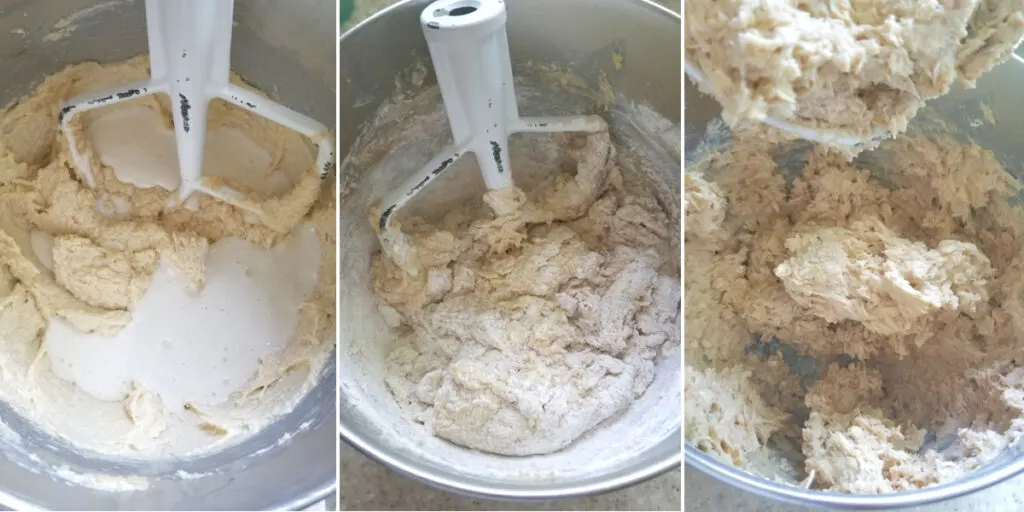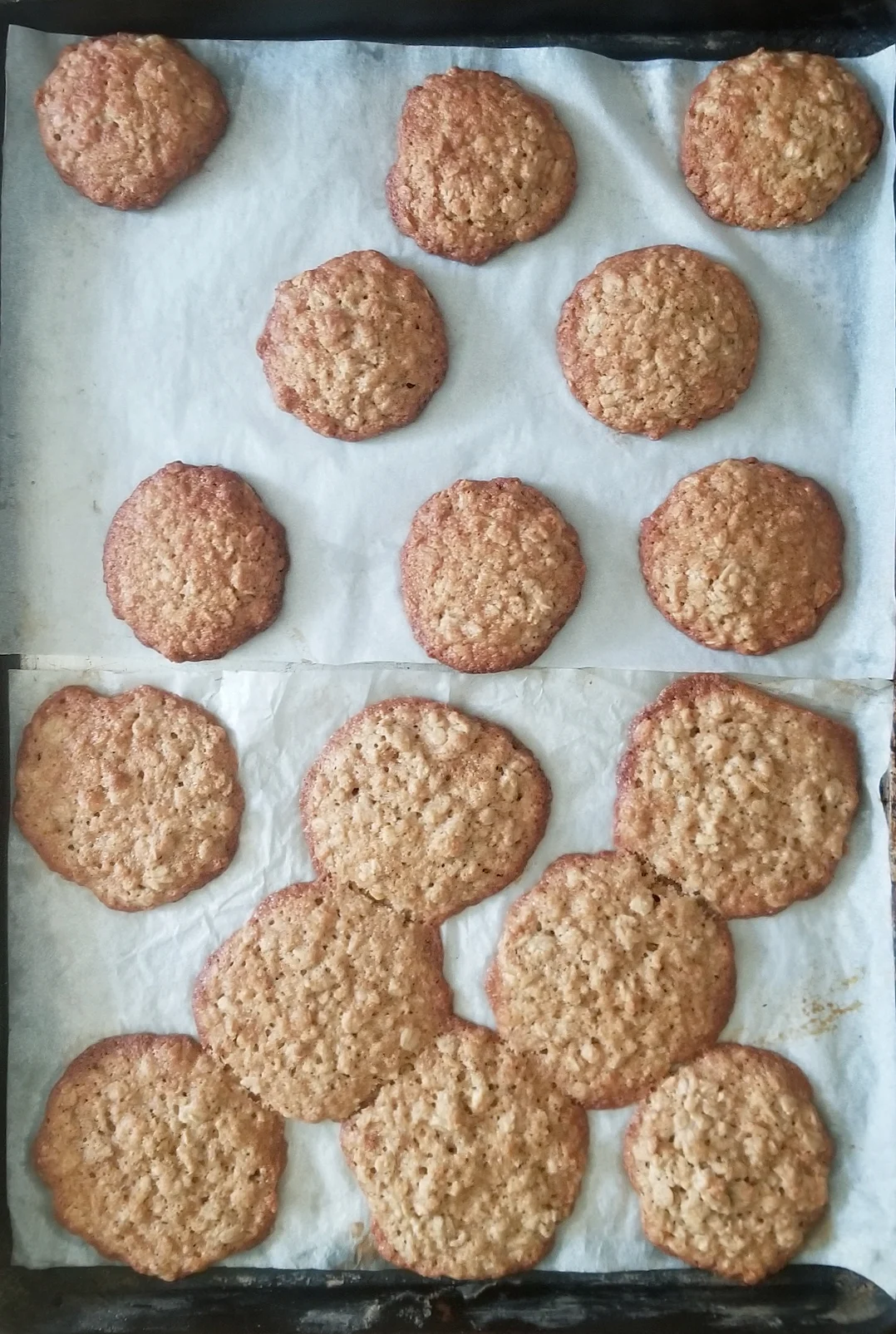 FAQs about making sourdough oatmeal cookies:
Why should I add sourdough discard to my cookie dough?
Obviously, for many of us it seems wasteful to just throw away unfed sourdough starter. But there's more it than simple frugality.

The acidic unfed starter adds an interesting flavor to the sweet oatmeal cookie dough. The lemony glaze echoes that slight tang. The acidity also tenderizes the batter for a soft crumb.

Wild yeast in the unfed starter gives the slightest lift to the cookie, making a lighter cookie that melts in your mouth.
Can I use active starter instead of discard in this recipe?
Why waste active starter making a cookie when you can make bread? Use your active starter in recipes that need leavening and use discard when you just want added flavor.
Does it matter how "old" my discard is for this recipe?
The longer it's been since the starter has been fed, the tangier the flavor is. I like to use starter that hasn't been fed for at least a week in this recipe.
How do I make my cookies thin and crisp, rather than cakey?
If you bake the cookies without chilling the dough first they will spread more. If you chill or freeze the cookies first they will be thicker and cakier.
Can Sourdough Oatmeal Cookie dough be frozen?
Yes, this batch makes a lot of cookies. Scoop the dough, line the doughballs onto a parchment lined sheet pan and freeze until solid. Pack the dough balls into a freezer bag and freeze for up to 3 months. No need to defrost. They can go from freezer to oven.
Can I add chocolate chips or raisins to this cookie dough?
Absolutely!! Why not both?
I know you hate to throw away that sourdough discard. Check out these recipes that use sourdough discard.
Since you've got your starter fed, peruse the entire list of My Best Sourdough Recipes. Have fun!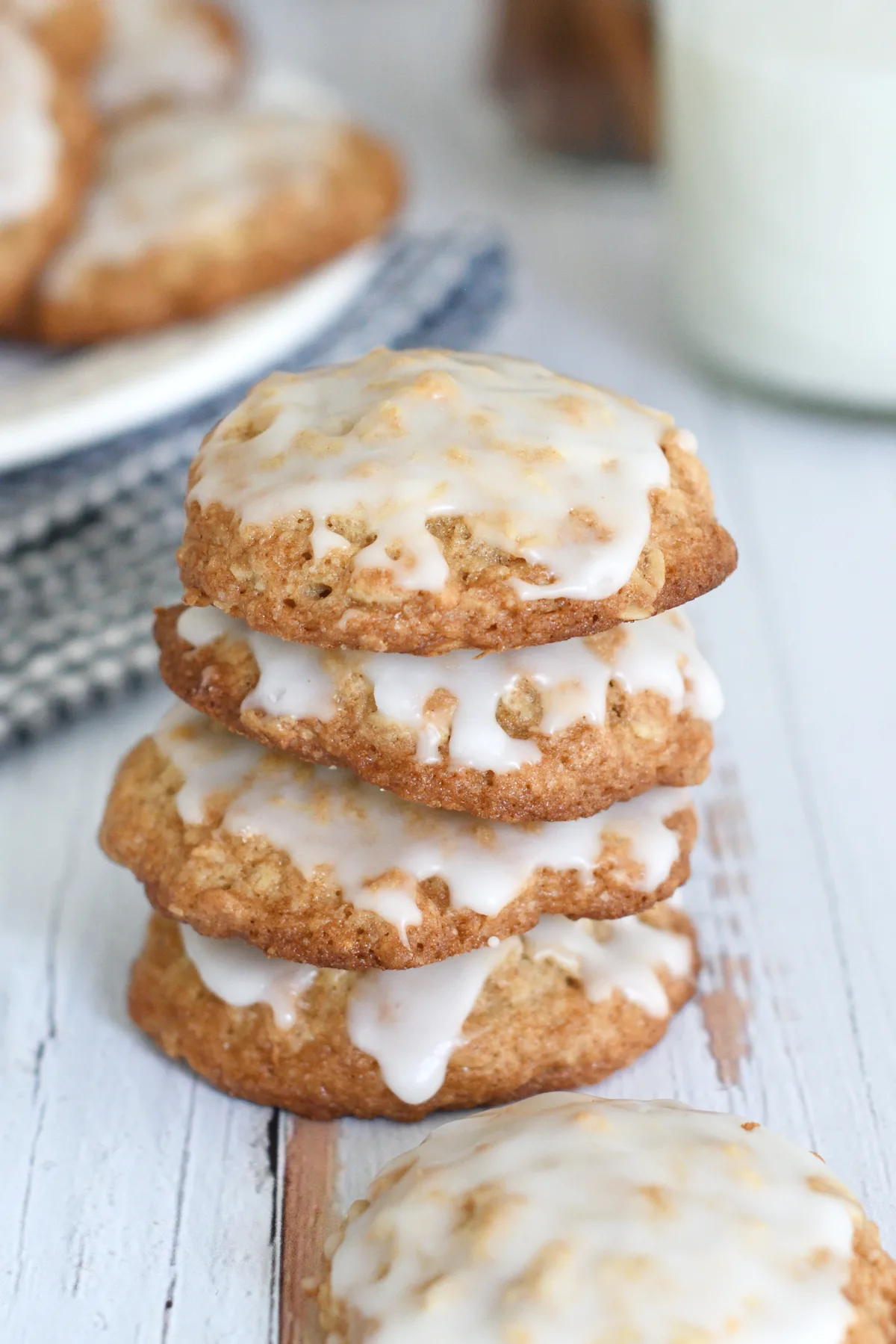 You might also want to try Sourdough Shortbread or Sourdough Chocolate Chip Cookies made with sourdough powder.
If you love this recipe as much as I do, I'd really appreciate a 5-star review.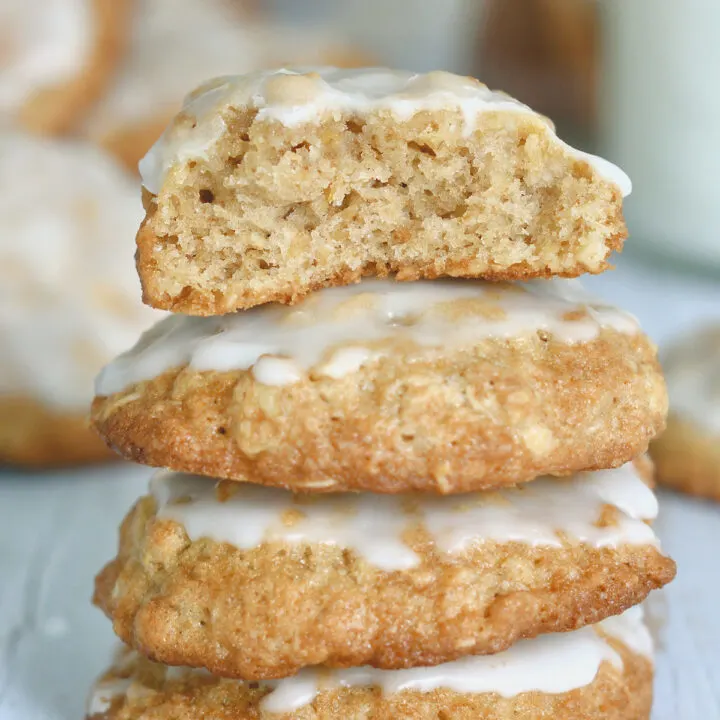 Sourdough Oatmeal Cookies
Buttery oatmeal cookie dough is enhanced with a cup of sourdough discard. The cookies are topped with a lemony glaze.
Ingredients
Cookie Dough
1 1/2 cups (7.5 oz, 210g) all purpose flour
1 teaspoon baking soda
1 teaspoon cinnamon
1/2 teaspoon salt
2 sticks (8 oz, 224g) unsalted butter, room temperature but still firm
1 cup (8 oz, 224g) light brown sugar, packed
1/2 cup (4 oz, 112g) granulated sugar
2 large eggs
1 cup (8 oz, 224g) sourdough discard
2 teaspoons vanilla extract
3 cups (10 oz, 280g) old-fashioned rolled oats
Lemon Glaze
2 cups (8 oz, 224g) confectioner's sugar
1/4 cup (2 oz, 60ml) fresh lemon juice
Instructions
Make the Cookie Dough
Line 2 baking sheets with parchment paper. Sift together the flour, cinnamon, baking soda and salt onto one of the parchment sheets, set aside
Cream the butter, brown sugar and granulated sugar on medium speed for about 2-3 minutes. Scrape the bowl. Add the eggs and vanilla and mix just until combined, scrape the bowl. With the mixer running on low speed, add the discard.
Use the parchment sheet to lift and pour the flour mixture into the bowl. Mix until half way combined. Add the oats all at once and mix to combine. You may need to finish the dough off the mixer to incorporate the oats evenly.
Using a 1.5 oz cookie scoop or spoon, scoop the dough into 1.5" balls. Set the cookies onto one of the prepared baking sheets with the dough balls almost touching. Refrigerate the cookies for 30-60 minutes until the dough balls are firm to the touch. (See note)
While the cookie dough is chilling, make the glaze. Combine the confectioner's sugar and lemon juice in a small bowl and stir until the glaze is smooth. Preheat oven to 375°F.
Transfer 15 of the dough balls to the other prepared baking sheet. At this point you can freeze the rest of the dough balls to bake later or return them to the refrigerator while the first tray bakes. Bake the cookies until golden brown around the edges and the center is just barely set, about 10-12 minutes.
Allow the cookies to cool just long enough that you can pick them up without breaking. Spread the glaze onto the cookies while they're still slightly warm. The glaze will set as the cookies finish cooling.
Notes
If you want thin and less cakey cookies, bake without chilling first.
The portioned cookie dough can be frozen on a sheet pan and then packed into freezer bags. No need to defrost before baking. The dough balls can go straight from the freezer into a preheated oven.
Recommended Products
As an Amazon Associate and member of other affiliate programs, I earn from qualifying purchases.