The only thing better than a perfectly buttery shortbread cookie, is a filled shortbread cookie. Apricot Lavender Shortbread combines shortbread with tangy apricot preserves and a hint of lovely lavender flavor.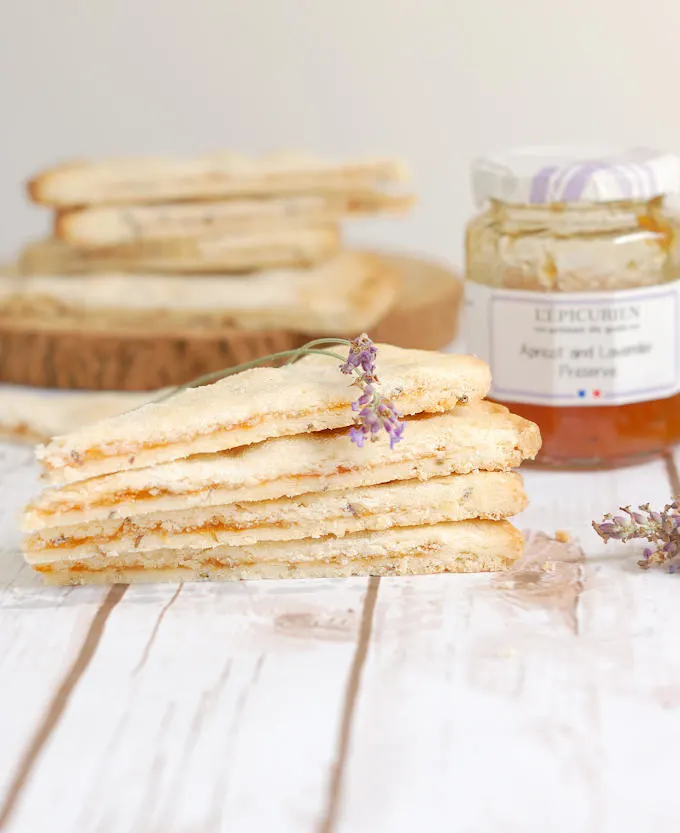 Disclaimer: I have received products from sponsor companies to use in my recipes. All opinions and recipes are mine.
Welcome to day 3 of #Cookoutweek! Don't forget that you can enter every day to win a $400 prize package. Scroll to the bottom to see the prize package and the entry form.
Yesterday we made Smoked Cornbread. Today it's time for some dessert. Thanks to The French Farm for sending me two of their fabulous products to use as inspiration for my #Cookoutweek recipes.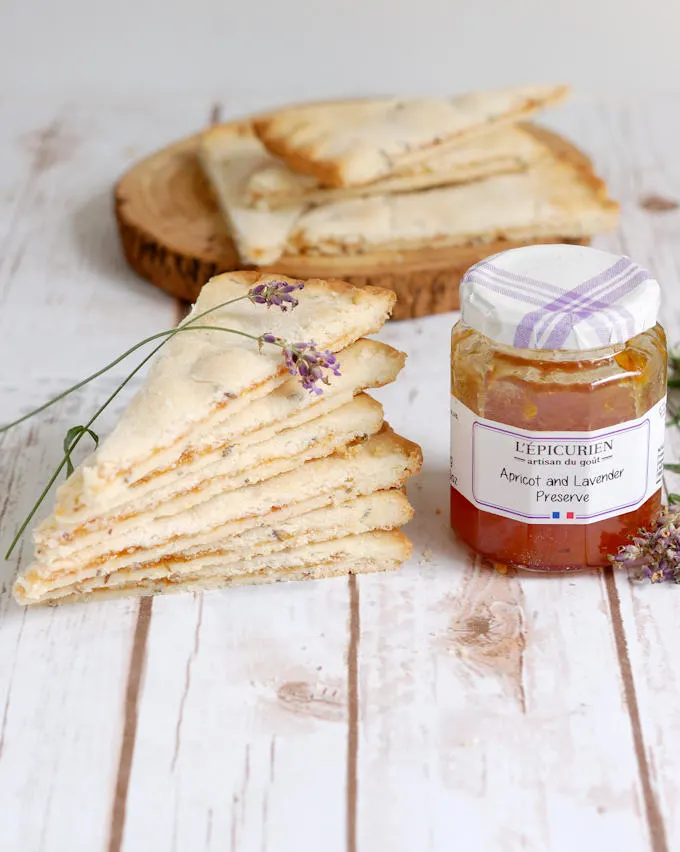 So, how do you feel about lavender flavor? I love it. I grow lavender in my garden every summer. But you do have to be careful when using lavender not to overdo it. A little lavender lends a lovely floral flavor. Add too much lavender and it tastes like you're eating soap.
Lavender & lemon is a classic combination and the one you've probably seen most often. I've made lemon lavender shortbread and lemon lavender ice cream many times. Tangy lemon and floral lavender are a perfect combination.
I was impressed with the Apricot Lavender Preserves that The French Farm sent to me. Like lemons, apricots have an assertive flavor that pairs nicely with lavender. I immediately thought about making filled shortbread with the preserves. It's a simple recipe that can be made ahead. Perfect for summer entertaining.
I added dried lavender blossoms to the shortbread dough for a little extra lavender flavor and then made a quick lavender sugar as a topping for the shortbread. Because shortbread dough is so rich, it can take a little extra lavender without getting too strong. But feel free to adapt the amount of lavender to your personal taste.
Click through the slider to see how to make filled Apricot Lavender Shortbread: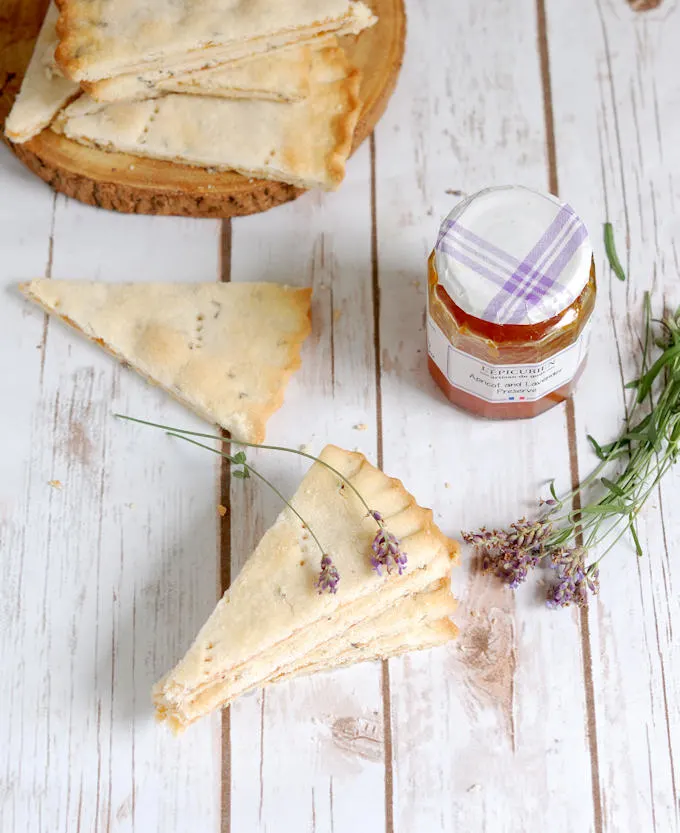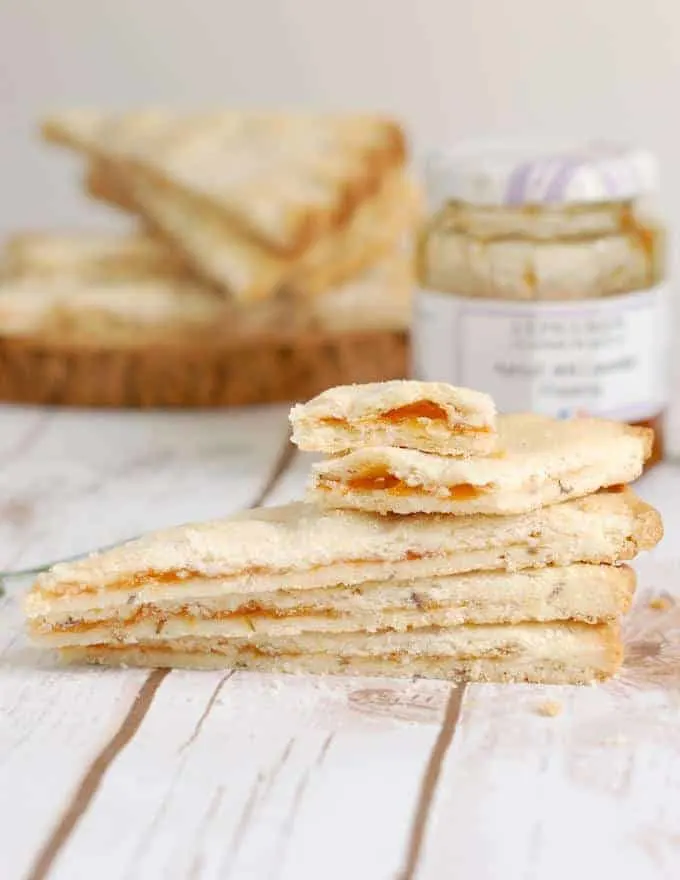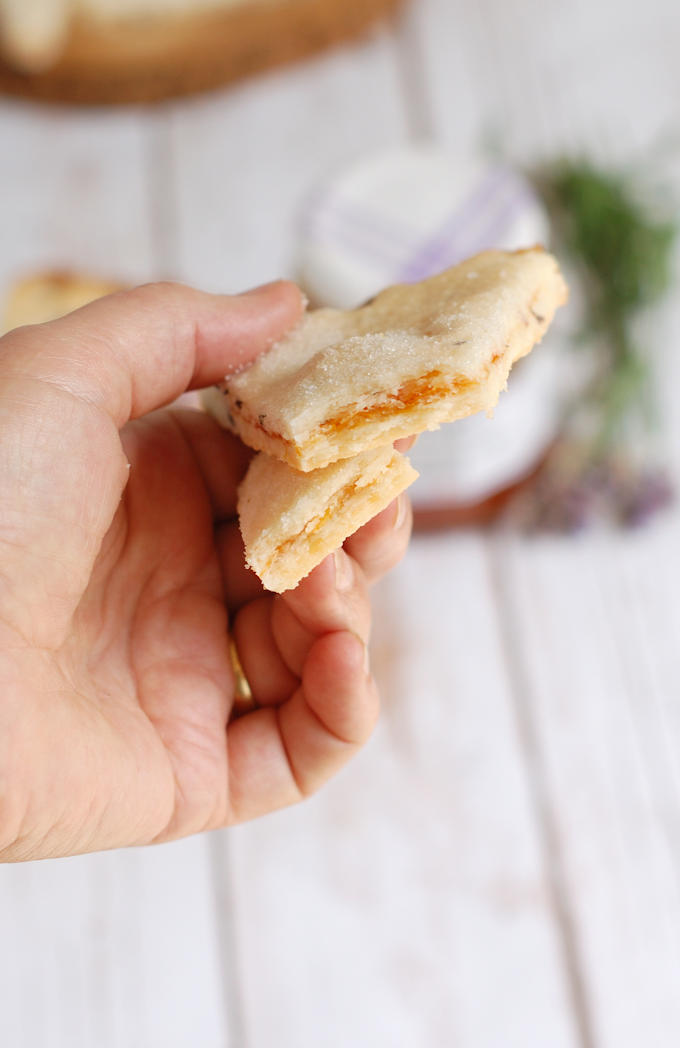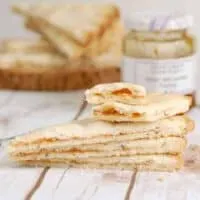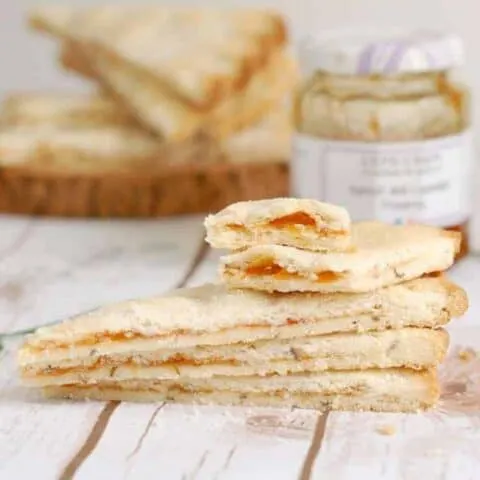 Apricot Lavender Shortbread
Apricot Lavender Shortbread combines shortbread with tangy apricot preserves and a hint of lovely lavender flavor.
Ingredients
Lavender sugar
Dough
8 oz (2 sticks, 1 cup, 225 g) unsalted butter, room temperature
4 oz (1/2 cup, 120 g) granulated sugar
1/4 teaspoon salt
2 teaspoons dried lavender blossoms
10 oz (2 1/4 cups, 275 g) cake flour
Assembly
1/2 cup (5 oz 135g) Apricot Lavender preserves (see note 1)
1 large egg for egg wash
Instructions
Lavender sugar
Combine the sugar and lavender. Rub the lavender between your fingers to release the flavor. Set aside while assembling the shortbread.
Make the Dough
Combine the butter, sugar, salt and lavender in a mixer bowl. Cream until softened and combined, do not aerate. Add the flour and mix just until a dough is formed. Split the dough into 2 equal portions. (At this stage the dough can be wrapped and refrigerated or frozen for later use).
Assemble the shortbread
Preheat the Oven to 325°F convection or 350°F regular. Place a 1/2 sheet of parchment paper off to the side on the work surface.
On another lightly floured area of the work surface, roll one disc of dough into a 12" round (1/8" thick). Transfer to the rolled dough to the parchment paper. Brush a 1" border of the round with egg wash. Spread the preserves over the the dough round, leaving a 1/2" border around the edge. Roll the other dough to a 12" round then roll the dough round onto the rolling pin and unroll the dough over apricot preserves.
Use a paring knife or pizza cutter to trim the ragged edges of the shortbread round. Crimp the edges. Prick the shortbread all over with the fork to create steam vents. (At this stage the round can frozen for later use). Use a long serrated knife to lightly score the shortbread into 12 wedges, being careful not to cut through the top layer.
Run the lavender sugar through a sieve to remove the blossoms. Sprinkle the shortbread with the lavender sugar. Bake until the dough is lightly golden and baked through, about 20 minutes. Allow to cool to room temperature and cut along score lines.
Notes
You can use plain apricot preserves as a substitute.
As one of the bonus entries in the giveaway, leave a comment on this blog post…How do you feel about using flowers in cooking? Love rose water and lavender, or hate it?
This prize pack has an ARV of over $400! You have until July 1 at 11:59 PM to enter by following our sponsors and bloggers on social media:
a Rafflecopter giveaway
You might also like: