I guess for some folks a bowl of oatmeal is the breakfast equivalent of steamed broccoli. It's something you eat because it's good for you, but it's not terribly interesting. If you're one of those folks, this Crispy Oatmeal Pancake just might change your mind.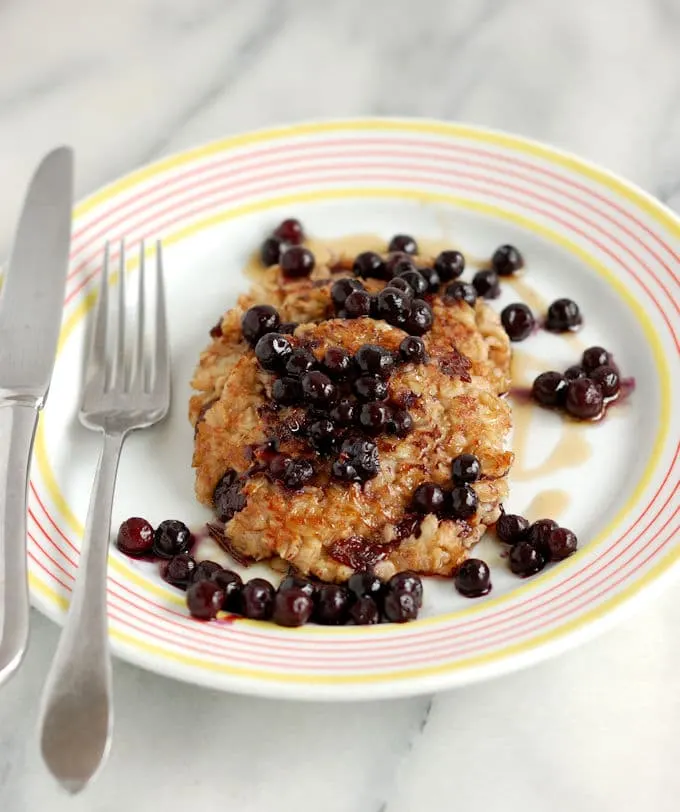 Well, I'm not one of those folks. I love oatmeal. Seriously, I eat the stuff every day in the colder months of the year and it's also one of my favorite baking ingredients. After you finish eating your delicious Crispy Oatmeal Pancake, check out my favorite Maple Glazed Oatmeal Cookie recipe, and my Oatmeal Soda Bread recipe for other ways to use rolled oats.
This transformation of a regular bowl of oatmeal into a crispy pancake was inspired by one of my favorite ways to use up leftover risotto. I form cold risotto into patties, then pan fry the patties until they're crispy, golden brown and delicious. Same idea here.
Making a Crispy Oatmeal Pancake is as easy as 1, 2,3…
Click on the right arrow to see how it's done.
[metaslider id=5843]
I use "old-fashioned" rolled oats because they're quick to cook and have no other ingredients added. But just go ahead and use whatever oatmeal you normally make. I think a Crispy Oatmeal Pancake made from steel cut oats would be fantastic.
The best part is, aside from a tiny bit of butter used to fry the pancake, this crispy treat is just as healthful as a regular old bowl of oatmeal. Because this is the time of year we're all resetting our diets after the holidays I wanted to keep the dish on the healthier end of the scale. If you really want to be good you can use pan spray instead of butter, or if you want to be a little bad you can top the pancake with breakfast sausage and eggs. The possibilities are endless and only limited by your imagination and what you've got in your pantry.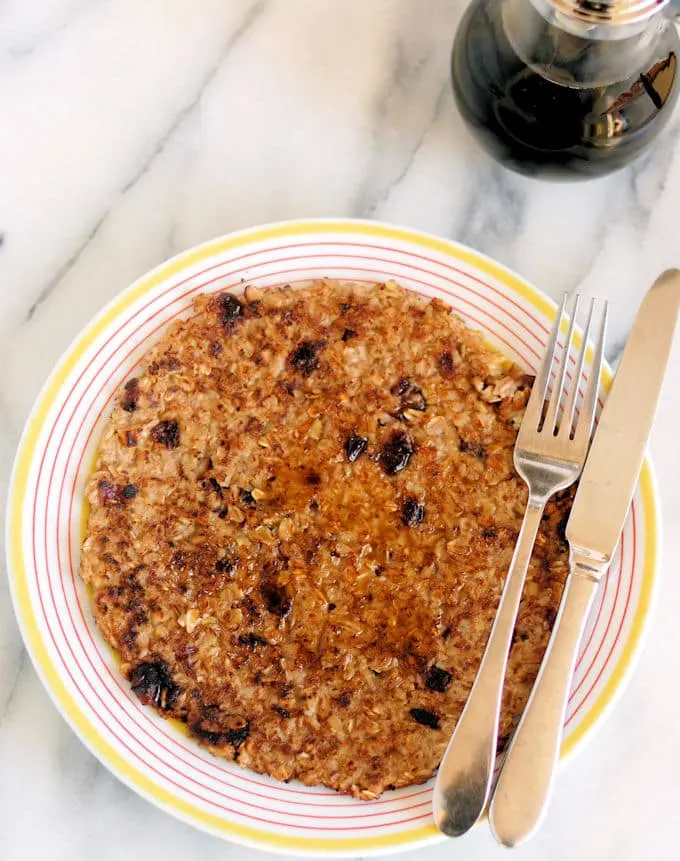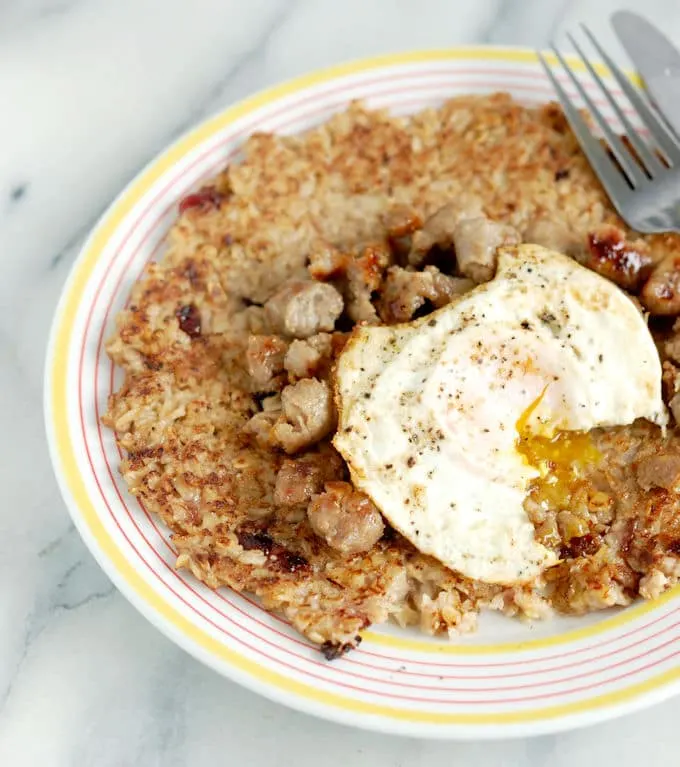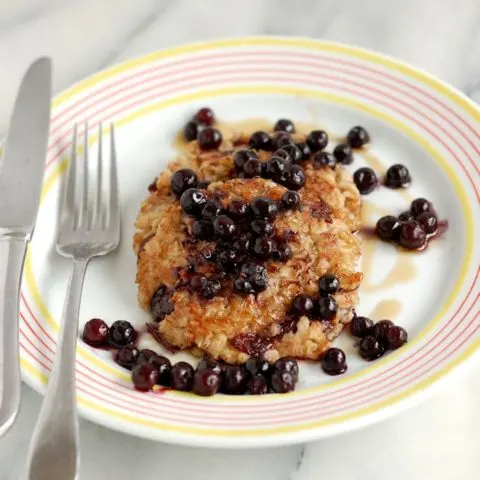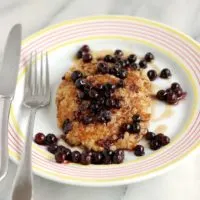 Super Crispy Oatmeal Pancake
Ingredients
1/2 cup plus 1 tablespoon old fashioned rolled oats
1 cup water
pinch of salt
1 tablespoon Craisins or raisins (optional)
1 tablespoon chopped walnuts (optional)
1 teaspoon maple syrup plus more for serving, if desired
1/2 teaspoon ground cinnamon
2 teaspoons butter or pan spray
Instructions
Combine oats, water, salt, craisins and cinnamon.
Microwave 3 minutes until thick and bubbling (the exact time may vary by microwave)
Stir in chopped walnuts
Immediately pour the oatmeal onto a plate or other flat surface and spread to desired thickness
Set the pancake aside until completely cooled and set
The pancake can be made the night before, wrapped and refrigerated until morning.
Melt 1 tsp butter in a non-stick skillet until it's beginning to brown
Use a knife or small spatula to separate the bottom of the pancake from the plate then flip it into the pan
Cook until the bottom is golden brown, about 5 minutes
Do not move the pancake until the bottom is set to avoid having it break apart
Slide the pancake back onto the plate
Melt the remaining butter in the pan then flip the pancake into the pan
Cook the other side for about 5 minutes until golden brown
Slide onto serving plate
Serve with maple syrup or top with fruit or savory toppings of your choice.
Notes
I added Craisins and walnuts to my oatmeal because that's how I eat it every day. Make your own variation by switching in raisins, apples, almonds, etc.